It seems like everyone I know is expecting a baby, which means I have a lot of baby items on my to-crochet list for the fall and winter. Blankets are one of the items I gift a lot, since it seems parents can never have too many. They need one for the nursery, one for the car, one for grandma's house, and lots of extras in case the baby, ahem, makes a mess on one of them.
When I crochet a blanket, I want to make sure it's extra special and doesn't look store bought.
Here, I've rounded up my favorite Craftsy crocheted baby blankets.
Photo via TooCuteCrochet
1. Build-a-Shell Baby Blanket
The popular shell stitch makes for a very pretty blanket. If you're an experienced crocheter, you'll complete this project in no time. Beginners can crochet this, too, and by the time you're finished, you'll know single crochet, half-double crochet, and double crochet like the back of your hand!
Photo via FeltedButton
2. Let's Twirl Baby Blanket and Rug
Already know the color scheme of the nursery? Whip up a matching blanket and rug. You'll get bonus points if the baby's parents are fans of movie You've Got Mail, because designer Susan Carlson named this pattern after the scene in the movie where Meg Ryan and Tom Hanks discuss twirling.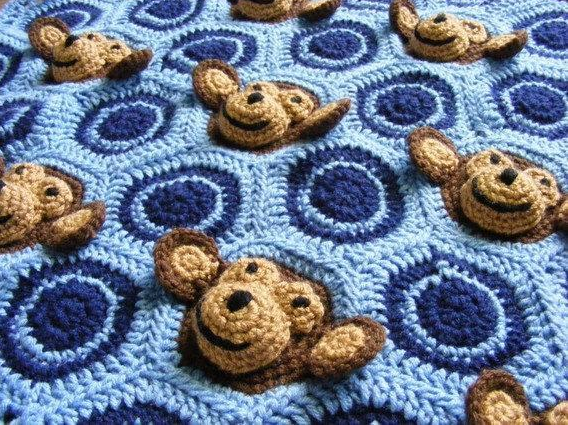 Photo via TwoSeasideBabes
3. Crochet Monkey Blanket
It doesn't get much cuter than this. The stitches in this blanket are basic crochet stitches, but designer TwoSeasideBabes warns that the construction requires a bit more skill, so it's recommended for an intermediate to expert crocheter. If you don't know the baby's sex, you can easily turn this pattern into a unisex baby blanket with gender-neutral colors like yellow and green.
Photo via Mari Martin
4. Mini Hat Crocheted Baby Blanket
This is the prefect project if you're trying to de-stash your scrap yarn. Go color crazy with these mini hats, or go basic and crochet each hat the same color. Either way, this is a unique blanket you won't find in any store.
Photo via MarieInNYC
5. Sunshine of Your Love Blanket and Pillow
I love baby blankets that are shaped like circles. The baby hanging out on the blanket increases the cute factor even more! If you're not feeling inspired by the colors of the sun, try another color family by mixing a light hue with a dark hue and see what you can come up with.
Photo via Poochie Baby
6. Ladybug Receiving Blanket
A ladybug makes everything instantly better — well, everything except maybe dirty diapers. Add just one ladybug, or make several and attach them all over the blanket.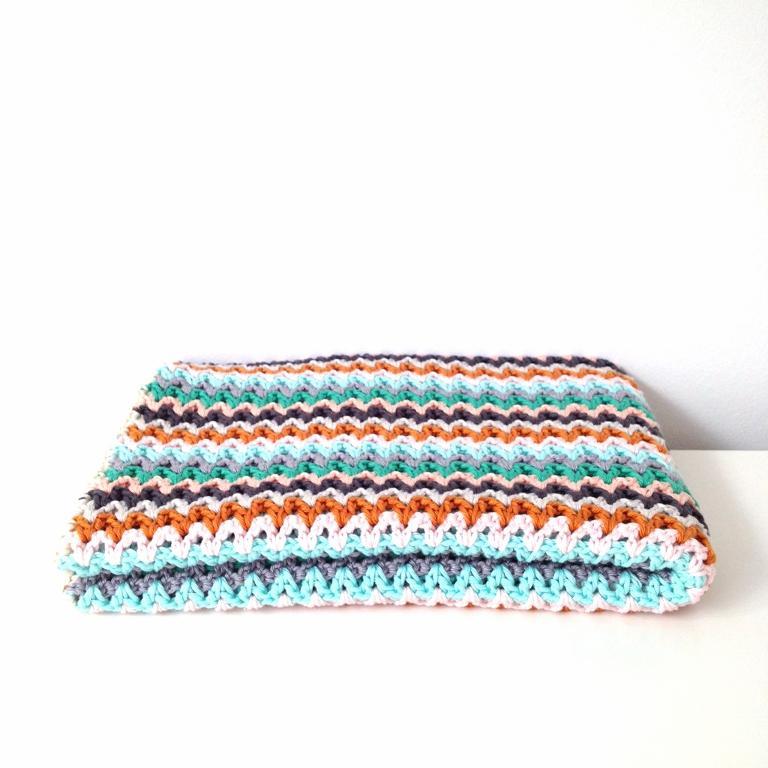 Photo via AnnmariesCrochetBlog
7. Baby Blanket
Use up those scrap yarns! Just make sure you're choosing scrap yarns that are washable to make caring for this blanket simple. You can use a totally different yarn weight for the border, if you'd like.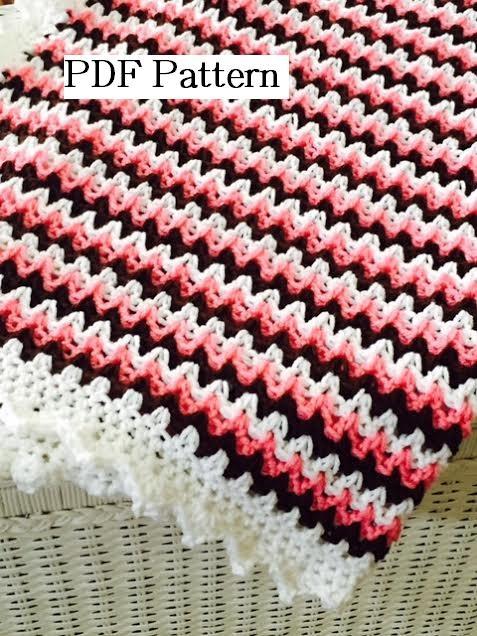 Photo via Propwise Babies
8. Neapolitan Chevron Baby Blanket
This blanket is reminiscent of that yummy three-flavor ice cream we all loved so much as kids. Of course, you don't have to stick to the strawberry-chocolate-vanilla color combination. Chevrons looks great in practically any hue.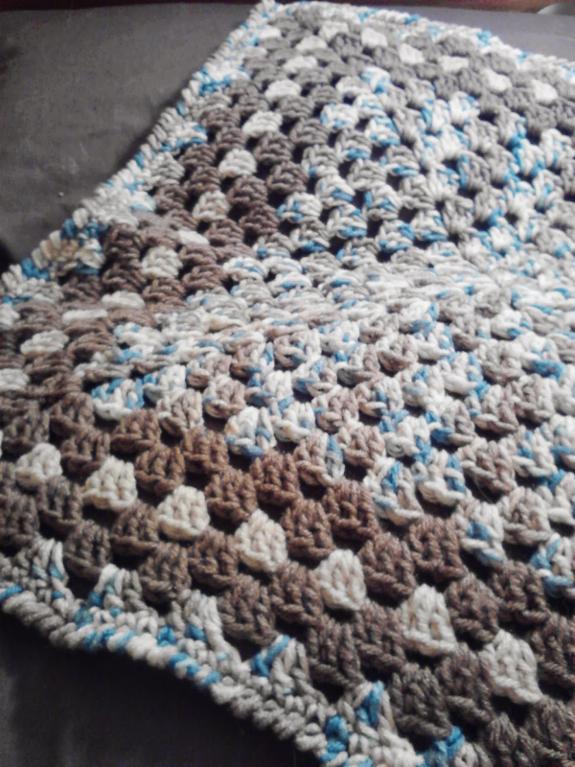 Photo via Farm Girl Teacher
9. Granny's Baby Blanket
Did your grandma make beautiful crochet blankets? If so, this is a tribute to her. Use your softest yarns, including scraps, to whip up this vintage-inspired blanket.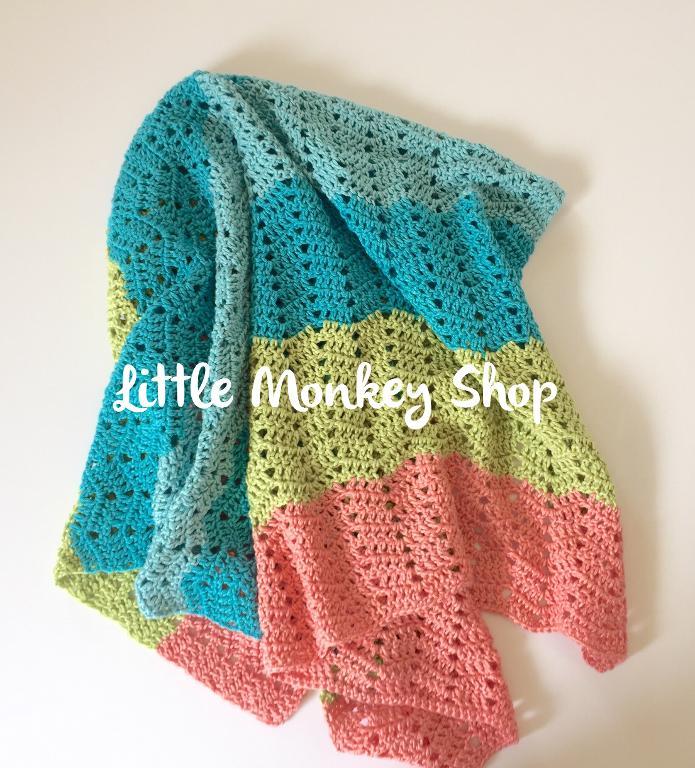 Photo via LittleMonkeyShop
10. Beach Baby Blanket
This modern version of the chevron looks great when you use big blocks of color. It also means less ends to weave in! The blanket is a classic, so if you like the one that you stitched up for baby, consider making one for your sofa, too!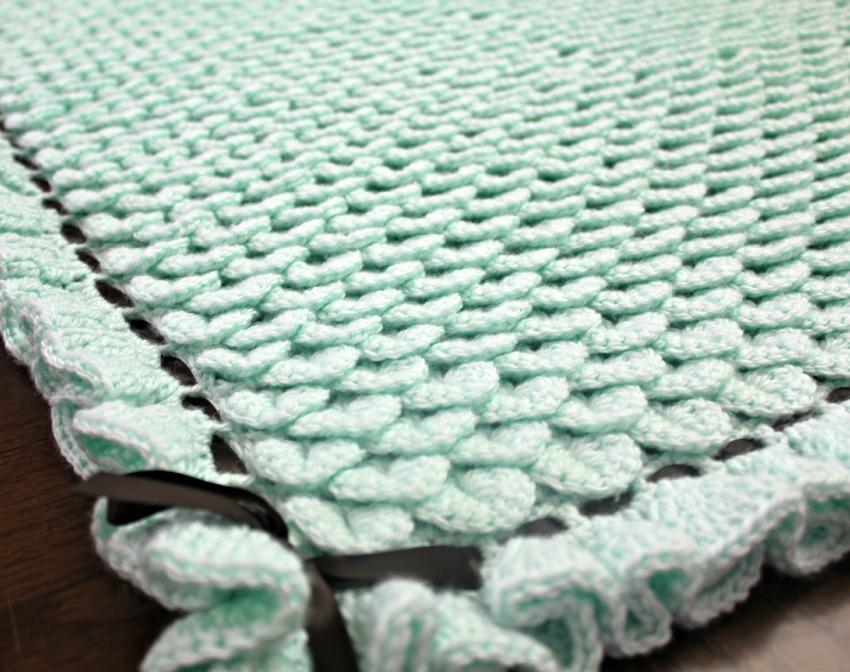 Photo via bonitapatterns
11. Crocodile Stitch Baby Blanket
The crocodile stitch is seriously trendy — just check out our Crocodile Stitch Patterns for proof. If this is your first time trying the crocodile stitch, follow along with our Crocodile Stitch Tutorial to get you started.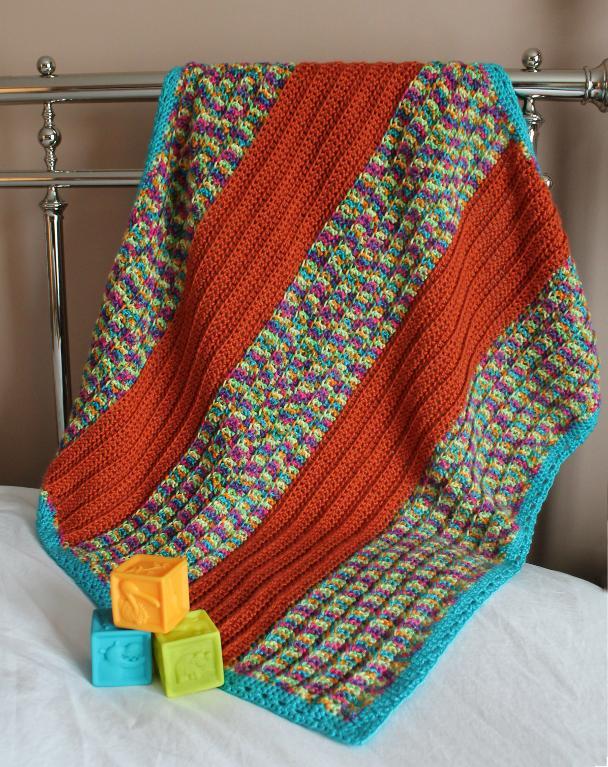 Photo via TheInspiredWren
12. Broad Stripe Baby Blanket
The textured stitch of this blanket provides lots of much-needed drape so you can wrap up baby. Plus, the texture works well for both boys and girls, so you can start on this blanket before you even know the gender of the baby.
Photo via Yummytripletmum
13. Apphia Blanket
Have you ever crocheted a blanket that just seems like you're repeating the same thing over and over? This blanket is not one of those patterns. The designer switches up the texture every now and then to keep you on your toes.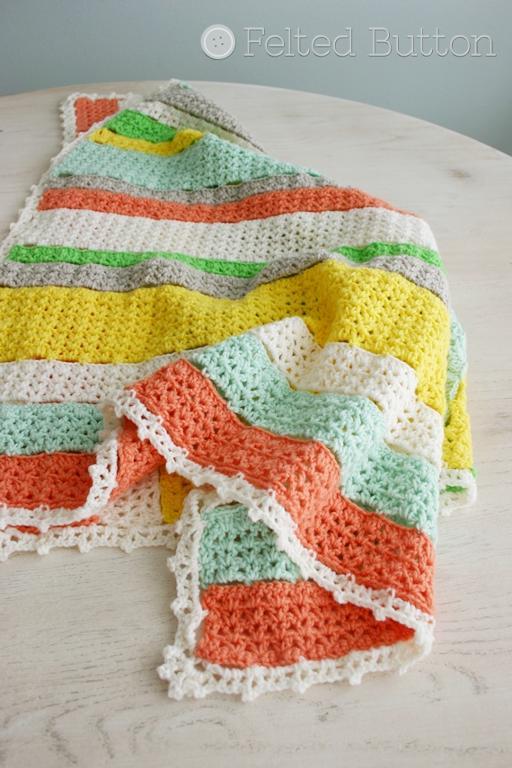 Photo via FeltedButton
14. Citrus Strip Blanket
Fruity colors like these can suit baby boys and girls. That's good news for parents who might want to hand this blanket down to their next baby! You can also customize the size of the stripes or the size of the blanket to create one that's exactly the right size for your sweet little one.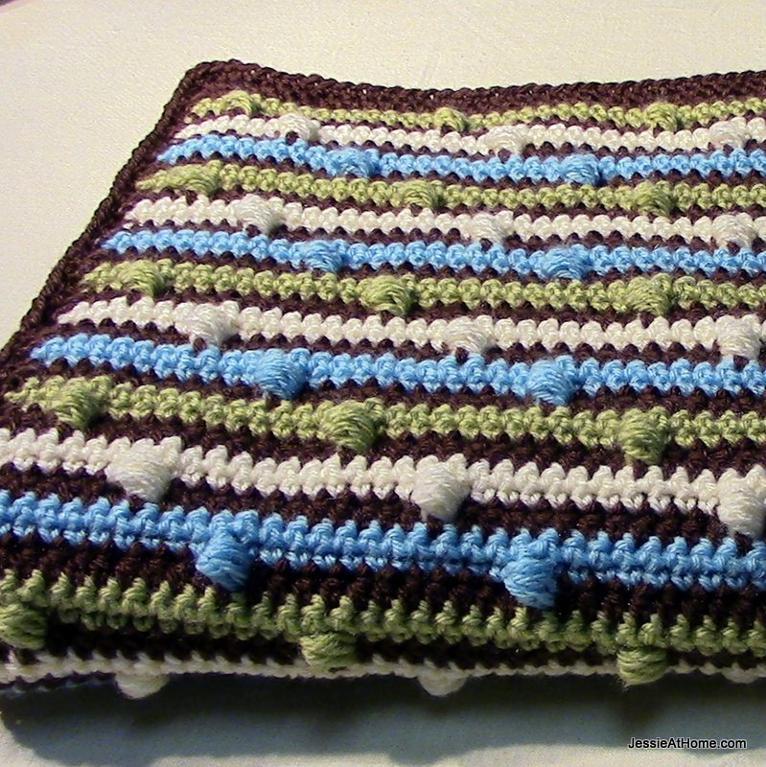 Photo via JessieAtHome
15. Joseph's Puff Stitch Blanket
Designer JessieAtHome points out that babies love to play with the textured puffs of this blanket. You'll memorize the stitch pattern easily, so this is a great blanket to take along to your stitch group.