No matter where you are in your crocheting, there's always an opportunity to grow and learn new things. Here, we've gathered a dozen patterns that start at the beginner crochet level and work up to an advanced level.
If you're starting from the beginning, get a couple of basic skills under your belt, like chain stitch, single crochet, and double crochet. Then follow our patterns as we take you from beginner to expert at whatever pace you'd like. You can do it!
For any other crochet level, jump in wherever you feel comfortable. Maybe you want to work on your shaping, or maybe you just want to challenge yourself to try something a little different than your usual cowl.
No matter where you're starting, we hope you'll use this as an opportunity to challenge yourself to try something new and expand your crochet skills.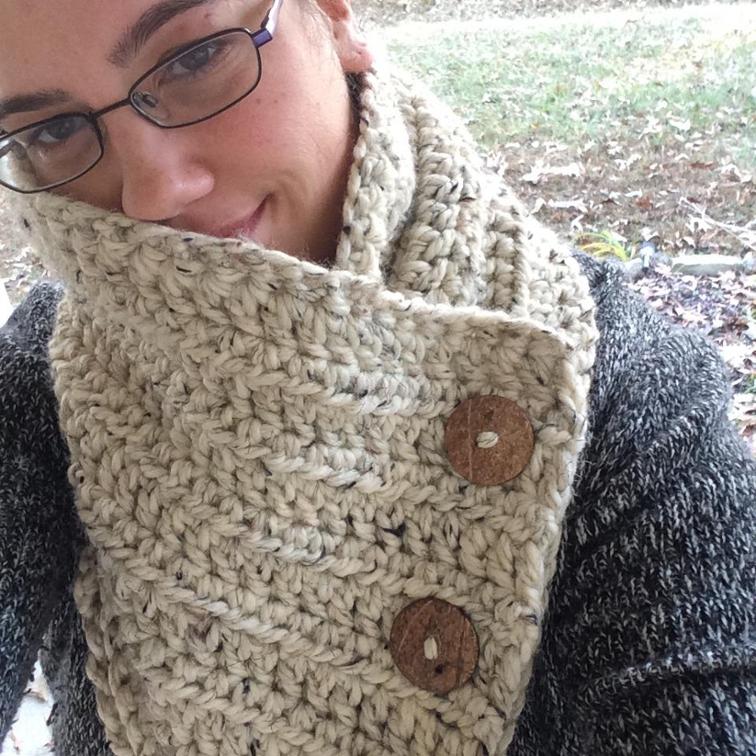 Photo via The Little Bucket Boutique
1. Bridgett Cowl
The perfect place to start your crochet career is usually a scarf. Make things a little more interesting with this cowl that uses basic stitches. There's no shaping to worry about, so you can also practice making those rows nice and even. Plus, the cowl uses bulky yarn so it works up quickly for eager beginners!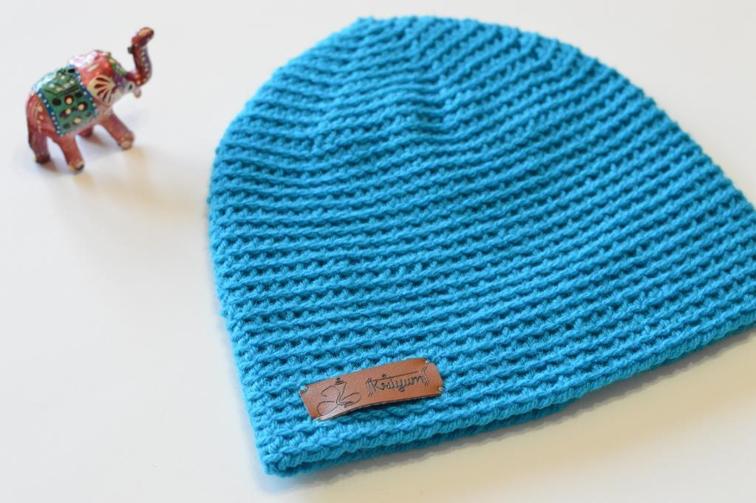 Photo via Krityum Designs
2. His and Hers Crochet Beanie
Now that you have the hang of working flat, try working in the round. (We promise it's easy!) You'll learn some shaping as you work your way through the crown. This pattern also throws in one more simple new skill: working in the back loop only to get that cool ridged texture.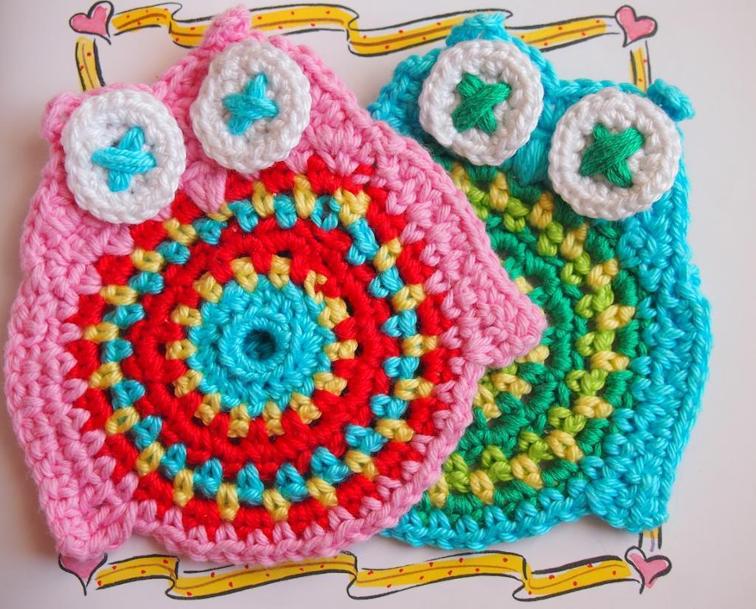 Photo via ColorfulEasyCrochet
3. Owl Coaster
Take your new in-the-round skills one step further by learning how to change colors. Get ready to be BFFs with your tapestry needle, too. This is a great opportunity to practice weaving in ends, as well as following a pattern.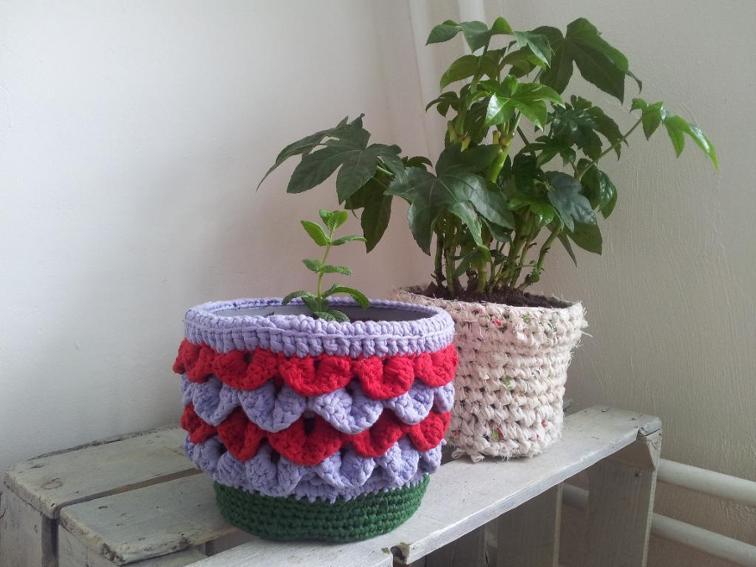 Photo via Recoverista
4. Shiny Happy Plant Holder
If you've been browsing crochet patterns, you already know that crocheters love the crocodile stitch. Learn the crocodile stitch to make this plant holder, and you can even make your own T-shirt yarn too! If you fall in love with the crocodile stitch, be sure to also check out more crocodile stitch patterns.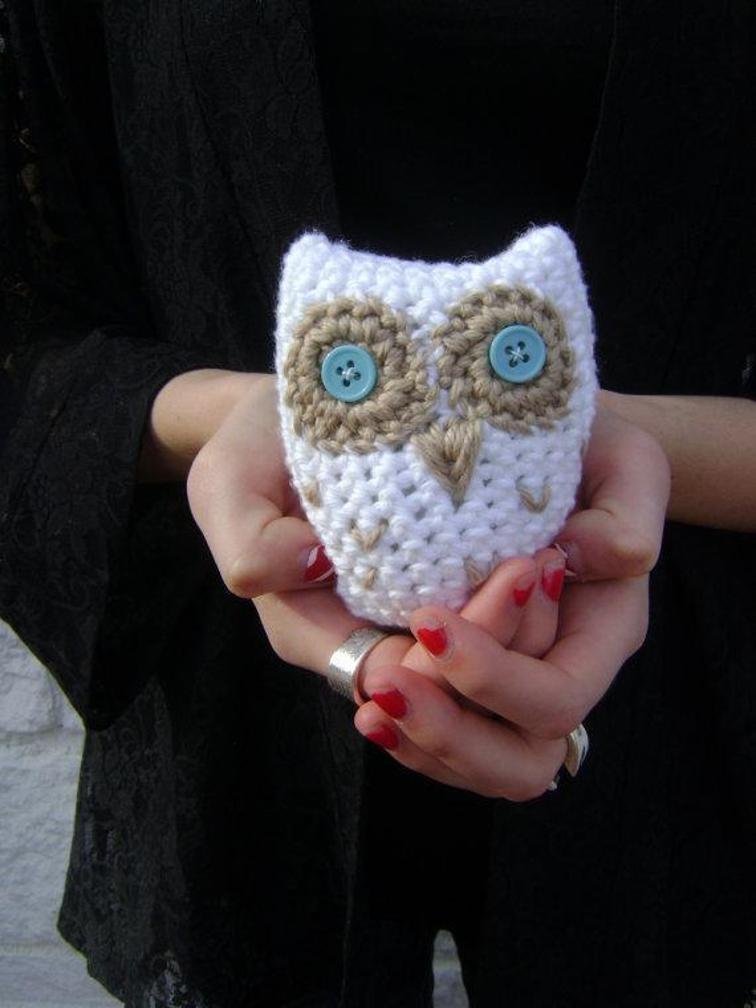 Photo via Sheila Zachariae's Pattern Store
5. Hoot Owl
Amigurumi is a big part of crochet, so get your feet wet with this simple little owl. The pattern will get you started with amigurumi basics like adding eyes, embroidery, stuffing and more.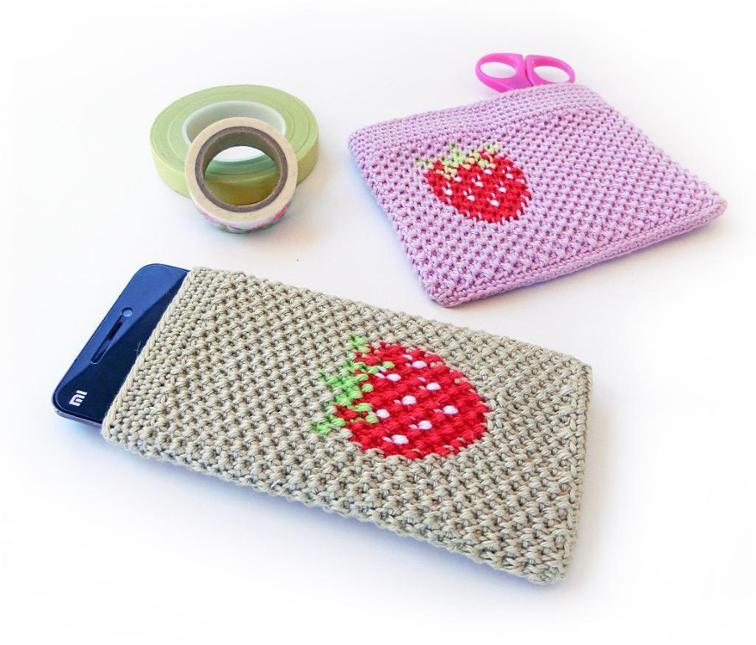 Photo via goolgool | Objects of string
6. Strawberry Cover Phone Sleeve
Build onto the basic stitches you already know, plus learn two cool new techniques: tapestry crochet and overlay crochet. This is also a chance to broaden your design skills. You can turn this into anything from a phone sleeve to a little pouch.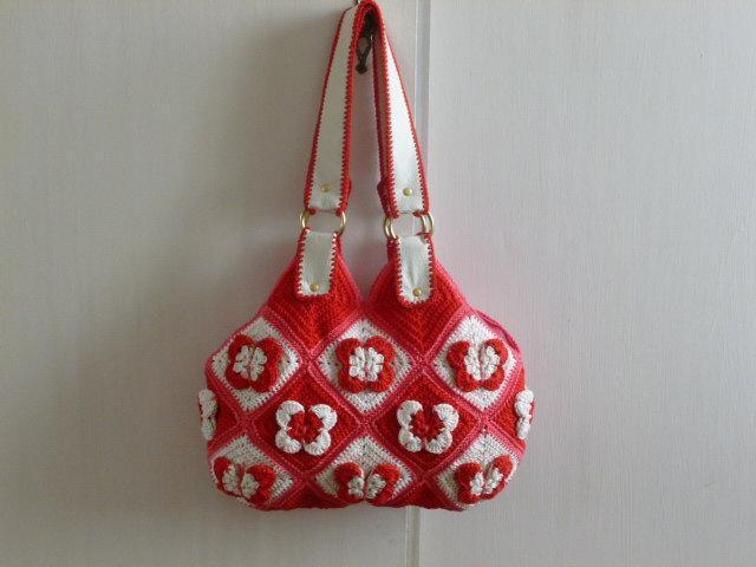 Photo via Luba Davies Atelier
7. Handbag Barboletta
The granny square is a classic in a crocheter's repertoire. This handbag will teach you the ways of the granny square, as well as handbag construction techniques like lining and straps. You'll find that techniques like these come up in other intermediate-level projects, too.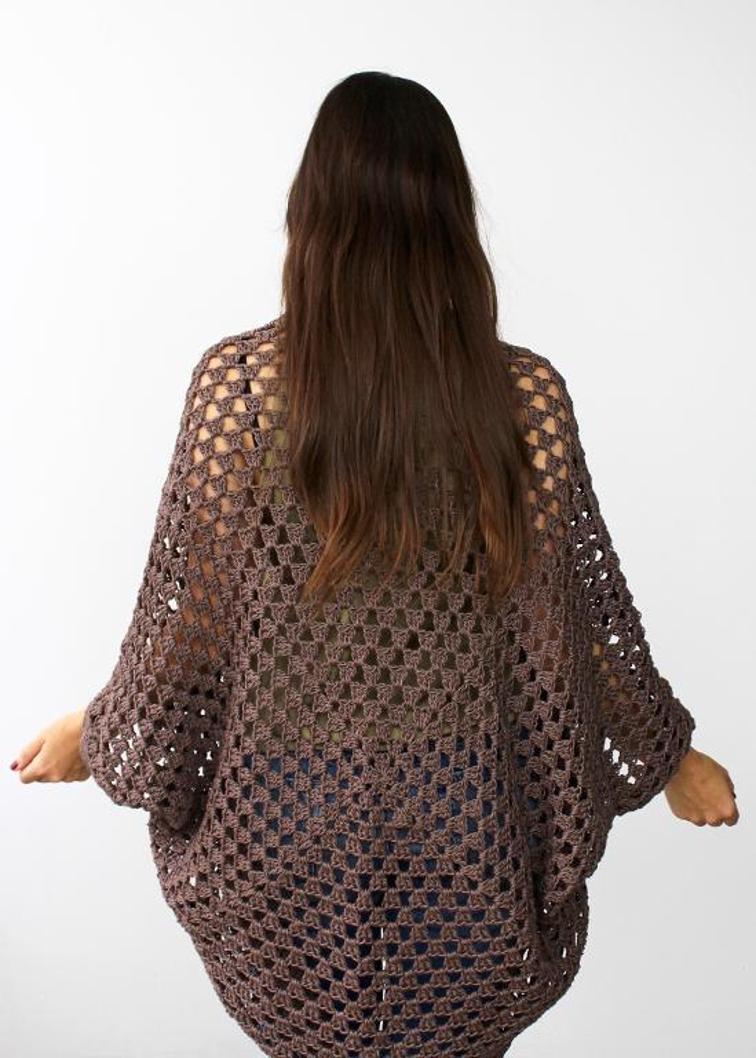 Photo via Two of Wands
8. Movie Night Cocoon Cardi
You've mastered basic stitches, shaping and enough techniques to get you through practically any pattern. Now is a great time to start thinking about garments! Start with a loose-fitting cardigan like this one to get accustomed to reading garment patterns and trying different construction methods.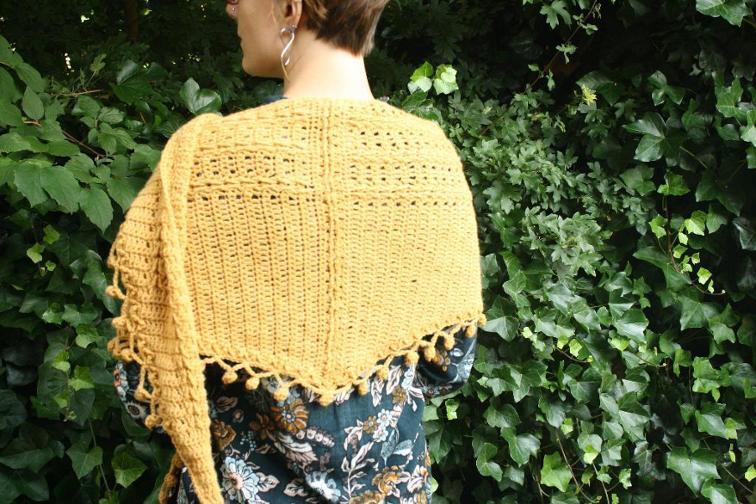 Photo via Zomaar Een Dag
9. Tessel Shawl
Now that you're knee-deep in the crochet garment world, start combining all the techniques you have under your belt. This shawl features crochet cables, plus a fun pom-pom border. You'll also practice patience — the shawl is stitched with a fingering-weight yarn, which takes a bit more time to work up since it's so thin.
Photo via Abigail Haze Designs
10. Homecoming Sweater
You are SO ready for sleeves. This sweater is made in two pieces, then seamed together. You'll practice everything from different stitches to shaping and seaming. You'll also be able to practice choosing the right size for garments, as this pattern comes with instructions for five different sizes.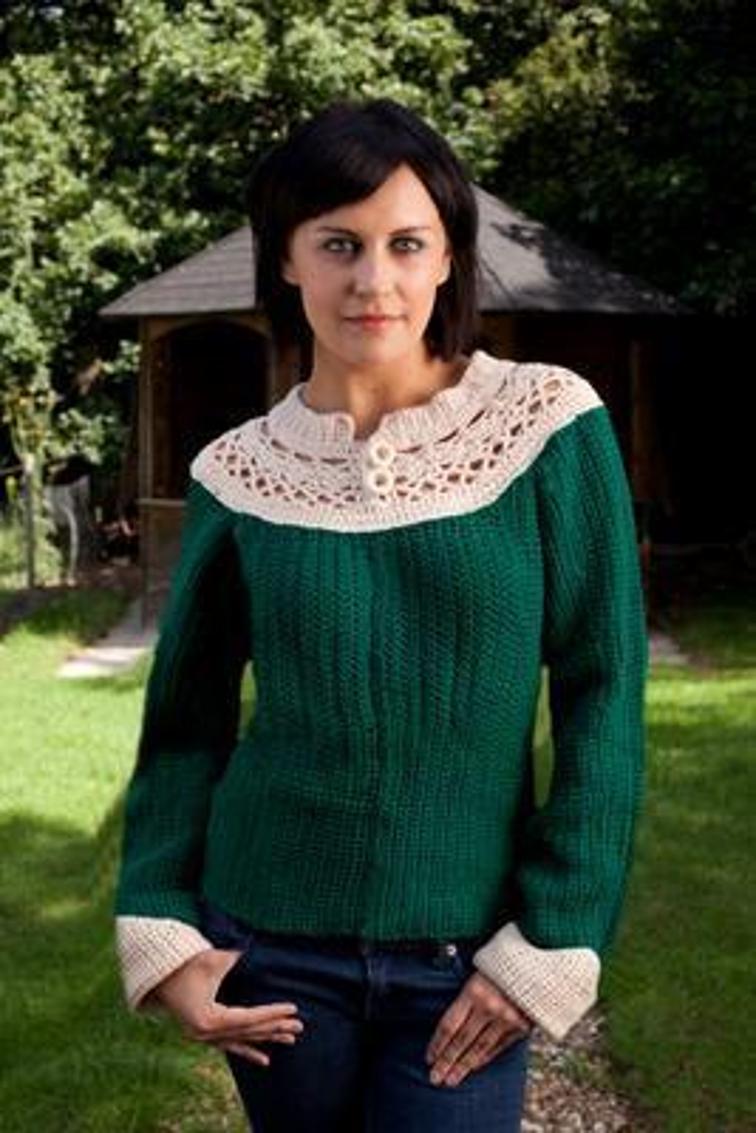 Photo via ChristineGuestDesigns
11. Attleboro Sweater
You know your stuff. You can shape, you can read a pattern, you can crochet with different yarn weights. Now combine all those useful skills into stitching this lace-yoked sweater.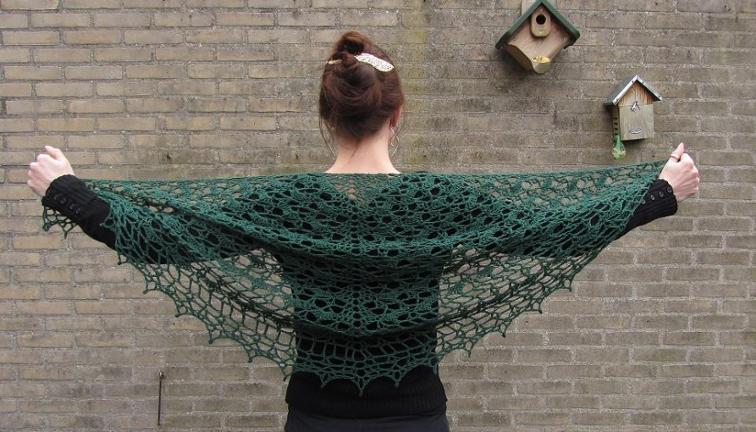 Photo via Zomaar Een Dag
12. Moss Lace Shawl
This shawl is just as challenging as the sweater, but the challenges are a little different. You'll work with a delicate fingering-weight yarn and a small hook, so patience is required. You'll find, though, that once you get the hang of these beautiful open stitches, the project will work up quickly and beautifully.