Crafting confessions, we all have them. They're those little (or big) quirks that come out only when we're in the zone, doing what we love. Today, as part of Bluprint's Member Appreciation Month, we're sharing reader's deepest, darkest crafting confessions — and trust us, it gets good.
From drinking while crafting and singing out of tune, to a "no bras allowed" crafting mantra, we're flying our crazy crafter flags a little higher (and a little prouder) today. Read more below, if you dare.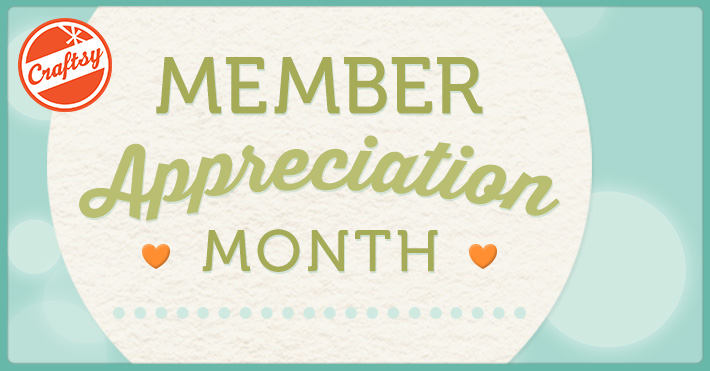 Bluprint member reveal their deep, dark crafting confessions…
"I cannot sew without Joni Mitchell in the background and a bag of corn nuts beside my sewing machine."
"I never, ever, EVER swatch. I can't stand it. If I'm off-guage. I start over, or adjust the pattern as I go….I also knit while I drink."
"Quilting is my passion. I love to retreat to my sewing room wearing my gym clothes, seltzer water, sometimes an adult beverage and my music…..right now it's Led Zeppelin!"
"I've spent about 10 times what my husband suspected. He knows I genuinely get lots of bits from charity shops, but not everything."
"My mom taught me to knit when I was 12, to have an outlet for my fidgety energy. I knit while watching trashy TV, like Supernatural and Ghost Adventures. Both are an escape for me."
"I hardly ever buy new material. I like to rip up old scrubs and bag sale shirts!"
"I like to sew in my PJs. I call them 'my evening wear' and I put them on whenever I'm at home!"
"Sometimes I get so angry that I call my yarn/hooks/projects absolutely horrible names…and then I throw them. My husband has to take away my crafting supplies — it's basically an adult time-out."
"I never check my gauge. It's a bit exhilarating to start every project that way."
"I love to make things but I am not good about finishing pieces. I have so many UFOs. I seldom make a pattern more than once unless someone requests something that I have made."
"I decorate cakes to escape. I frequently find that I have 'checked out' of my day while I decorate. It's a freeing place to be!!"
"I always have to wear "old" clothes when I bake or decorate because I'm a very messy cook. I usually have flour, cocoa or powdered sugar all over me, my counter or floor. And sometimes everywhere!"
"I Netflix binge while I crochet."
"I use crafting to relieve anxiety, the way some people smoke or drink. Countless times I've gone straight from therapy to the craft store, neeeeding to learn something new. I already sew, quilt, knit, crochet, embroider, make jewelry, scrapbook —all of the usual stuff. Tatting? 14th century black work? Temari? Check, check and check. I'm running out of things to learn!"
"I like to quilt in slippers, sweats and all day long. I love quilting with others. I prefer to do it away from home, that way nothing distracts me. Normally no bras allowed."
"I decorate at night when the children are asleep And the house is peaceful then I put the radio on and dance around the kitchen singing out of tune. My time, my happy place xxx."
"Braless."
"I can't sew a straight seam with shoes on. Have to be barefoot. Can't figure out why. But no shoes for me."
"I'm really good at starting projects, pretty good at working on them, not so good at finishing them."
"Spending time around 'non-creative' types makes me more creative. The more lacking a person's talents are, the more it makes me want to throw myself into my art!"
"I would rather be doing any of my favorite crafts…quilting, knitting, counted cross stitch…than cleaning house. At least with crafting you get a tangible result of unique items that can be used as clothing, home decor, gifts, etc. With cleaning house, no one notices unless you don't do it, and no one helps. I keep waiting for the gremlins to show up and do it overnight, but those little beasties apparently don't have my place programmed into their GPS. Sigh…"
Feeling free and inspired to declare your own crafting confession to the Bluprint community? Leave yours in the comments section below!