Square cakes looks pretty tricky to ice, but we've got a simple little trick that'll make decorating oh so easy! Plus, we've got lots of little tips to help make covering square cakes in fondant totally stress-free. Keep reading to find out the easiest way to cover a square or rectangular cake with fondant.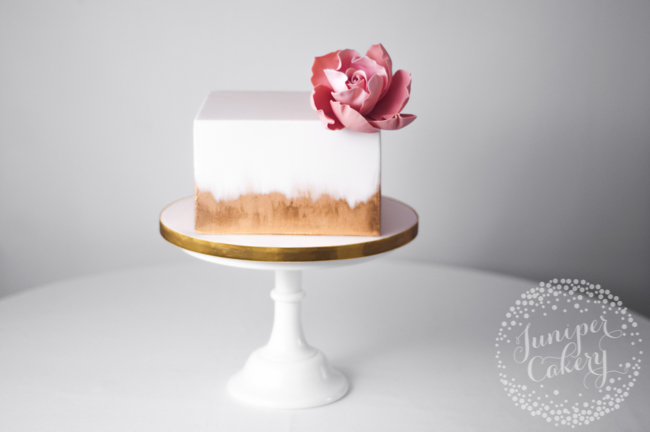 A lot of people are scared of icing square cakes with fondant, and it's not a surprise! Circle cakes are more of an organic shape, so they already feel unthreatening.
Square cakes, however, have so many sharp edges that can be pretty unforgiving when iced. It's also tricky to figure out what on earth to do at the corners. This super easy trick of cutting away excess fondant will also cut out your stress.
How to easily cover a square cake in fondant
What you need:
Crumb-coated square cake
Fondant
Large silicon rolling pin
Two icing smoothers
Large, sharp scissors
Pliable icing smoothers
Step 1:
For this tutorial, we're using an 8″ wide by 5″ deep square cake dummy, and we used about  a cake this 1.1 kg / 2.4 lbs. of fondant. Of course, you're probably using a real cake, but don't worry — the same technique applies.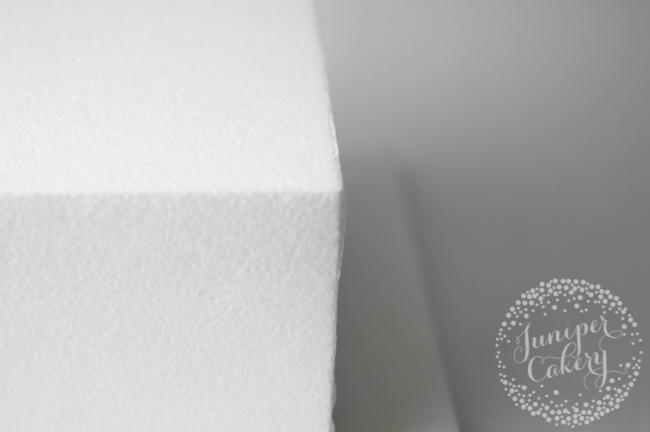 When it comes to icing a dummy cake, we added a light coat of piping gel so that the fondant would adhere. But with real cake, all you really need is to lightly brush or spritz the surface of your cake with water.
Step 2:
Using your silicon rolling pin, Rrll out your fondant to a thickness of around 4 to 5 mm (1/8″ to 3/16″).  You don't want the fondant to be too thick or it will be incredibly hard to work. It'll also weigh more, putting a lot of pressure onto your cake. Plus, it's not going to be too enjoyable for anyone eating it later!
Make sure the piece of fondant is a lot bigger than the cake you're about to cover.
Step 3: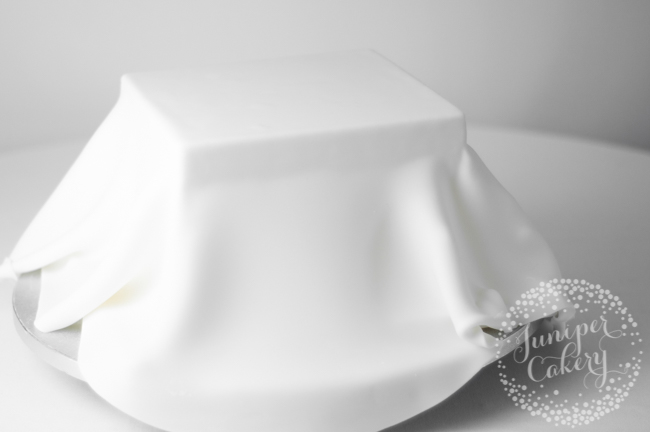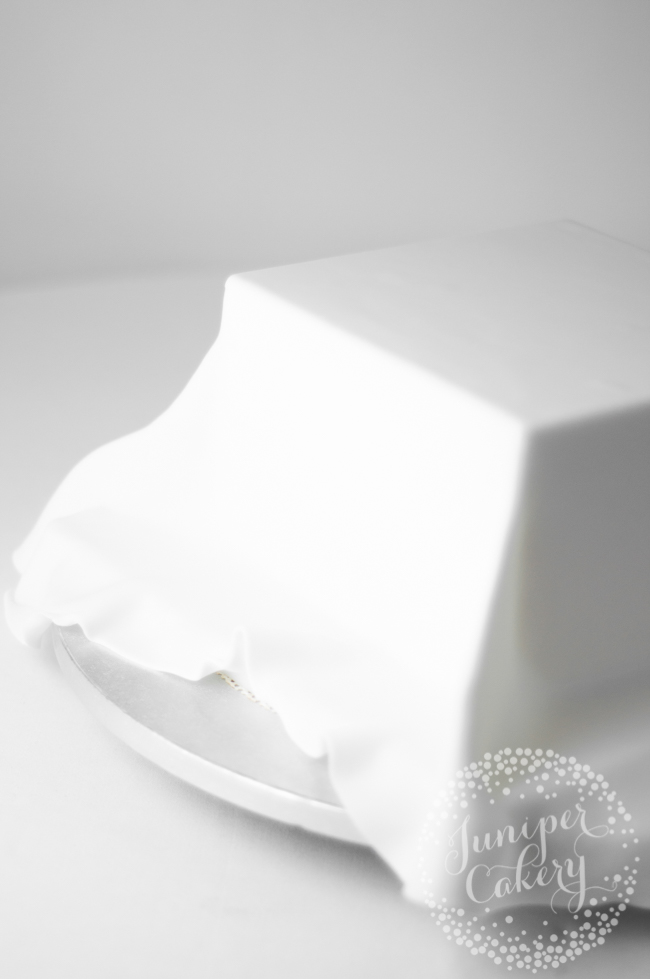 Working quickly gently lay the rolled-out fondant on top of the cake. Pat and smooth the fondant on the top and sides of your cake. Remember to take particular care with the top sharp corners!
Tip: Fondant can be heavy, which leads to rips or tears. Smoothing it on the tops and sides of your cake as quickly as possible helps take the weight of the fondant off the sharper corners. 
Step 4: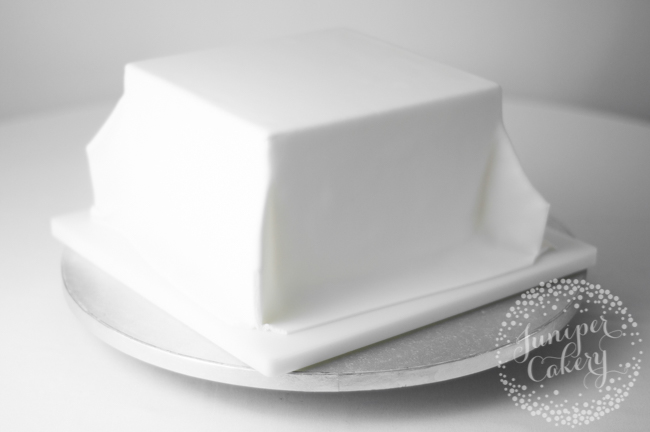 Lightly pinch the excess fondant at the corners of your cake together. This helps seal the fondant so that it's easier to cut away in the next step.
Step 5: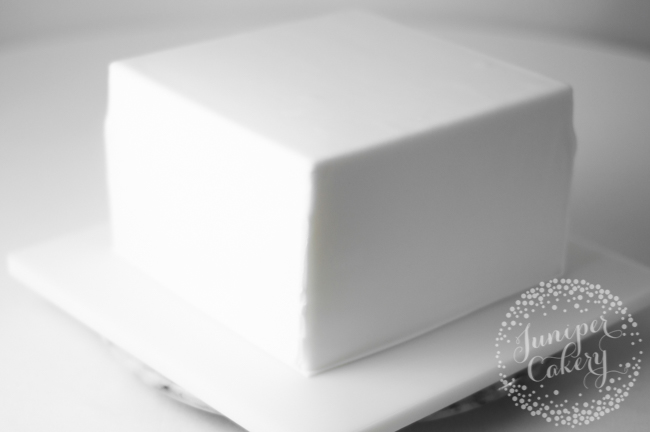 Now use your sharp scissors to snip away the fondant at the corners. This helps you get sharp, level edges on your square cake.
While cut away the excess fondant at the corner edges is essential, you don't want to remove too much. Cutting away more fondant than intended means you risk having some exposed cake. It's much better to remove a little at a time.
Step 6: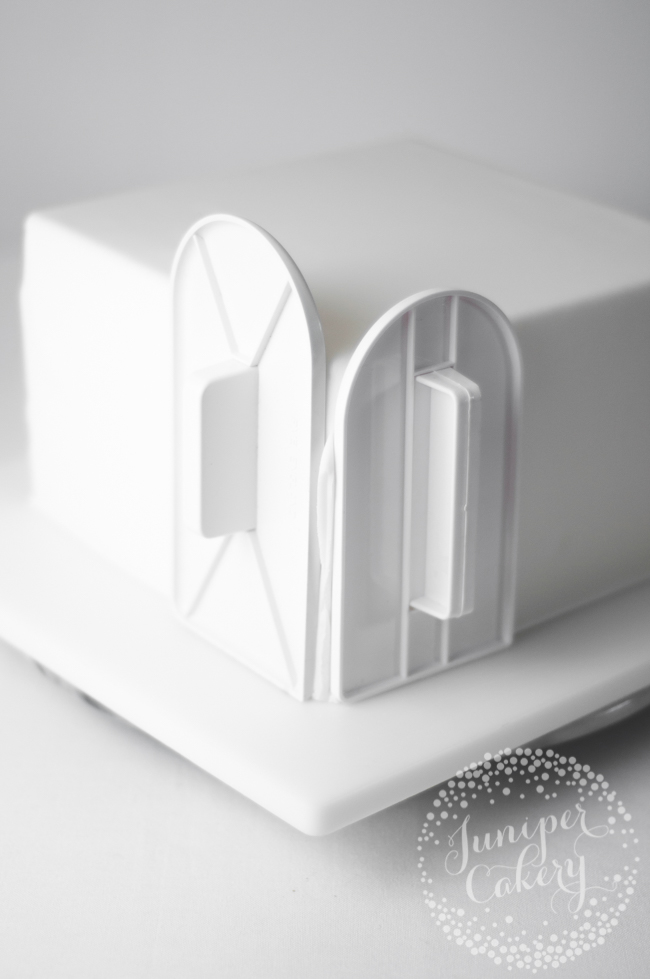 Next, using two icing smoothers, gently "squish" the excess fondant at the corners together. It should begin to cut away from the cake as you work both smoothers toward each other.
Sometimes it also helps to smooth with one smoother and hold the other in place so any extra fondant cuts away without stretching or tearing.
Step 7: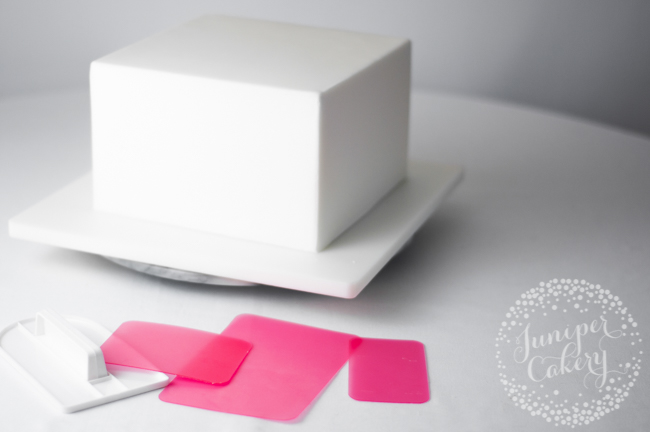 Finally, give your fondant-covered square cake a flawless finish by using pliable acetate icing smoothers to work away any rough edges left behind. You can also make your cake extra sharp by gently smoothing the top edges as well as the corners.