This special installment of Savory Saturday is brought to you by award-winning cookbook author Andrea Nguyen, instructor of the Craftsy class Favorite Asian Dumplings from Scratch. Here, she talks gives her first-hand experience of cooking pot stickers. Check out her class to learn how to make popular dumplings from China, Japan and Korea, including shrimp wontons, pork and mushroom siu mai, and Japanese pot stickers.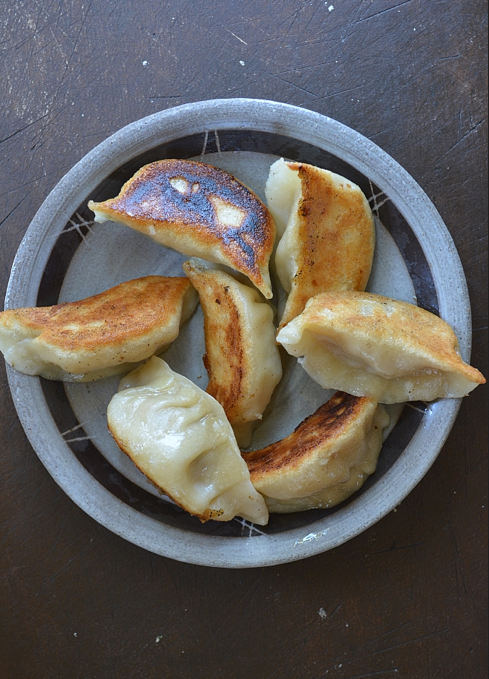 Have you ever wondered how pot stickers got their name?
Most of us know them as a dumpling that's pan-fried in a skillet, not a pot. Why are they called pot stickers?
Foreign food names are not always translated well into English, and pot stickers suffer a bit from that.
The history of pot stickers
Pot stickers are Chinese in origin and to get to the bottom of the naming issue, consider the dumpling's Chinese name, guotie, which literally means "wok stick."
It totally jives with the dumpling's legend, which dates pot stickers back to the Song Dynasty (960 – 1280 A.D.). According to this history of pot stickers, they were initially regular shuijiao boiled dumplings cooked in a wok (guo) — the multipurpose Chinese cooking pot. A chef who was boiling dumplings forgot about them and after the water had boiled away, the dumplings stuck (tie). He didn't know what to do, so he pried them from the wok and served them. His guests loved the contrasts between rich filling, tender skin and crusty bottom. Thus the pot sticker was born, and the Mandarin name for pot sticker, guotie, stuck.
So how do you go about cooking pot stickers in a wok? I've tried several times over the years and the results were so so. This weekend I had a little epiphany.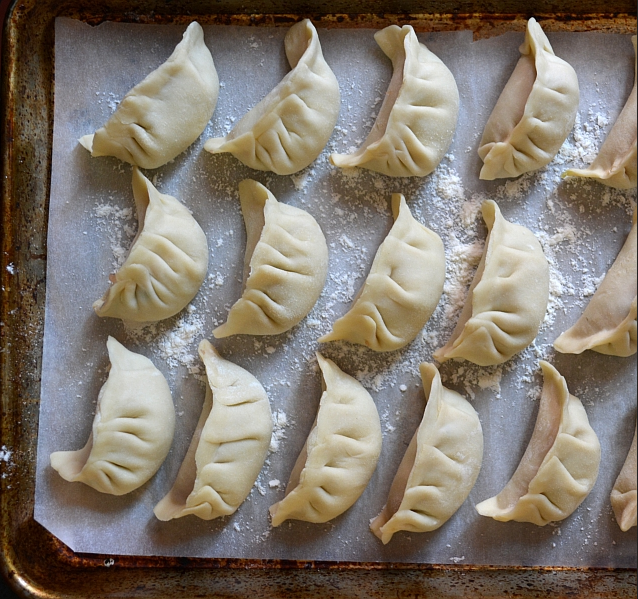 Cooking pot stickers can be an adventure. I made my dumplings from scratch, with homemade wrappers and a classic pork and napa cabbage filling. Then, I got my trusty wok. Figuring that water and fuel may have been scarce resources in the Song Dynasty, I heated about 3/4 inch of water, covering the wok with its domed lid to quickly bring things to a boil. Then, I put a half dozen dumplings in. The dumplings weren't submerged, and replacing the lid was my solution to exposing the upper part of the dumplings to the steaming water's moist heat. In the past, I didn't use the lid and had a lot more water in the wok.
I then went about doing other things in the kitchen, like make the dipping sauce and cleaning up, ostensibly what the Chinese chef may have done. My wok lid is not tight and the water boiled away relatively quickly (in less than 10 minutes). When I returned attention to the wok, the dumplings were definitely cooked and the bit of remaining liquid was foamy and thick, like in the photo below.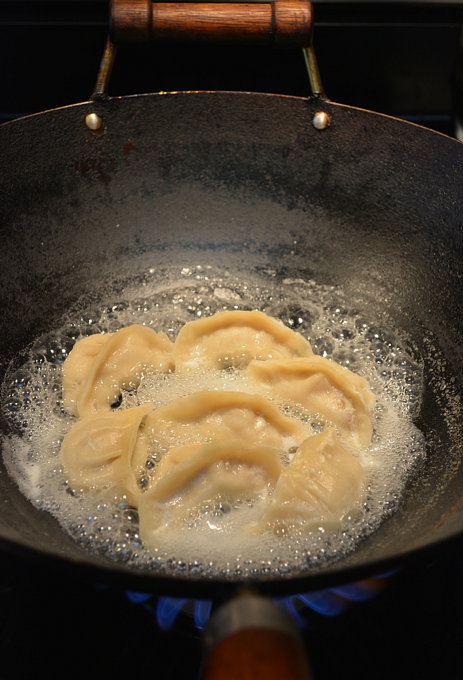 The wok was on my biggest burner and soon, there was no liquid left. Smoke began coming up, and I took the wok off the heat. I poked and the dumplings wouldn't budge. I drizzled in oil, then replaced the wok on the burner over medium heat. No lid used this time.
The dumplings gently sizzled and after a few minutes, I slid a thin spatula under each one. With little push, they all lifted from the wok. The crisp bottoms were lovely.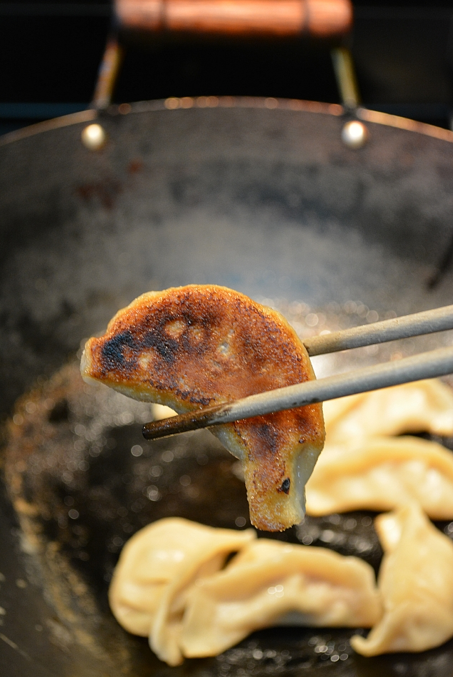 Yay! I was sweating it a bit because I usually cook pot stickers in a nonstick or cast-iron skillet. My wok is a cheapie that acquired its nonstick surface over the course of years of use. Quite impressive for old-fashioned cooking technology. The bottoms were unevenly browned, rustic looking. They tasted divine, though they were a little more tender than usual because they partially boiled in all that water I put in the wok.
For a comparison, I pan-fried some of the dumplings in a heavy nonstick skillet like I typically do. Here's how the two kinds compared: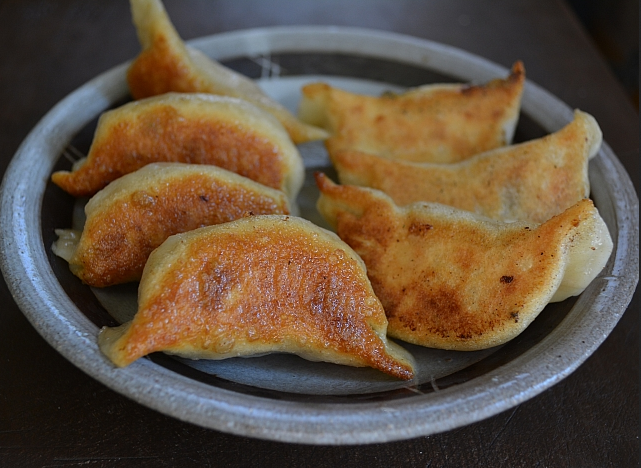 The skillet-cooked pot stickers on the left had much more evenly browned bottoms. The wok-cooked pot stickers were browned unevenly. You can't see it, but the wok dumplings also sagged a bit due to the boiling method of cooking.
If the wok worked well enough, why switch to a skillet? You can only cook so many pot stickers at a time in a wok because of the small space at the bottom for browning them. Skillet and other cooking vessels with broad flat surfaces can accommodate a lot more. Pan-frying bigger batches means you get to savor more the dumplings  faster. Who doesn't love that?
About Andrea Nguyen

Andrea Nguyen is one of America's leading voices on Asian cuisine. A cooking teacher, consultant, and writer, she wrote the acclaimed Asian Dumplings, Asian Tofu and the James Beard- and IACP-nominated Into the Vietnamese Kitchen. She has written for Saveur magazine, where she is also a contributing editor, the Los Angeles Times, Wall Street Journal, and many others. She is a regular guest on food radio programs and has been an invited speaker at Yale University, the Culinary Institute of America, and the Southern Foodways Alliance symposium.[/box]
What's your favorite way to cook pot stickers?