To create compelling colored pencil drawings, an artist can employ a variety of techniques to achieve the look they desire. Here, you'll learn some of the most basics techniques that you need to create realistic drawings. Once you know these key colored pencil techniques, you'll be abel to add texture, dimension and rich color to your drawings.
Create volume with stroke direction
The direction of your strokes makes a big difference in describing the three-dimensional form. Strokes describe texture. In the drawing above, you can see the crosshatching  in the background, circular strokes in the shell, horizontal strokes in the table, short strokes in the black cord and very short (and later blended) strokes in the amber heart.
Before you begin shading, ask yourself which direction you should layer the colors and how long or short the strokes should be. It may take some experimentation to understand the affects each type of stroke has on the texture of your composition.
Learn Colored Pencil Essentials
Improve all of your colored pencil drawings! Learn easy, empowering techniques for color mixing, application and more in this expert-taught online video class.Enroll Now »
Layering one color at a time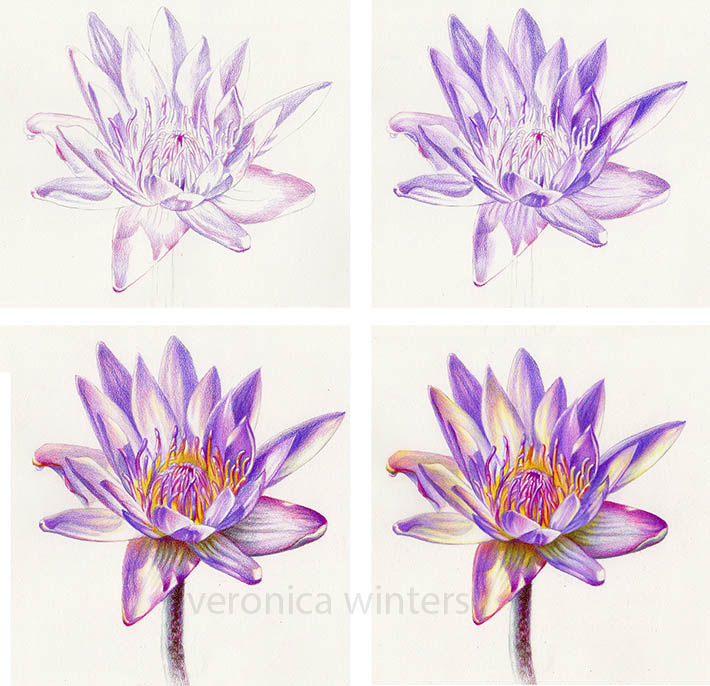 While many artists shade sections of drawings in all colors from start to finish, I tend to build my layers slowly, shading with one color at a time, using it throughout my drawing. This way, I can better control the values and develop the consistency and unity of all sections together. In the drawing above, you can see that I use two colored pencils on all petals but with various pencil pressure (top left) and then added the third color (top right). After that, I layered and blended more colors (bottom left), and finished up by adjusting edges and values (bottom right).
Using grays in your color palette
Colored pencils naturally lend themselves to very colorful and detailed works, it's quite unusual to see a wide use of grays in artists' work. However, if you understand how the grays affect your artwork, you can create depth and atmosphere. Grays also let you create a selective focus of one colorful point set against the less-vibrant background. Colored pencils don't mix to grays and thus the manufacturers produce both warm- and cool-colored pencils in various percentages of gray.
Here are a few ways to use these grays in your compositions:
Use the gray over a color to "calm it down" or neutralize its chroma (brightness) in the background. This way, a bright flower in the foreground, for example, becomes even brighter because of the grayed-down color around it.
Apply it over the color in shadows.
Don't use plain gray colored pencils to describe the form by itself, as there is always some color underneath the "gray" cloud or "gray' coffee cup. 
In the drawing of the white fabric, you see a variety of grays applied over the light, warm and cool colors to gray them down.
Blending
While I describe various blending techniques in another post, it's worth mentioning this technique again. Noticed the definite difference between the unblended surface (above left) and the blended one (above right). Blending greatly affects the feel of the painting and makes it look more realistic. To blend the large areas, I usually use the solvent Gamsol and the Caran d'Ache bright blender stick pencils for smaller or light areas. If you draw on smooth paper, blending is often not needed because colors tend to blend by themselves during general shading.
Learn Colored Pencil Essentials
Improve all of your colored pencil drawings! Learn easy, empowering techniques for color mixing, application and more in this expert-taught online video class.Enroll Now »