Coffee is certainly a powerful brew. It's the stuff of waking up, of mid-morning gossip sessions, of afternoon pick-me-ups, of after-dinner dessert bliss. Whether it's in a mug, a takeaway cup or a carafe, it's a part of our everyday lives. So why not celebrate its influence on cake decorating?
This collection of beautifully decorated cakes may not always include actual coffee but the majority include plenty of cream and sugar.

Photo via Pink Cake Box
Coffee buzz cake:
Coffee is the muse on this sprightly, spirited cake, which features cake tiers covered in a pleasing palette of fondant pastels. The bottom two tiers are round; the top is actually shaped like a coffee mug. The rest of the cake is garnished with piping to resemble steam from a hot coffee cup, more mug cutouts, and zingy curls of sugar.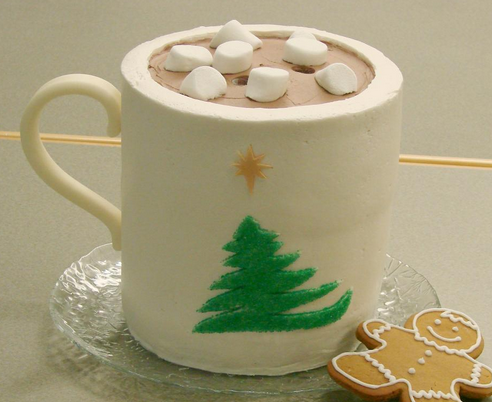 Photo via Bluprint member Frostine
Giant coffee cup or hot chocolate cake:
A cake that looks like a mug is a perfect way to celebrate a love of any hot beverage, be it cocoa, tea, or coffee. Created using an 8″ round cake pan, buttercream, white modeling chocolate, this cake was served with dry ice so it looked like it was steaming!
[box type="shadow"]This cake artist created a realistic texture for the mug by using a white chocolate, which allows for the creation of numerous embellishments and textural elements for cakes. Learn how to use this versatile medium in Laura Kitchens's class on modeling chocolate.[/box]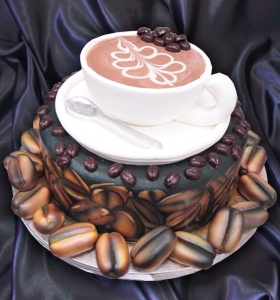 Photo via Chocolate Earth
Latte cake with coffee beans:
A latte love went into this intricate cake. A layer of chocolate cake is garnished with what look like beautifully airbrushed coffee beans in all sizes. The graduation of large to small coffee beans draws the eye to the top tier, which features a latte complete with decorative "foam".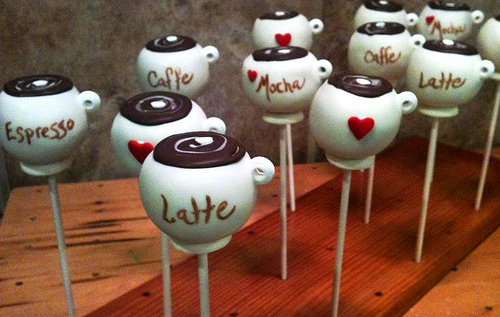 Photo via Kim's Sweet Karma
Coffee cake pops:
Candy melts and crushed cake come adorably to form these stylish cake pops, which feature a hand-swirled white foam streak and use edible markers to write "latte" or other coffee terms on the mugs.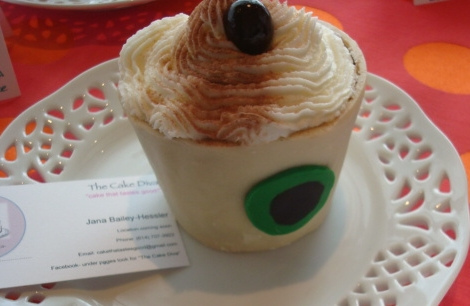 Photo via CakeSpy
Latte cupcakes:
You'll be saying "thanks a latte" when you realize that this sweet treat is even better than a coffee beverage–it's cake! Delicious cupcakes are wrapped in fondant, and then piped using a star tip with buttercream to form a perfect "foam" topping to make a realistic latte look.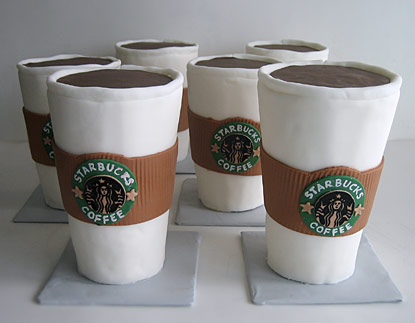 Photo via The Sugar Syndicate
Takeaway coffee cup cakes:
Here's another version of the individual coffee cup cake, created by Chicago baker The Sugar Syndicate. Realistic detailing makes these cakes a real trompe l'oeil, with handmade (and edible) labels and coffee jackets around each cup.

Photo via That's Very Fun
Coffee and donuts cake:
Coffee and donuts are a classic combination, but there's always room for cake, too. This cake is inspired by the color palette of a famous doughnut chain, and features pink and orange piping along the edges, a fondant coffee cup, and of course a cascade of donuts along the cake's edge.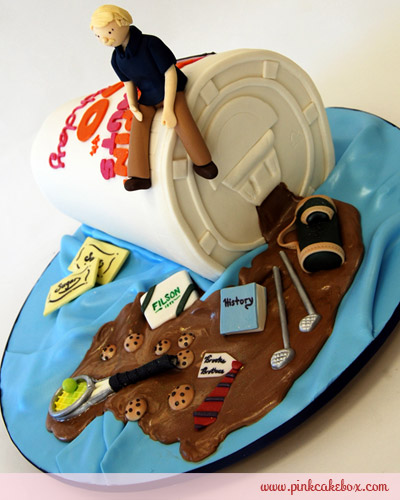 Photo via Pink Cake Box
Doughnut birthday cake:
This cake is the reflection of the recipient's greatest loves–one of which is coffee. An overturned coffee cup with a handmade figurine sits on top, and out of the coffee cup pours a series of fondant and gum paste-formed figures of other interests, including books, cookies, and teeny tiny golf clubs.
[box type="shadow"]Looking to create a similar cake? Have a cup of coffee first, then launch into decorating with these tips and recipes:
[/box]

Photo via distopiandreamgirl
Coffee bean cake:
It's all about the bean when it comes to coffee, and this cake celebrates where it all starts. Dark chocolate cake is easy to form into the shape of a bean, with a yin-yang type indent. Simple, but sweet.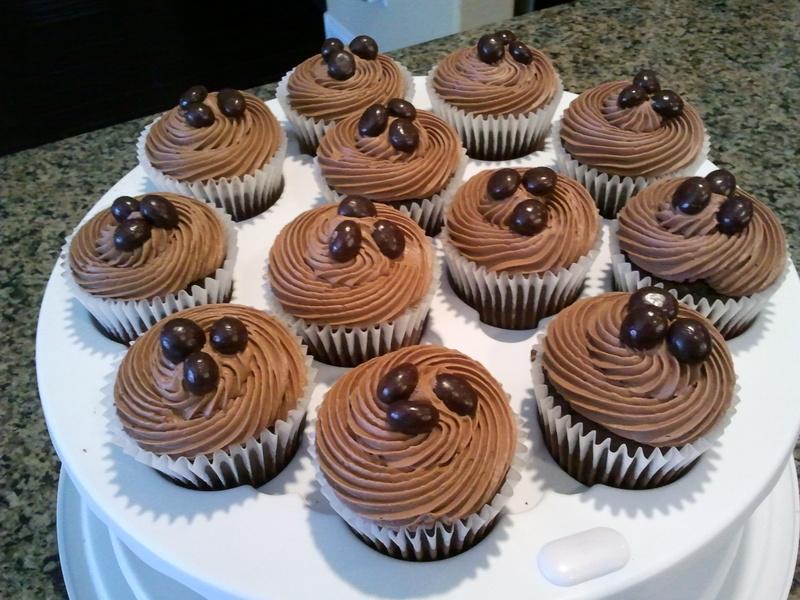 Photo via Bluprint member Njoy2sew
Coffee bean cupcakes:
These cupcakes convey a coffee theme with a chocolatey look. Made with instant coffee in the icing and chocolate covered coffee beans on top, these cupcakes are certainly coffee-rich.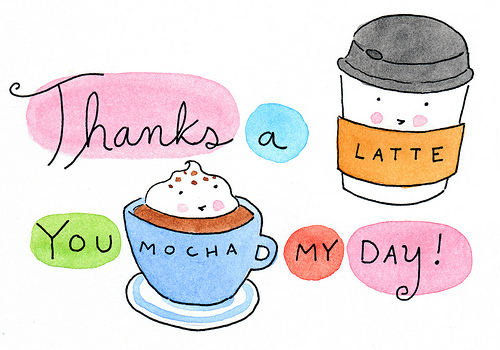 That's a buzz-worthy collection of cakes! Do you prefer coffee or tea with cake?
Do you own or aspire to own a cake business? Come back to the Bluprint Blog tomorrow for the first installment of our new series, Cake Inc., where we'll cover all sorts of need-to-know business topics for people in the industry! First up: How to price your cakes like a pro.