Carnivals and circuses have brought such joy and amazement to all who attend for many years. From the big top to fairs of various sizes, the entertainment, rides and, of course, the food draw crowds of all ages to partake in the fun, while also providing a popular cake design theme!
Come one, come all and be inspired by these marvelous carnival and circus cake and cupcake creations!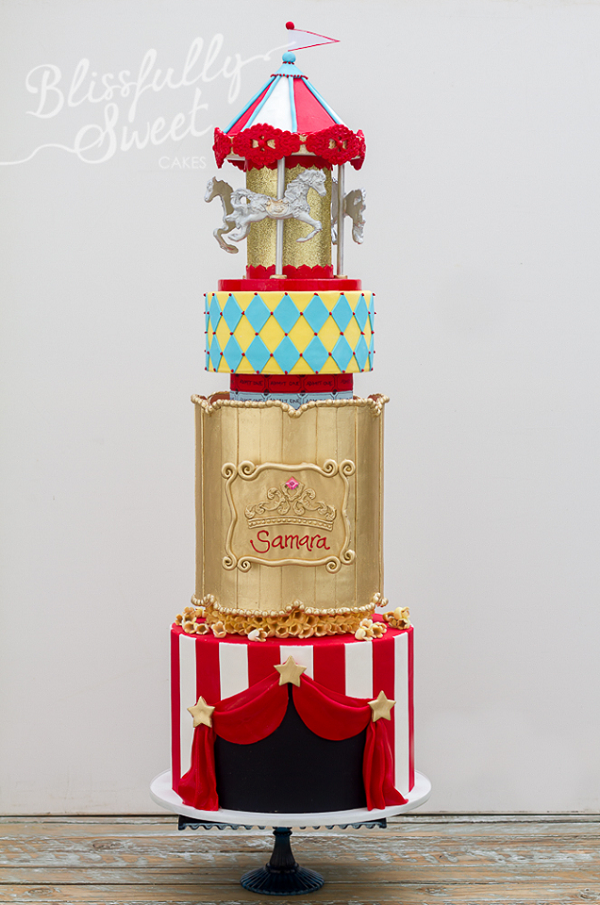 Photo via Blissfully Sweet
Grand carnival cake
When the circus comes to town, it's often an extravagant occasion and this Grand Carnival cake by Blissfully Sweet is nothing short of monumental! Constructed with six tiers, different recognizable elements are reflected on each layer in a variety of sizes, from the traditional circus tent to popcorn and carnival tickets being replicated on miniature tiers. The use of gold adds an air of sophistication to the piece, while iconic striped and harlequin patterns are applied to the design. And finally, the piece de resistance is the carousel topper, which actually spun around!
For instruction on creating show-stopping circus cakes, make sure to check out the Bluprint course Clean & Simple Birthday Cakes with Jessica Harris, who teaches you how to cleanly and easily transfer fondant patterns to your cake, while constructing beautiful and impressive structures for your celebratory cakes.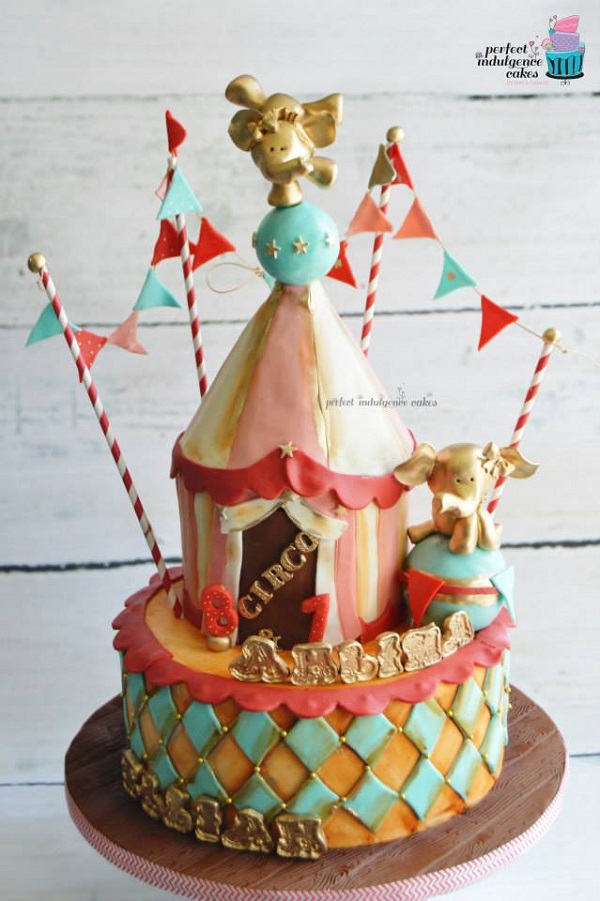 Photo via Bluprint member Maria Cazarez
Girly circus cake
Also in Jessica Harris' Clean & Simple Birthday Cakes, Bluprint member and cake artist Maria Cazarez created this breathtaking Girly Circus Cake, taking elements from the course and giving them a vintage and more feminine twist! Again, familiar patterns relating to the circus are transferred onto the cake, then hand-painted to give it a weathered look. Elephants sculpted out of gum paste are gilded with gold and added to the piece, while the cake is finished off with the guests of honor's names.
For help with creating fondant creatures, check out Cake Topper Techniques: Fondant Animals with Sharon Wee and find out more about personalizing your creations in Nicholas Lodge's Custom Lettering & Monograms!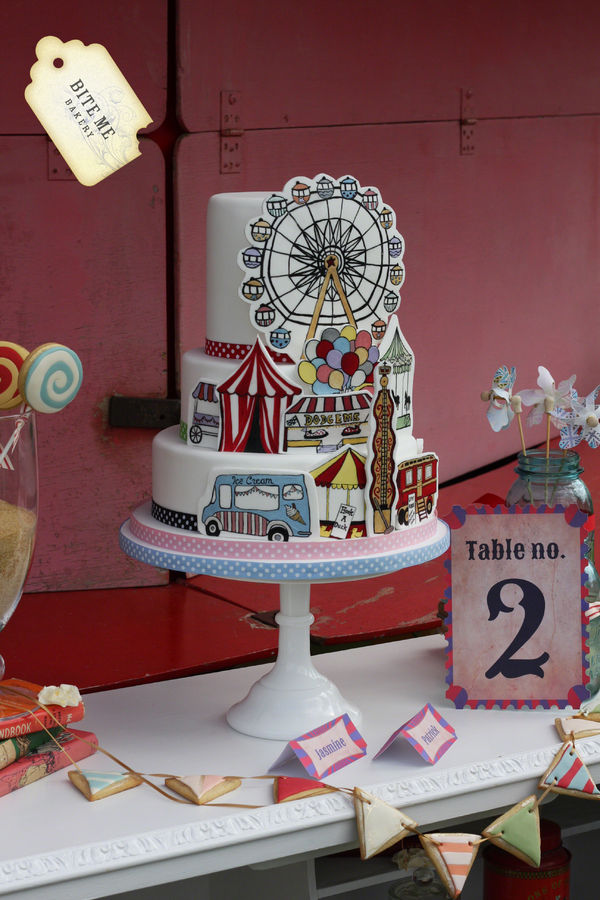 Photo via Bite Me Bakery
Vintage fairground cake
This absolutely gorgeous Vintage Fairground Cake by Bite Me Bakery reflects all the fun times to be had at a carnival! The three layers of cake are flawlessly covered with fondant, while all the details of the carnival, including the ferris wheel and attractions, are meticulously hand-painted onto individually cut pieces of gum paste and fondant with an edible paint made with the combination of melted cocoa butter and powdered color dusts, providing a creative and beautiful three-dimensional effect.
To find out more about painting cakes, check out the Bluprint course The Art of Painted Cakes with Kate Sullivan and The Hand Painted Cake with Erin Schaefgen for a variety of tips and techniques to utilizing cake and fondant as your canvas!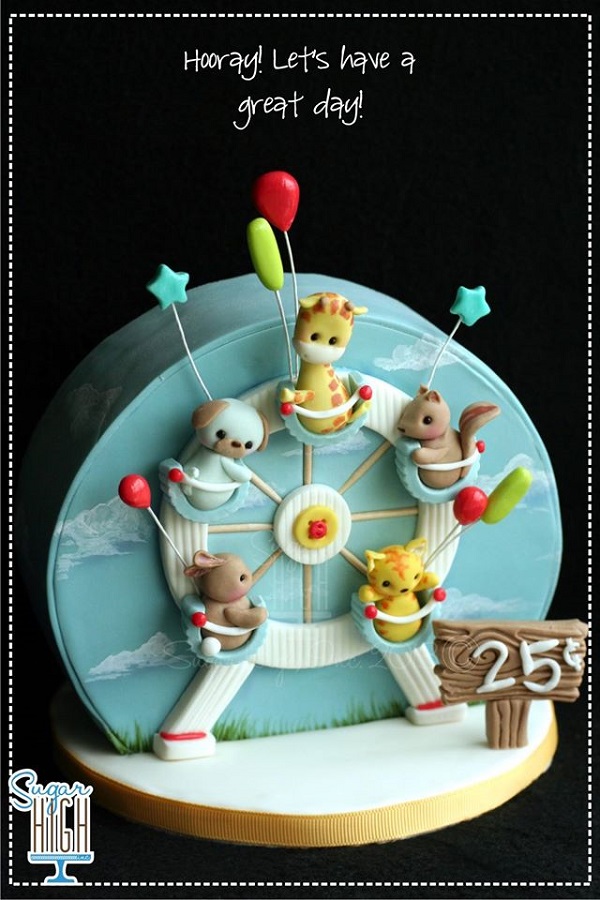 Photo via Sugar High, Inc.
Ferris wheel cake
This absolutely precious Ferris Wheel cake was created by Bluprint instructor Brenda Walton! The three-dimensional cake is stacked and carved vertically and covered in fondant. The background details, such as the clouds and grass, are hand-painted, then the ride and beyond adorable fair attendees are modeled and adhered to the cake. Each character is also holding onto balloons, added with the use of cake wires.
Learn to create adorable fondant toppers with Brenda in her course Custom Cake Toppers: Step by Step, where she teaches her techniques to molding her figures and adding details to bring them to life!
Photo via Lynlee's
Cirque cuisine cupcake toppers
One of the best aspects of a carnival is undoubtedly the food! The three-dimensional circus elephant and seal fondant toppers included in the book Sweet & Unique Cupcake Toppers are paired with designs reflecting fair fare, such as popcorn, cotton candy and apples, along with additional items, like a clown nose and an award ribbon! Texture is added to the bottom toppers for added detail, while a glossy finish makes the balloon animal and candy apple shine!
Learn to make miniature food items in the Bluprint course Tiny Cupcake Toppers with Sheryl Bito, perfect to top your cupcakes and small confections!
What's your favorite carnival activity?
Free Online Cake Decorating Class