Whether you choose appliqué or pieced circles for your quilting projects, you'll feel a great sense of accomplishment after quilting circles! Inevitably, your non-quilting friends will ask, "How did you do that?"
Since pieced circle quilts and appliqué patterns both have their devotees, we thought we'd share a variety of free circle and curvy quilt patterns to inspire your next project.
Raw-edge appliquéd quilt:
One of the simplest forms of circle quilts is a raw edge appliqué design, which washes up with a softly frayed edge. The Indie Chic Circle Quilt by Liz of Simple Simon & Company is one example of this technique. To measure your circle cutouts, you can use cutting templates or trace around bowls and plates of different sizes.
Once each bulls-eye pattern is raw-edge appliquéd to the base fabric, each block is cut into quadrants and reassembled. You could also adjust the pattern and leave out this last step if you'd rather see the full circles in your finished project.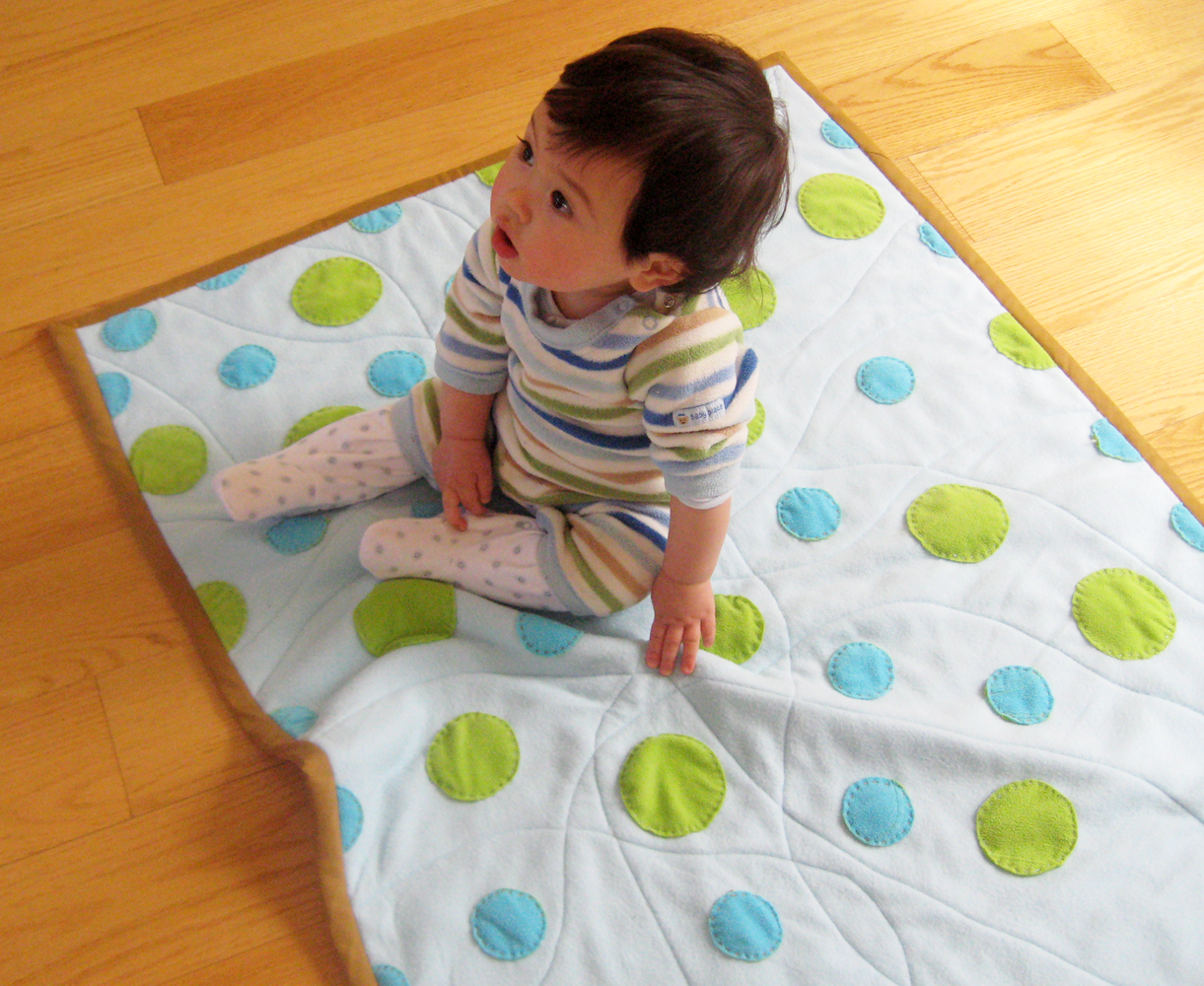 If you've fallen in love with the ease of raw-edge appliqué, you might like this Circle Appliqué Baby's Mini Quilt from Stephanie at Eden & Eliot. Made from repurposed baby clothes, a jersey fabric that won't fray, these circles are simply hand-stitched at random to the quilt front. The quilting is finished by machine in a free-flowing waves pattern.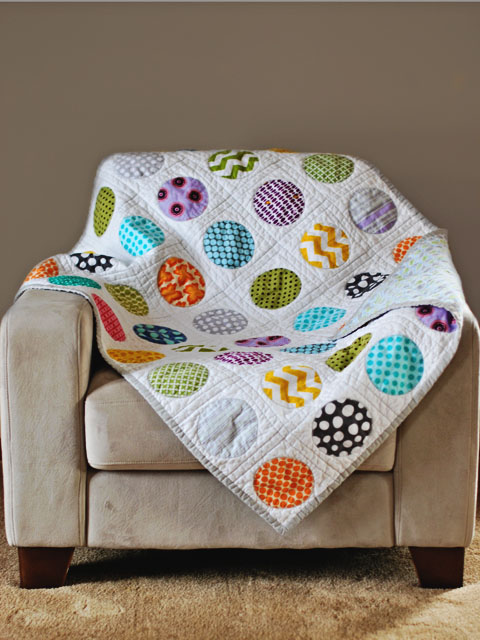 Appliquéd dot quilt:
The Circle Quilt by Holly at Bijou Lovely is an appliqué quilt pattern that calls for a circle cutting template to make perfect colored dots. The appliqué is then ironed to interfacing and blanket stitched to the exact center of each square base block. A blanket stitch or satin stitch paired with interfacing will keep the circles from fraying as the finished circle quilt goes through the wash.
Though this quilt requires a lot of steps, the project is relatively easy to make with Holly's detailed tutorial.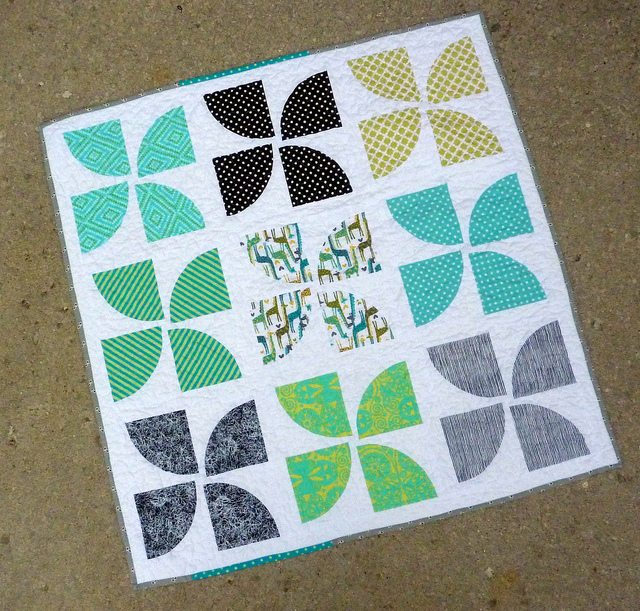 Curvy pinwheels quilt:
The Curvy Pinwheels Baby Quilt by Amy at 13 Spools is based on a 12" finished block that uses pieced quarter circles. Curved piecing is a technique that's great to learn for a variety of quilting patterns, like the classic Drunkard's Path block and even advanced quilt patterns, like Wedding Ring quilts. Amy shares a step-by-step tutorial for this free curvy quilt pattern with tips for pinning, stitching curves and ironing seams.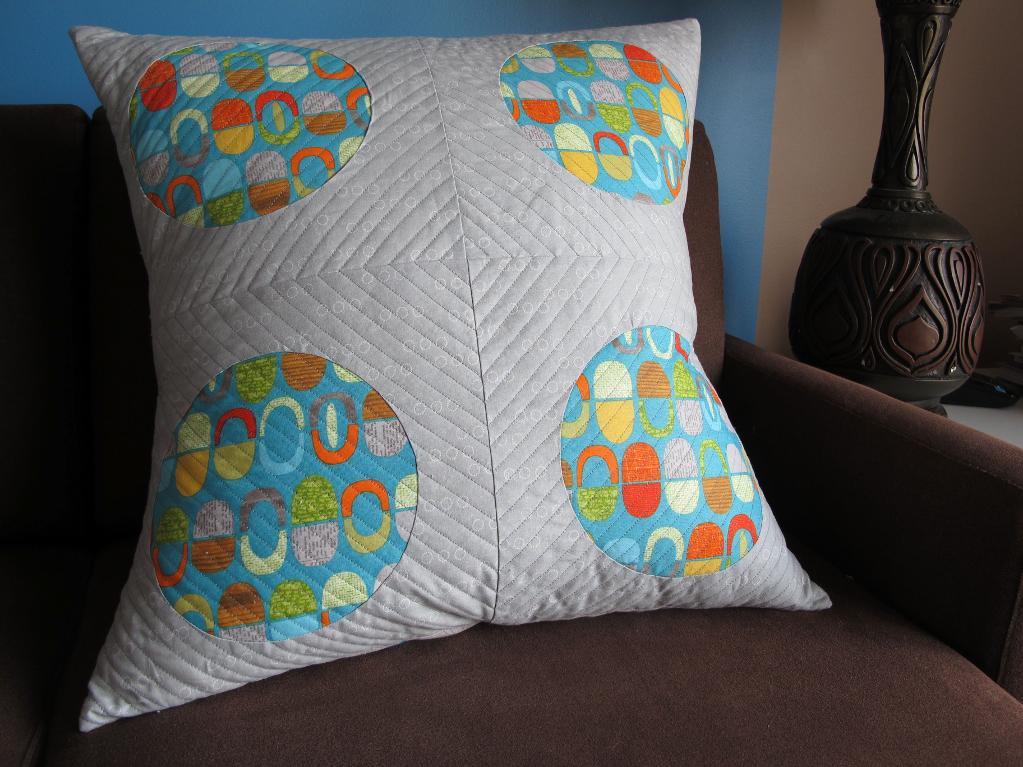 Want to study these techniques in more detail and become a virtual master of quilting circles? Sign up for Inset & Appliqué Circles by Machine with Cheryl Arkison. In addition to covering a variety of methods for appliqué, Cheryl teaches how to sew inset or pieced circles, quarter circles, improv curves, ovals and all kinds of elliptical shapes in between. Cheryl's Circle Mod Pillow, seen above, is one of the projects she made using a reverse circle piecing technique.
For more great patterns and inspiration, see this post on curved piecing for an Apple Core pattern and Drunkard's Path block, plus more ideas for quilting circles and curves. And come back to the Craftsy blog tomorrow. We'll be taking a look at sampler quilts of yesterday and today.
Are you more likely to try pieced circles or appliqué for your next circle quilt?