A dream is a wish your heart makes! Be inspired by these magical Cinderella cake and cupcake designs to create your own sugary fairy tale creations come true!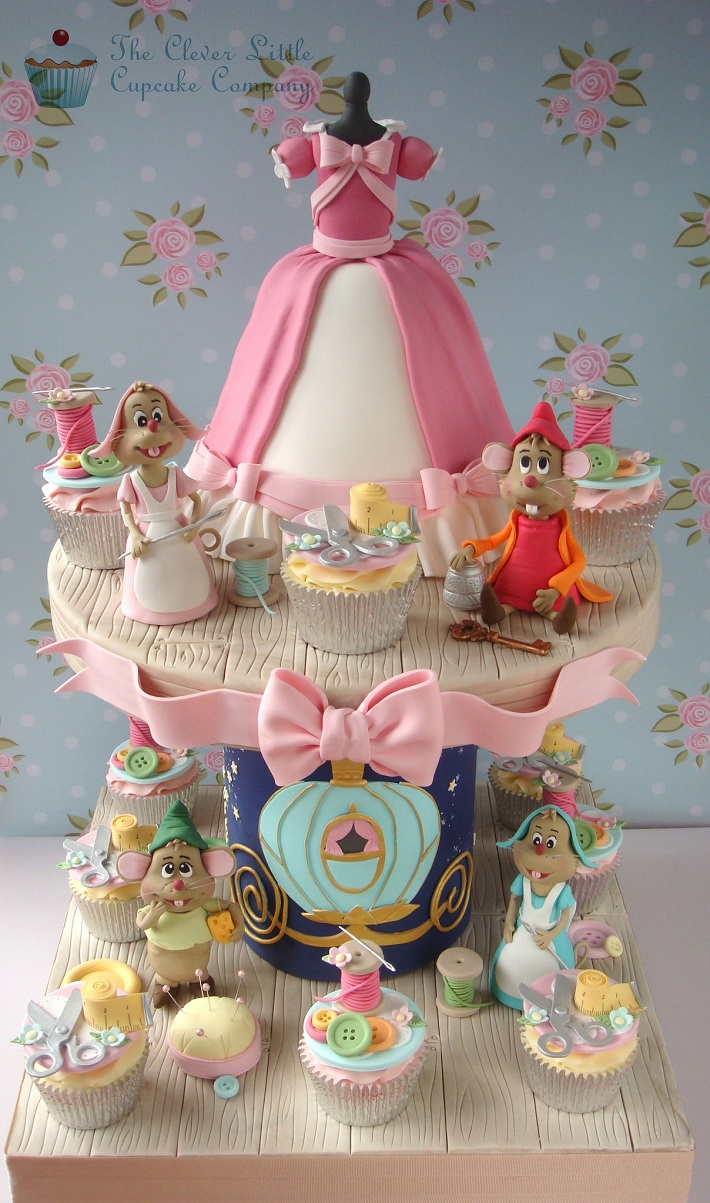 Photo via The Clever Little Cupcake Company
Cinderella cake and cupcake tower
This absolutely gorgeous cake and cupcake tower by The Clever Little Cupcake Company depicts the little loyal mice that attempt to assist their beloved Cinderella by sewing her a beautiful dress for the ball! The cake was carved and decorated with fondant to resemble the dress form, while each individual cupcake is adorned with dainty and meticulously-molded sewing-themed toppers. The custom-built stand is covered with a wood grain effect, embellished with a gorgeous bow and enhanced with incredibly detailed, hand-sculpted figures.
Learn to make adorable fondant creature figures in the Bluprint course Cake Topper Techniques: Fondant Animals with Sharon Wee to practice your modeling skills. If you're feeling ambitious, learn the techniques to re-create a larger scale dress cake with Anne Heap in her course Little Pink Dress Cake.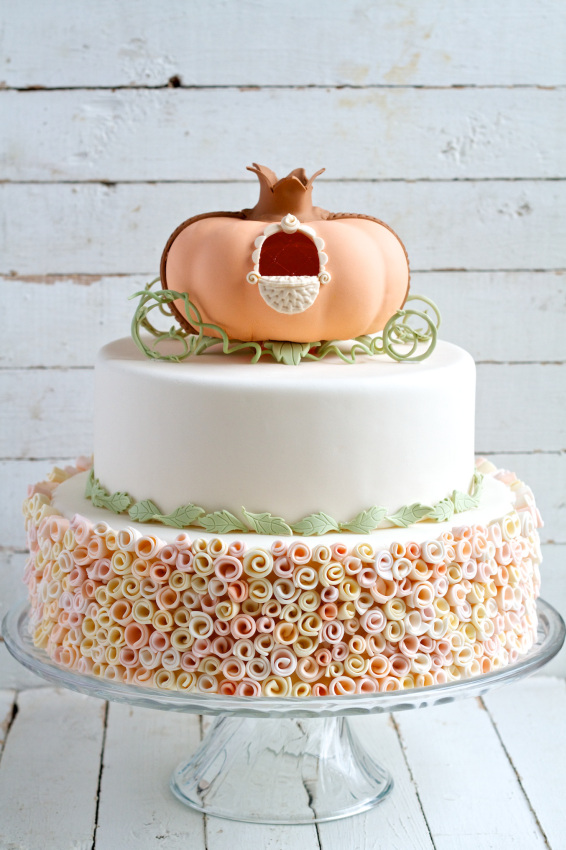 Photo via Bluprint member movita beaucoup
Cinderella carriage cake
Bluprint member movita beaucoup is the creator of this romantic and beautiful Cinderella carriage cake in the Bluprint course Basic Fondant Techniques with Elisa Strauss. The two tiered cake is pristinely covered with white fondant, while the bottom tier is further garnished with tiny charming rolled rosettes made of a combination of fondant and gum paste in a variety of soft colors. The incredibly ornate pumpkin carriage made entirely out of gum paste tops the cake, making it a show-stopping dream come true!
To learn tips and techniques to creating flowers and arrangements for your confections, make sure to check out the Bluprint course Rolled Fondant Flowers with Gary Chapman.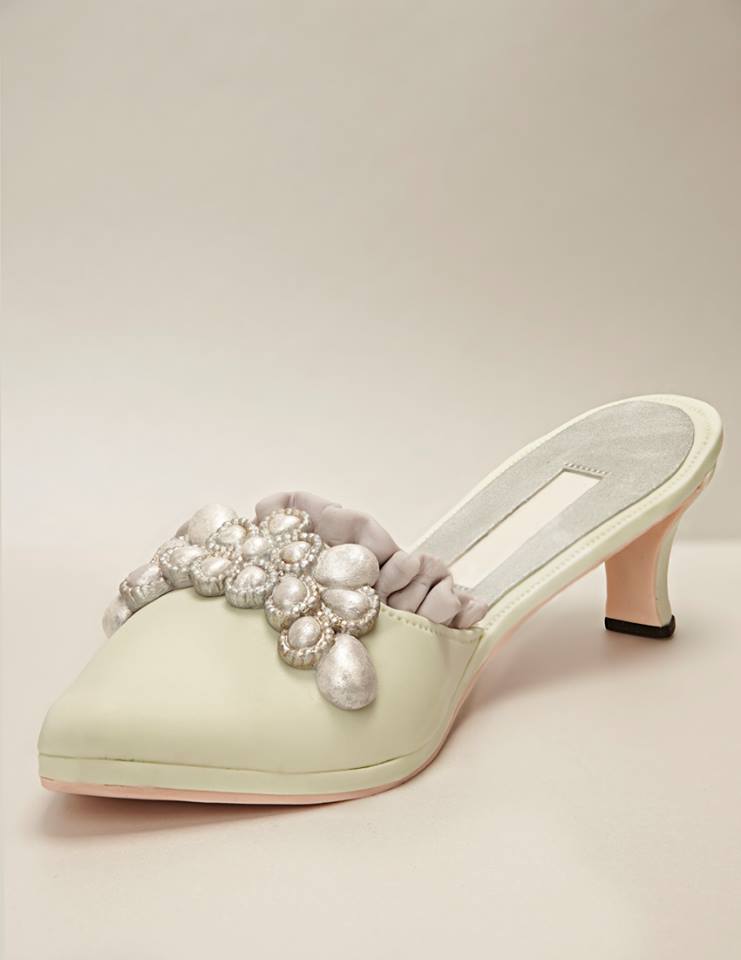 Photo via Bluprint instructor Elisa Strauss 
Cinderella sugar shoe
In her course High-Fashion Heels, Bluprint instructor Elisa Strauss teaches the detailed steps to creating stylish sugar shoes to top your cakes, including this delicate and ornate Cinderella sugar shoe! From the sturdy construction of the shoe to the addition of exquisite and realistic details, Elisa's dazzling creation would make it difficult for any princess to lose!
Learn to make additional ravishing details for your slippers and stunning cakes in the Bluprint course Jeweled Wedding Cake with Marina Sousa, as you bling out your sweet creations!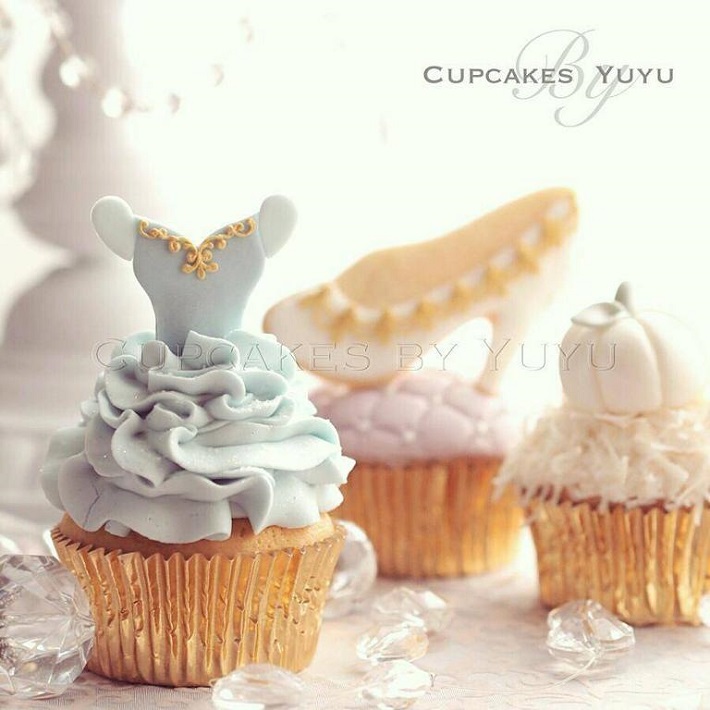 Photo via Bluprint member cupcakesbyyuyu
Cinderella cupcakes
These dreamy and fanciful Cinderella cupcakes by Bluprint member cupcakesbyyuyu perfectly represents the fairy tale with iconic elements from the classic story. The beautiful slipper sits atop a textured and fondant-covered cupcake, while the pumpkin is molded with white fondant, playing beautiful with the soft color palette. And Cinderella's pale blue fondant bodice is combined with gracefully piped icing to create an exquisite dress cupcake!
Perfect your piping skills in the Bluprint course The Wilton Method®: Buttercream Skills with Beth Somers to decorate your cupcakes and wow everyone with delicious and scrumptious cupcake flavors in The Perfect Cupcake with Jennifer Shea!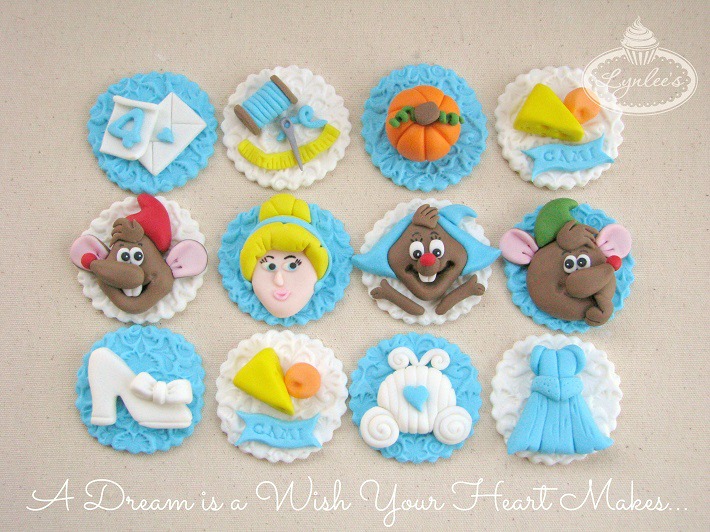 Photos by Lynlee's
Cinderella fondant cupcake toppers
These sweet cupcake toppers were made to capture various well-known elements of Cinderella's story, including some of the main characters and recognizable details. Though the figures lay flat on the toppers, they are still modeled with various layers and dimension, bringing them to life. Additional discernible features, such as the pumpkin, carriage and dress adorn the complementing designs, as personalization is included to customize the collection to the birthday girl's name and age. The blue and white color scheme of the background toppers were deliberately chosen to bring uniformity to the presentation. And for additional ideas for your cupcakes, follow the princess cupcake toppers tutorial to give them the royal treatment!
To practice working with fondant on a miniature scale, check out Sheryl Bito's Tiny Cupcake Toppers to model small items and learn techniques to embellishing them!
*Disclaimer: The cake and cupcake designs featured in this post are for inspirational purposes only. Bluprint.com does not condone the purchase or sale of any design that could potentially infringe on any protected design or copyright.
How to Make Fabulous Fondant Toppers
Wow clients with customized toppers for baby showers, birthdays & beyond.Get My FREE Guide »