Christmas in Frostington is a sweet collaboration of over 150 artists from all over the world who have come together to raise money this holiday season to benefit three charities: the Alzheimer's Society in the UK, Icing Smiles in the USA and the Australian Melanoma Research Foundation.
Spearheaded by Samantha Emmerson of Cupcaketopia, the images of each individual contribution were arranged in one final digital representation, creating the beautiful fictitious British village so aptly named: Frostington!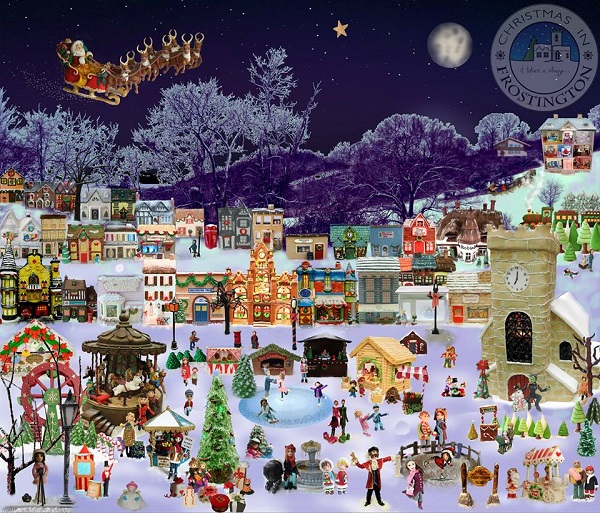 Take a stroll around this sugary village who's scene is set on Christmas Eve, highlighting the town's inhabitants and their various holiday activities, from last-minute shopping to ice skating to Santa himself flying over Frostington!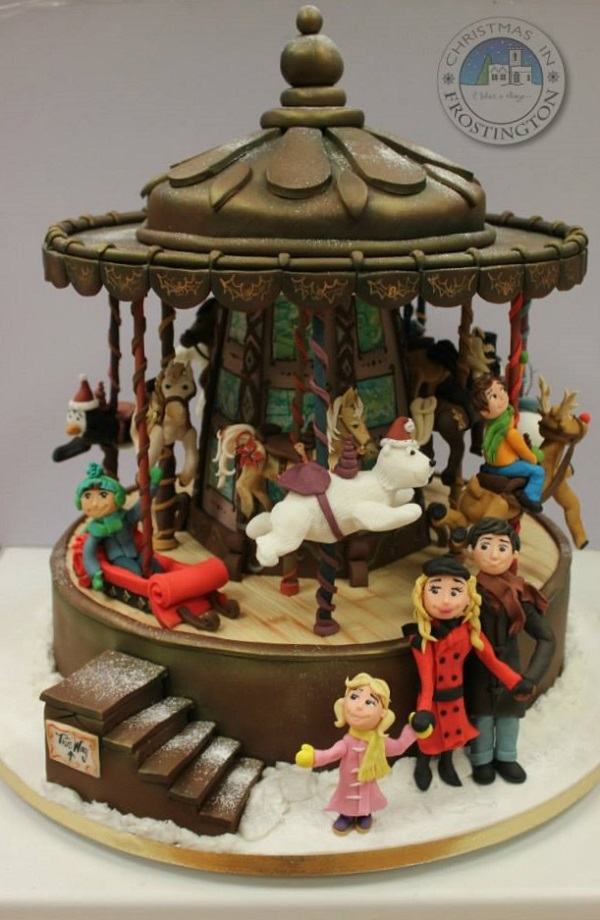 Photo via Richard's Cakes
Carousel
Emma Ball of Richard's Cakes contributed this incredibly gorgeous and intricate Christmas Carousel cake to the town of Frostington. This project was so superbly executed, you wouldn't even know it was a cake!
The structural cake was assembled and decorated with impeccably modeled fondant figures, representing both the carousel's animals, as well as the people. The details of this piece are simply out of this world!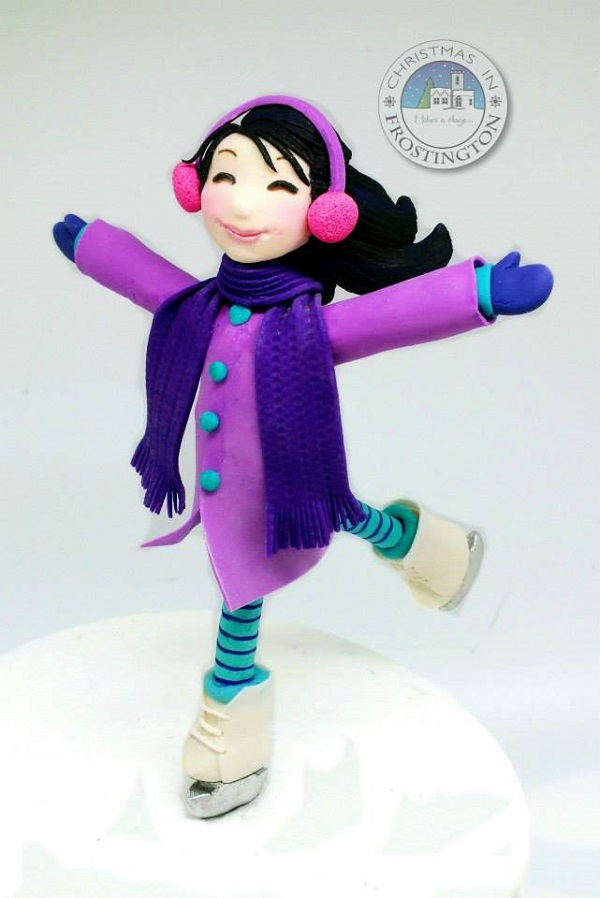 Photo via Pauline Bakes the Cake!
Figure Skater
This absolutely adorable fondant figure skater was created by Pauline Po Soo of Pauline Bakes the Cake! Spotted ice skating in Frostington's rink in the center of town, this gorgeous three-dimensional fondant figure is just beautifully modeled with an incredibly sense of movement and joy!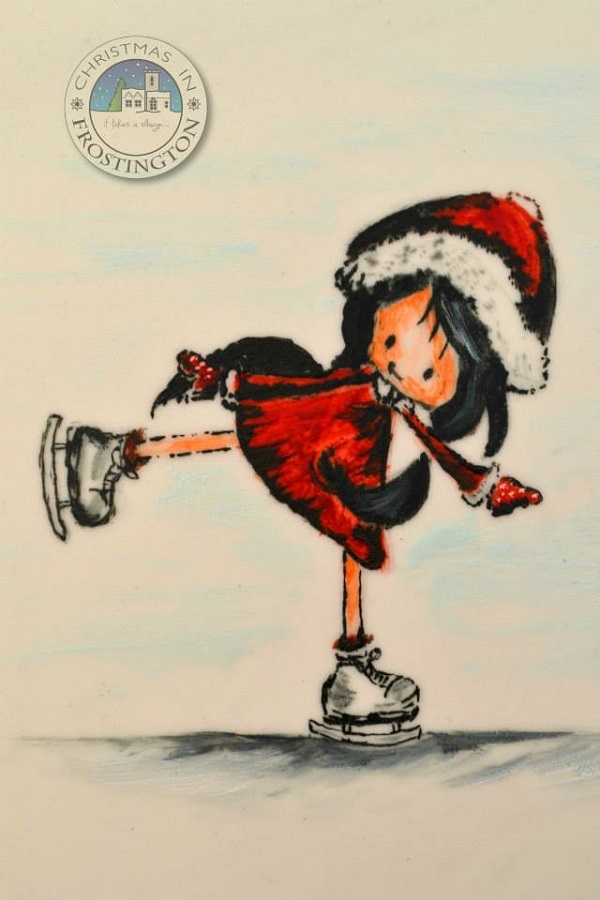 Photo via Môn Cottage Cupcakes
Ice Skater
In another ice rink in the village, you can spot this precious little ice skater created by Nina Evans Williams of Môn Cottage Cupcakes. As opposed to the previous skater, this splendid figure was delicately hand-painted onto fondant, capturing the same sense of cheer and sweetness with the use of a different medium.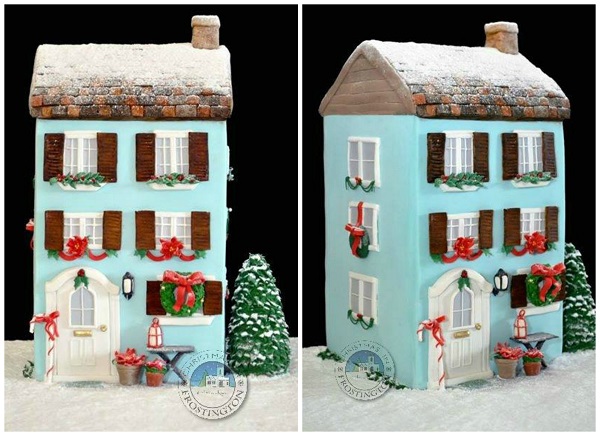 Photo via Beautify Sugar by Audrey
3D three-story dwelling
Assisting in creating the actual town of Frostington, Audrey Santana of Beautify Sugar by Audrey constructed this incredibly charming three-story building out of cake. The sculpted home was covered in fondant and adorned with the most appealing accents and holiday decorations, adding to the charm of the village!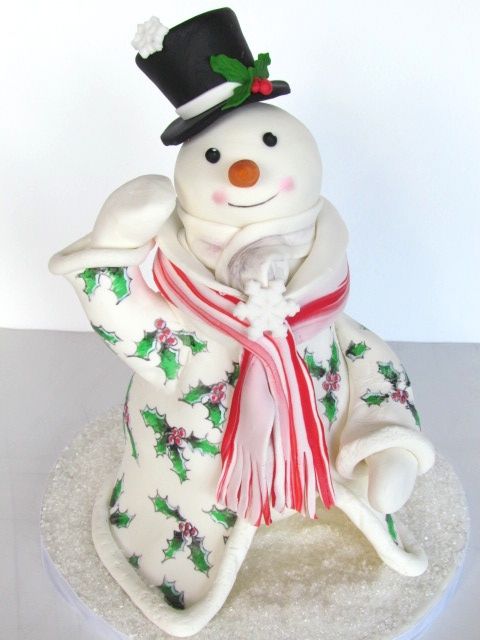 Photo via Cakes with Character
Victorian snowman
Snowmen are an essential part of any Winter scene and Jean A. Schapowal of Cakes with Character added the perfect friendly snowman with this gorgeous cake! Taking the quintessential snow figure, Jean transformed him to fit the town of Frostington by decorating him with old Victorian accessories, such as his top hat, scarf and beautiful hand-painted robe.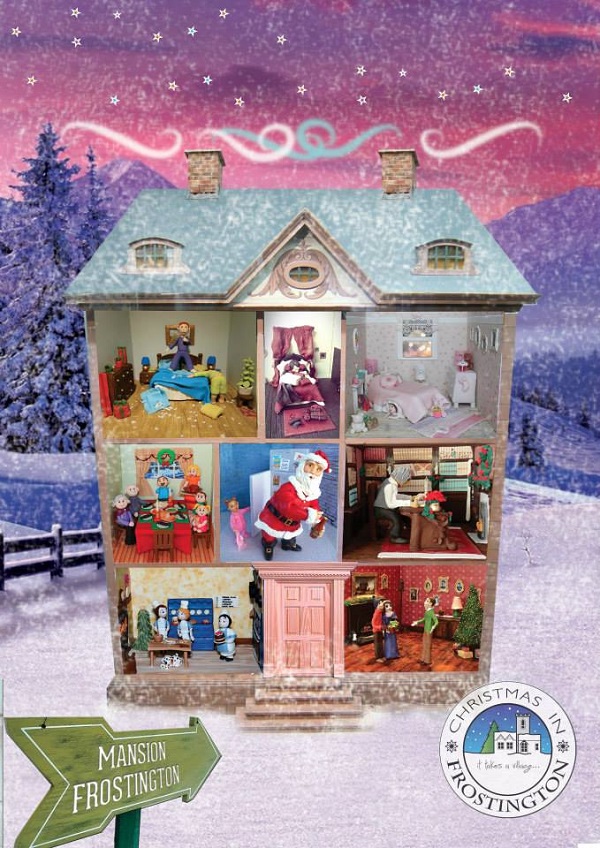 Photo via Christmas in Frostington
Mansion House
Within the town you will also find Frostington Mansion, another collaboration by sugar artists within the overall project to create all the rooms within the house, including its inhabitants!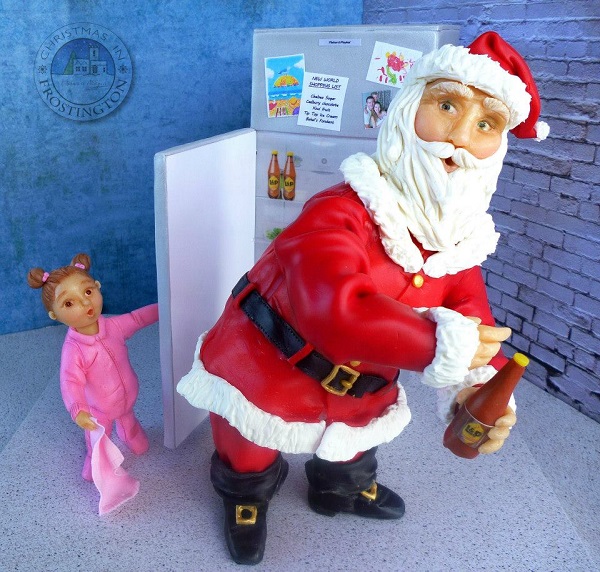 Photo via Make Pretty Cakes
Kitchen inside Mansion House
Nina Blackburn of Make Pretty Cakes was in charge of making the mansion's kitchen, which she so cleverly created with a little girl catching Santa taking something from the refrigerator! The fridge itself is a covered cake embellished with a printed edible image, while the characters in the project were superbly molded with the use of modeling chocolate and hand-painted features.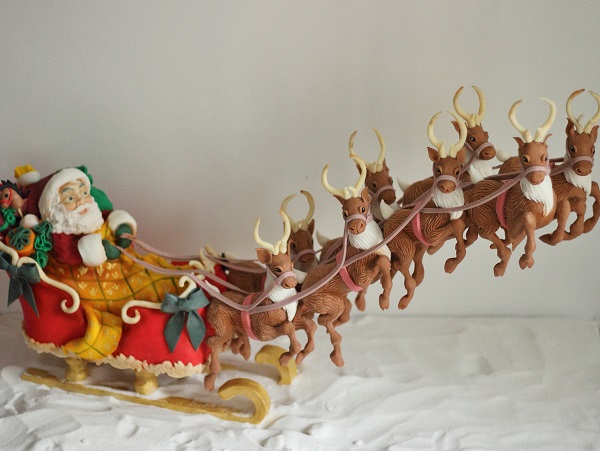 Photo via Sweet as Sugar Cakes
Flying Santa, sleight and reindeer
How can a Christmas scene be complete without Santa Claus? Laura Miller of Sweet as Sugar Cake added magic to the collaboration with this mind-blowing gravity-defying cake of Santa in his sleigh being pulled by his reindeer. The figure-modeling, texture and details of this piece are simply exquisite, not to mention the unbelievable structure to allow the reindeer to fly!
Visit the Bakers page to see the details of every amazing contribution and be sure to check out all the options available to donate to the fundraising efforts, including purchasing tutorials and raffle tickets, with proceeds benefiting the three deserving charities. What an incredible way for the worldwide cake decorating community to come together this holiday season!