Celebrating the baptism of a new arrival is always a great occasion for cake. If you've got a christening (or even baby shower) cake coming up, but are super stuck for ideas then read on for some pretty sweet christening cake and cupcake ideas.
Here are six sweet christening cake and cupcake ideas perfect for welcoming new arrivals!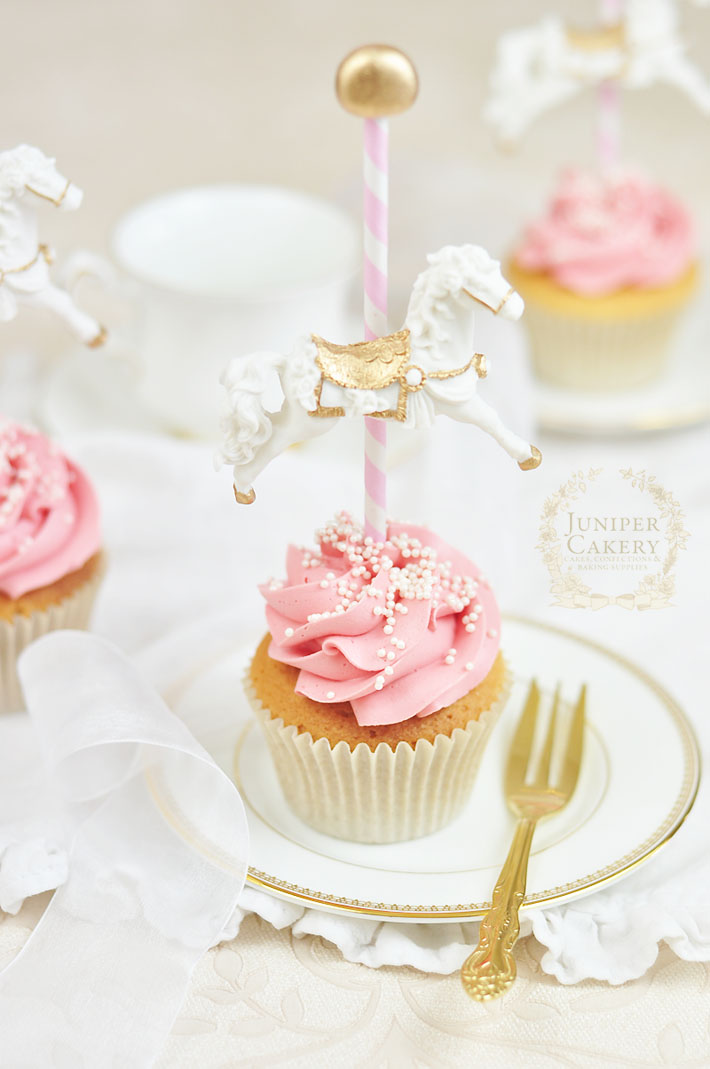 Photo via Juniper Cakery
Pink and gold carousel cupcakes
Our carousel cupcakes may be a little bit of a wildcard for Christening celebrations but they're definitely a fun one! The white, pink and gold hues make for a vibrant, eye catching finale for any child's special day. The best thing about this design is that it can easily be adapted to fit almost any celebration and in any color! Why not re-create these as birthday, anniversary or wedding treats by playing around with color palettes, different piping techniques or even flat iced cupcakes.
Create gorgeous cupcakes with the help of Jennifer Shea's The Perfect Cupcake class! Enroll now for tips, tricks and invaluable advice.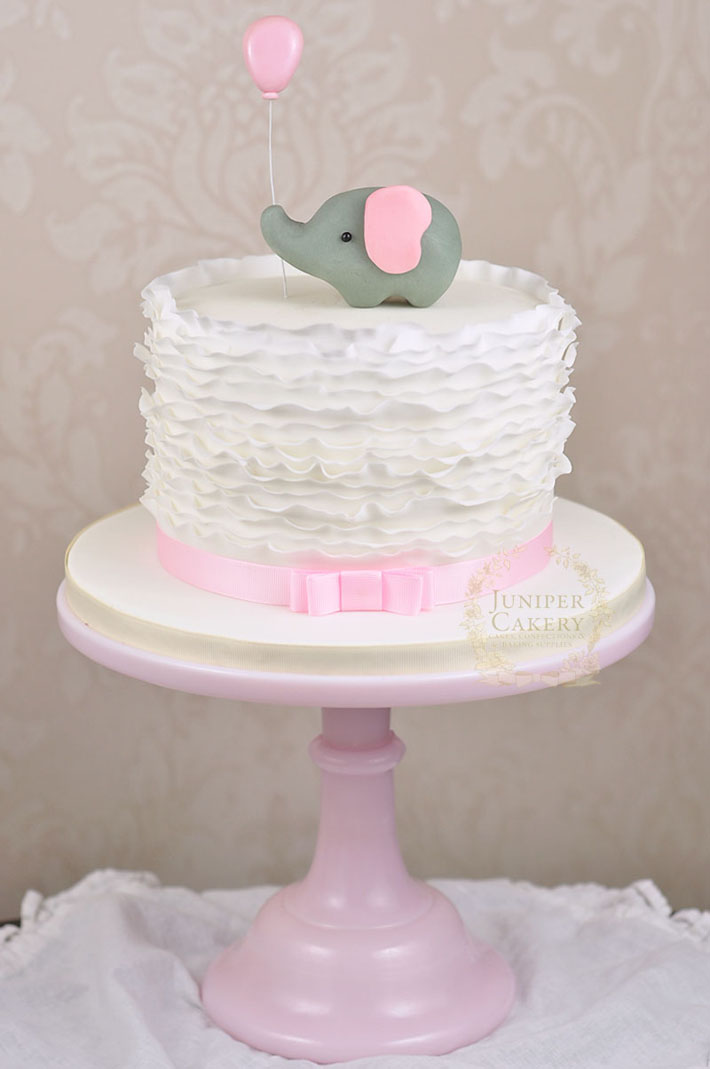 Photo via Juniper Cakery
Elephant ruffle cake
This cute and playful cake was a joy to make and would fit in perfectly at any Christening. Changing the color of the ears, bow and balloon would make for a quick customization meaning this cake is perfect for other celebrations too! Why not turn this cake into a sweet little baby shower cake by replacing the elephant on top with a stalk or a pair of cute baby shoes.
Love the look of delicate fondant ruffles? Why not sign up for Maggie Austin's Fondant Frills class today to discover how to make your cakes really stand out!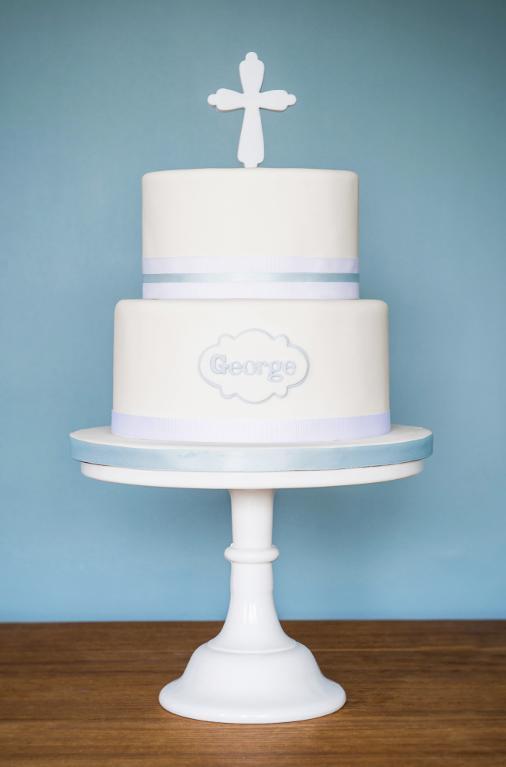 Photo via Flourgirl Cakes
Simple Christening cake
Sometimes less is more and that's certainly the case for this stunning white and pale blue Christening cake. The clean color palette keeps the design fresh while the addition of the name plaque adds a sweet and personal touch.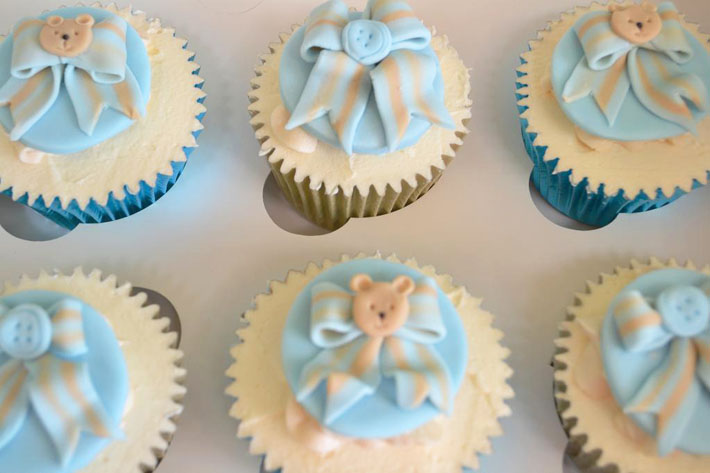 Photo via Bluprint member Roo Q
Teddy Christening cupcakes
These are definitely cute as a cupcake! Adorning Christening themed cupcakes with miniature handmade bows is such a simple but effective idea. Just look at the sweet little striped bows above finished fondant buttons and bears!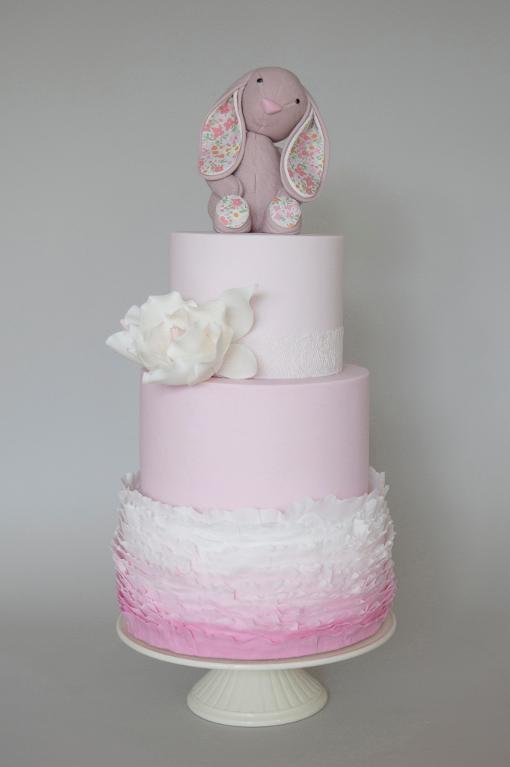 Photo via Bluprint member helena@sweettiers.com.au
Pink ruffle Christening cake
How adorable is that bunny! The floral detailing, soft pink color palette and delicate ruffles make this cake perfect for spring and summer Christening celebrations. We adore the delicate lace and handmade sugar flower. The best thing about this fun cake is that you add a great personal touch with a fondant replica of the child's favorite toy ready to adorn the top tier.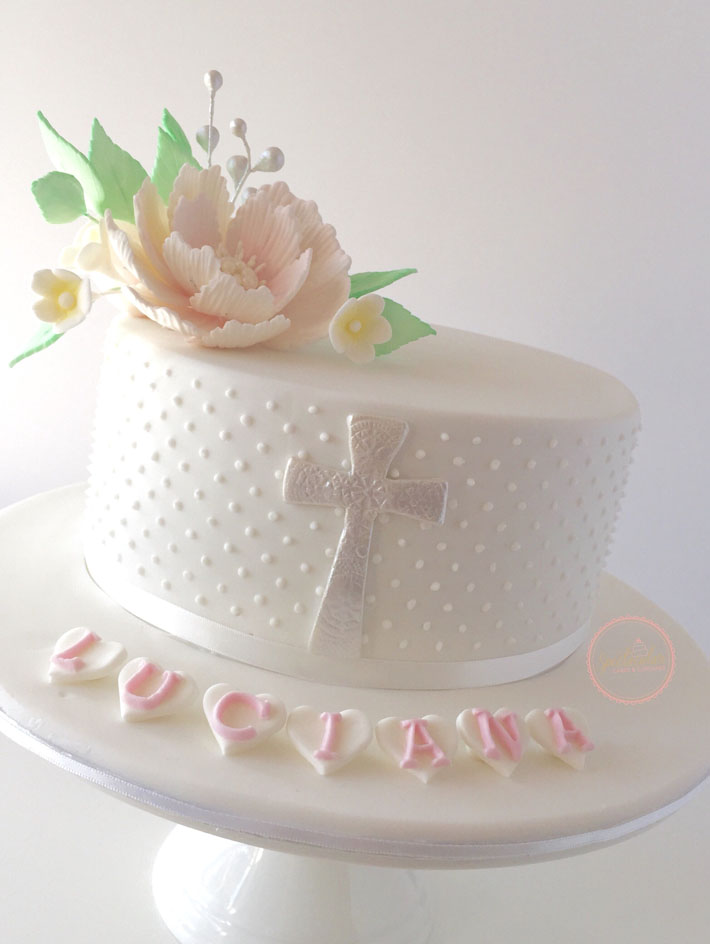 Photo via Bluprint member rrushwan420162
Sweet Christening cake with swiss dots
Featuring the baby's name on their Christening cake is a lovely idea and it works perfectly here. The sweet cutout love hearts and swiss dots really pin point the attention to detail on this cake. We love how the spray of sugar flowers and leaves add a little touch of color to the otherwise pretty little white cake.
Found some sweet inspiration from our round-up of lovely Christening cake ideas? Then why not whip your your decorating tools and get creating your own masterpiece!
Have you created an adorable Christening cake design recently?
Free Online Cake Decorating Class