When sewing vintage clothing there are many different approaches to take in order to create an authentic look. Sewing garments from a real vintage pattern is perhaps the most obvious way, but it's not always the easiest. There are also many modern methods to sewing vintage-inspired clothing that will give you the same results.
One of the most straightforward ways to achieve an authentic vintage look is to sew from a real vintage sewing pattern. You can see examples of the finished look right on the pattern cover, along with all of the period appropriate fabrics and notions listed on the back for you to refer to. It doesn't get much more authentic than that! Although vintage patterns are the most direct link to re-creating fashions of the past, it's not always the easiest way to actually sew them.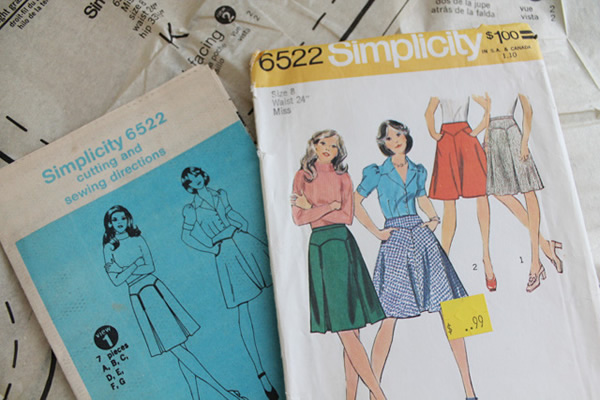 Photos via Lucky Lucille
Perhaps the most off-putting thing about vintage patterns, especially mail-order patterns from the '40s and '50s, is the fact that they're often unprinted. This can make pattern pieces difficult to identify, and therefore hard to cut out of your fabric. However, once you're familiar with working with unprinted patterns you'll find they're really no different than any other pattern, so you shouldn't let that discourage you too much.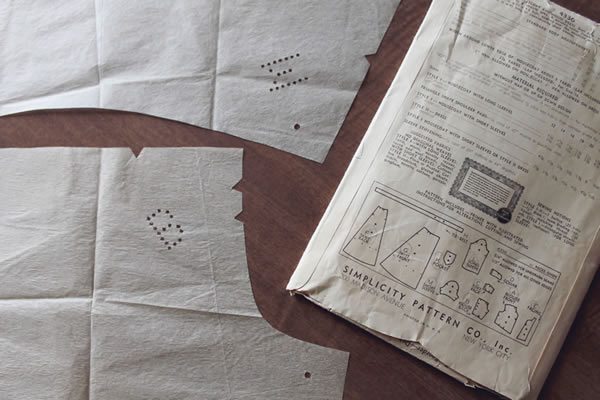 Photo via Lucky Lucill
Another inconvenient thing about sewing from vintage patterns is they usually only come in one size per envelope. If you don't feel comfortable grading your patterns up or down, you might miss out on a great pattern simply because you couldn't find it in your size.
But fear not, there are other ways of achieving authentic vintage styles with modern patterns and techniques!
Reproduction patterns
Many sewers will find reproduction patterns preferable to vintage ones because the language and sewing instructions have been updated, which makes them easier to follow. Not to mention, reproduction patterns are less fragile, easily replaceable and available in multiple sizes.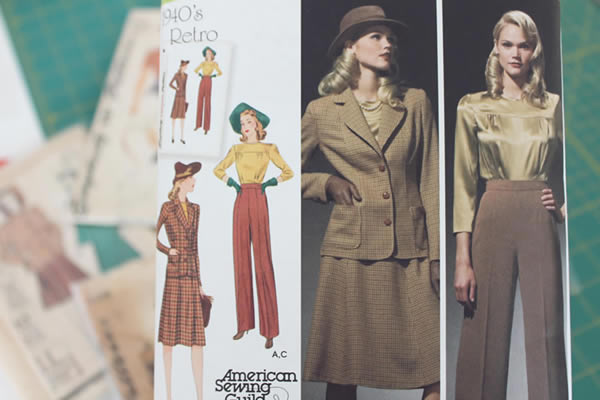 You can always use modern sewing patterns and make small alterations to make the look more authentic to the era you're trying to re-create. All you really need is a good reference and the tools to re-create the look.
Drafting your own vintage pattern
Drafting your own vintage pattern is another option that can yield beautiful results. For example, I found a photo of a 1940s swing-style skirt from an old Sears catalog and was able to re-create it to the exact dimensions with help from Deborah Moebes's class Design & Sew an A-Line Skirt. In the class, I learned how to draft a skirt to my own measurements and re-create an authentic 1940s style at the same time.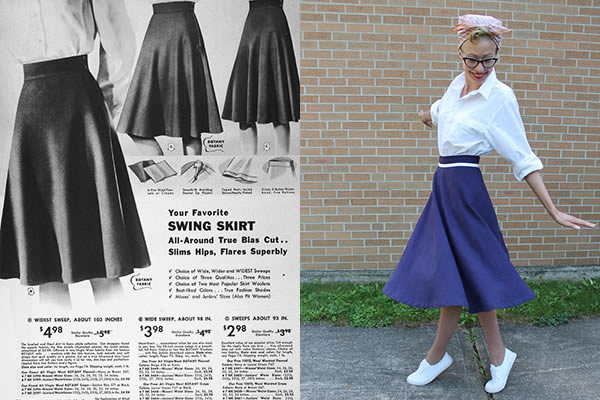 Photo via Lucky Lucille
Pattern draping
Pattern draping is a method that's been around for centuries and can be used to create nearly any style under the sun. If you can get your hands on a vintage pattern draping book, your options are truly endless! If you're interested in learning more about this classic technique, give one of Paul Gallo's Pattern Draping classes a try: Fashion Draping: Dressmaking Basics and Fasion Draping: Bias Design.
So there you have it! Any of these methods for sewing vintage and vintage-inspired patterns will help you achieve authentic vintage garments.
You might also enjoy our roundup of vintage-inspired patterns and our tips for making a vintage dress.
Be sure to come back to the Craftsy blog tomorrow for the the second installment of my Sewing Authentic Vintage series. I'll share tips for choosing authentic fabrics and notions!
Which technique is your favorite?