I think the casserole needs a bit of an image boost. It needs a team of intrepid cooks, such as ourselves, to stand up for the casserole and all its soggy green bean and cream-laden bad PR and to remind people that casseroles have a place in the modern kitchen. Are you with me? If so, you'll love this flavor-filled tomatillo-and-chicken chilaquiles casserole recipe.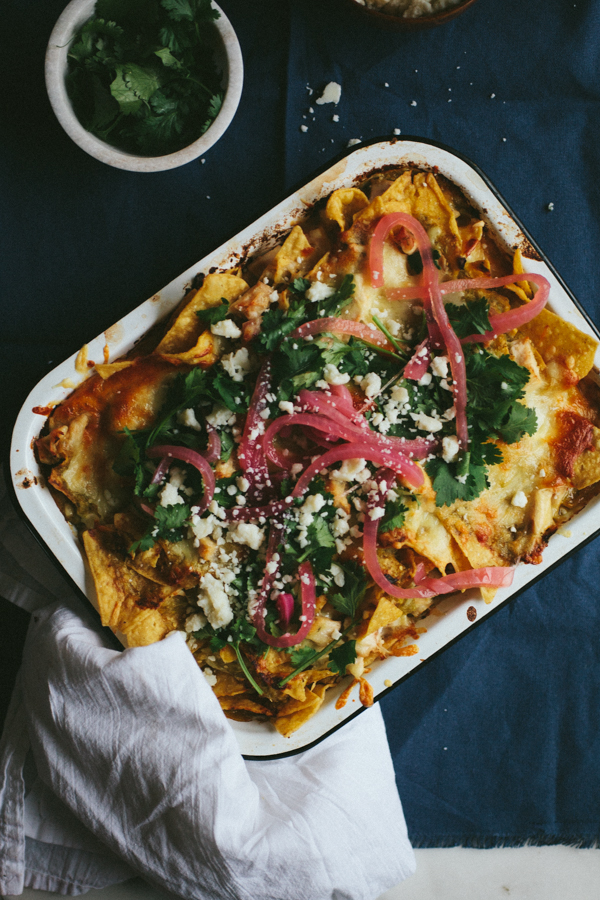 What is a casserole?
Perhaps before you jump on board my casserole bandwagon you need a refresher course on what a casserole is. Well, it's basically ingredients brought together in a single dish and then baked. It's a one-dish dinner! Casseroles are the epitome of convenience but because perhaps some people took the idea of the casserole too far it has been tossed aside as an archaic relic or something our mothers made us eat.
A brief history of casseroles
The casserole has been around longer than ovens – when meat and vegetables were layered in ceramic pots and then covered in embers to cook. The French have perfected the casserole by way of the cassoulet, a hearty mix of beans, duck confit and various sausages. But in the U.S., we've seen the casserole as purely a means of convenience, pouring a few prepared ingredients into a single dish and baking it until bubbly and golden on top.
The modern casserole
I say there is nothing wrong with the casserole. Its rich history and wide use all around the world demonstrates that it's a worthy and praised way of cooking but let's push the casserole boundaries a bit. We can do ourselves a favor to think outside the box (or in this case perhaps outside that can of creamed soup) and re-envision a better casserole. If the basic parameters of a casserole are that it must be a mix of ingredients all baked together in a single dish to form a cohesive and delicious dinner, well, then our options are limitless.
About this 
chilaquiles casserole 

recipe

For this chilaquiles casserole recipe I took one of my favorite recipes and pared it down to its basic elements.  My usual recipe for chilaquiles takes a while to make and it's final assembly happens on the stove. But I wondered what would happen if I baked it all in a 9″ x 13″ baking dish and replaced the long simmered pork with quick-to-cook chicken? The result was dinner that had the same wow-factor as my famed stovetop chilaquiles but with a fraction of the time spent in the kitchen.

This quick-cooking casserole has layers of tangy green tomatillo salsa. If you prefer making your own I've provided the recipe, but feel free to use store-bought. On top of the salsa we layer in the cheese, and for this, really any good melting cheese will do. I like something with a good bit of punchy flavor like sharp cheddar or Gruyère, but I'll mix that in with something softer like mozzarella, fontina or regular cheddar. To that we add a bit of shredded chicken – leftover roast chicken would be great here or really any leftover meat. Or simply cook up a couple of chicken breasts as I do in the recipe. And then finally chips. So yes, I basically made you a nacho casserole.

To the top I add a good bit of freshness by way of cilantro, scallions, pickled onions and salty cotija cheese. Avocados, sour cream and red onions are also a nice touch.
Chilaquiles casserole recipe
Serves 4 to 6
Ingredients:
2 chicken breasts
1/2 teaspoon kosher salt
1/2 teaspoon ground cumin
Pinch chili flake
Zest and juice of 1 lime
8 ounces chips
2 1/2 cups cheese
2 1/2 cups tomatillo salsa (store-bought or homemade)
For garnish:
Pickled jalapeños
Pickled onions
Scallions
Sour cream
Avocado
Cilantro
Lime wedges
Step 1:
Preheat the oven to 350 F.
Step 2:
Place the chicken breasts in a skillet or small baking dish. Add the salt, cumin, chili flake and lime, then bake for 15 minutes or until just cooked through.
Step 3: 
Let cool slightly then chop or shred.
Step 4:
In a 9″ x 13″ pan, add half of the salsa and then half of the chicken. On top of that layer on half of the chips and cheese. Repeat the process.
Step 5: 
Bake until bubbly and all the cheese is melted and golden in parts. Garnish then serve.
Tomatillo salsa recipe
Ingredients:
1 1/2 pounds tomatillos, outer husks removed
6 garlic cloves, peeled
1 onion, diced
1 cup cilantro stems
Juice from 1 lime
Salt
1/2 cup water
Step 1:
Add the oil to a large, heavy skillet over medium heat.
Step 2: 
Add the tomatillos. garlic and onions, then sear, turning them over in the pan every 3 to 4 minutes so they don't burn. Roast for 10 to 15 minutes in the pan until the vegetables are tender and charred and caramelized in parts. If the garlic starts to brown too quickly, remove it from the pan and then continue to roast the tomatillos until they are tender.
Step 3: 
Transfer the roasted garlic and tomatillos to a food processor. Add the cilantro stems and salt and blend until smooth. Add the lime juice and water then blend again. Taste and adjust the seasonings.
This salsa will keep for a week, covered and refrigerated.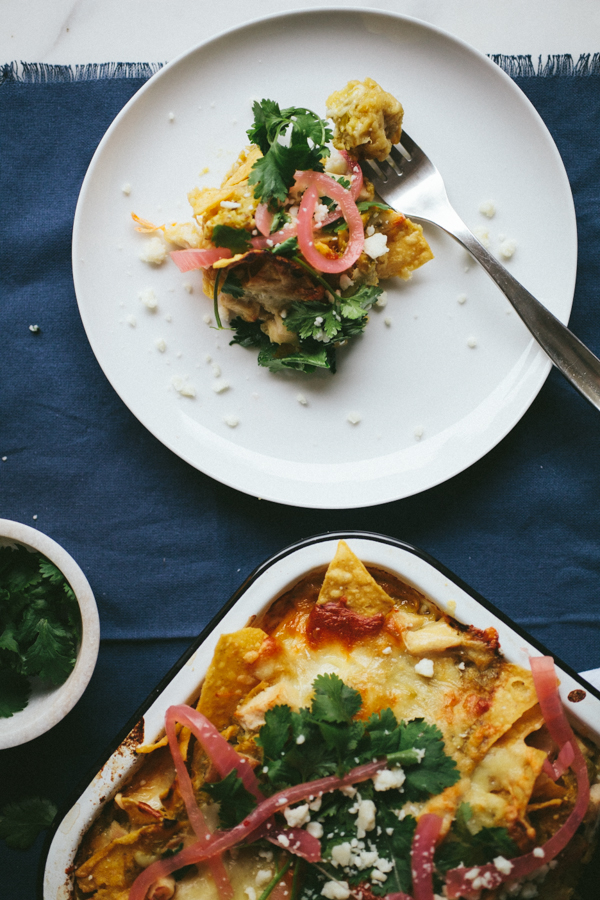 You might also enjoy our easy tortilla soup recipe and our post on how to make tostada shells on the stovetop.