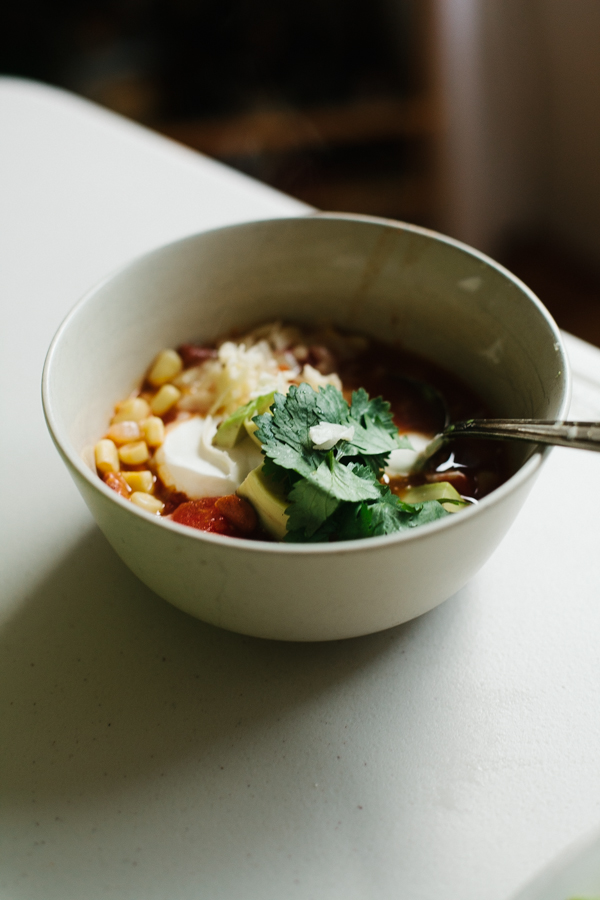 I loved watching my mom make tortilla soup when I was young. She would simply turn on the stove, open up several cans of beans, tomatoes and stock, and before I knew it, a hearty soup was served. My favorite part was customizing my bowl with all the toppings she would set out. I think I primarily used sour cream and tortilla chips but still, to me, it was dinner magic.
Now I can see this recipe from her perspective: You come home from work, tired and the kids greet you with starving moans asking when dinner is going to be ready. You quickly scan the pantry looking for any semblance of a meal when you suddenly spot some beans (really, does the variety matter that much?) some canned tomatoes and if ground beef happened to be in the freezer that went in there too. 
To us the ease and healthiness of this meal didn't matter because what we tasted was comfort, warmth and soup hearty enough to fill us up. I loved its soft heat, and to my 9-year-old tastebuds, it was adventurous and foreign.
Now as a mom, I still do love this healthy tortilla soup recipe for its comfort and nutrition benefits, but the ease is what always has me with beans and tomatoes on hand.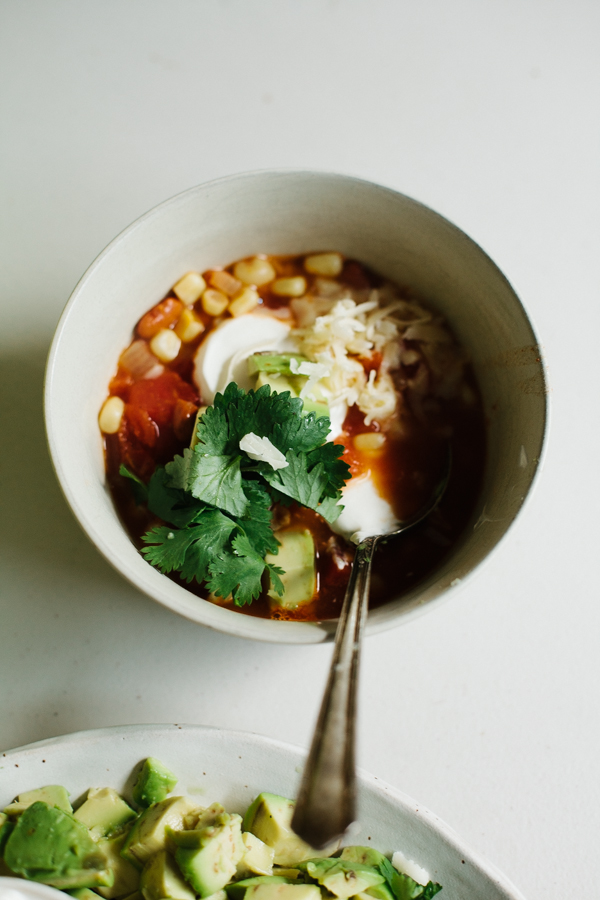 About this recipe
If you have ground beef in the freezer sauté that with the onions for an even heartier soup. I like to use this easy tortilla soup recipe on days when we are taking a rest from meat because I find it satisfying without. It is a very hearty soup that is loaded with protein packed beans, and lots of vegetables. It's filling and very nutritious. 
Feel free to use your favorite taco seasoning in leu of my spice mix here. I will say that this has a bit of a kick to it (which I tame with a fare bit of sour cream) so if you are sensitive to spice maybe start with 1 teaspoon chili powder and stay away from the cayenne. 
Don't shy away from the toppings. This is what makes this meal in my opinion. My bowl is never without avocado, sharp cheddar, sour cream, crumbled tortilla chips, cilantro and lime. 
Easy tortilla soup recipe
Serves 6 to 8
Ingredients:
1 tablespoon olive oil

1 large onion, roughly chopped
Salt
3 garlic cloves, minced
1 teaspoon dried oregano
1 teaspoon smoked paprika
2 teaspoons chili powder
2 teaspoons ground cumin
Pinch cayenne
4 cups chicken or vegetable stock
2 15-ounce cans pinto beans (you could also use black or kidney)
1 30-ounce can diced tomatoes
2 cups frozen corn
Suggested toppings:
Avocado

Sharp cheddar
Sour cream
Cilantro
Tortilla chips
Directions:
1. Add the olive oil to a large stock pot or Dutch oven set over medium heat. Sauté the onions along with a hefty pinch of salt until the onions are soft, about 5 minutes.
2. Stir in the garlic and spices and just toast until fragrant, about 1 to 2 minutes.
3. Add the chicken or vegetable stock, beans (and their liquid), tomatoes and an additional 1 teaspoon of salt.
4. Bring the soup to a boil, then reduce the heat and simmer for at least 30 minutes. Stir in the corn at the end. 
5. Taste and add more salt if desired. Finish with a generous squeeze of lime. Serve the soup warm with your favorite toppings.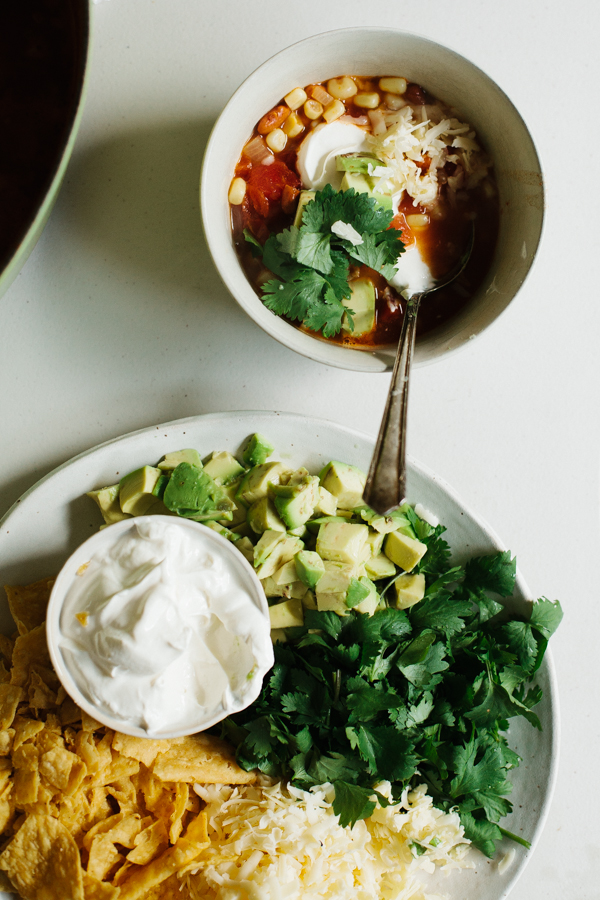 Track all your dinner ideas with our weekly meal planner template.