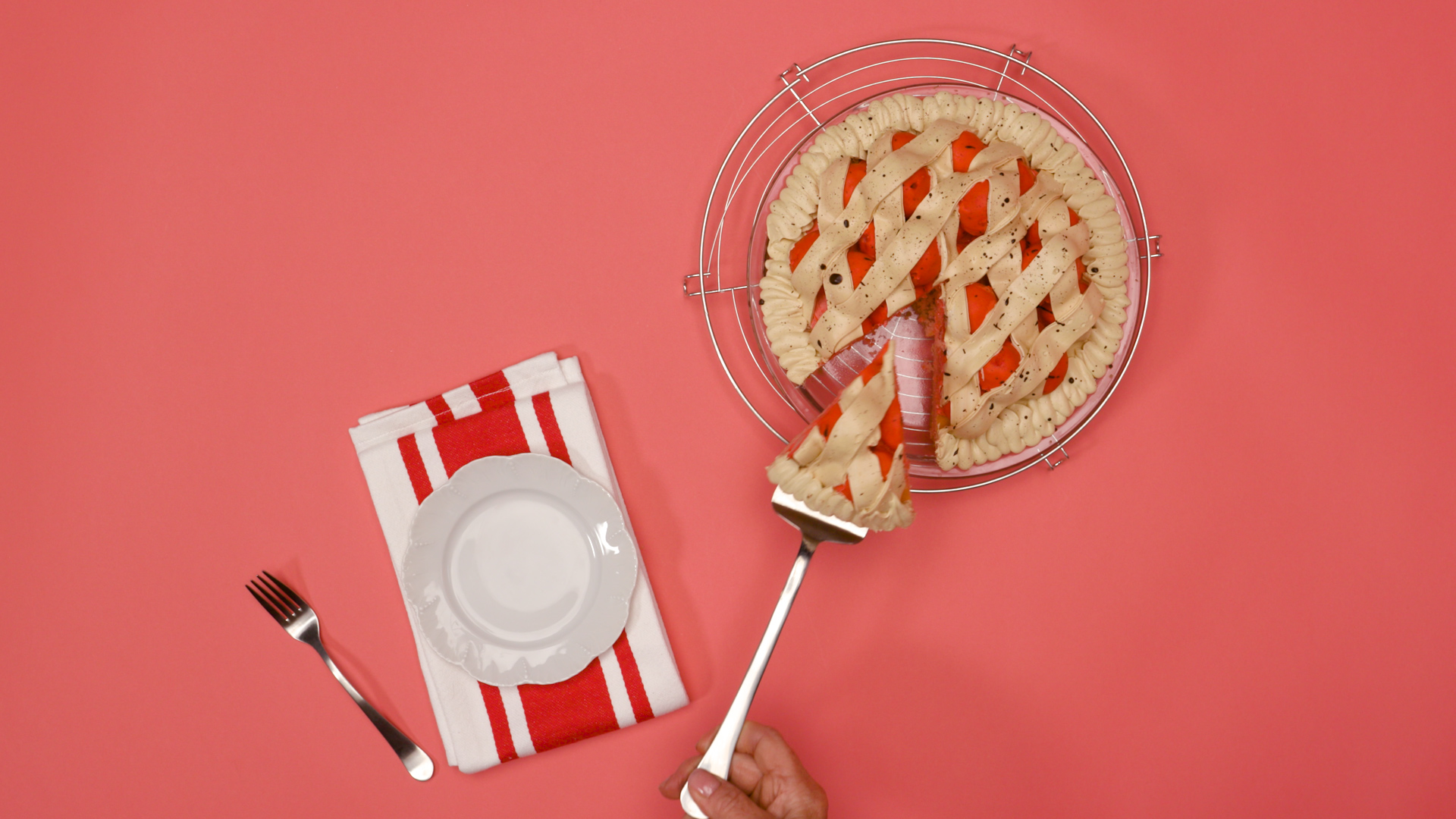 Cake or pie? Why not both! This dessert mashup has it all — the deliciousness of cake with the fancy lattice look of pie.
Cherry Pie Cake
What You Need
Circle cake tin
Pie dish
Your fave cake batter
White buttercream (Swiss meringue and American buttercream work great)
Cookie scoop
Baking dish
Parchment paper
Toothpicks
Red and yellow food coloring
Vodka
Basting brush or clean, food-safe paint brush
Cocoa powder
Water
Piping bag
Flat piping tip
Instructions
1. Bring the Batter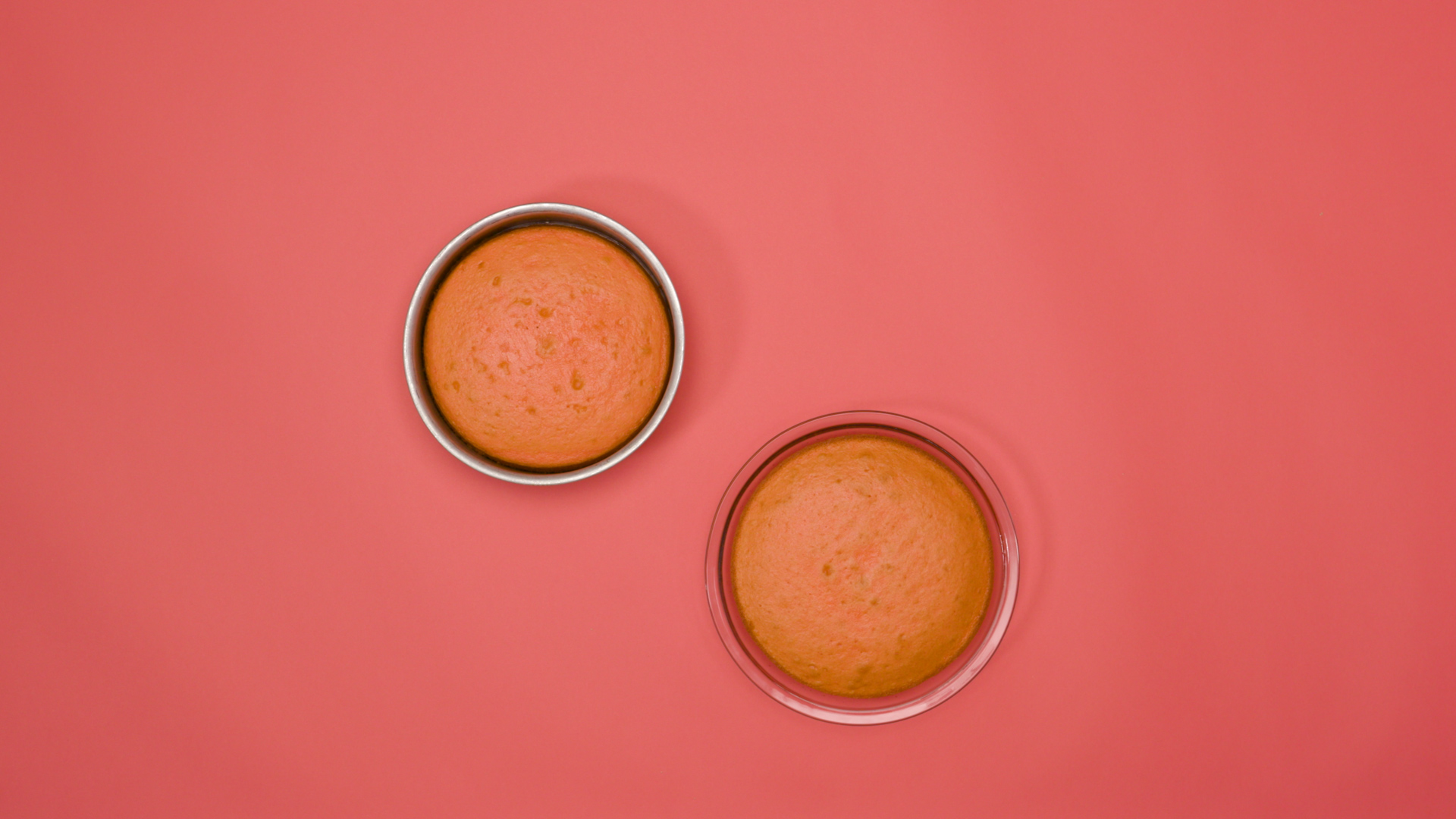 Whip up your favorite cake batter and divide it between a cake tin and pie dish (if you don't have a go-to batter, find your next fave recipe from Man About Cake). Bake your cakes and let 'em cool.
2. Make Cake Ball "Cherries"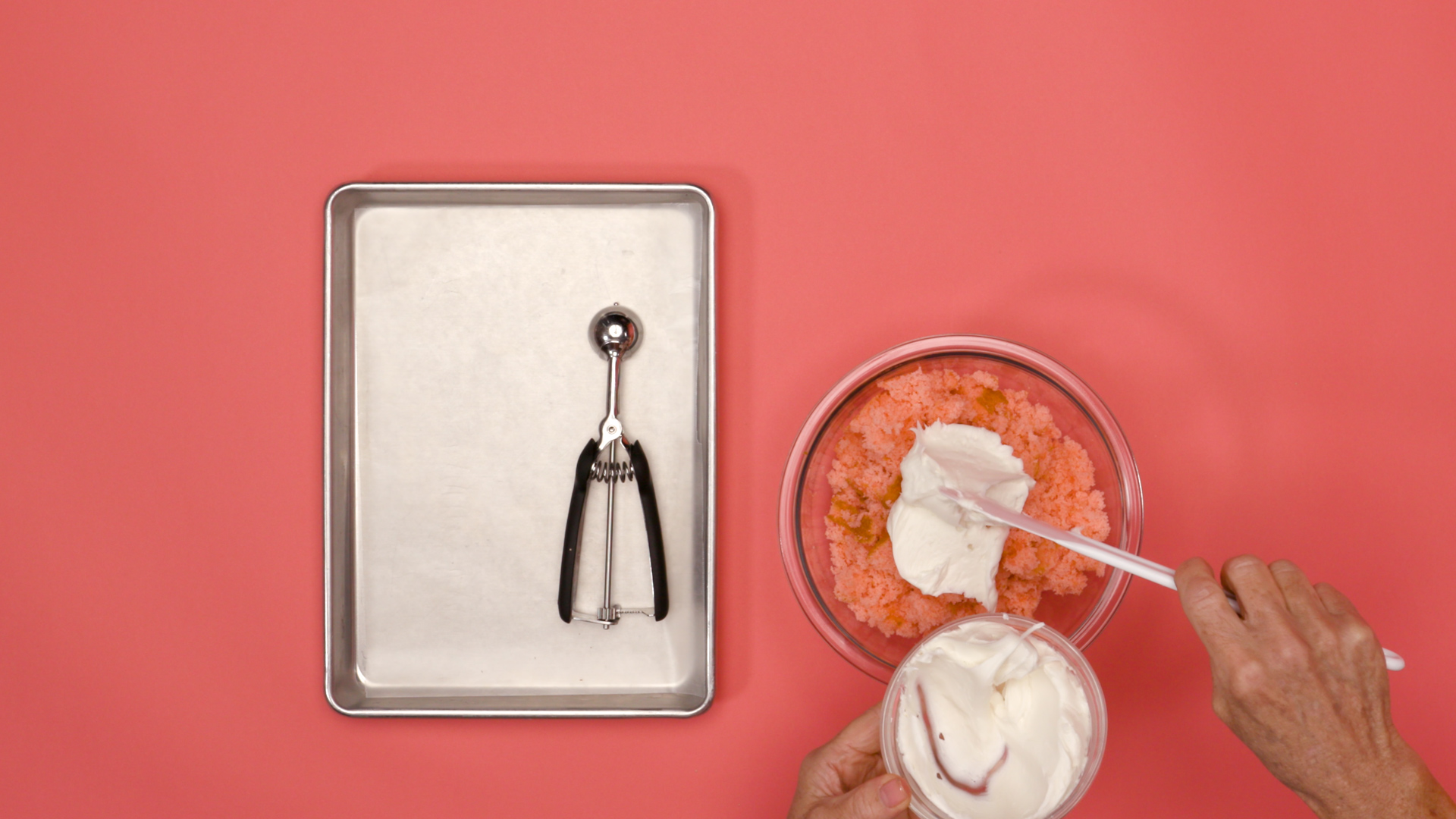 Crumble up the cake, placing all the crumbs in a bowl. Add a generous scoop of frosting and mix until the cake and frosting are well combined. You're essentially making cake pops.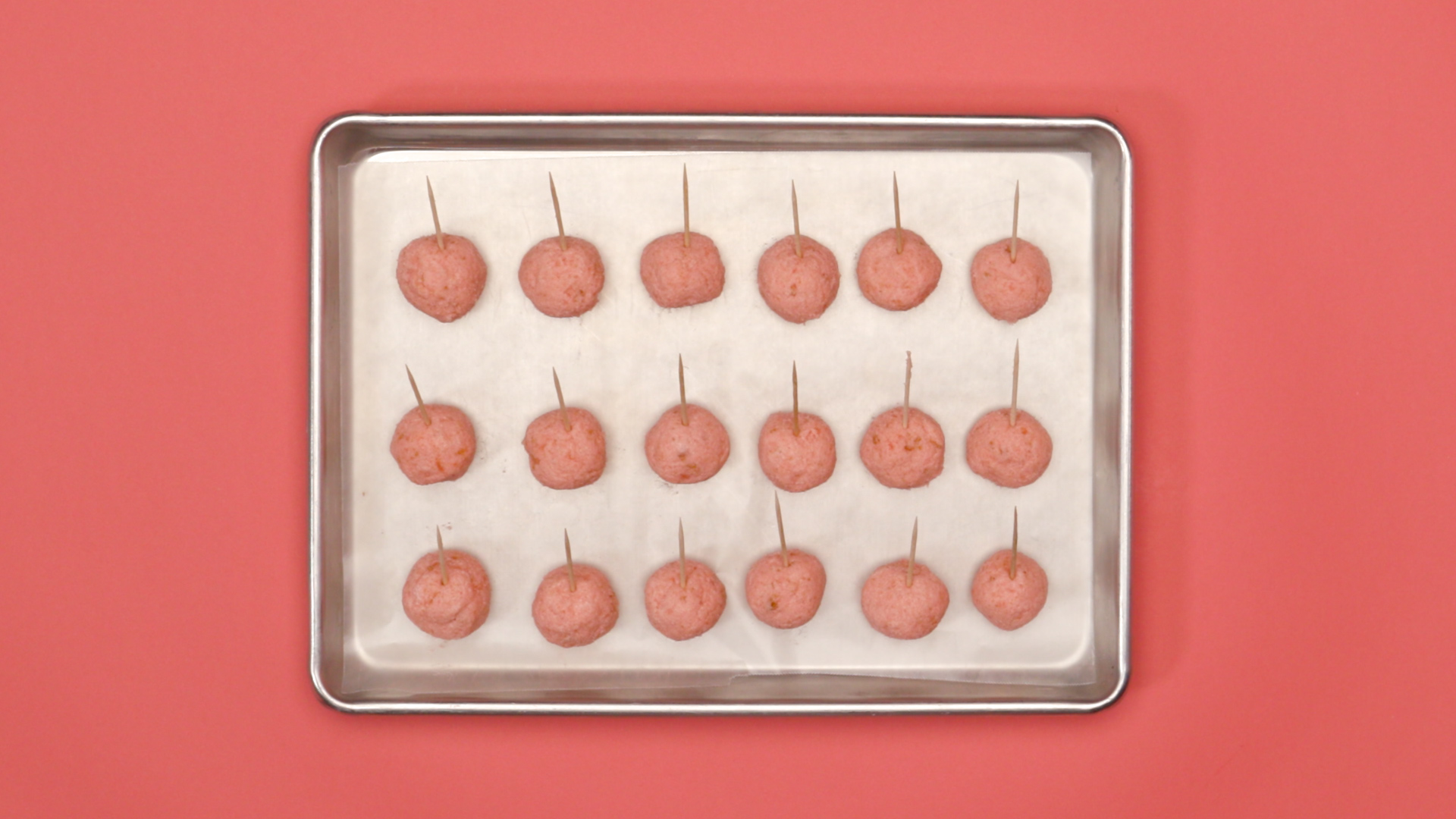 Scoop and roll cake balls and place them on a baking sheet lined with parchment paper. Stick a toothpick into each one (this is important for later). Freeze the cake balls for about 15 minutes.
3. Frost the Pie Filling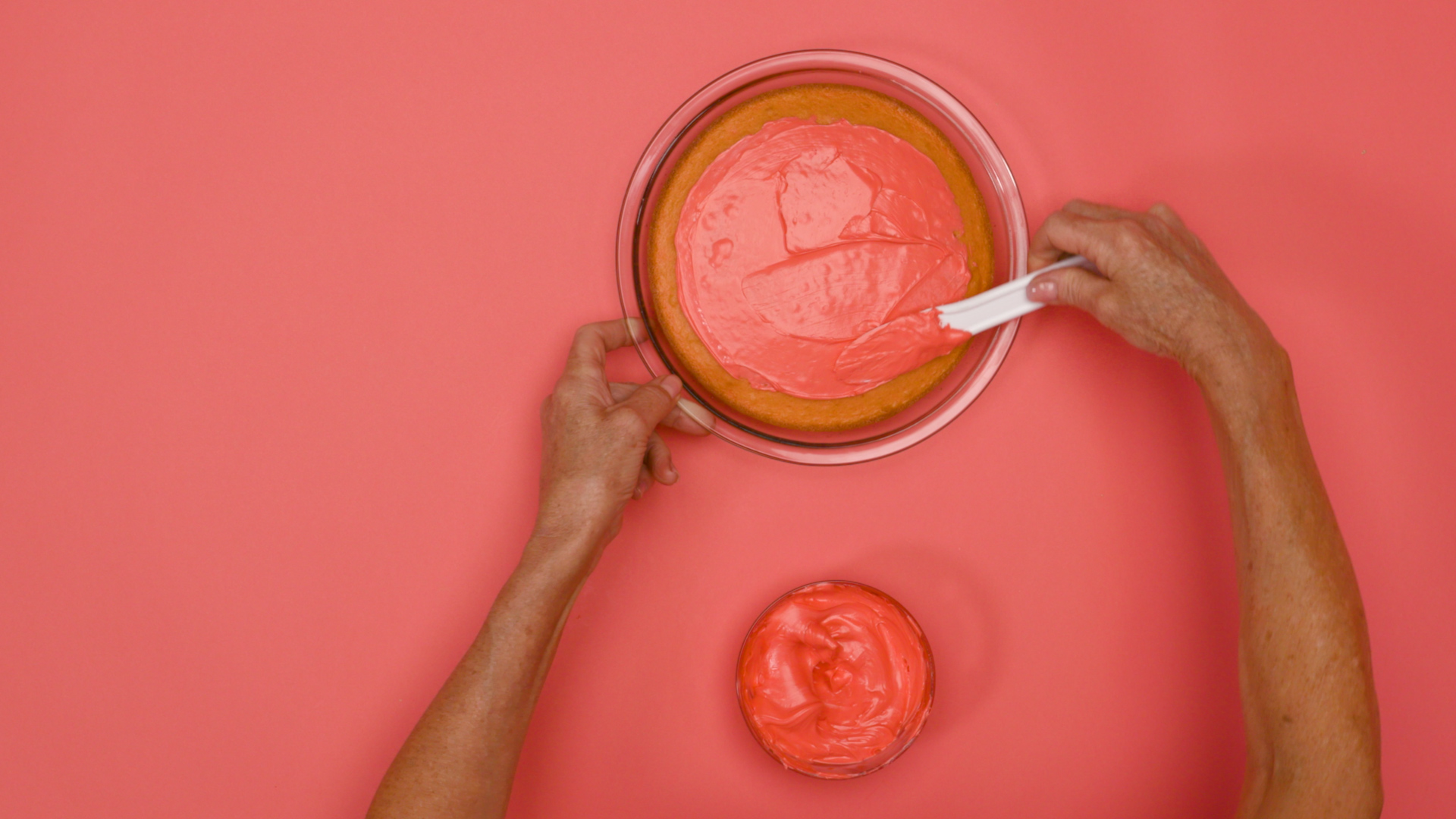 While the cake balls are chilling in the freezer, color your frosting with a few drops of food coloring. Spread the frosting on top of the cake in the pie dish. Leave about an inch around the edge frosting-free — you'll pipe this in later.
4. Color the Cherries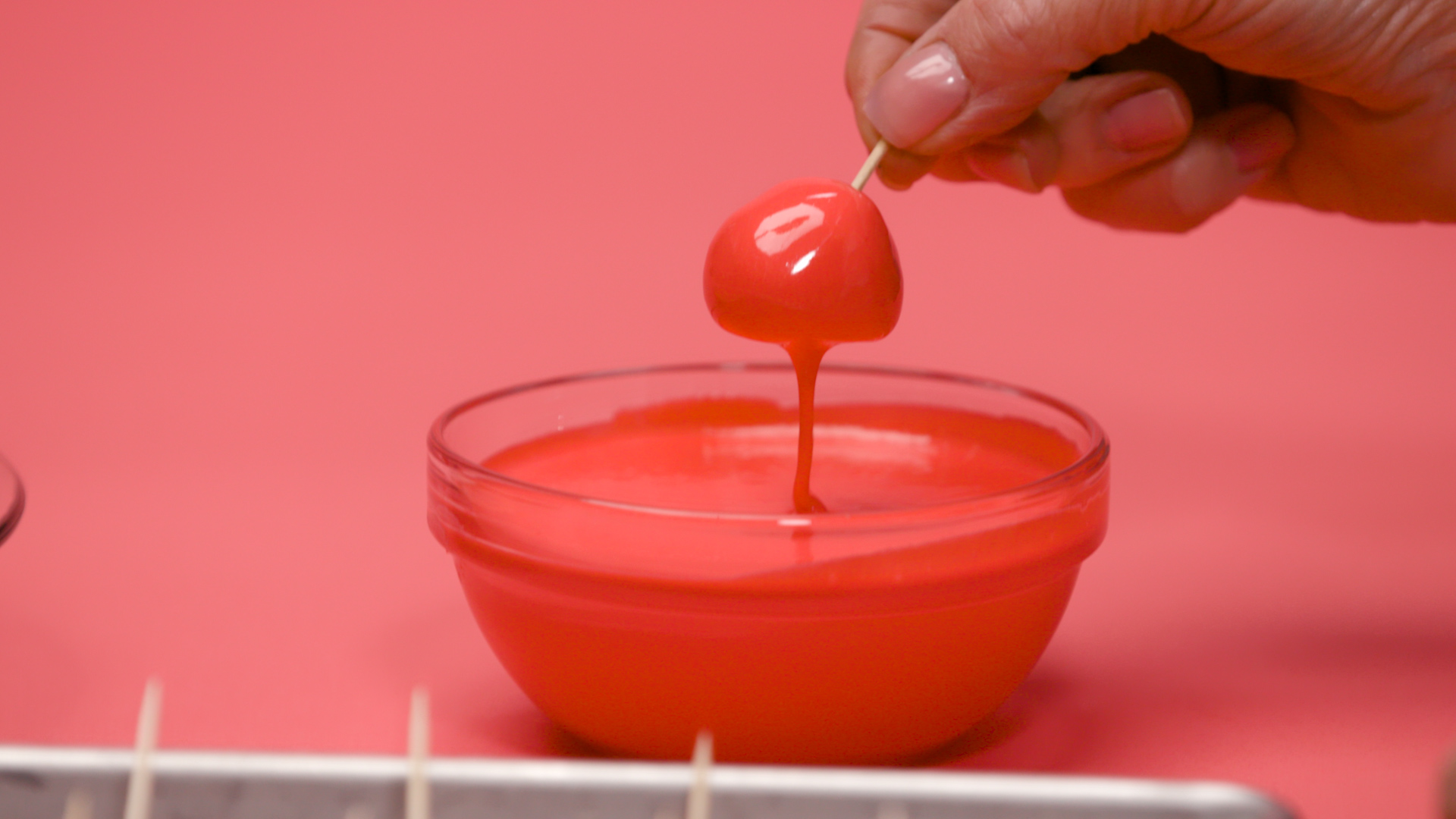 When 15 minutes are up, remove your cherry cake balls from the freezer and melt the remaining red frosting. Carefully dip each cake ball into the melted frosting and set aside to cool.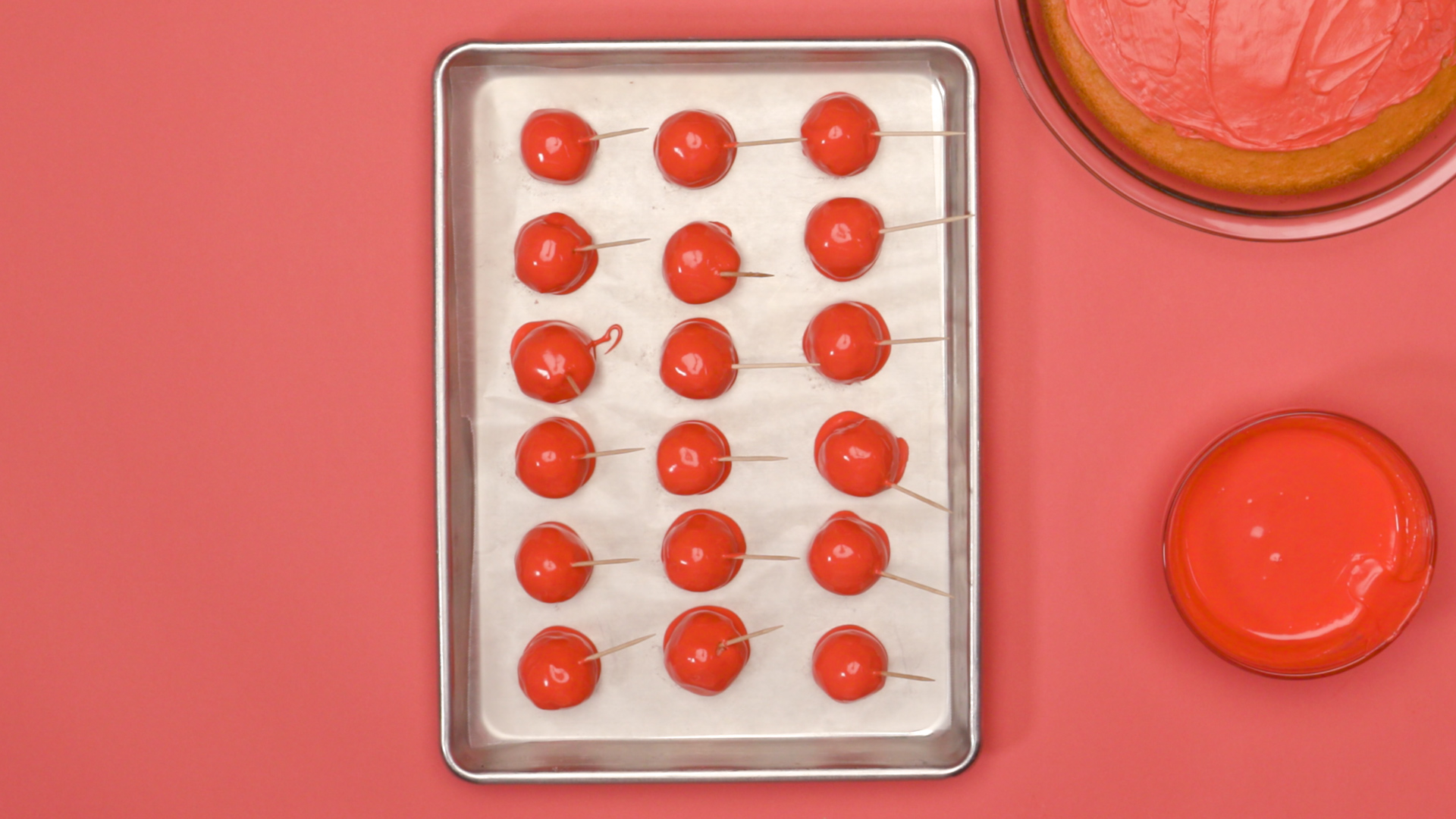 Stick the "cherries" in the fridge to chill until the melted frosting is nice and solid.
5. Brush on Some Booze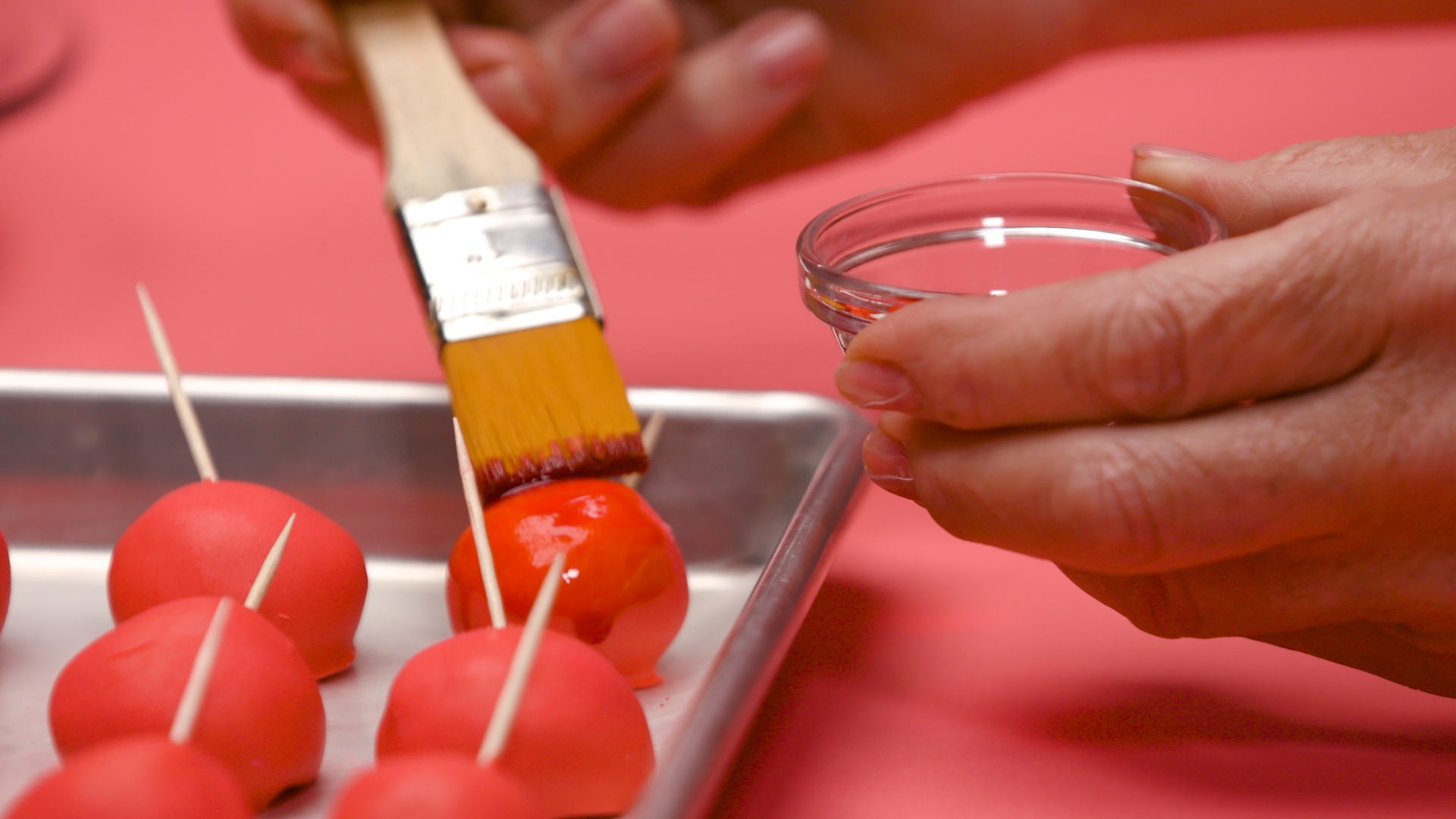 Pour a splash of vodka to a small bowl and add a few drops of red food coloring. Using a basting brush or a clean, food-safe paint brush, coat the chilled cherries with this mixture.
6. Arrange the Cake… Pie
Now it's time to pile on the cherries. An easy way to do this: place cake cherries along the outer edge of the frosting in a circle and work your way in. Then, start strategically stacking.
7. Pipe the Pie Crust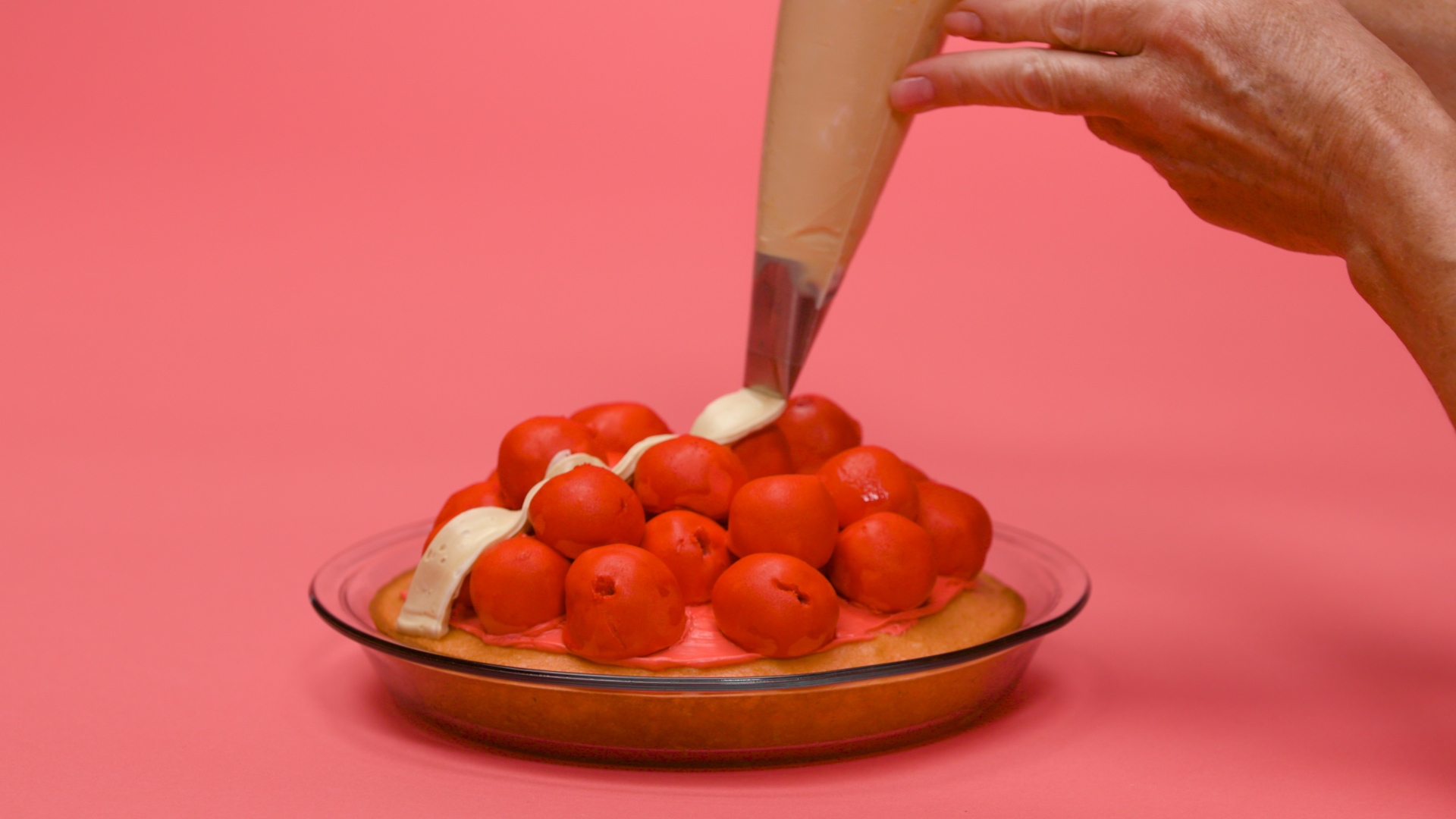 Mix two spoonfuls of cocoa powder, one drop of red food coloring and a few drops of yellow food coloring into a bowl of white frosting. You'll end up with a nice beige color — perfect for the pie crust.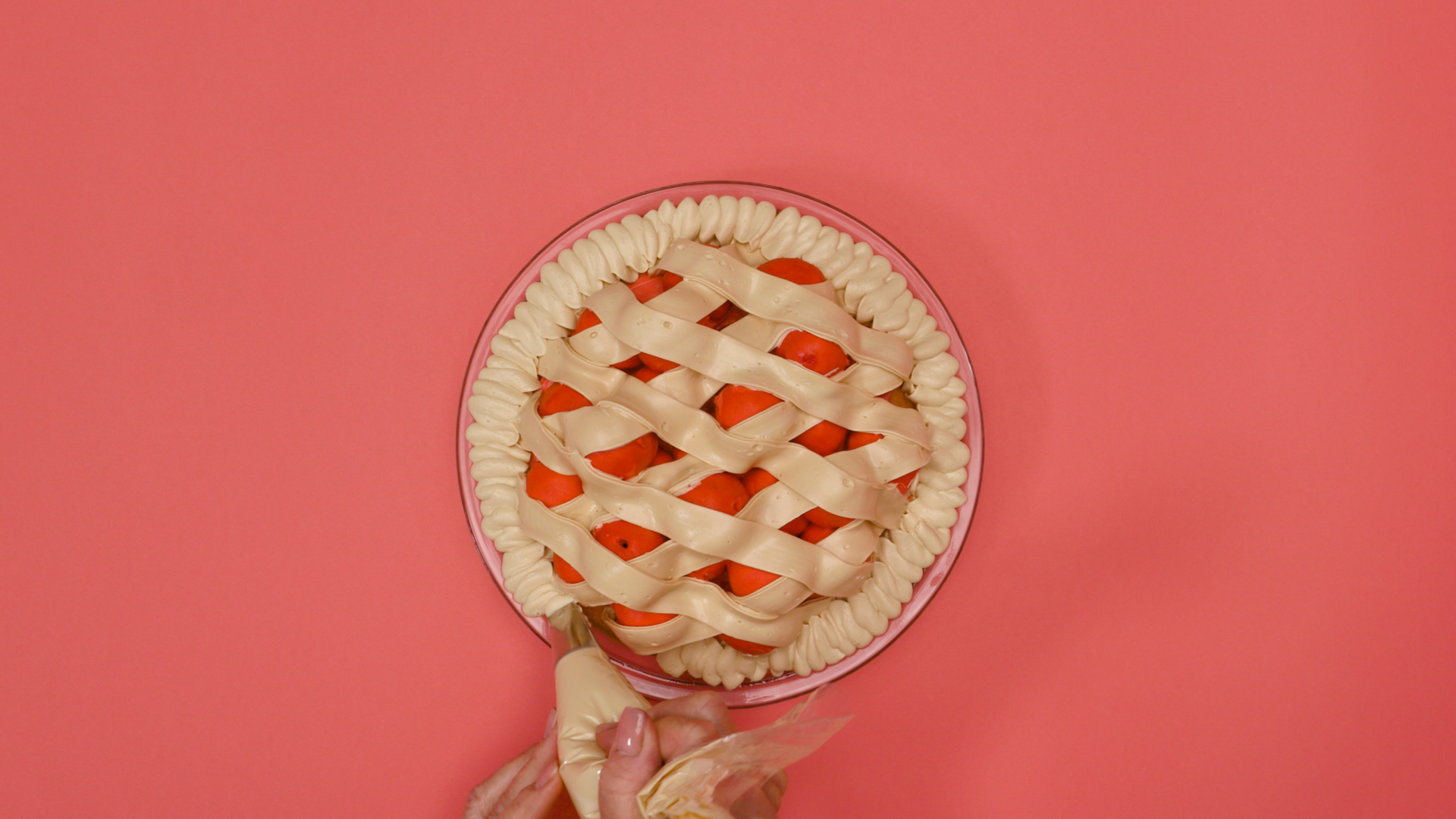 Fill a piping bag fitted with a flat tip and pipe a lattice pattern over the top of the cherries. Then, pipe around the edges of the cake to make a decorative crust. You can keep using the flat tip for this, or replace it with a star piping tip.
8. Add the Final Details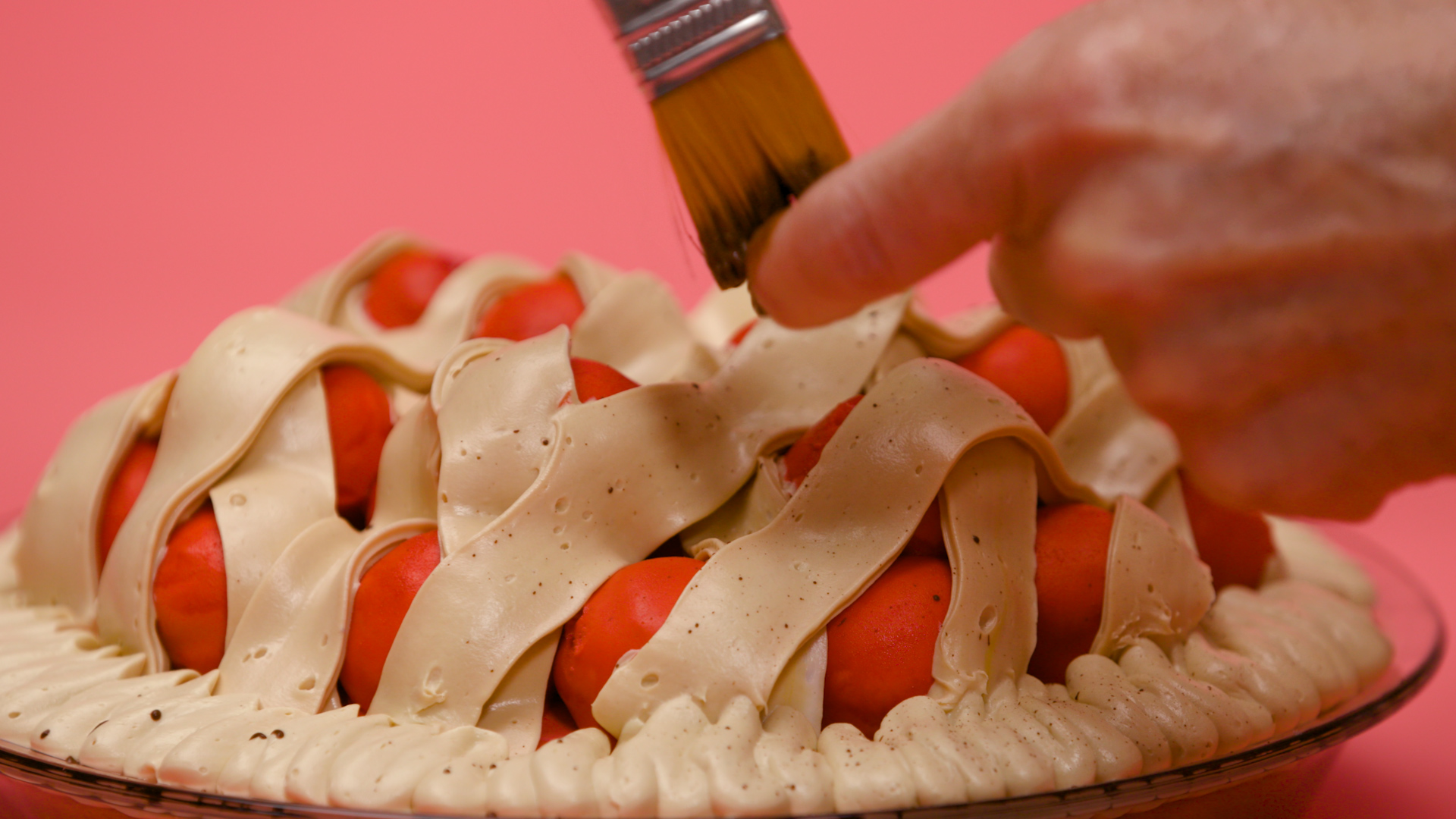 Add a couple spoonfuls of cocoa powder to water and mix. Dip in your basting brush and use your fingers to splatter cocoa flecks onto the top of your pie, creating a realistic pastry look.
Your pie cake is ready to be sliced and shared!