After 80's cakes yesterday, is it too early to celebrate the '90s? What is iconic about the 1990's decade to you? For me, pop culture definitely leads the way in defining a particular era. When I think about the 1990's I imagine grunge music, video games, juicy teen melodrama television (Beverly Hills 90210) and bubblegum pop girl power. Take this eclectic mix of ideas and throw in the end of a millenium, too – shall we party like it's 1999? There's hardly a better way to party '90s style than with some '90s themed cakes. Read on!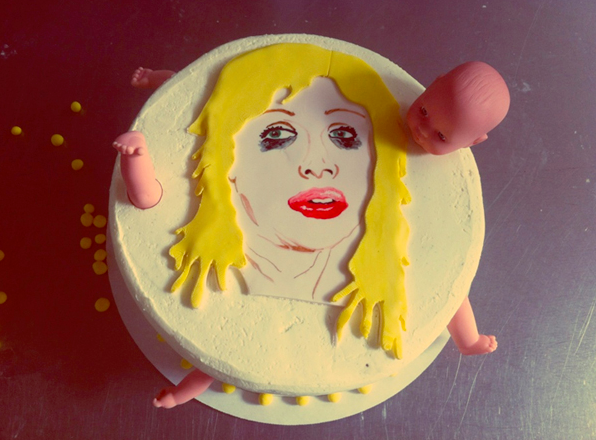 Photo via Cake Monger
Courtney Love Cake: "I want to be the girl with the most cake" declared Courtney Love in the 1990's, in the lyrics to her song "Doll Parts." How appropriate that she, herself, be turned into an edible hand-painted fondant delight! I love her smeared mascara and lipstick–as though she just had a huge rage against the machine– and the hand cut yellow fondant hair.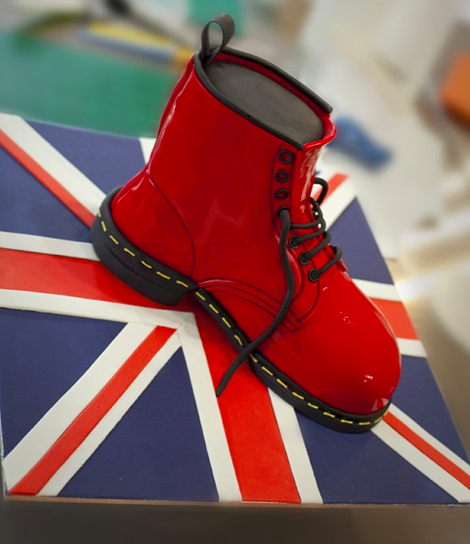 Photo via Cakeage Cake Craft
Dr.Martens Boot Cake: Hands up if you had a pair of Dr.Martens boots (or, perhaps your son or daughter). I thought so. This awesome shiny red boot cake has all the details that make a Doc boot a Doc: eight shoelace holes, the yellow stitching piped on. But I'm certain this sweet 16 cake didn't taste like a rubbery piece of old foot leather! And guess what everyone… Docs are cool again! Cakeage used vegetable oil to spritz onto the fondant for a shiny look- quite clever!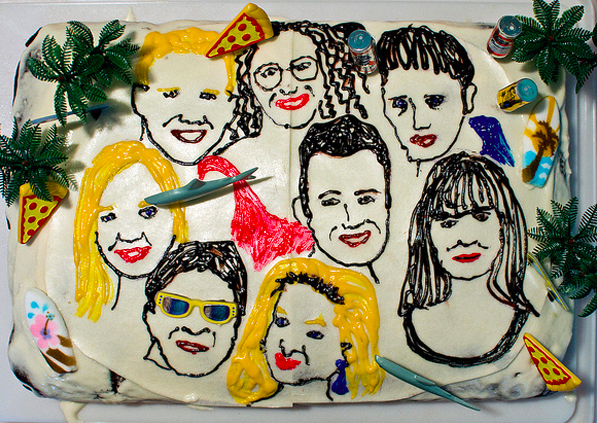 Photo via Melissa Dettloff
90210 Character Cake: Meet you at the Peach Pit! Did anyone else have a 90210 watching obsession? Who was your favorite character? This humorous retro cake features line-drawing style renditions of your favorite Beverly Hills 90210 characters piped with icing and topped with additional plastic mini toys.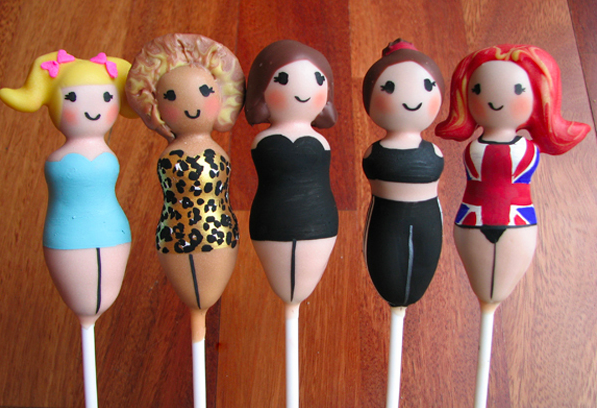 Photo via Cake Pop Princess UK
Spice Girls Cake Pops: Bianca is the self proclaimed Cake Pop Princess and I think these Spice Girls cake pops rightfully give her that royal title! These cake pops are so simple but so effective, created using candy melts, edible marker and fondant. I love that the details let you know exactly who each Spice Girl is!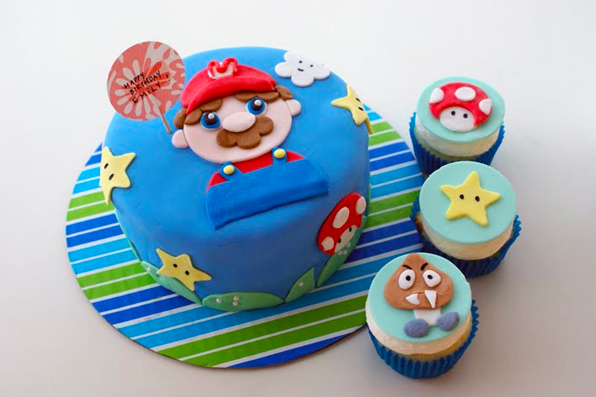 Photo via Coco Cake
Super Mario Brothers Cake and Cupcakes: I still love playing the original Nintendo version of Super Mario Brothers. I can't get enough of the satisfying bleeps and boops and silly synthesizer music. This fondant covered cake has a simple Mario character created using various sizes of circle cutters. The matching cake board was made by tracing a regular white cake board with craft paper and gluing it on top. The blue fondant cupcake toppers are simple and fun, featuring goomba, magic star and magic mushroom, with details in edible marker.

Photo via Demel Cakes
Bill Clinton Cake: This is a rather surreal cake: the bust of Bill Clinton popping out from an intricately piped celebration cake dotted with silver candy pearls and a red, white and blue theme! Bill Clinton was president of the United States from 1993 to 2001 and he firmly deserves a place in this roundup. This cake was created by Vienna bakery Demel Cakes. Try Bluprint's class Advanced Cake Sculpting with Mike McCarey and perhaps you will be creating your own president-themed cake, too!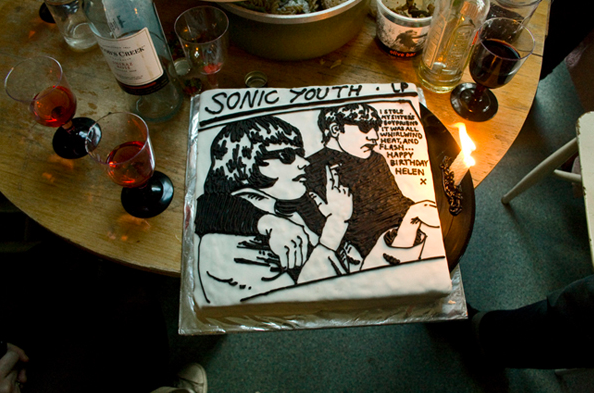 Photo via Our Bartlett
Hand-piped Record Cover Cake: Records? What's a record? Yes, children – we oldies used to listen to strange black colored vinyl discs which picked up the sound of music by a teensy needle. This awesome record cover cake was hand piped to exactitude by UK artist Ruth Bartlett. You must check out her small gallery of beautifully created and precise record cover cakes here. She uses icing and fondant to emulate various record covers.
What signified the 1990's for you? Was it the clothing, music or any other pop culture related item? Politics, or a personal memory? The cool thing about cakes: any of those topics can be translated into cake form. Check out Bluprint's growing selection of online cake decorating classes taught by the best of the best in today's exciting cake world and get going on your '90s themed cake today!