With this step-by-step tutorial, you can create a litter of cute kitty cat cupcakes for a purrrfect birthday. The best part about this handy how-to is that it's easy enough for beginners to try.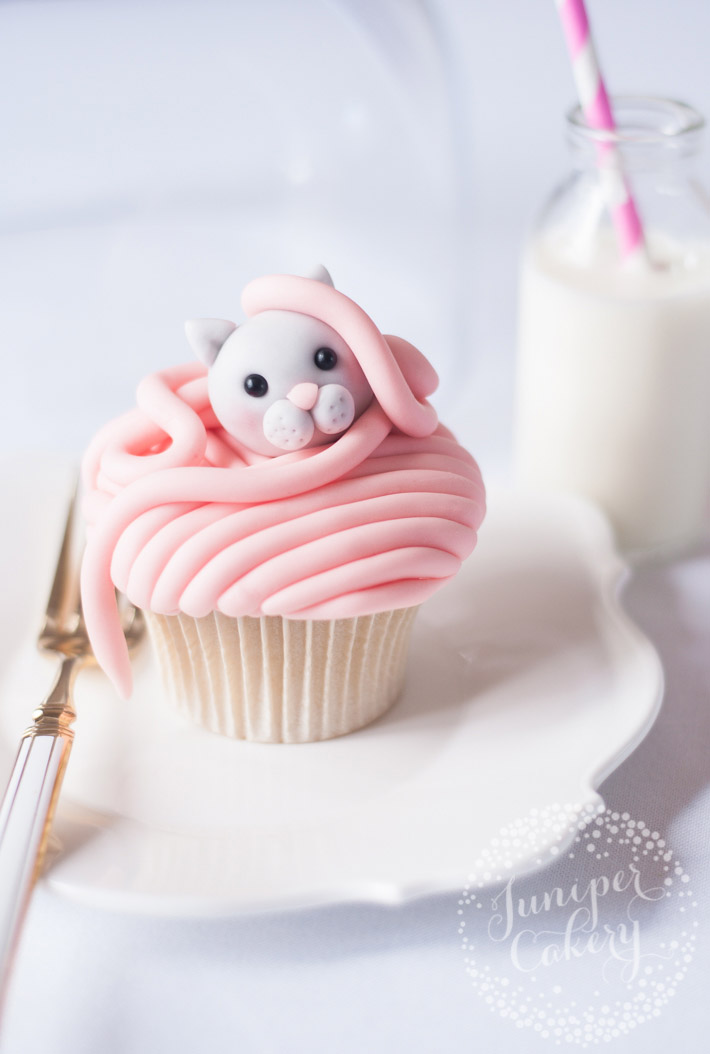 Learn how to create adorable custom cupcake toppers!
Join the online class Too-Cute Toppers! and master six trendy toppers & creative designs for cakes that always receive rave reviews. Enroll Now »
How to make cat cupcakes
Materials needed:
Baked cupcakes
Tinted fondant in at least two main colors (we used pink for the yarn and gray for the cat)
Edible glue or water
Food-safe paintbrushes
Pale pink blossom dust
Small ball tool
Thin (30 gauge) floral wire or stamens
Fondant smoother or extruder gun
Small amount of black fondant or black edible pearls
Small amount of pink fondant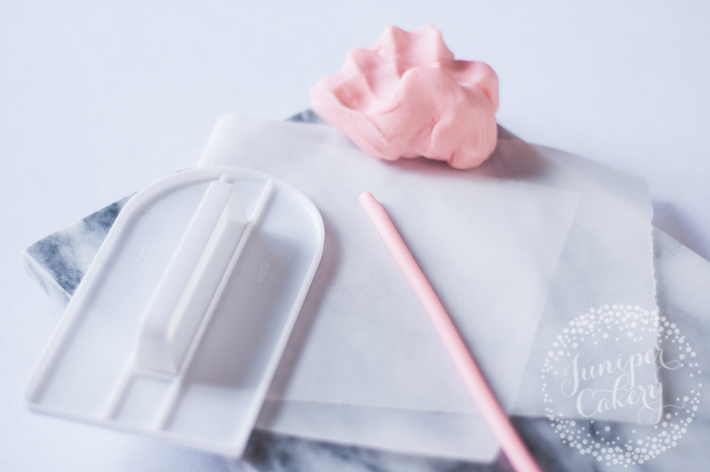 Step 1: Top your cupcake with fondant "yarn"
This first step is to turn your cupcake into a ball of yarn. There are two ways to do this: First, you could roll out ropes of fondant and attach the rope onto a flat iced cupcake. To roll out the "ropes," create a slug shape of fondant, and then roll it back and forth using a fondant smoother. This creates the most uniform sized ropes.
The other option is to use an extruder gun. However, extruder guns can be pretty painful on your hands after a while, and you may not have an attachment that pipes out the right size rope.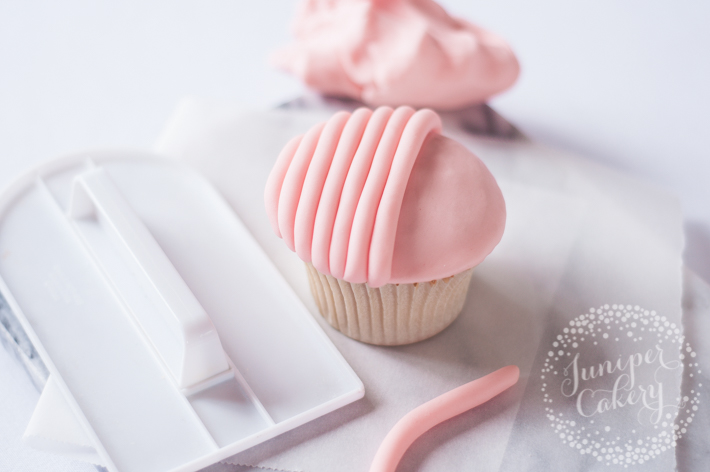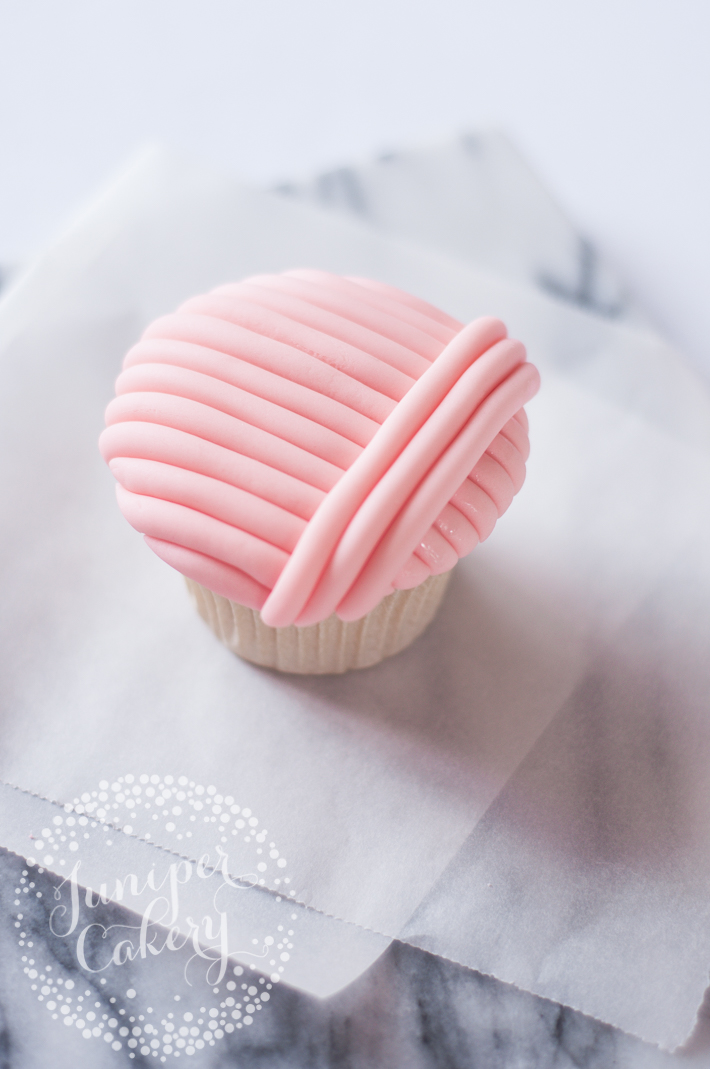 Cut your ropes to size and then attach to your cupcake with edible glue. Lay all your rope pieces in one direction. For the next layer, lay them in the opposite direction in one small area of your cupcake to create the wound up ball of yarn look.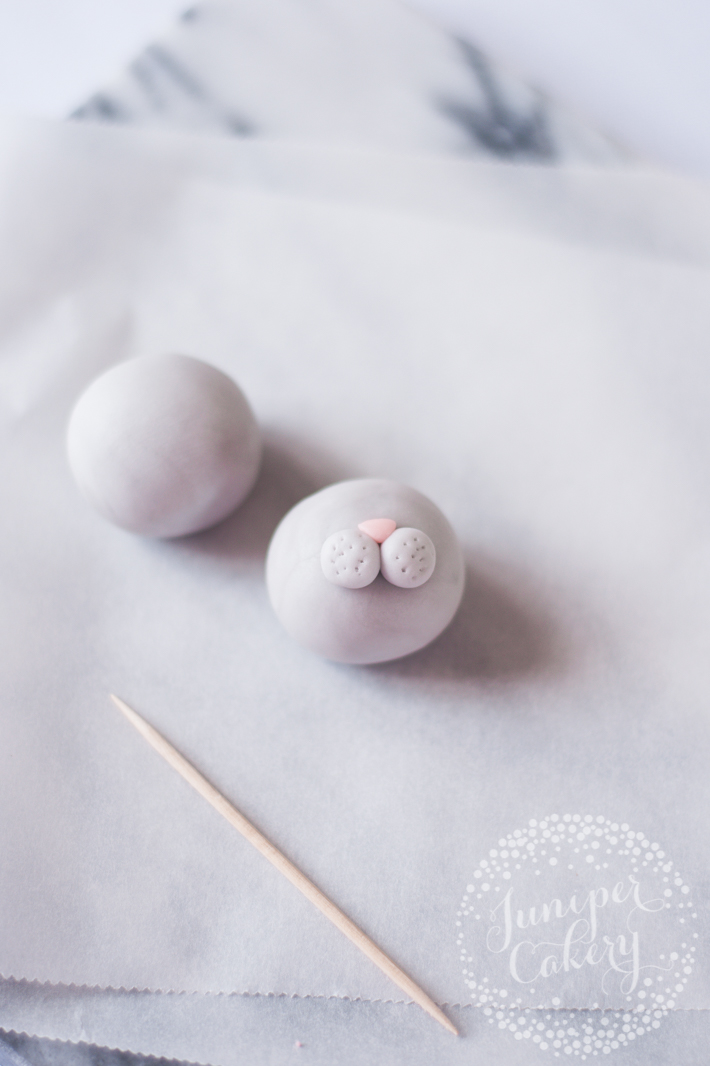 Step 2: Make the cat's head with fondant
To make your kitty cat's head, begin with a small ball of gray fondant. Use edible glue to attach two smaller balls of gray fondant — these make the cat's muzzle. Use a toothpick to poke little freckles on the muzzle. If you want to add whiskers, you can use short bits of stamens of floral wire, but you don't need to.
Step 3: Add the cat's facial features
Indent the eye sockets with a small ball tool and attach black edible pearls inside of them using a little edible glue. For the cheeks, gently brush on some pink blossom dust. For the nose, shape a bit of pink fondant into a triangle and attach it at the top center of the muzzle.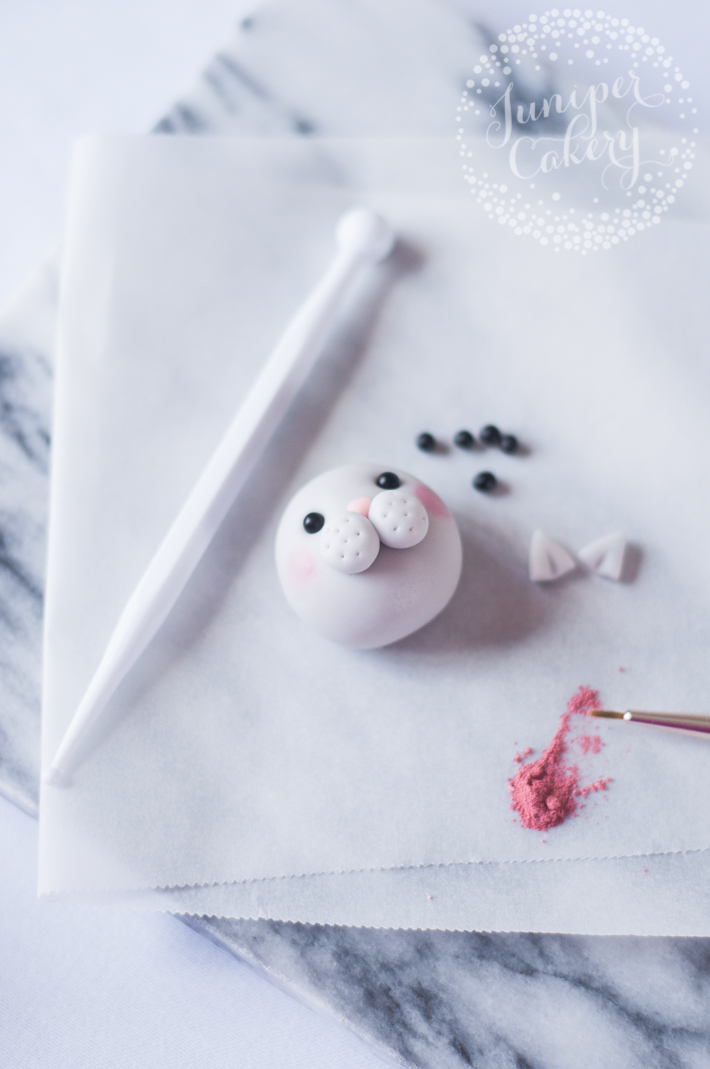 Finally, to create the ears, roll out two small balls of fondant, flatten them and then lightly pinch to create tiny triangular shapes. Attach using a little dab of edible glue.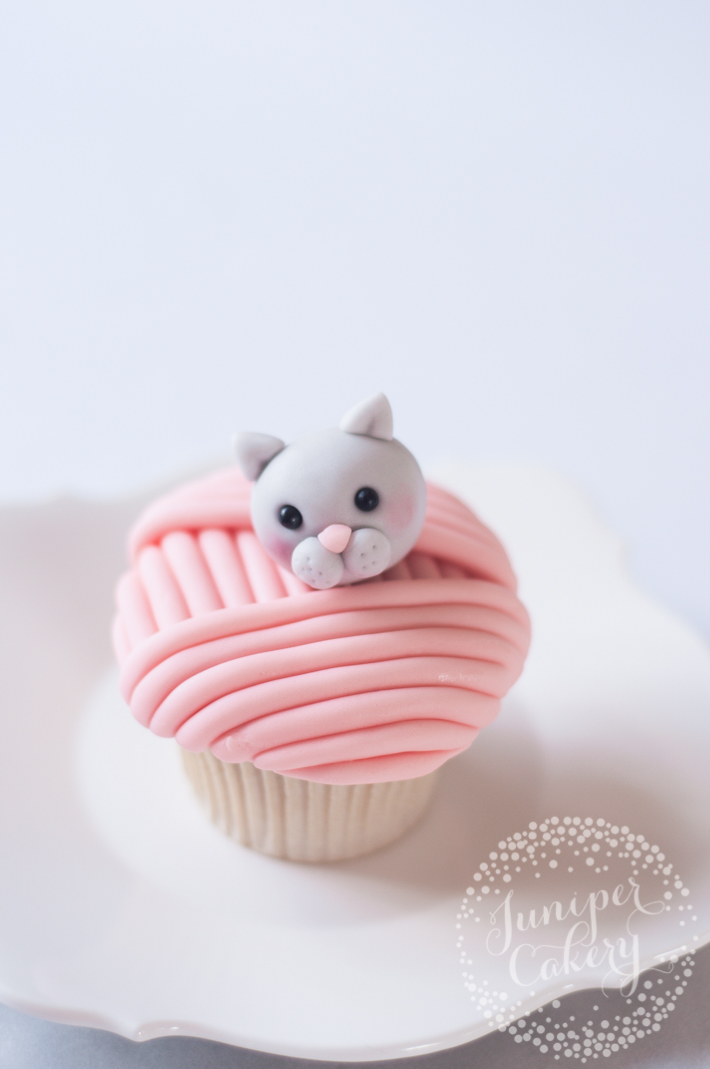 Step 4: Attach the cat to the cupcake
Attach your cat's head to your cupcake with edible glue.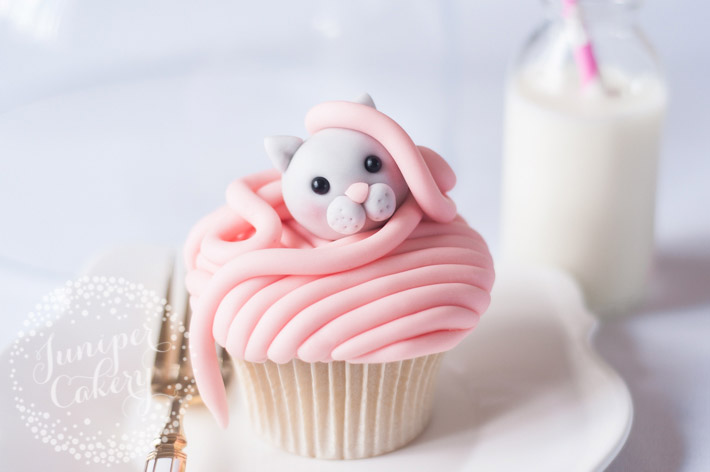 Step 5: Add more fondant yarn for a finishing touch
Create more strands of fondant yarn to messily layer on top of your cat's head. This will make your kitty cat look super playful!
For personalized cat cupcakes, try creating edible versions of the lucky recipient's pets! You can even make tiny tags and collars for each one, add glittering silver fishes or even cute paw prints dotted around the ball of yarn.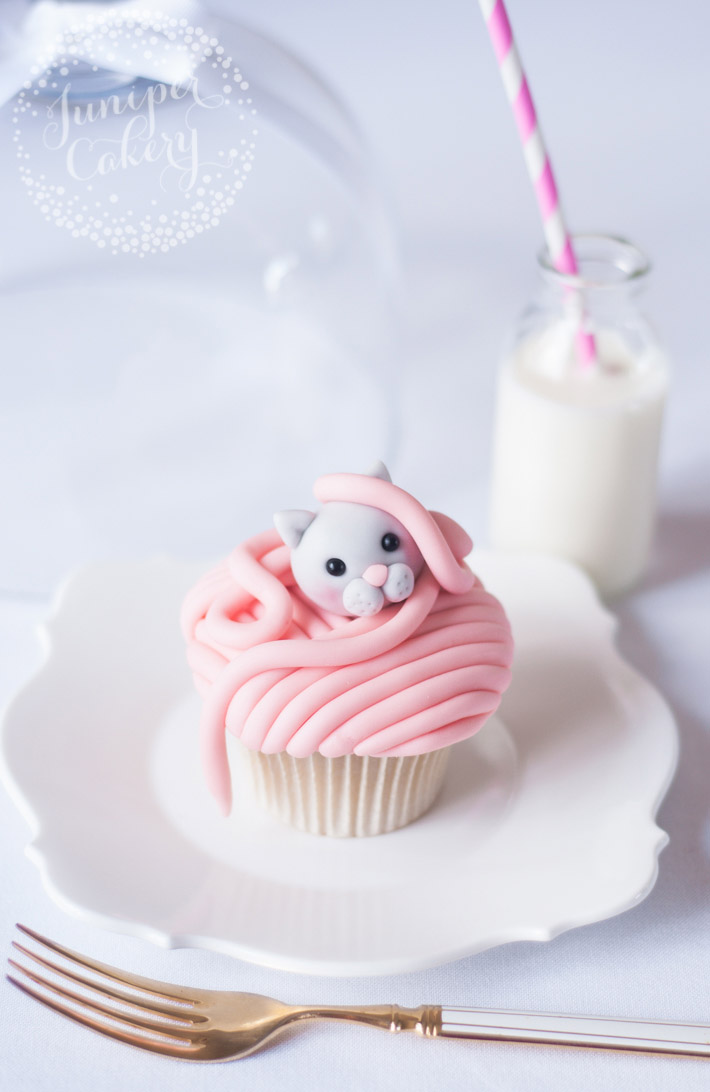 Learn how to create adorable custom cupcake toppers!
Join the online class Too-Cute Toppers! and master six trendy toppers & creative designs for cakes that always receive rave reviews. Enroll Now »