The Brazilian Carnival, or Carnaval in Portuguese, is a 5-day festival that begins 40 days before Easter, ending on Fat Tuesday. Though the celebration takes place across many regions of Brazil, the largest and most well-known festivities take place in Rio de Janeiro, where the largest samba parades and processions start today, February 28th, and will run through March 4th this year.
In addition to Carnival, Rio continues to be the center of attention, as they will be hosting the 2014 World Cup of Soccer and the 2016 Summer Games. And with the release of the sequel to the popular animated movie Rio coming up in April, Brazilian celebrations will be abundant! So how about setting the tone for the party with festively decorated cakes and cupcakes?
Soar above the beaches of Rio and feel the rhythm of the Brazilian Carnival festivities with these tropical and jubilant cakes and cupcakes!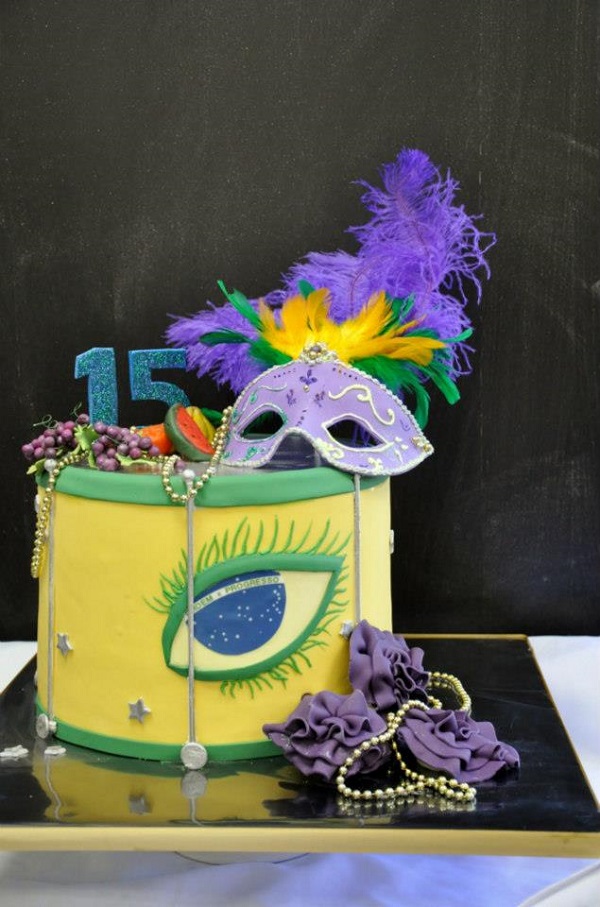 Photo via Sweet Cheeks Baking Company
Brazilian carnival drum cake
Sweet Cheeks Baking Company created this amazing Brazilian carnival drum cake to celebrate the birthday girl's 15th birthday. The cake was constructed high and covered in fondant decorations to resemble a drum traditionally found and utilized in the samba parades. The side of the drum was adorned with an eye, but made to also include the beautiful representation of the Brazilian flag within it. The cake was topped with an ornate mask, fruit and fondant numbers to represent the guest of honor's age, and is also embellished with real feathers.
Photo via Hello Cakes by Vanessa
Carnival birthday cake
This fun and festive Carnival birthday cake by Hello Cakes by Vanessa screams Brazil, as it contains all the colors of  the country's flag. The inclusion of fondant confetti, stars and streamers add to the celebratory feel, along with the recognizable carnival masks and feathers. Decorative cake wires protrude from the sides, capped with multicolored fondant balls, and the birthday boy is depicted in fondant form wearing a shirt with the Brazilian flag.
Practice your fondant figures to re-create the guest of honor in Anne Heap's Cake Topper Techniques: Figure Modeling.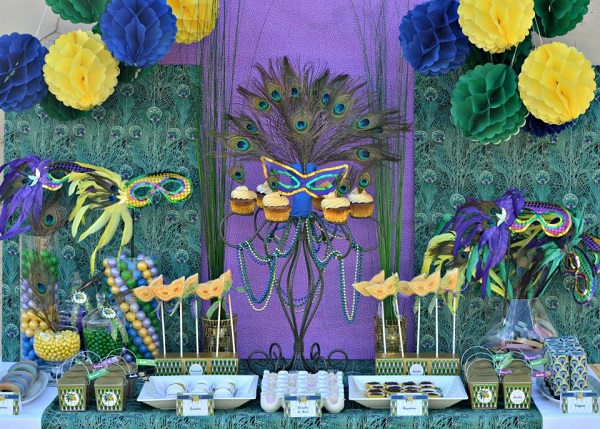 Photo via Crissy's Crafts
Peacock Brazilian celebration party
Crissy's Crafts styled a beautiful Brazilian party with a peacock twist to celebrate Carnaval utilizing paper printables designed by Bird's Party. In addition to serving traditional Brazilian sweets, such as brigadeiro and quindim, cupcakes were creatively displayed on an ornate candle holder, while chocolate masks made with the use of a mold sit on sticks and allow for added fun for the guests. Check out the rest of the party details for additional inspiration.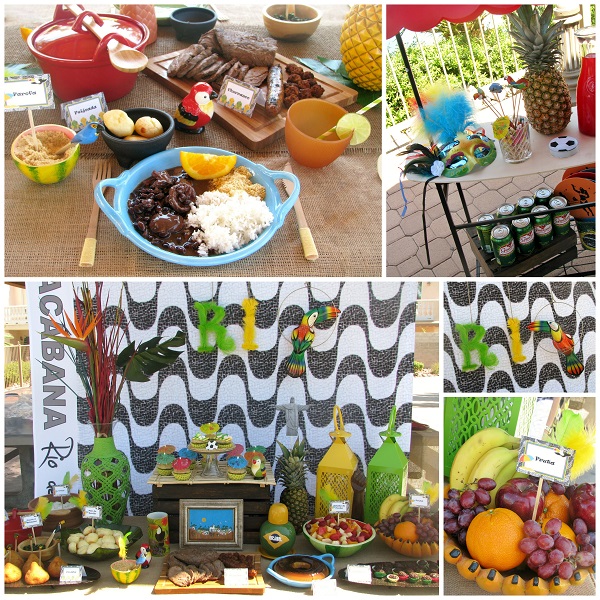 Photo via Lynlee's Petite Cakes
Rio party ideas
Since a large focus of the Carnival festivities take place in Rio de Janeiro, throwing a Rio-themed party would be the perfect way to celebrate! Traditional Brazilian food, sweets and drinks fit perfectly with tropical decor displayed on leaf and wood plates. The use of fruit can also serve as additional ornamentation, while the incorporation of feathers, masks and, of course, samba music, complete the jubilant get-together. See additional party details for more inspiration.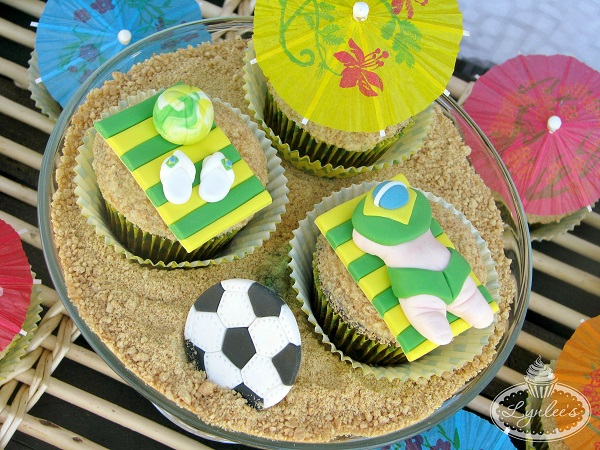 Photo via Lynlee's Petite Cakes
Brazilian beach cupcakes
Reminiscent of the iconic beaches in Rio, these fun cupcakes are iced and topped with crushed graham crackers to resemble sand, then finished off with paper drink umbrellas in a variety of colors. As the centerpiece, a couple of cupcakes are topped with green and yellow fondant towels with a sunbathing figure, flip flops and a soccer ball, representing the country's most popular sport!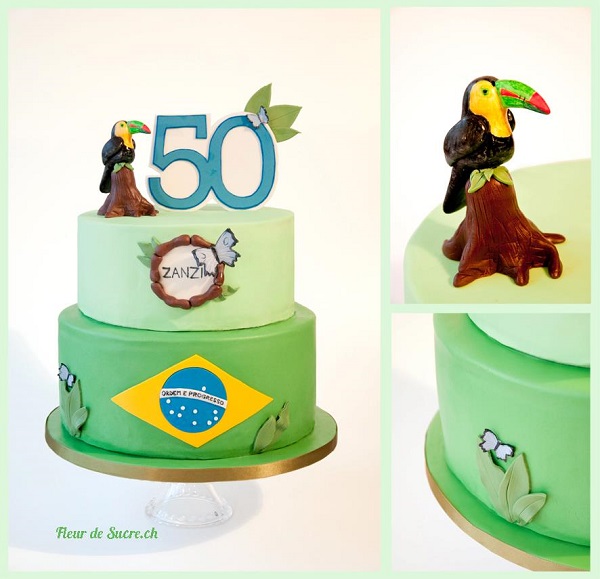 Photo via Fleur de Sucre
Brazilian toucan cake
Fleur de Sucre created this simple, yet beautiful and elegant toucan cake for a 50th birthday celebration. The two layers are perfectly covered smoothly with fondant and adorned with clean and pristine decorations. The cake is topped with the guest of honor's age and a molded toucan perched on a tree trunk with hand-painted details.
Practice modeling animals in the course Cake Topper Techniques: Fondant Animals with Sharon Wee.
Rio cake via Bluprint member Ileana Carmona
Rio movie themed cake
Bluprint member and cake artist Ileana Carmona created this jaw-droppingly gorgeous Rio movie themed cake after taking the course Jeweled Wedding Cake with Marina Sousa. The stand was custom-built from tree trunks and branches and utilized to display this multi-layered cake display. Each cake is decorated in different colors, depicting several landscapes and iconic sites of Rio, with a variety of embellishments, including buttercream, fondant and fresh flowers. The animated characters from the movie are brilliantly brought to life in fondant form!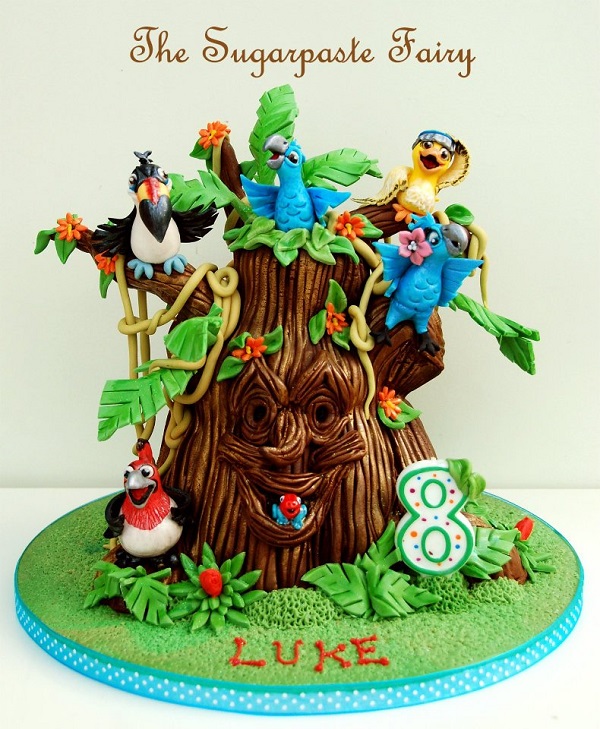 Photo via The Sugarpaste Fairy
Rio tree cake
This extraordinary and stunning display made by The Sugarpaste Fairy also depicts characters from the Rio animated movie perched on a carved tree cake. Each tropical bird is modeled perfectly, with extremely intricate details and expressive features, bringing out their lively personalities. The texture on the carved tree and board add wonderful dimension to the cheerful presentation.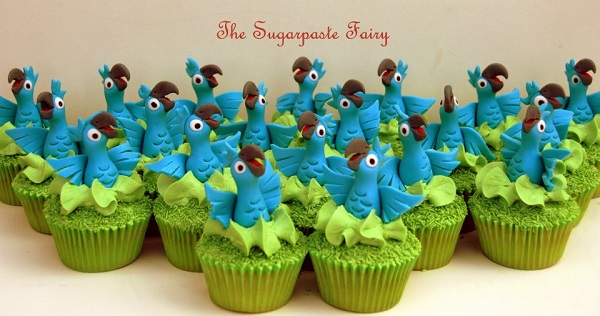 Photo via The Sugarpaste Fairy
Rio macaw cupcakes
To augment the Rio cake above, The Sugarpaste Fairy enhanced the presentation with these adorable blue macaw cupcakes toppers. You can easily envision these delightful tropical birds singing and dancing samba as the perfect addition to any Brazilian Carnival parade!
Come back to the Bluprint blog tomorrow for a fun fondant jester hat tutorial, perfect for your Mardi Gras and Carnaval cakes and cupcakes!
In what upcoming event would you love to participate in Rio?