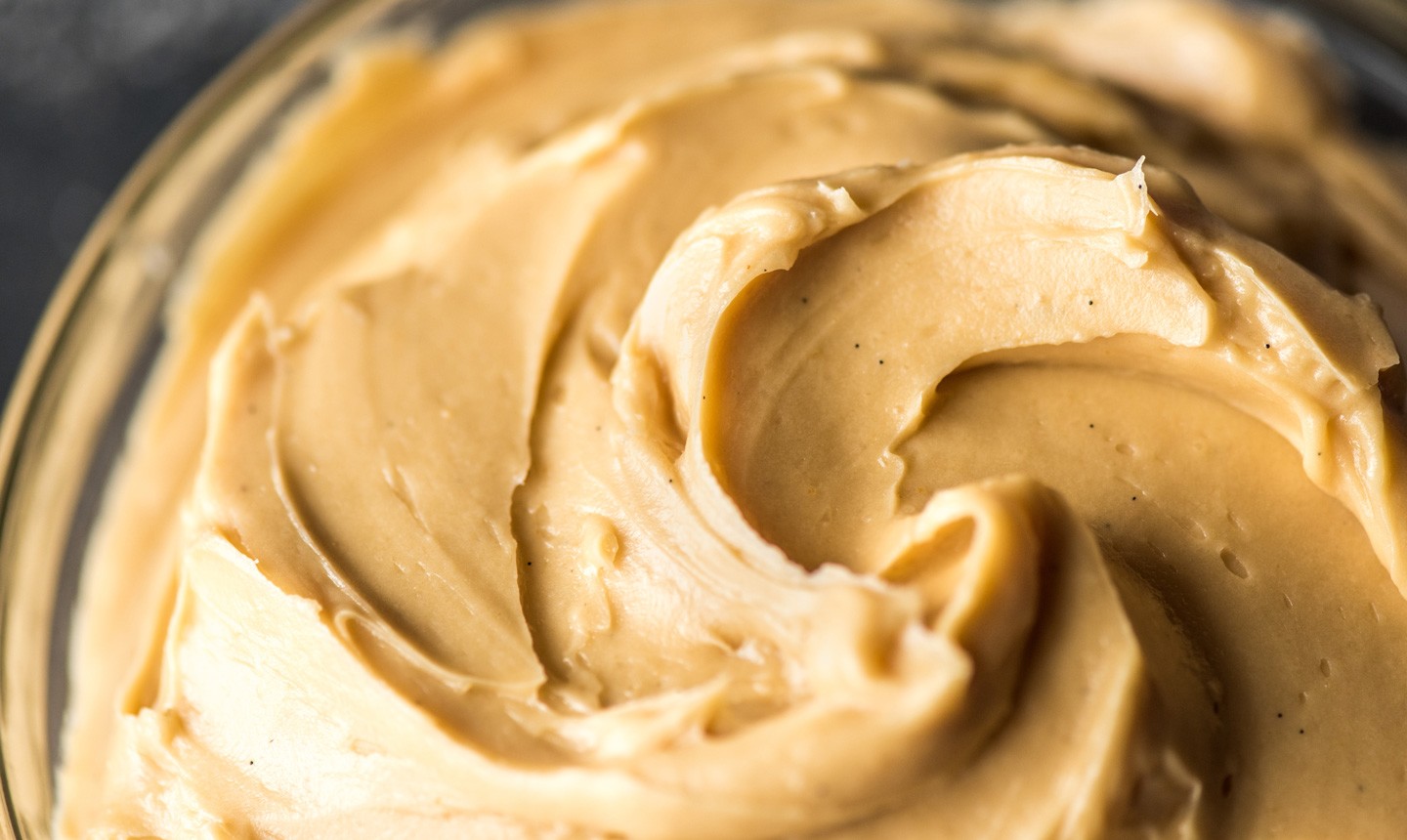 Of course, we love coating cakes with a delicious Swiss meringue buttercream. But as soon as fall rolls around, our taste buds want some sweet and salty caramel in the mix. Which is why we're whipping up this mouthwatering caramel buttercream recipe from Joshua John Russell, star of our super-popular Man About Cake series (and our new Man About Bake show).
Salted Caramel Buttercream
To start, you'll first need to make the salted caramel recipe. You'll then combine it with the Swiss meringue buttercream recipe, mixing two parts buttercream to one part caramel (by weight). Just make sure the caramel is completely cooled before you mix!
Salted Caramel
Yield: About 4 cups
Ingredients
3 cups granulated sugar
1 teaspoon cream of tartar
1 cup agave syrup
1 cup heavy cream
½ cup evaporated milk
½ cup (1 stick) unsalted butter
1 tablespoon Madagascar bourbon vanilla extract
2 teaspoons salt
Instructions
1. Combine the sugar, cream of tartar and agave in a large saucepan and place on high heat. Stir the mixture to incorporate, but once bubbles begin to appear around the edge of the pan, do not stir anymore.
2. As the mixture boils, use a damp pastry brush to remove any sugar crystals from the sides of the pot.
3. While the mixture is boiling, combine the cream, milk, butter, vanilla and salt in a small saucepan. Heat until it just starts to boil; remove from heat.
4. Once the sugar mixture has reached the desired color (it should be a deep golden brown), remove from heat and add small amounts of the milk mixture while whisking. Adding the milk will cause the caramel to boil up high because of the temperature change, so go very slowly, adding very small amounts.
5. When the milk mixture is fully incorporated, let the caramel cool in the pot for 30 minutes. Transfer to a storage container.
6. Store covered in the refrigerator and bring back to room temperature before using.
---
Swiss Meringue Buttercream
Yield: Enough to fill and ice one 10″ two-layer cake
Ingredients
8 egg whites
1 cup granulated sugar
Pinch of salt
*3 cups (6 sticks) unsalted butter, at room temperature
1 cup confectioners' sugar, sifted
2 tablespoons Madagascar bourbon vanilla extract
Pro Tip: In warmer climates, you'll want to modify and use 2 cups (4 sticks) butter and add 1½ cups vegetable shortening. This will give more stability when the weather is hot.
Instructions
1. Set up a double boiler so the top bowl is not touching the water below. Heat the whites, granulated sugar and salt, whisking constantly until all the sugar is dissolved. Remember to heat this slowly — you don't want scrambled eggs!
2. Transfer the mixture to a stand mixer fitted with the whip attachment. Whip on high until a peak forms and the mixture is cool, about 5 minutes.
3. Turn the mixer to medium speed and gradually add the softened butter. Add the confectioners' sugar and vanilla; mix until incorporated.
Looking to learn cake decorating? Check out our Startup Library: Cake Decorating now!