Need a little something extra to complete your cake design? Add fresh fruit! But before tossing berries and citrus slices anywhere, check out our top tips on how to add style to your cakes the natural way.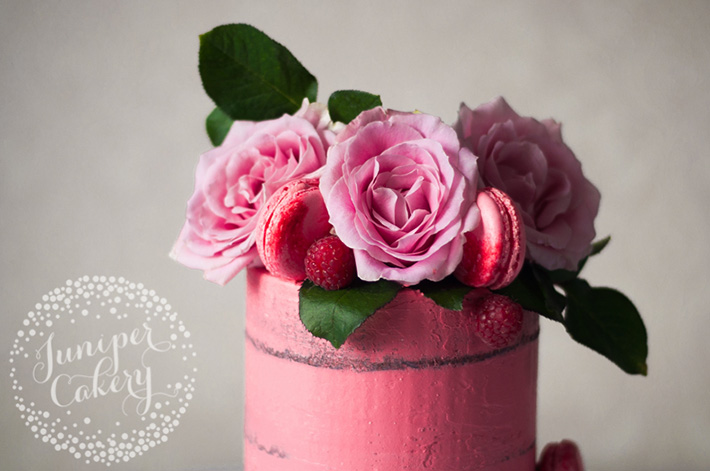 Read on for our best tips and ideas for decorating a cake with fresh fruit!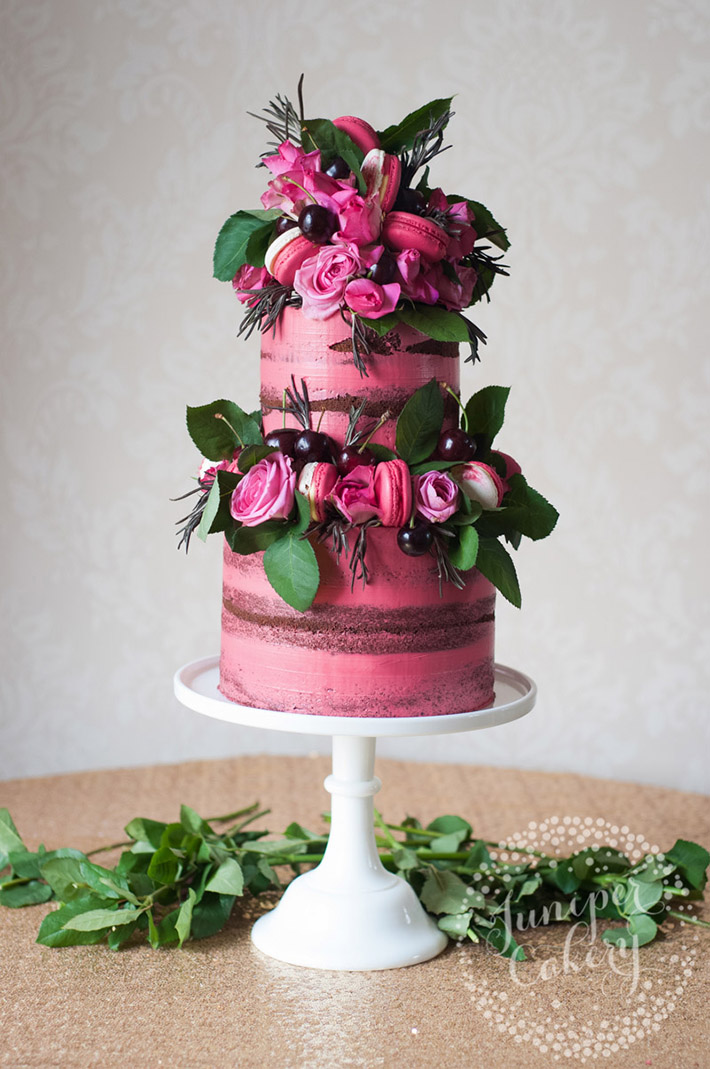 1. Think in color!
Most fruits are bright and vibrant, so let the color do the talking! For the cake above, we used lots of different cherry infused flavors, so it made sense to feature fresh cherries in the design. We highlighted the color of the cherries with different shades of bright pinks in the fresh roses and the fuchsia-tinted buttercream.
Don't be afraid of color! Making a blueberry cheesecake? Go for baby blue buttercream, a darker blue ganache drip, edible star sprinkles and blue-splattered white chocolate bark.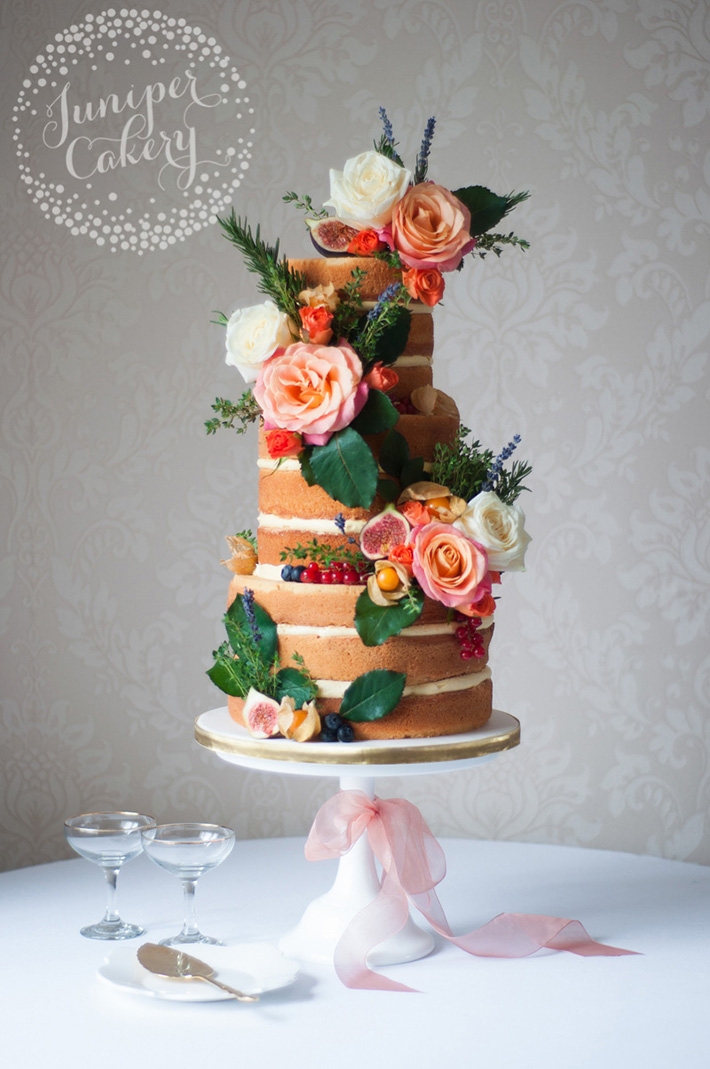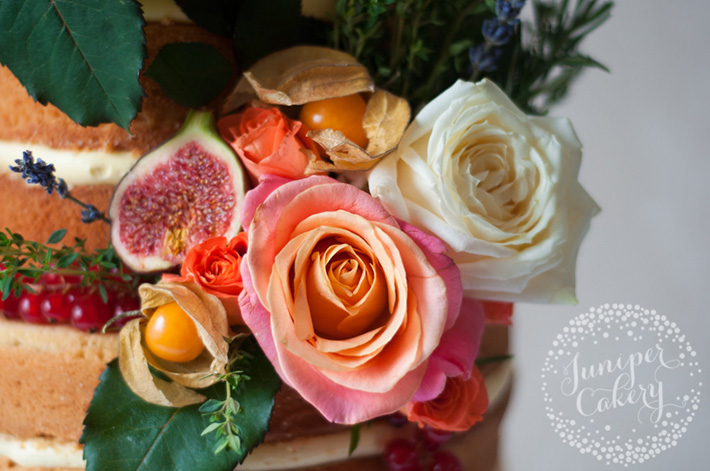 2. Think outside the fruit basket
Strawberries and blueberries are classic choices for fruit decor, but don't forget about larger, quirkier fruits. For the cake above, we added sliced figs, which added a fuller feel to each tier. Experiment with more unusual fruits like figs, sliced passionfruit or miniature pineapples.
Test out your ideas first: Hold up fruits where you think you'd like them on your cake to see if they work. While full and lush designs can look luxurious, bear in mind that simply piling fruit on your cake can look messy. Consider every single berry!
If you can, source fruits unsliced and with their stems and leaves attached. Strawberries complete with their leaves or blackberries with stalks can fill out a design, add rustic style and create unusual dimension to any cake.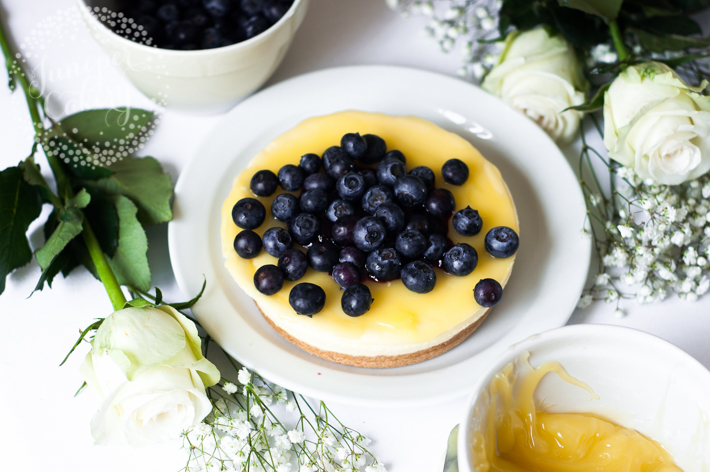 3. Splurge on the best fruit available.
Buy cheap fruit and you're likely to have scrawny, barely-there fruits that'll look unimpressive on your finished cake.
Sometimes you may score a bargain, but in most cases, it's best to pay that little bit extra for better and bigger fruit. The blueberries we used on the cheesecake above were a little pricer — but don't they look tempting and delicious?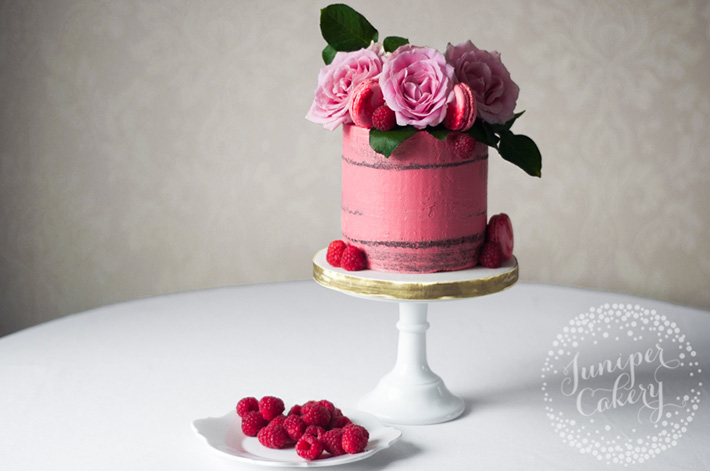 4. Pair fruit with other design details.
If fruits aren't the main design element on your cake, keep them to a minimum. A design overloaded with fruit, buttercream, sugar flowers and more will look like a hodge-podge of way too many ideas.
For the petite semi-naked cake above, the client wanted macarons and large roses on the cake, so we kept the the fresh fruits to a minimum — just raspberries dotting the bottom of the cake.
You can also nestle berries underneath flowers or behind other design elements. Behind the roses, we added an array of macarons and juicy raspberries.
5. Don't forget flavor!
It's an easy but huge mistake to make: You concentrate on a stunning look that you pairing a chocolate cake with lime wedges — not an appetizing combination, right? Remember to think about what fruits and other edible decorations suit the flavor of the cake you're decorating!
Above is a close-up shot of a wedding cake we created filled with strawberry preserve and vanilla buttercream. The fruity berry flavors worked really well with candied lemon slices and fragrant rosemary sprigs.
6. Spruce up your fruit.
You don't have to leave fruit plain on your cake. Creating candied citrus fruits adds texture and flavor to your cake. You can also dip cherries in chocolate, cover blueberries with edible gold leaf, stuff raspberries with candy for a tasty surprise or cover apples in caramel.
One of the best things about decorating cakes with fruit is that it can be quick, fun and easy — after all, nature has done half the work for you! All you need is a bit of creativity and some time.