Want an elegant, subtle way to elevate (literally) your cake? Try out our surprisingly easy tutorial for a fake cake stand effect! It's easy to create and will make people wonder how you did it.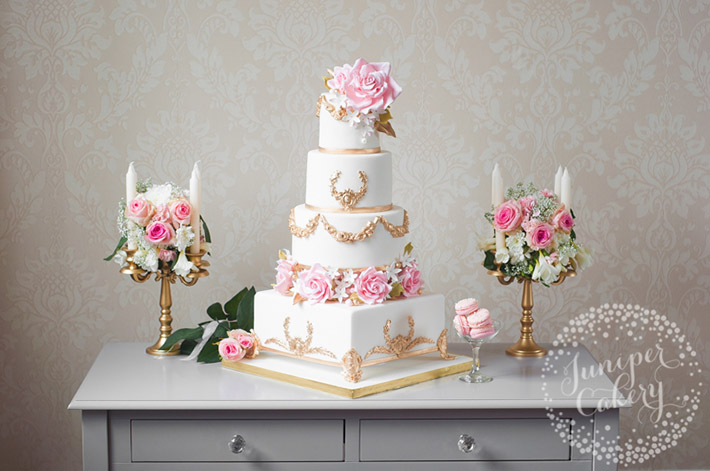 How to create a fake cake stand with gum paste
Because the "legs" of the cake stand are made with molds, you can easily adapt this tutorial for any style of cake. Use more simplified, sleek molds for a modern cake; for quirkier designs, use ornate molds with nature-inspired elements.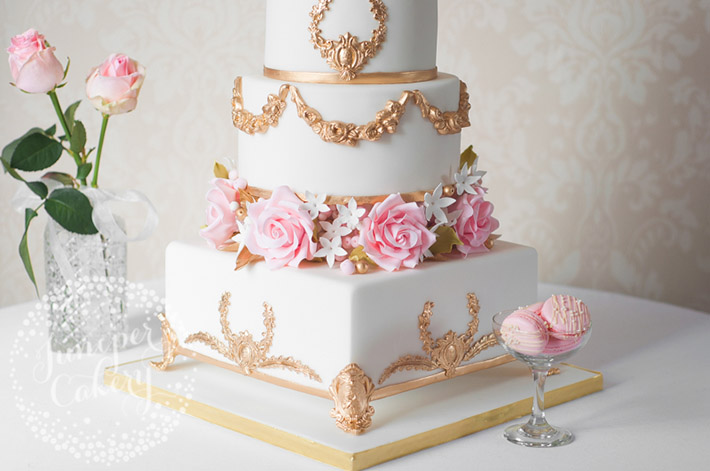 Materials and tools needed:
Covered and trimmed cake board (should be at least 2 sizes larger than bottom tier)
6-inch- or 8-inch-thick round cake board or drum, trimmed with ribbon
Melted white chocolate or royal icing
Covered dummy tier (bottom tier)
Ornate silicone molds
Gum paste
Non-stick surface or mat
Rolling pin
Pastry cutter
Edible glue
Food-safe paintbrushes
Silver or gold edible paint
Step 1: Set up the base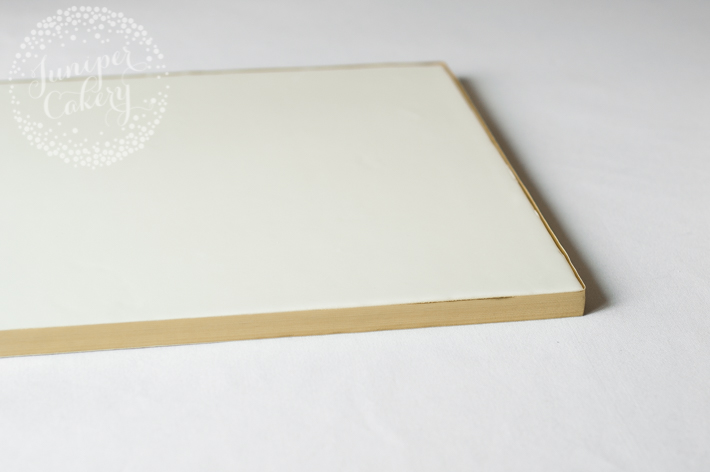 Get your large cake board covered, trimmed and ready to use. The fondant on the board should be nice and firm or else you'll risk squishing or denting it as you work. We recommend icing and trimming your board a few days in advance.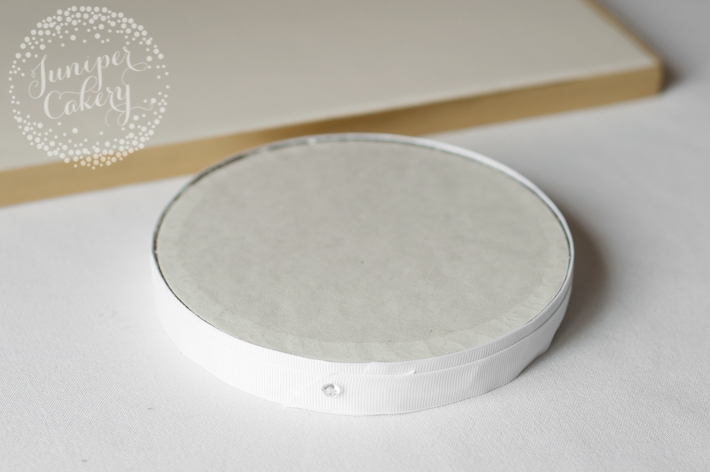 Your small round cake board (sometime called drums) can be either 6″ or 8″ round, depending on the size of your base tier. For our cake, we used a 10″ square base and a 6″ circle.
Wrap the round board with a ribbon trim that matches your cake. We used white ribbon for a white cake, but if your cake or base tier is darker, use a matching color.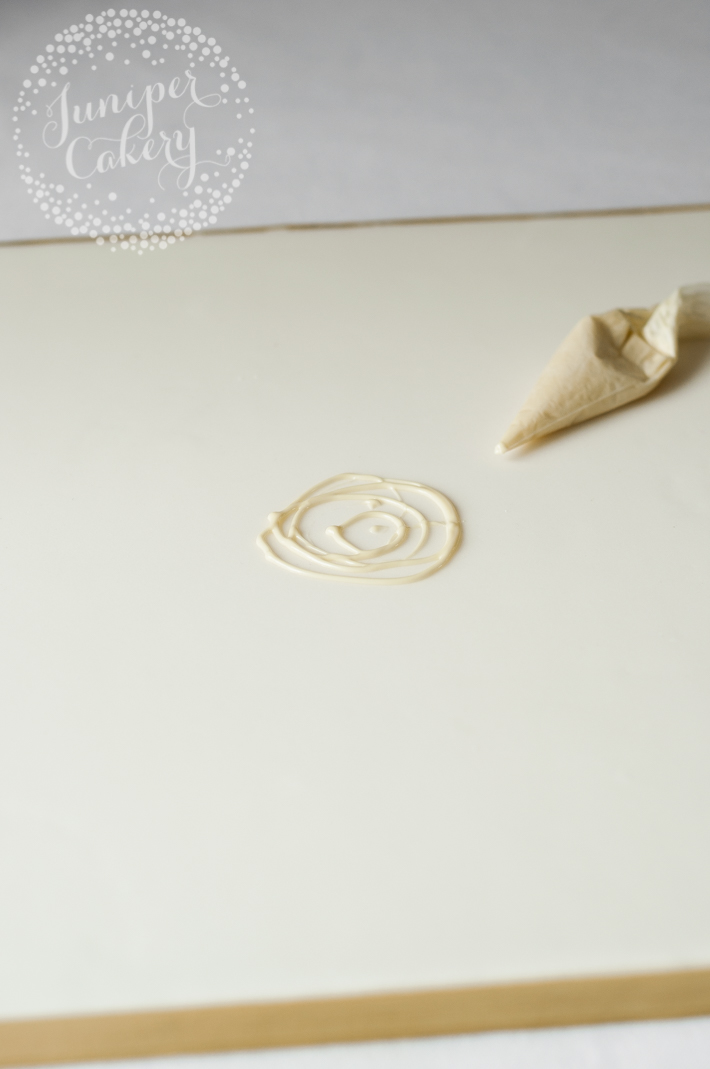 Add a little melted white chocolate or royal icing to the center of the main cake board. This will hold the smaller board in place.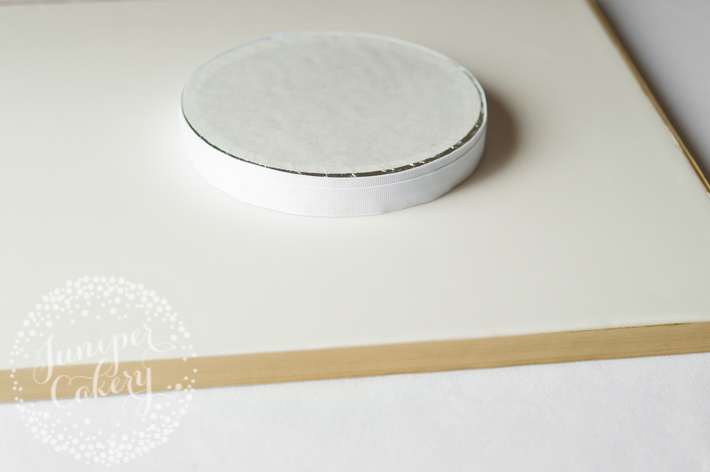 Place your smaller thick board on top and leave it for a few minutes to dry or set a little bit before continuing.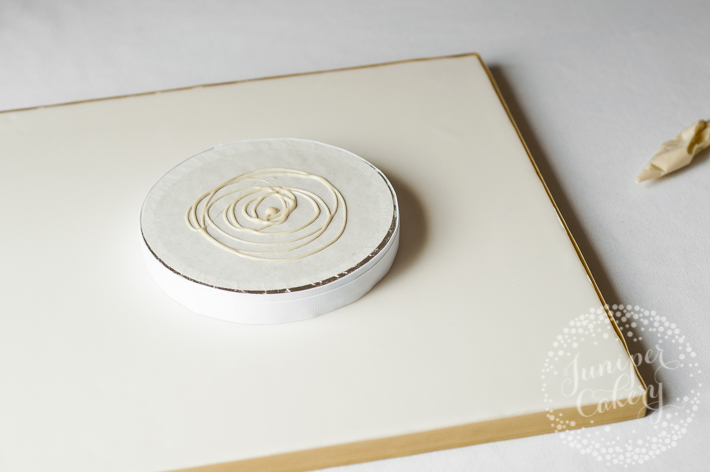 Step 2: Add the dummy tier
Add melted white chocolate or royal icing on top of your small cake board.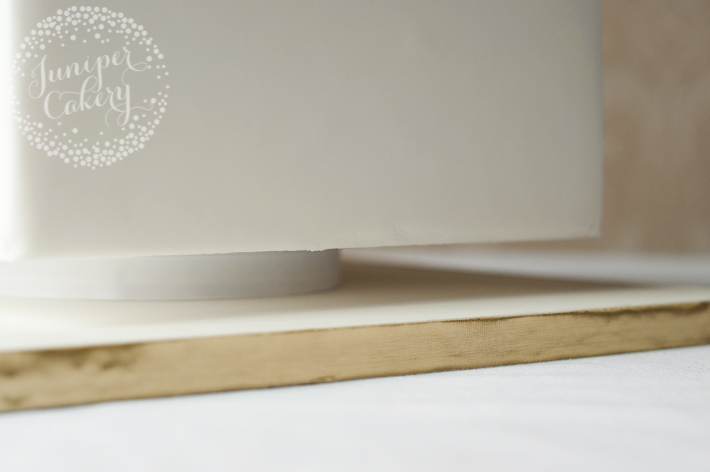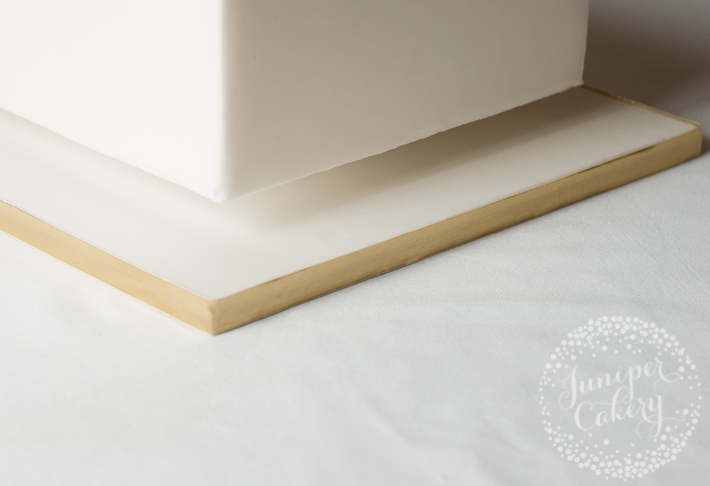 Place your dummy base tier on top of the round cake board, making sure it's centered and level.
A high-quality dummy cake is best here, as it will keep the real cake on top more stable. You'll also minimize the risk of the base tier curving at the outer edges.
Step 3: Attach the fake legs
Now you can start the decorative part of the tutorial! Using silicone molds and gum paste, create the "feet" for your fake cake stand. Create four identical versions of the mold and use edible glue to attach one to each corner.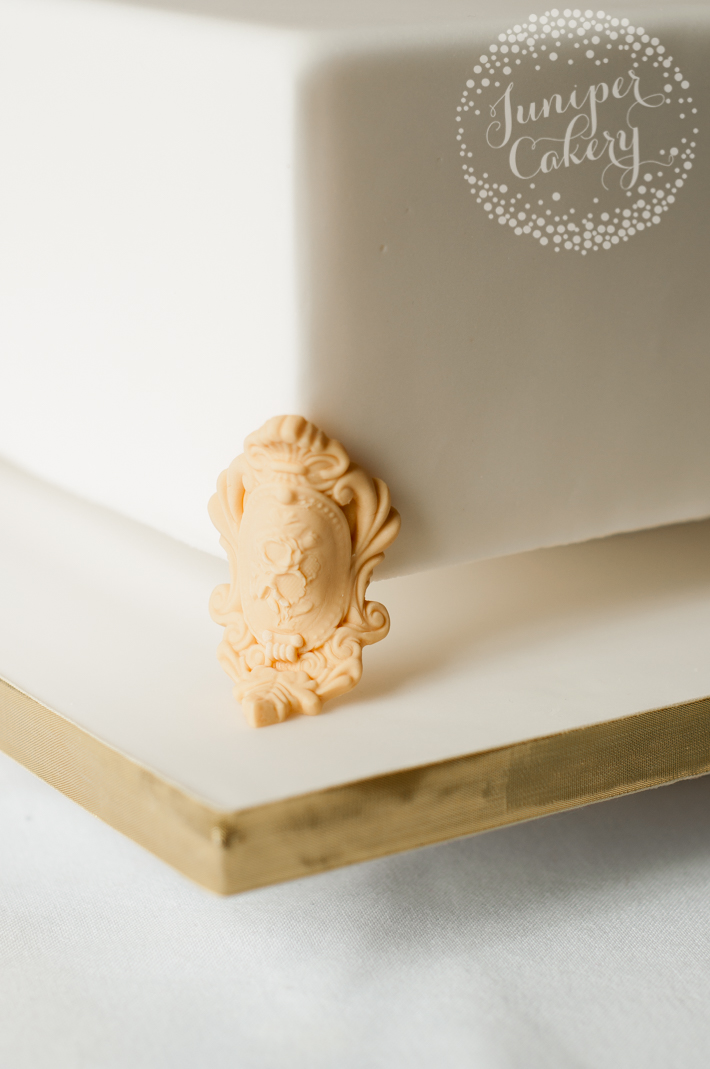 After attaching the legs, add strips of gum paste around the edge to create the plate part of the cake stand. Roll out the gum paste into long, thin strips. Measure the space between your gum paste "legs" and cut long, thin strips of gum paste to size. Attach using edible glue.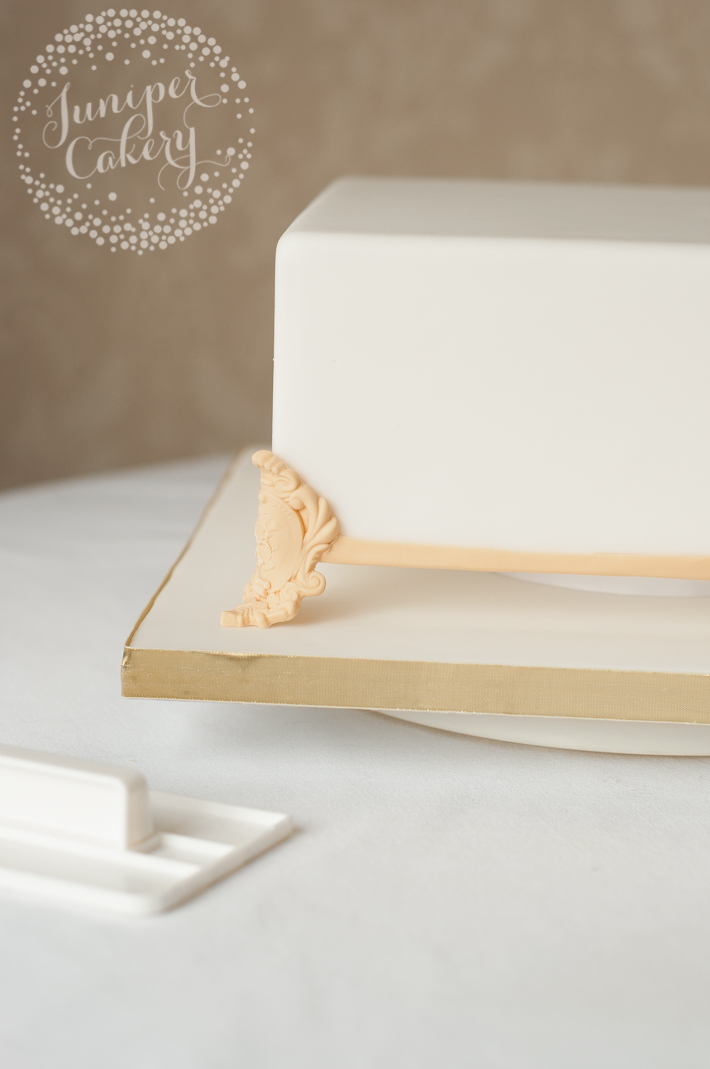 Step 4: Paint the cake stand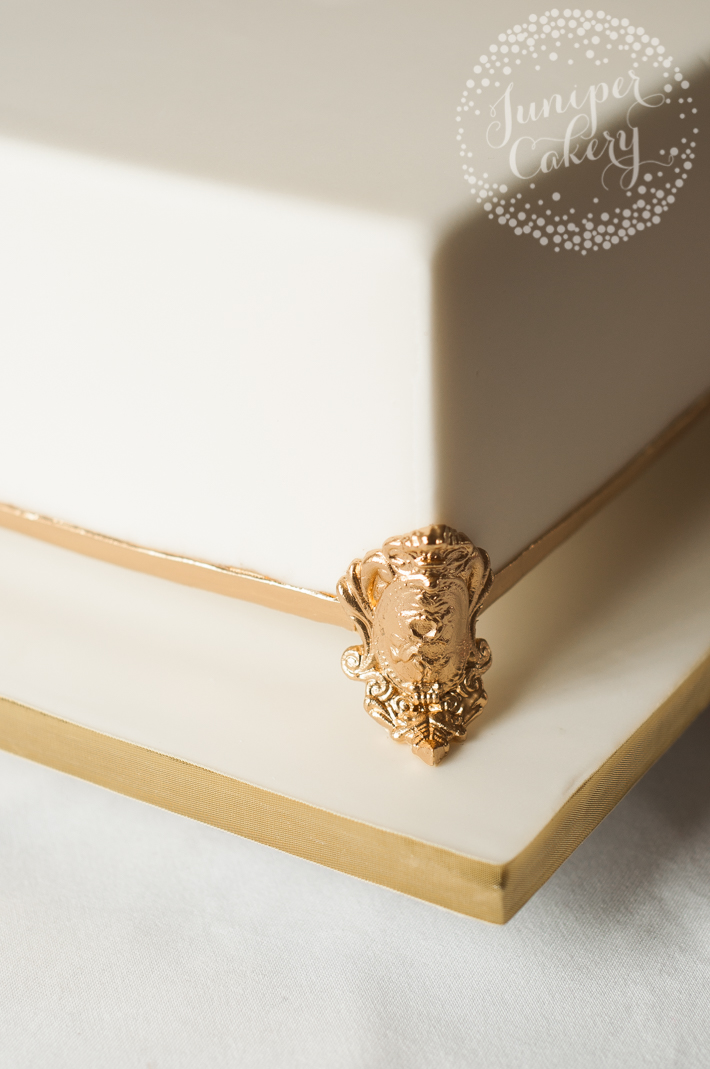 Now paint your gum paste elements gold or silver!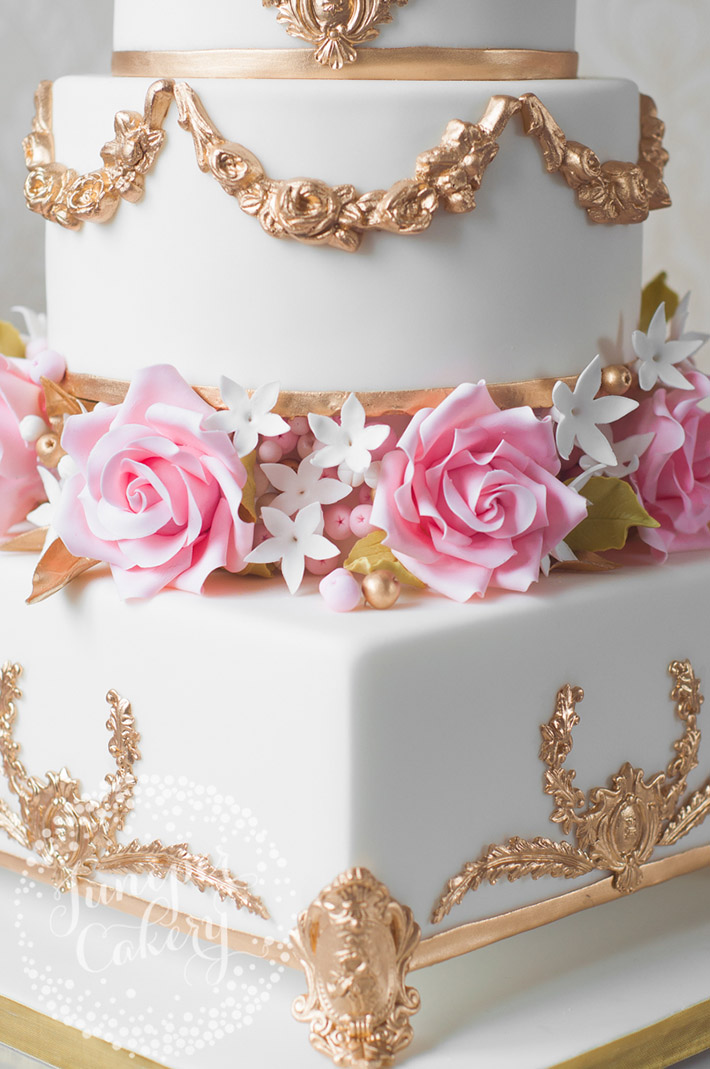 We think this captivating effect would pair gorgeously with the wedding cake designs you can learn to create in both Alexandria Pellegrino's Simple Skills for Dramatic Designs class and Wendy Kromer's Dream Wedding Cakes class.