With the explosive growth of cake decorating, cake designers are looking to classical art techniques to develop, grow and push the craft of cake decorating even further. One of my favorite techniques that continues to grow in popularity for both cake designers and clients is the hand-painted cake.
Edible gel food coloring mixed with a small amount of alcohol creates a brightly hued paint that can be thinned out further if need be, and painted with just as you would watercolor paints. When painting cakes, be sure to use clean, brand new brushes or brushes only designated for food-safe painting applications
Are you itching to get your paintbrushes wet? Not sure exactly how to dive in? Check out Erin Schaefgen's FREE Bluprint mini-class The Hand-Painted Cake – it's free! She'll show you the fundamentals of hand-painting cakes and also demonstrates how to use stencils to create beautiful patterns.
Here are some great ideas for how to paint a cake, making your next cake a pure stroke of genius!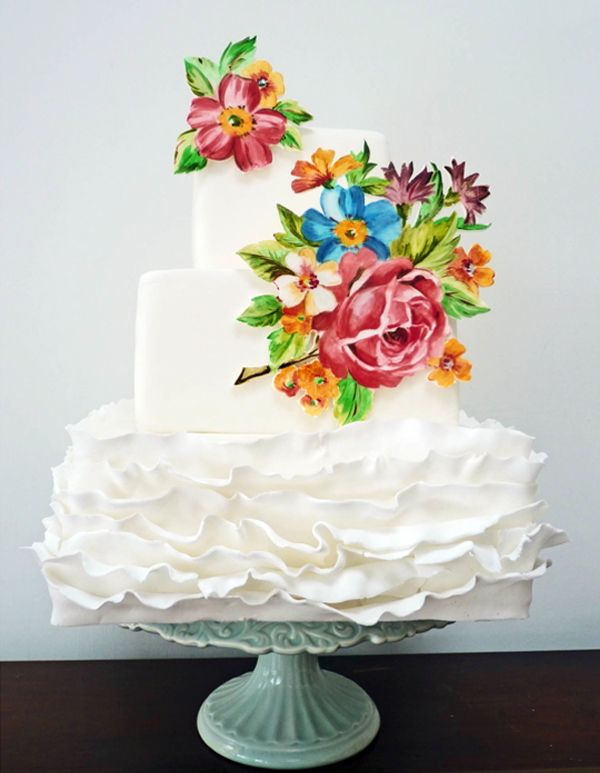 Photo via Nevie-Pie Cakes
Floral hand-painted fondant cutout cake:
I'm such a fan of the superbly talented Nevie-Pie — I believe she was the one of the originators of this technique. This cake is a lovely example of her exquisitely vintage signature style, hand-painted to look like 1960s wallpaper or a floral hip-hugging 1950s party dress. This particular cake uses fondant cutouts as original appliqués. I like how it is a combination of a 2-D relief but with a 3-D effect, as it pops up over the top tier, giving it a pretty, handcrafted depth and feel.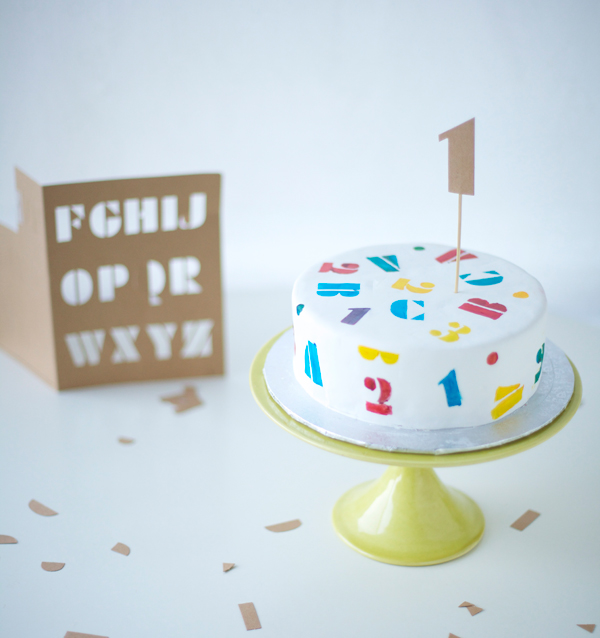 Photo via Coco Cake Land for Handmade Charlotte
Hand-stenciled ABCs and 123s cake:
Not only can you use craft paintbrushes to paint directly onto fondant or fondant cutouts, you can also get creative with stencils for some cake fun, too! This cake would be so cute for a children's birthday party.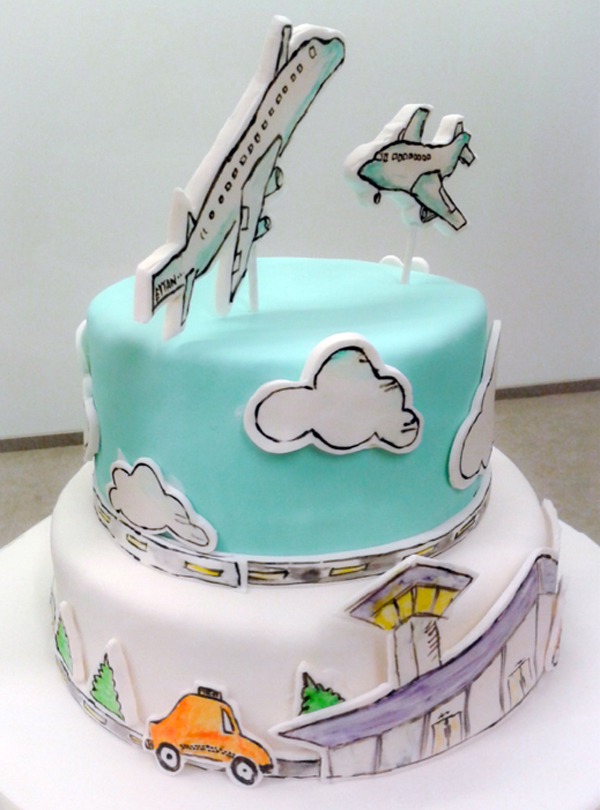 The Airport Cake via Bluprint member TammyYoungerwood
Airport-themed painted fondant cutouts cake:
Edible markers and paints were used to create this clever cake for a little boy's birthday party. I love the brilliant tiered effect with the bottom tier as the ground level with the taxi waiting, trees and airport terminal. The second tier is a colored blue sky with cartoonish clouds puffing along. And the whole cake is topped with flying airplanes — hand-cut and hand-painted, flying above.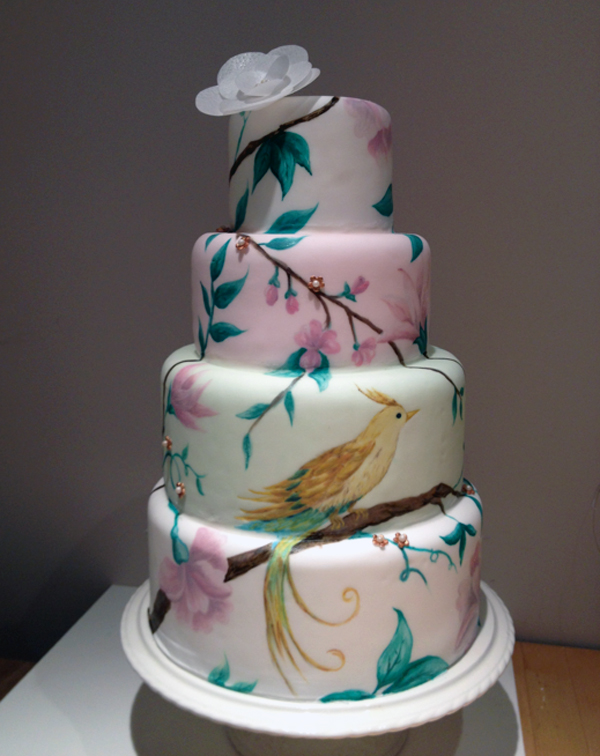 Tropical Garden Cake via Bluprint member Sophiebear1
Hand-painted tropical garden cake:
This prettily hued tiered cake was inspired by lush tropical gardens. I love the pastel pink orchids and flowers, the turquoise-teal leaves, and, of course, the feathery curly tailed tropical bird. Bluprint member Sophiebear1 created this while enrolled in the free The Hand-Painted Cake Bluprint class.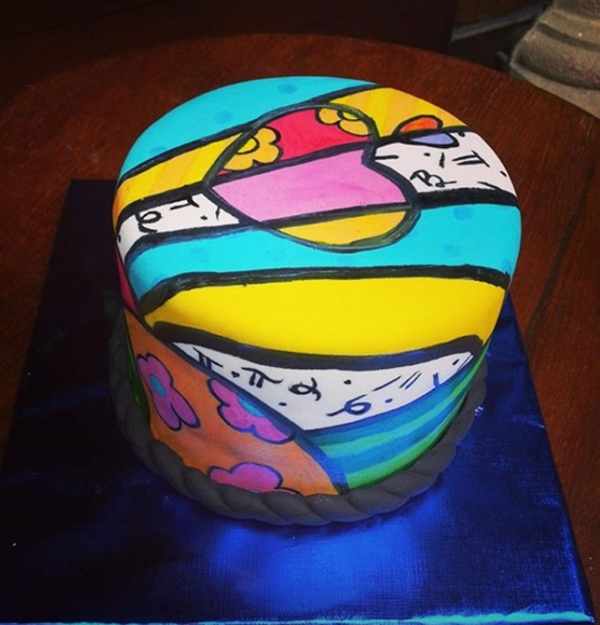 Romero Britto Inspired Cake via Bluprint member Blanq
Hand-painted pop art inspired cake:
Bright, bold pops of color, stripes, florals and lettering — this hand-painted cake was inspired by the dazzlingly colorful artwork of Brazilian pop artist Romero Britto. This cake is so vibrant and full of lively color!
Photo via Nevie-Pie Cakes
Vintage inspired floral hand-painted cake:
I love how each tier of this cake is not only a different size in height and diameter but each tier is hand-painted with a different shade of vintage-inspired color bursts of sunflowers. The sunflowers almost have a Vincent van Gogh feel, giving this cake a lovely 19th-century vibe!
Which cake painting technique are you most excited to try?