This guest post is brought to you by award-winning cake designer Rachael Teufel, instructor of the Craftsy class Cake Design Made Simple: The Wedding Dress.
What methods are you using to design your cakes and where are you drawing your inspiration from? When you own a cake decorating business, sometimes it can be a challenge to come up with unique designs for each of our clients. Maybe we just get in the routine of letting them flip through a book of our past cakes because it's easier or because it's within our comfort zone. Maybe we're scared the client won't like what we come up with.
Here, I'll share a little bit about how I go about designing a cake and hopefully take a little bit of that fear away.
Photos via Jody and Zach Zorn
When designing cakes, it's important to look at all of the inspiration your clients have and decide which elements are really important to them.
From those elements, start piecing together what you think might work well together and start playing. Arrange the patterns and elements in different ways until they become a striking design using balance, focal point and visual interest. I often sketch three to five designs with my clients before finding the right combination for them. It's okay if they don't like all of them! Ask what they do like about each and re-sketch with those elements.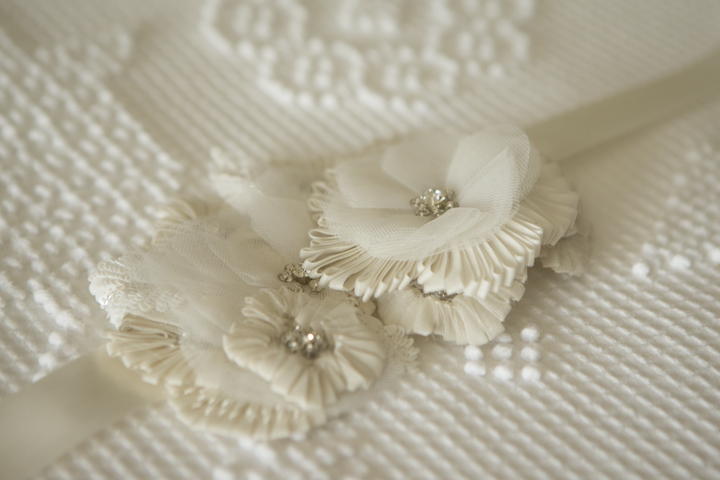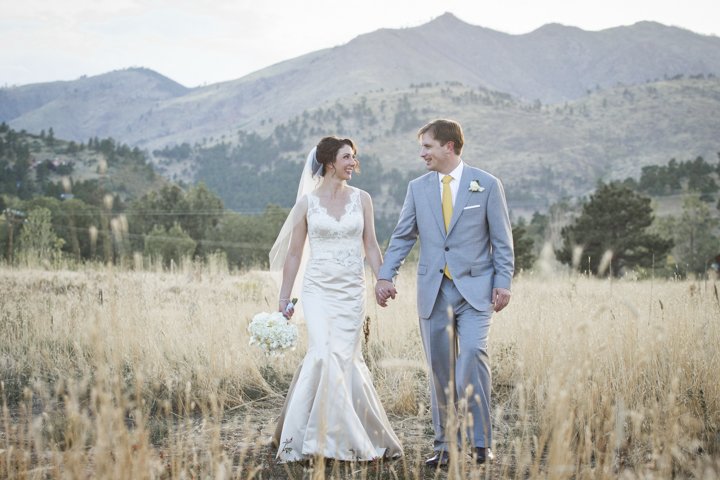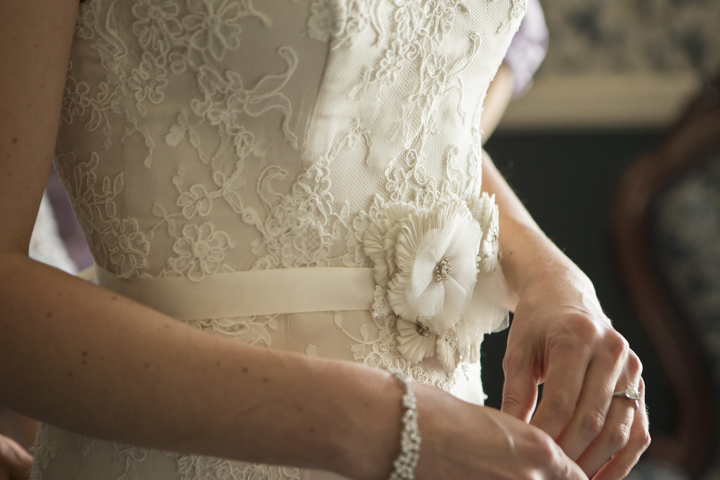 Wedding dresses can be a wonderful source of inspiration.
I've used this stunning bridal gown by Alvina Valenta and floral sash by Junko Yoshioka as inspiration to design a wedding cake in three different ways.
The first sketch accentuates the decor from the bridal sash only. Using a variety of textures, like tulle, satin and sequin feathers, you create depth and interest to the piece. These sugar flowers and feather are the focal point of the cake and because the design is set a little higher on the cake, the cake needs no other supporting elements.
The second sketch uses the bridal lace in a nontraditional way: at a diagonal. This diagonal design leaves a lot of empty space toward the top of the cake, which is why there is a flower on top to fill the void.
The third design uses both the lace and the sash to create a cohesive look. The lace mimics the scalloped edge along the neckline of the gown and the sash decor lies right through the middle. A smaller flower off the top edge finishes off the look, creating balance.
Here's the finished cake: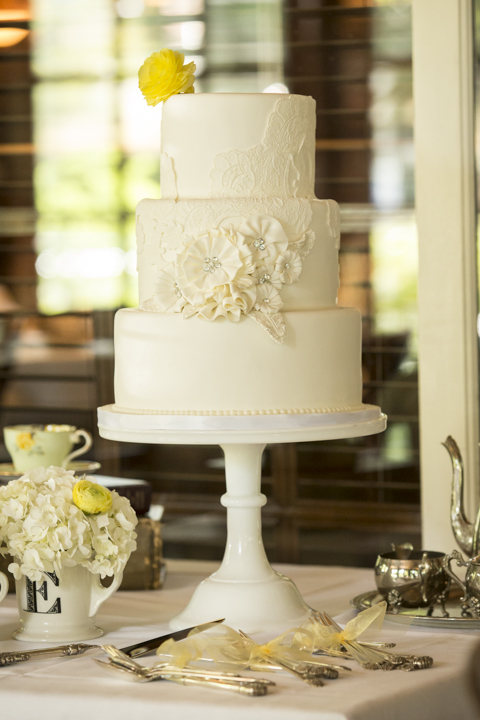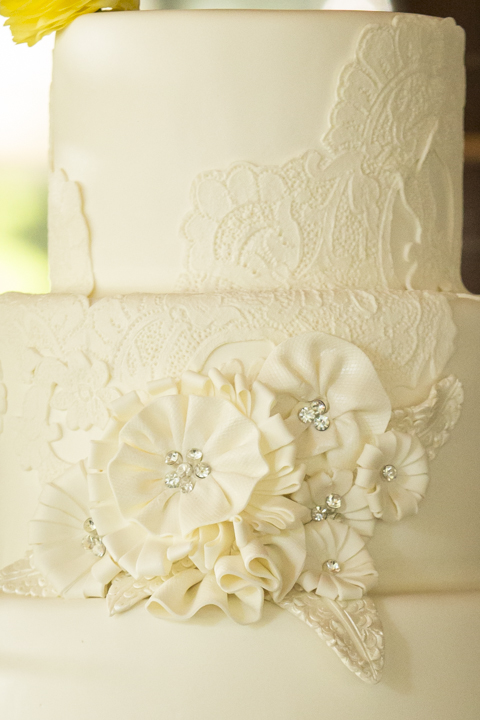 Below is a tutorial on how to re-create the pleated sugar flowers seen here. Learn how to master the other techniques I used on this cake in Cake Design Made Simple: The Wedding Dress.
Pleated sugar flower tutorial
What you'll need:
Daisy cutter of any size
Paintbrush
Water
Directions:
Step 1:
Roll your gum paste or modeling chocolate to an 1/8″ thickness.
Step 2:
Imprint daisy shape with cutter and smooth back side of cutter to remove excess paste.
Step 3:
Release paste from cutter with a dry brush, front side down.
Step 4:
Lightly moisten center of daisy.
Step 5:
One by one, fold back the petals to the center, adhering the tip in the middle.
Step 6:
Embellish with gems or pearls.
Now that you know the basic of a solid cake design, you're ready to start styling your own creations. If you need a bit more information about designing and sketching check out my Craftsy class Cake Design Made Simple: The Wedding Dress. You'll also learn how to create this amazing sugar lace, tulle texture, and so much more.
About Rachael Teufel

While Rachael Teufel has always had artistic interests, her original career was in physical therapy. After exploring painting, sculpting and glass blowing, she finally discovered cakes as a creative outlet. Her passion for cake grew and culminated in opening her own company, Intricate Icings Cake Design, in 2006. Rachael's work is nationally recognized both within the wedding industry and the cake decorating community. Her work can be seen on episodes of Food Network Challenge as well as in the pages of magazines like Brides and The Knot.