Dazzle your party guests at your next bash with this super cute confetti sprinkles medallions cake! We'll harness the power of gum paste to make cookie-like circles covered in confetti, creating a fun, easy new technique for cake decorating with sprinkles.
Learn how to decorate a polka dot rainbow sprinkle cake with this fun & simple photo tutorial!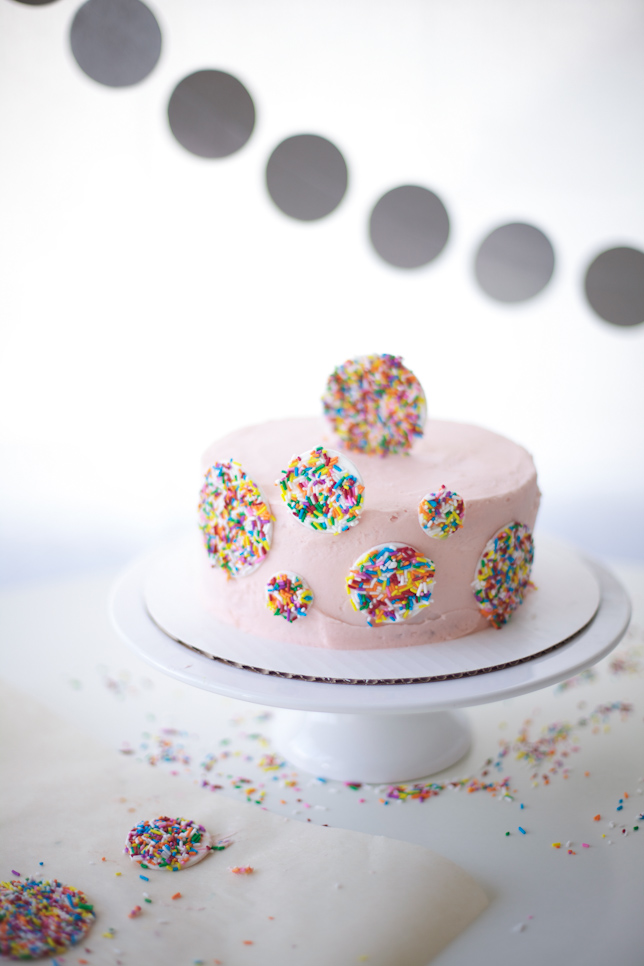 Photos by Lyndsay Sung of Coco Cake Land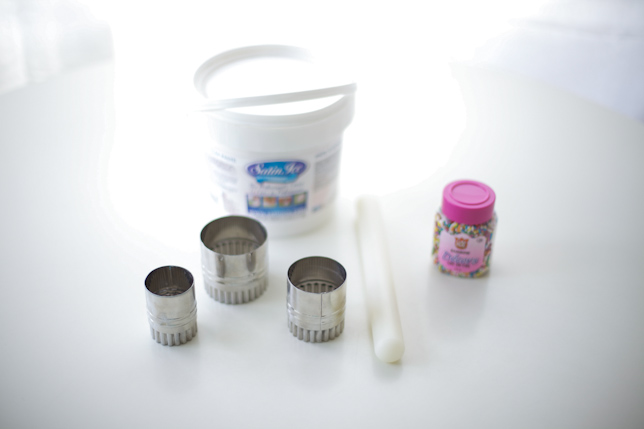 You will need:
A simply frosted buttercream or fondant cake – I made a two layer chocolate cake with pink vanilla buttercream.
A 4″ ball of gum paste
A nonstick rolling pin
Circle cookie cutters in a few sizes
Simple syrup
A basting brush or clean paintbrush
Confetti style rainbow sprinkles
Parchment paper lined baking sheet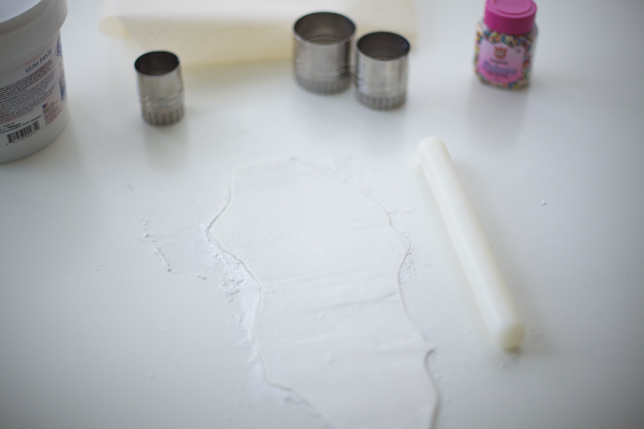 Step 1:
On a nonstick surface dusted with a small amount of cornstarch, roll out your gum paste until 1/4″ thick.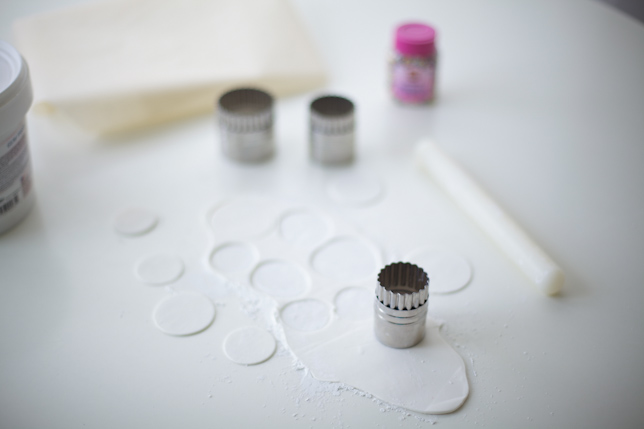 Step 2:
Using your circle cookie cutters, punch out varying sizes of gum paste circles.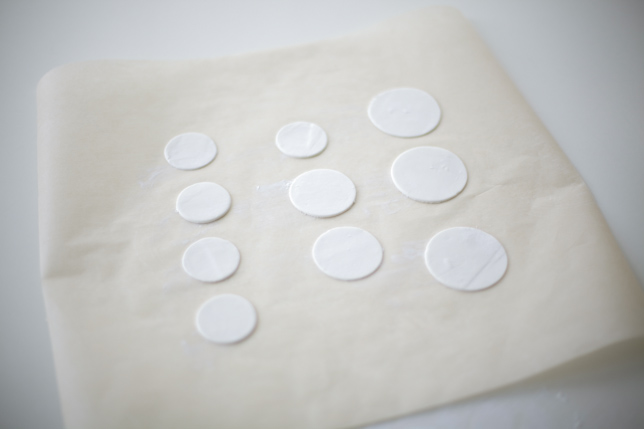 Step 3:
Set aside your gum paste circles to dry, allowing them to harden slightly, as they will be easier to work with later. I let mine dry for about an hour.
While you are waiting for your gum paste to dry, make a simple syrup: Combine 1/4 cup of granulated sugar with 1/4 cup water in a small saucepan on the stovetop. Boil for a few minutes until fully combined. Remove from heat, pour into a small bowl and set in freezer for 30 minutes to cool. You will have a thick simple syrup, which we will use as glue.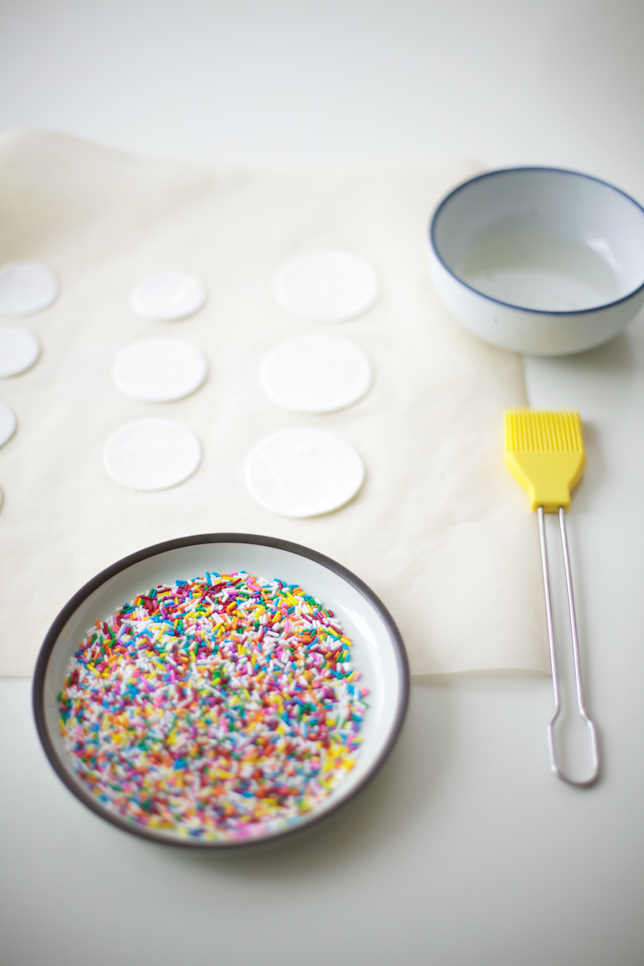 Step 4:
Pour your rainbow sprinkles in a thick even layer on a small, shallow plate with a rim.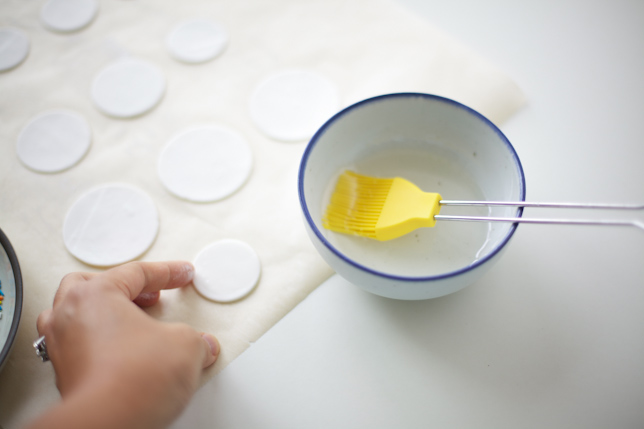 Step 5:
Using your basting brush or brand new paintbrush, brush the gum paste circle with a layer of simple syrup.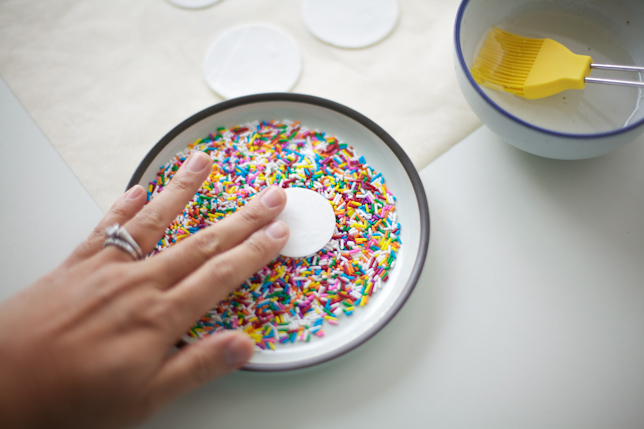 Step 6:
Place the circle syrup side down into the plate of sprinkles, pressing down with medium pressure to adhere sprinkles to the circle. Set aside to dry.
Keep working until you've covered all of your gum paste circles.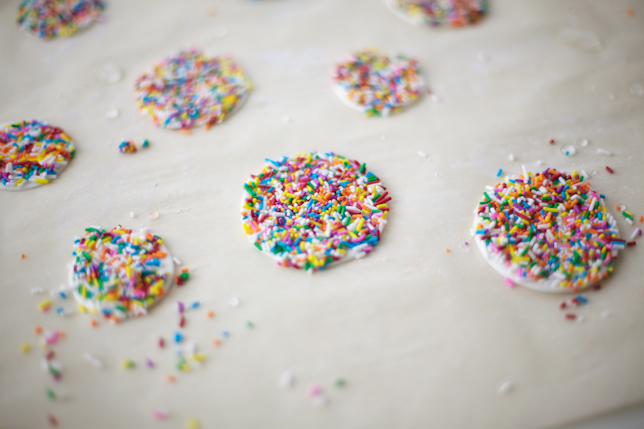 Let your circles dry for several hours, uncovered — overnight is best. This will ensure they harden into a nice firm disc.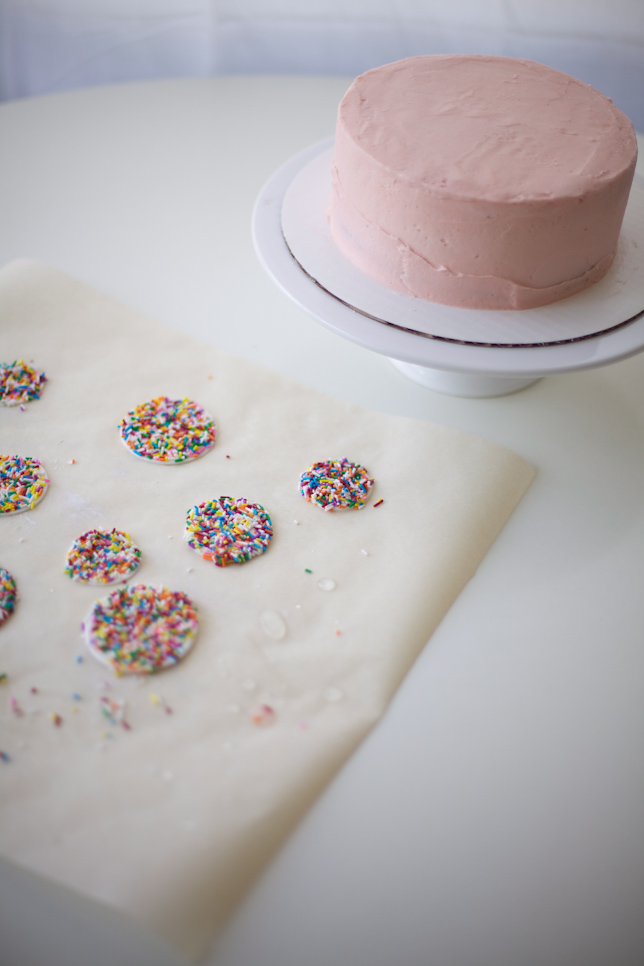 Once your gum paste sprinkle discs are dry, bring out your simply frosted buttercream cake!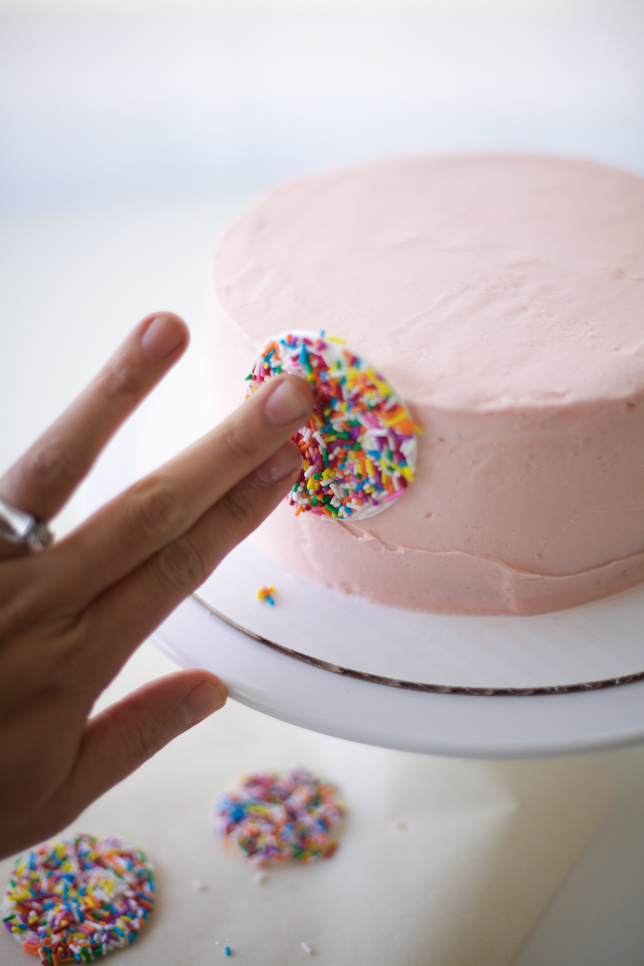 Step 7:
Lightly press your confetti sprinkles dots into the buttercream to adhere.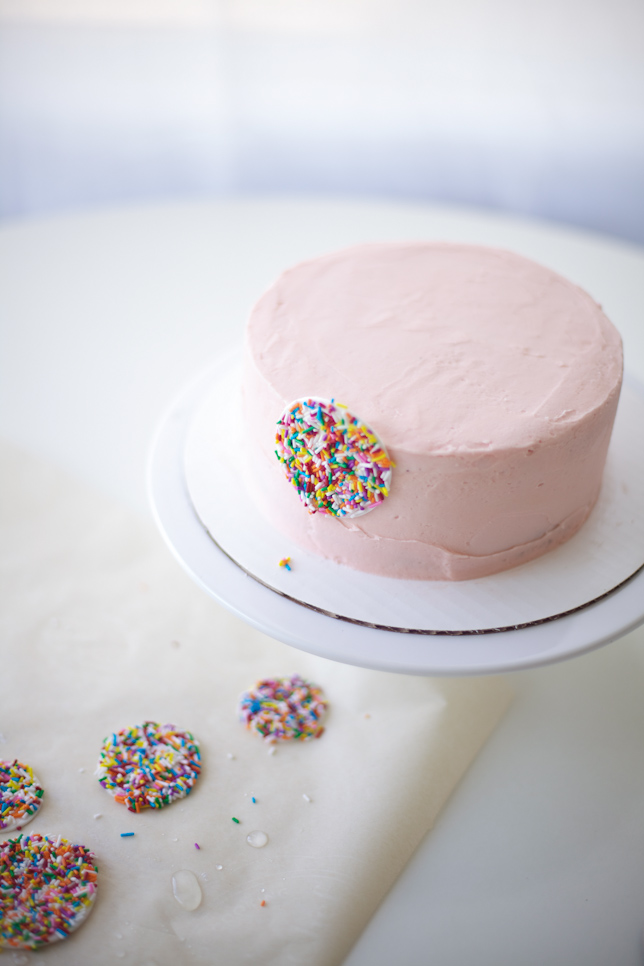 I even think one single confetti dot looks very cool and minimalist!
Place the dots in a configuration you like: I placed one larger dot on top of the cake as a cake topper!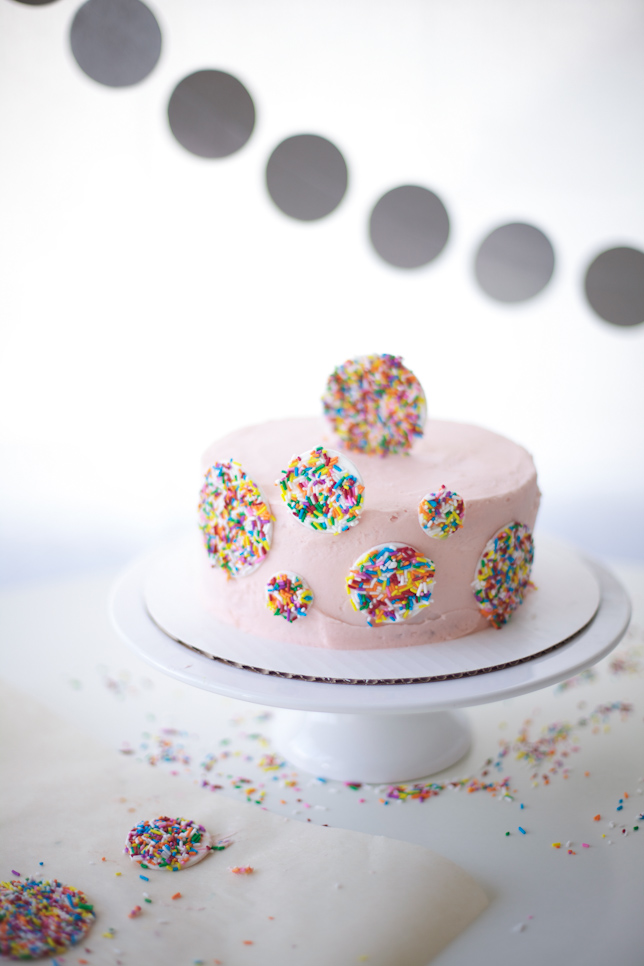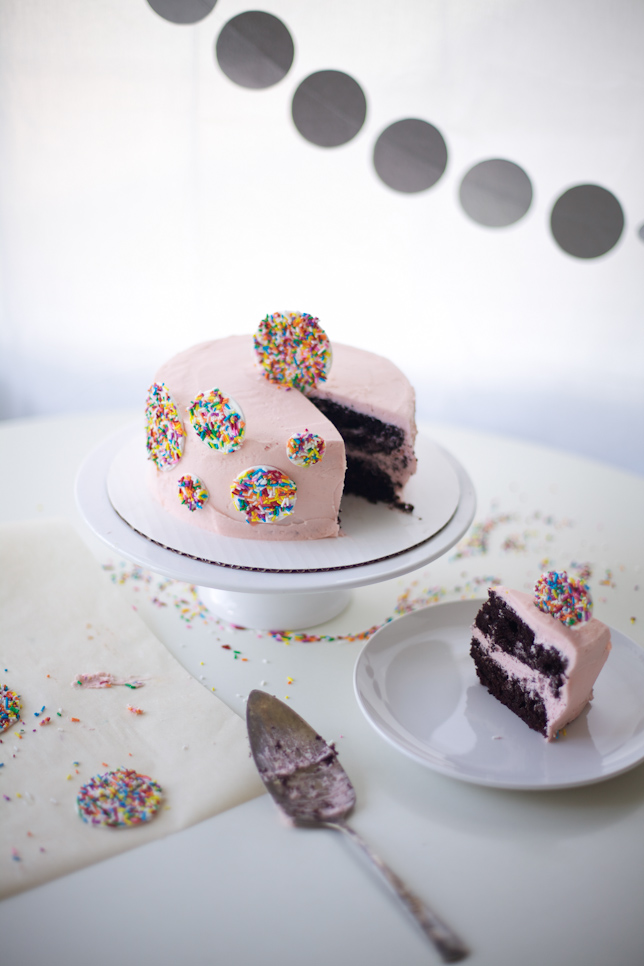 Pink, confetti sprinkles and polka dots — this cake knows how to party! Slice into your cake and enjoy!
What's your favorite technique for decorating with sprinkles?