The saying goes, "the customer is always right", and that may be true, but you are the expert and the customer has come to you looking for advice because they trust your judgment as a cake designer.
Selling custom cakes is different than selling shoes or even cupcakes that are mass produced. Selling a custom cake that features your professional, one-of-a-kind cake decorating is a special experience that many people have dreamed about their whole lives. Many brides have told me that choosing the cake was one of the things they looked forward to the most while planning their wedding.
Here, I'll share five tips that I have learned while working with customers.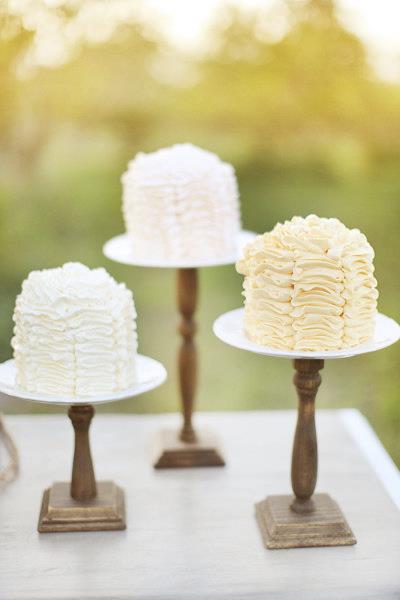 Photo via Wendy Woo Cakes
1. Make the consultation all about them.
Customize everything! This is your time to learn all about the customer. Find ways to bring their lives, styles and dreams to life.
Make the cake about them and listen to what they want. Do not assume you know what they want or be forceful about what you want. Ask them to bring any ideas, designs, colors, fabrics and even pictures of other cake designs they love with them to the consultation. Look at them together and listen to what they want. Sketch out their ideas so you can make sure you are on the right track.
2. Make a portfolio of your work.
This should be a nice binder that includes pictures of your cakes, your pricing guidelines, your policies, your menu and your serving size charts. Have this available for the customer during a consultation so you can show them the charts as you figure pricing and the number of tiers. Explain your thought process as you calculate these figures.
3. Help customers feel in control.
No one likes to enter a meeting for the first time and feel confused about what to expect, so help them out.
I always started my consultations by explaining what we would be doing and in what order. This always seemed to put the customers at ease. We would start by designing their cake, and then, while they were tasting the cakes, I would calculate their pricing. Once they are in love with your delicious cake, the pricing isn't such a shock.
If your customers tell you that they simply cannot afford you, give them options, go over the design again, and see if there is another way to design a cake that can fit in their budget, but does not require you to lower your prices. Maybe the cake can be smaller, or you can change the design to make is easier on you. Give your customer options, but never go below your price points.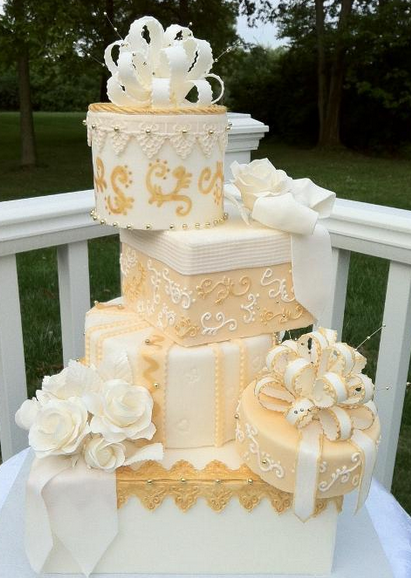 Photo via Bluprint member lisacakes
4. Charge for tastings
Baking cakes and making icing for tastings takes time and money. Charging for tastings can cover the cost of ingredients and your time, but it can also help you weed out customers that are not serious about ordering a cake from you.
Your time is precious, so charge accordingly. Other bakers have limited tastings to only wedding cakes or for cakes over $500. Some bakers do not offer tastings and others let customers only taste their standard flavors.
Choose what works best for you and stick with it.
5. Getting paid
Since most cakes are ordered long before you make them, make sure to get a deposit.
During the consultation, I would explain to the customers that their event date will not be reserved for them until a 50% deposit is made. Once the deposit is made, I would do a full sketch of their cake and email it to them for approval. Then, I set the final payment due date for two weeks before the event.
You can choose a deposit amount you feel comfortable with, but I would highly recommend that you make sure you are paid in full before delivery. You don't want to have to mess with payments on the day of the event, and you really don't want to try to track someone down after the event.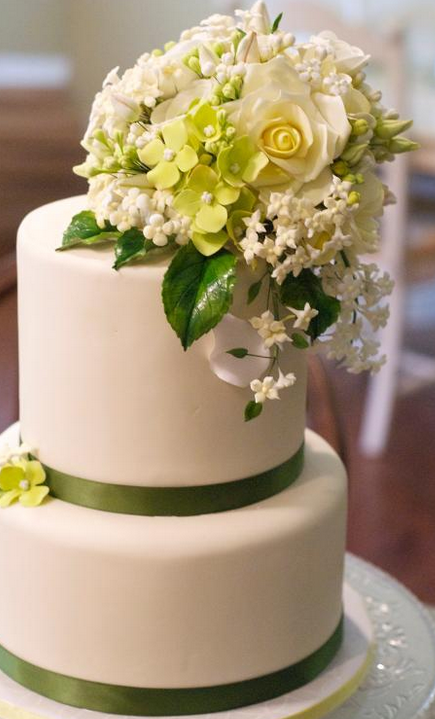 Photo via Bluprint member SugarArtBySusan
Consultation can be very fun, and the way you present yourself has as much to do with their decision as the cake itself.
If you act frazzled and tired, your customers will worry that you will not follow through or that there may be problems with the cake. If you present yourself as composed, happy and passionate about your craft, they will feel confident and are more likely to trust you with their cake.
Have fun, decide what is best for you, and go for it!
See also last week's installment of Cake Inc. on Pricing Cakes Like a Pro. And for more detailed guidance on turning your dream into a reality, enroll in the Bluprint class How to Start a Cake Business.
What other advice would you give to new cake businesses about meeting with customers?