Who wouldn't want a nice slice of cactus cake? No, we're not talking about a cake made with agave syrup or aloe vera gel. We're talking about a fun and easy cake decorating project that would be great for any occasion!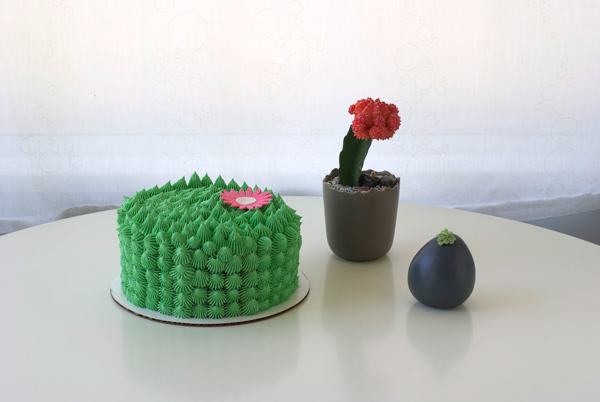 Photo via Coco Cake Land
To create this prickly buttercream cactus cake, you will need:
One 8″ round baked two-layer cake in any flavor
4 cups of vanilla buttercream tinted "cactus green"
A piping bag fitted with a Wilton 4B tip
Fondant: about a 2″ ball of pink, and a ½" ball of white
Gel food coloring in green and pink
A cake board or plate
An offset spatula to crumb coat your cake
A flower cutter
Let's get started on our cactus cake!
Step 1: Crumb coat your cake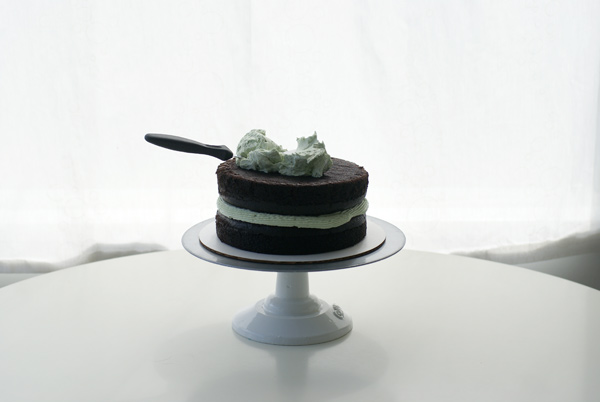 Start by filling your cake and adding a crumb coat to it. A crumb coat is the very first coat of buttercream or icing on a cake. It helps to seal in crumbs and to make way for a smooth working surface. Wendy's post on crumb coating will help you out here.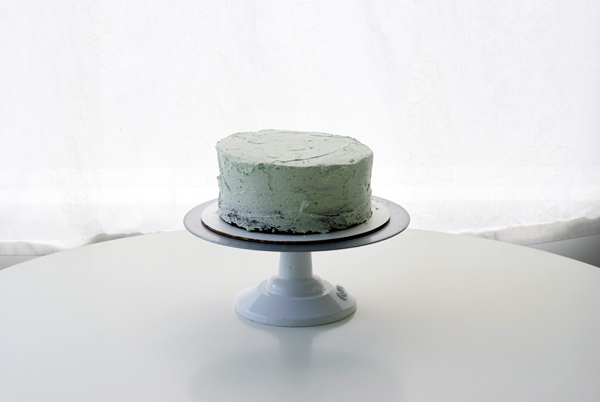 Don't worry too much about it not looking perfect. If you were to cover this cake with fondant, you would want to smooth it out better and achieve some nice edges. But since we're going to be piping "spikes" all over, we needn't worry about it.
Step 2: Prepare for piping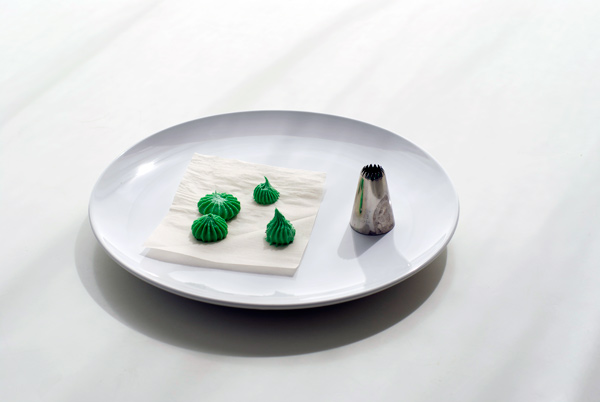 Fit your piping bag with an open star 4B tip (or equivalent). Squeeze the bag so the buttercream flows — you can even practice piping out a few blobs before proceeding on to the actual cake.
Step 3: Pipe the cactus spikes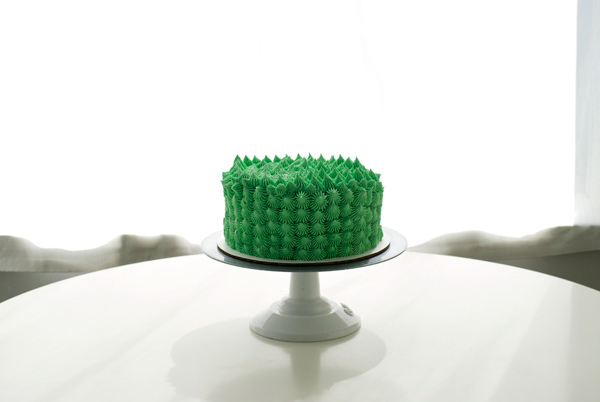 Starting at the bottom, pipe rows of "spikes" upward by squeezing out buttercream, forming a drop-star/spike. Continue piping the entire exterior of the cake. For the top, continue to pipe "spikes" until the entire cake — sides and top — is covered.
Step 4: Make the cactus flower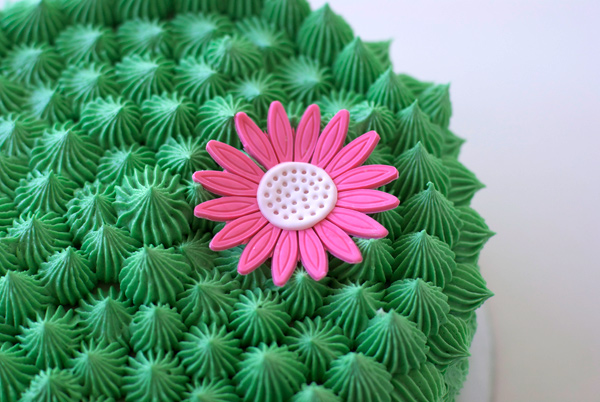 Use a nonstick rolling pin to roll your pink fondant to about a ¼" thickness. Use your flower cutter to cut out a flower shape.
I then rolled out a bit of white fondant and cut out a small circle for the flower center. You can easily use one of your piping tip edges to cut out a perfect circle. Using a round-topped toothpick, I dotted the circle to create some texture and extra detail.
Step 5: Add the flower topper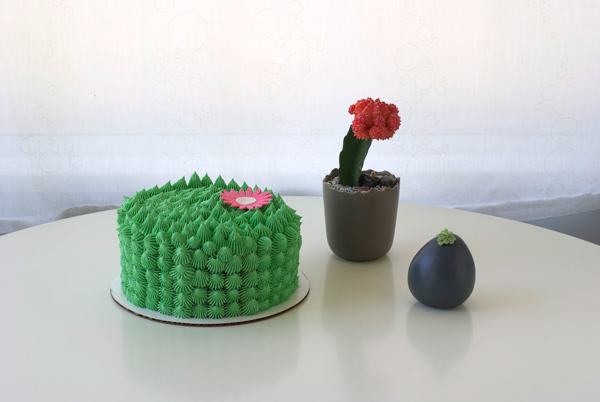 Photos via Coco Cake Land
Place your flower on top of your prickly cactus cake. And there you have it! You are ready for your cactus-themed party!
Excited about a little prickle in your cake? Here are some more cool cactus cakes to get you inspired!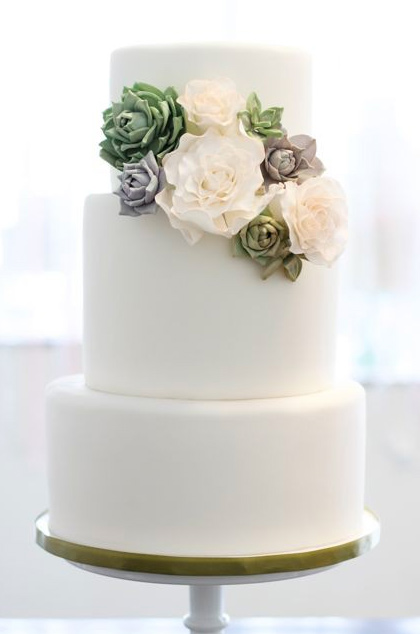 Photo via Sweet and Saucy Shop
Sugar succulent adorned wedding cake
Sweet and Saucy Shop is known for its beautiful and modern cakes representing the latest in cake trends and designs. Succulents are all over the place these days, and rightfully so! They have a cuteness that just won't quit. It makes sense the trend has made its way (literally) to wedding cakes.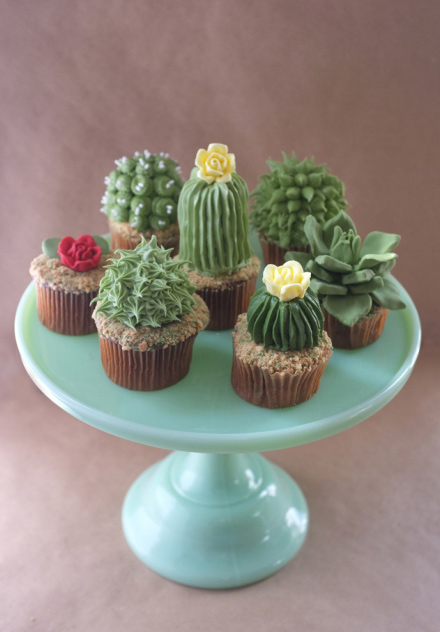 Photo via Alana Jones-Mann
DIY house plant cactus cupcakes
These amazing, realistic cactus cupcakes were created by Alana Jones Mann. Using buttercream, cookie crumbs, fondant and various icing tips, including the classic leaf tip and an open star tip, she created a collection of cactuses that could easily fool the eye and sit comfortably on a sunny windowsill.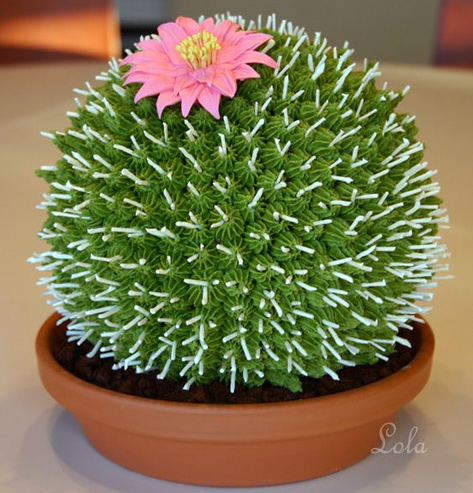 Photo via LolaT
Prickly royal icing spiked cactus cake
This awesome cactus is the belle of the ball. It was inspired by Colette Peters' cactus cake, found in her classic cake decorator's resource book The Art of Cake Decorating. The kicker to this beautiful cake is the carefully placed royal icing "spikes" that come out of each prickle. Texturally, when you take a bite, you would get a nice crunch, too, along with smooth buttercream and delectable cake!