Your little sweetie will swoon when she sees this quick, fun and delicious buttercream butterfly cake! No carving skills required — just two quick cuts stand between you and this fluttery cake. I used a 6″ round cake, but this technique will work with any size round cake. 
Make a sweet & simple buttercream butterfly cake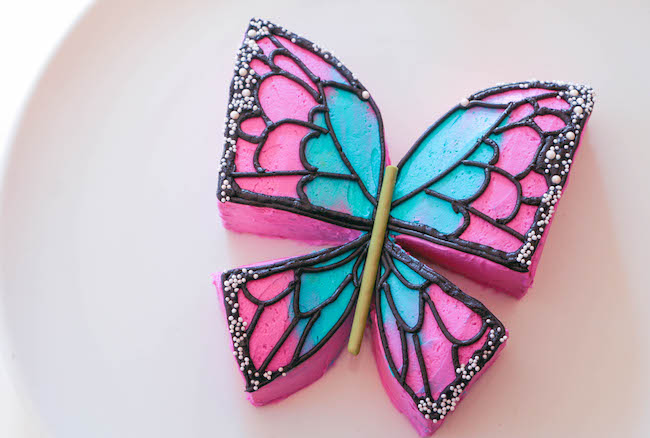 Erin Bakes
Supplies:
Round cake
3 cups pink buttercream
1 cup blue buttercream
1 cup black buttercream
White sugar pearls
White nonpareils
Pocky (I used Matcha flavored)
Knife
Icing spatula
Piping bag
Small round piping tip (optional)
Step 1: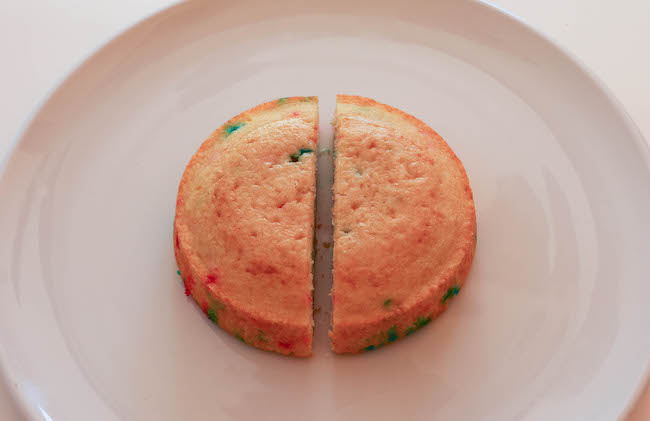 Cut you cake down the center. Reposition the cake parts so that the rounded sides are touching, flat sides facing out. You should already be able to see your butterfly taking shape!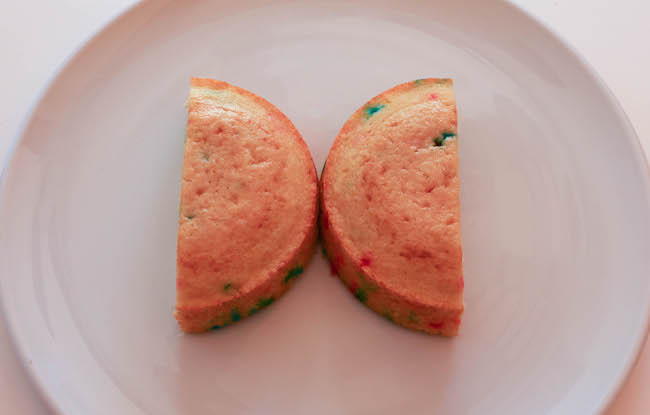 Step 2: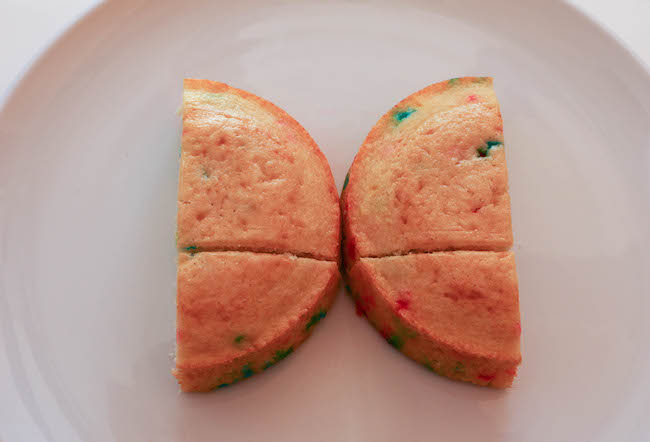 Make a horizontal cut across both the cakes, about 2/3 of the way down. Separate the pieces of cake a bit to give the butterfly's wings shape.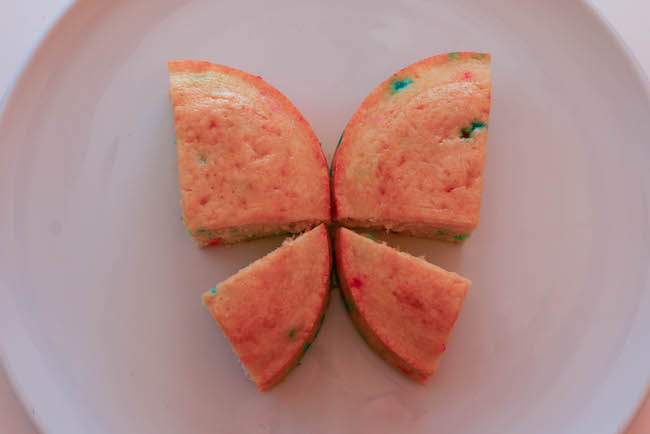 Step 3: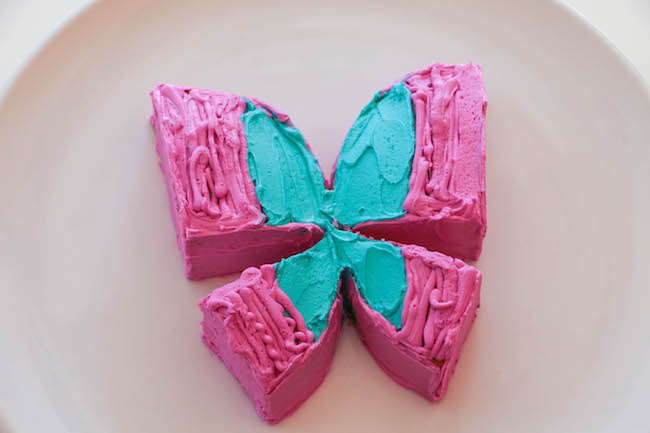 Ice the sides and outer portions of the tops of the wings with pink buttercream. Add blue buttercream to the insides of the wings.
Step 4: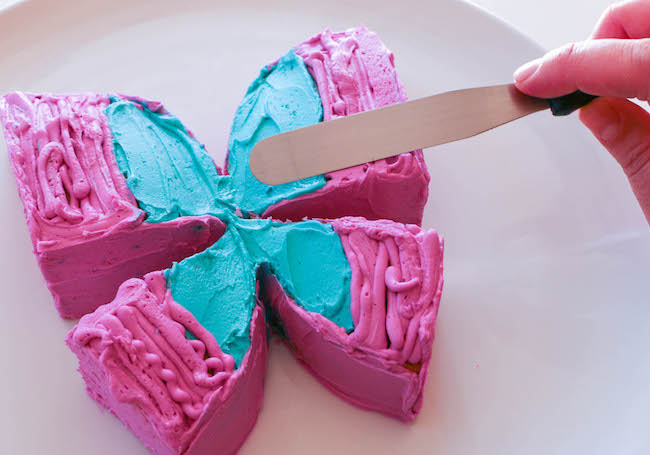 Use a small icing spatula to smooth the buttercream over, slightly blending the two colors. Smear the line as little or as much as you like.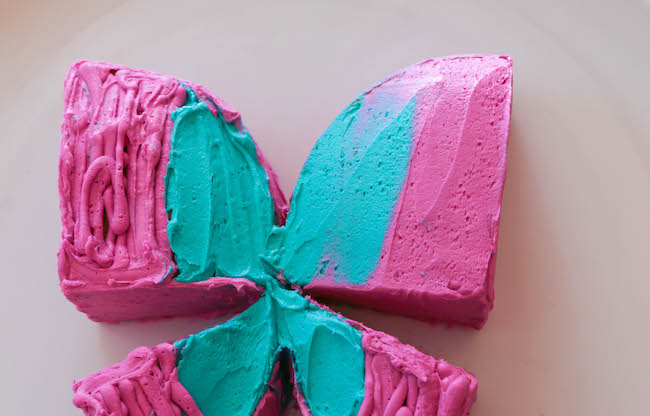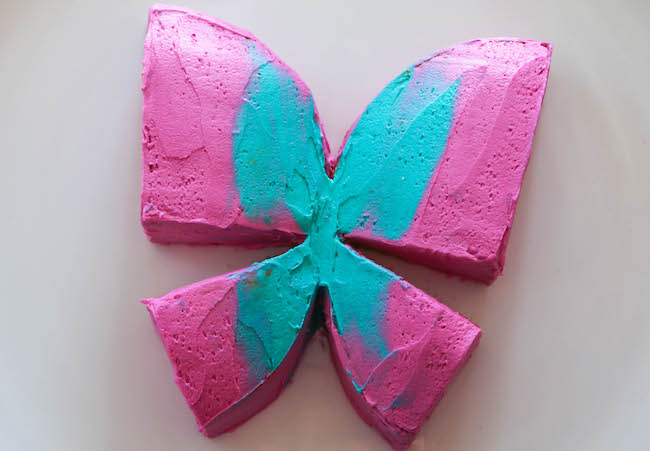 Step 5: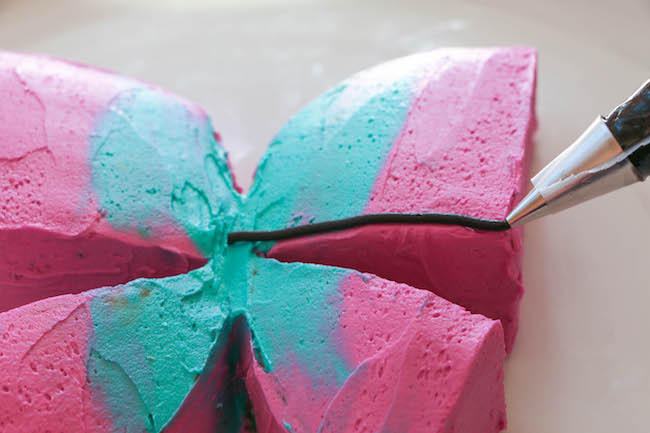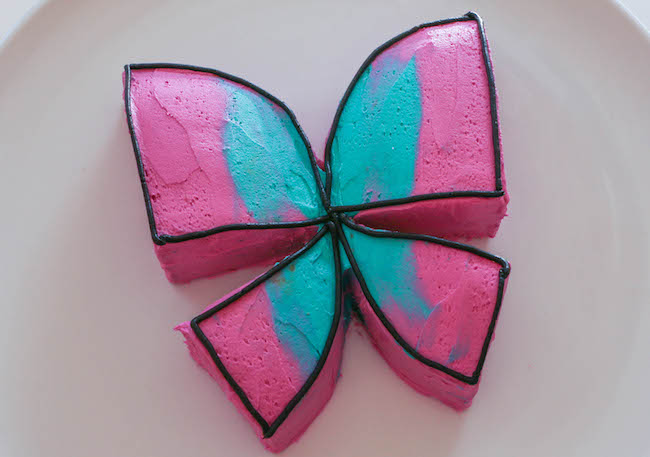 Fill a piping bag fitted with a small round piping tip with black buttercream. Use it to outline the wings. Continue adding detail lines inside the wings. Use a picture of a real butterfly as your guide if you need help.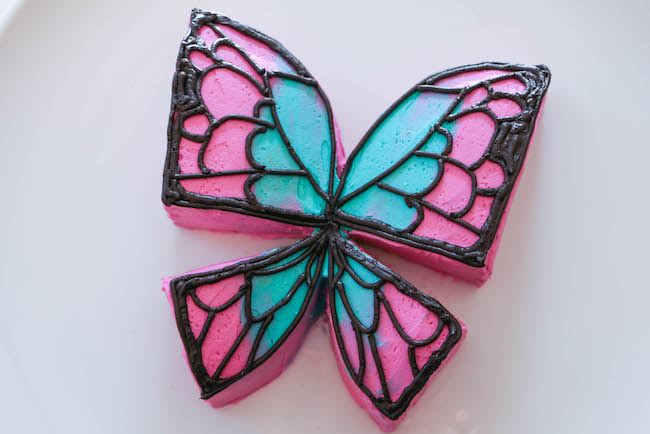 Coloring tip: The easiest, quickest, and tastiest way to make black buttercream is to start with chocolate buttercream, not vanilla! You'll end up adding way less food coloring to achieve a deep black color.
Step 6: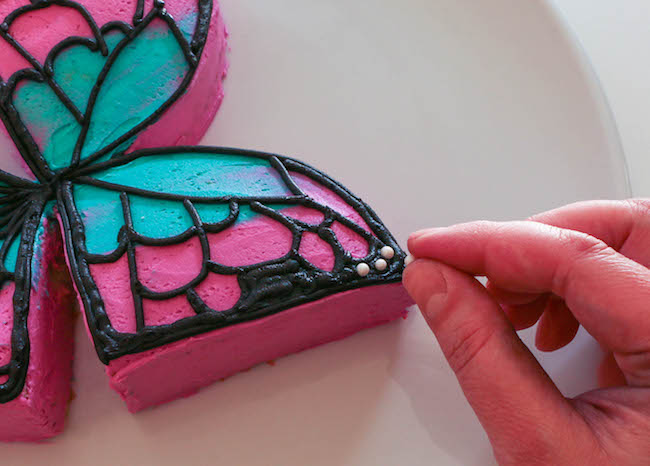 Add sugar pearls and nonpareils to the outer parts of the wings.
Step 7: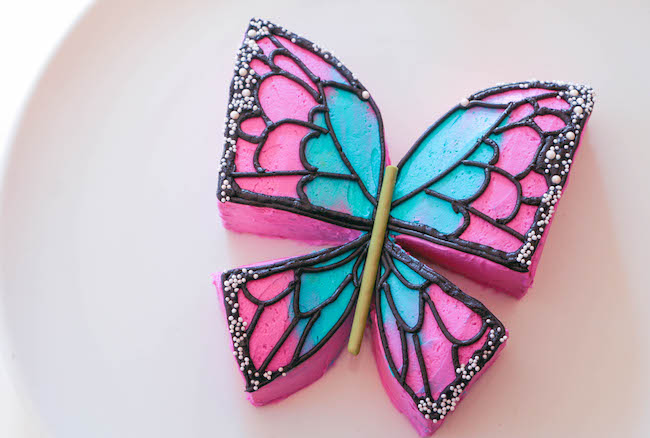 Trim off the uncoated portion of the Pocky stick. Place the piece of Pocky onto the cake to make the butterfly's body.
Ideas for customizing your butterfly cake
Change up the buttercream base colors. Use orange tones for a monarch butterfly or rainbow colors for a more whimsical look.
No time to pipe? Use cut pieces of black licorice rope to add details to the wings. 
I used a Pocky stick for my butterfly's body, but you could use a hard candy stick, pirouette cookie or back licorice. (Pocky are thin, candy-coated cookie sticks that you can find in the Asian or international food aisle of most supermarkets.)
Try metallic sugar pearls or brightly colored nonpareils. 
Create a quick mosaic wing pattern by piecing together cut fruit roll-ups or other chewy candies that have been rolled thin and cut into shapes.