Buttercream cakes are always great designs to whip up especially for those who either lack the patience (or taste buds) for fondant covered cakes.
But, choosing to use something besides fondant doesn't mean you should feel limited! Smothering cakes and decorating them with the smooth medium of buttercream, whipped cream or ganache is fantastic for anyone who is eager to play with some different textural ideas, from soft ruffles to super sleek edges.
Here's our round-up of smooth and sophisticated buttercream cake ideas to help inspire your next cake project…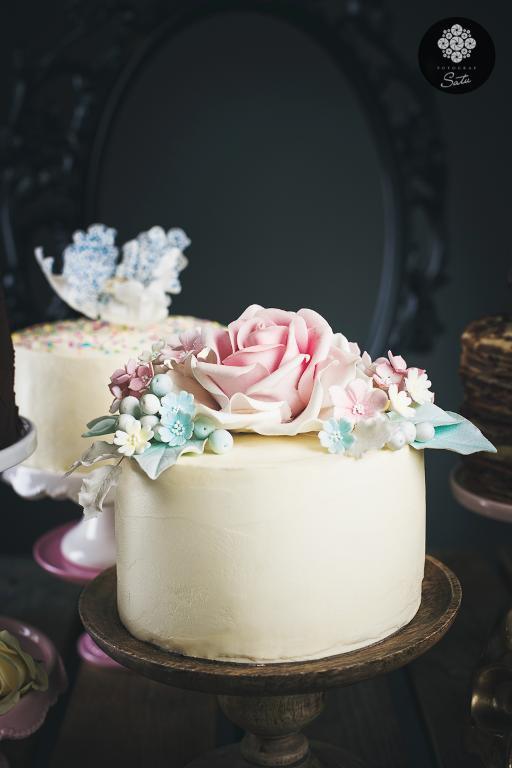 Photo via Bluprint member Sockerrus
Flowers and buttercream cake
This pretty single tier is a wonderfully dainty design perfect for small parties. The cake itself has been left plain yet smoothly covered with buttercream, so that attention is kept firmly on the pastel sugar hydrangeas flowers that adorn the top. What a delightful design for birthdays, afternoon teas or a floral themed shower!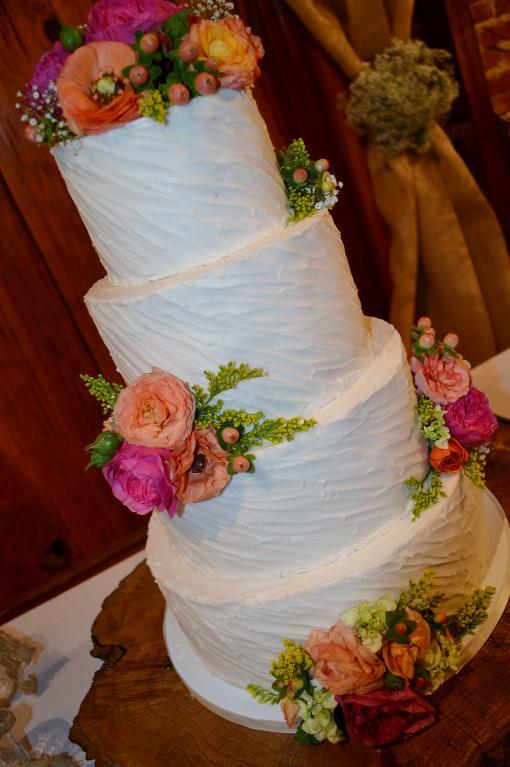 Photo via Bluprint member KaylaTrahan
Buttercream wedding cake
The use of texture on this three tiered creation wonderfully evokes the folds and drapes of a silk wedding gown pinned and held back at various points with lovely bundles of flowers. Using buttercream also creates an elegant and subtle design; perfect for rustic and carefree parties!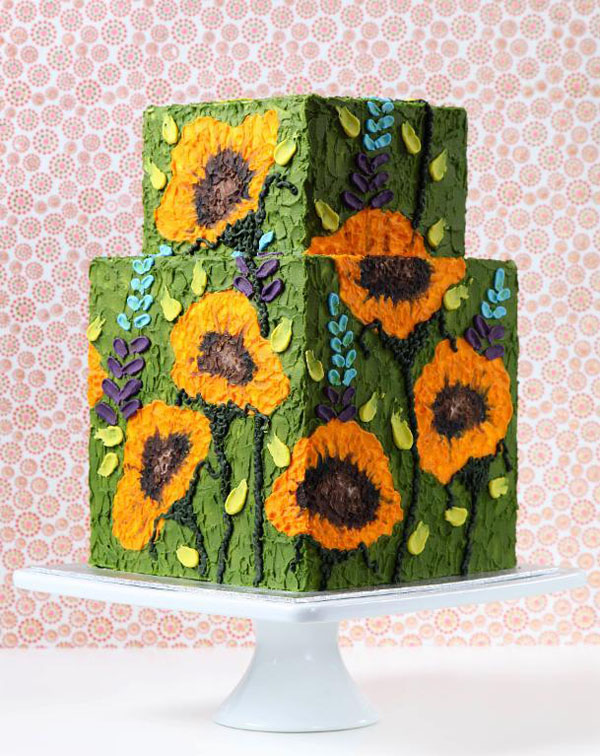 Photo via Bluprint instructors Valeri Valeriano and Christina Ong
Palette knife painted cake
Wow! Instead of simply smoothing your cake with homemade buttercream why not utilize different colors to paint designs that also create textures similar to post-impressionist oil paintings? We love this idea of using palette knives to decorate tiers with bold painterly scenes or patterns, like incredible buttercream lace designs.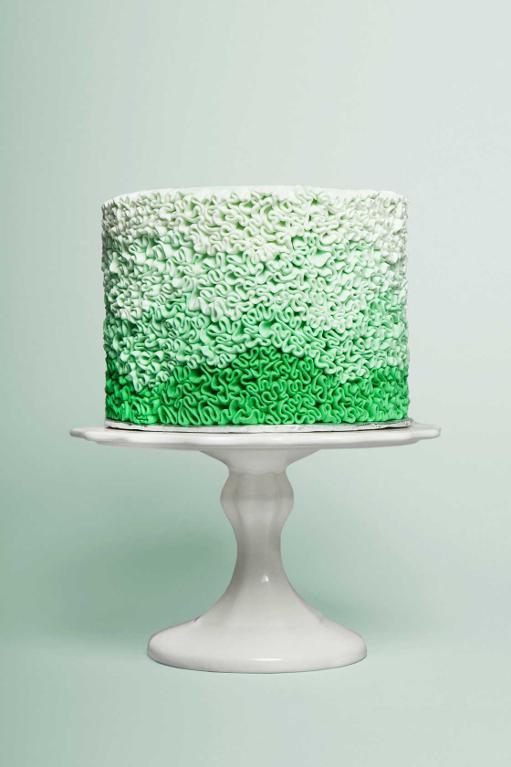 Photo via Bluprint instructor Beth Somers
Ruffled cake
This buttercream ruffle effect is fantastically unique and looks like so much fun! You'll definitely be forgiven for thinking the ruffles are tiny pinched strips of fondant applied piece by piece. Instead Bluprint instructor Beth Somers has discovered how to decorate cakes with buttercream, expertly piping colorful buttercream frills around the sides of a single tier cake.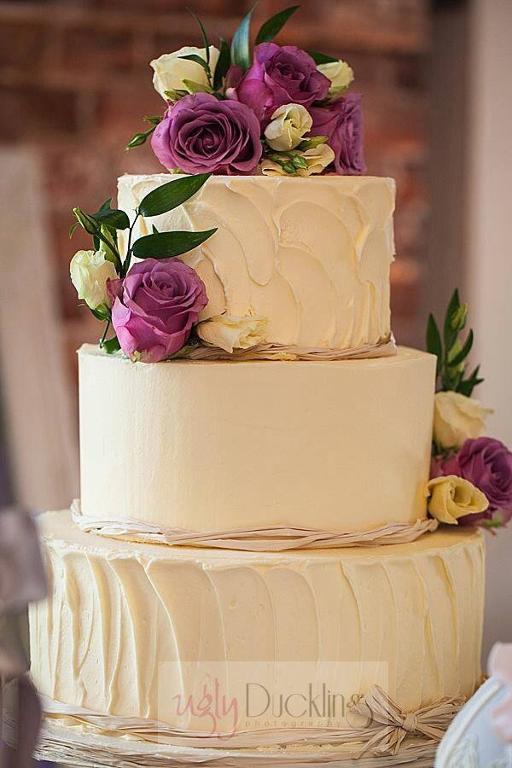 Photo via Bluprint member Woody77
Rustic buttercream cake
This three tired wedding cake features both smooth and textured buttercream styles, which help create a wonderful carefree yet elegant feel to the design. We think that the use of soft, muted colors featuring slight pops of dusky purple adds such a sweet vintage look to this cake too!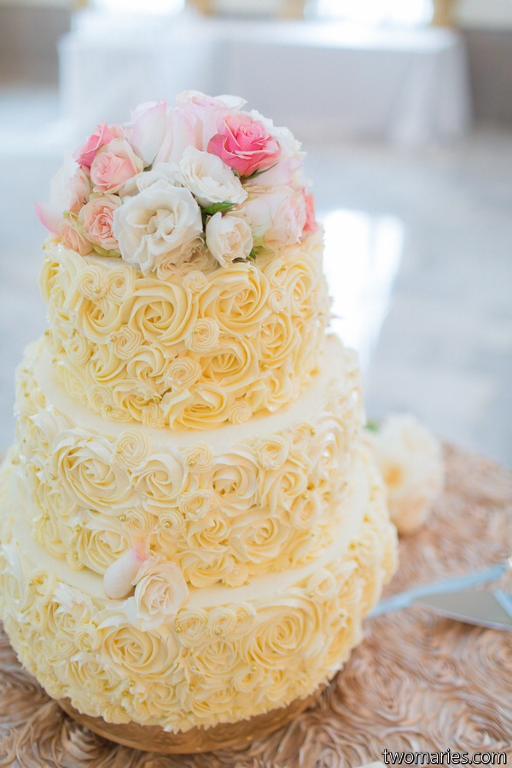 Photo via Bluprint member Mrsgillespie
Buttercream rose adorned wedding cake
We think that a delicately piped ruffle tier or a flurry of expertly created buttercream roses add such a romantic aura to a cake. The above rose covered wedding cake is no exception! This cake is kept subtle with a cream color palette featuring small bursts of pinks!
Buttercream cakes are wonderfully malleable and lend themselves so well to some incredible textures, styles and effects; perfect for some playful experimentation. For kids cakes they're wonderful and great when working with sprinkles, chocolate drizzles and candy decorations too! We love the idea of adding rainbow jimmies into a fresh batch of vanilla buttercream just before it gets smoothed onto a cake!