Your friends and family have pestered you long enough about your delicious cakes and beautiful cake decorating and design — so you've decided to take the plunge in creating a cake business. Congratulations! These days, having a cake business is about much more than delicious recipes and awesome cake design.
If a tree falls in the woods and no one hears it, does it make it a sound? Similarly, if a cake business is created and no one knows about it, will it succeed? Sure, word of mouth will carry you far and wide.
Having a basic Web site with some crucial elements will help you rise to the (butter)cream of the crop.
Want to learn about what you'll need for a Web site to attract the right cake clientele? Read on, cake friends!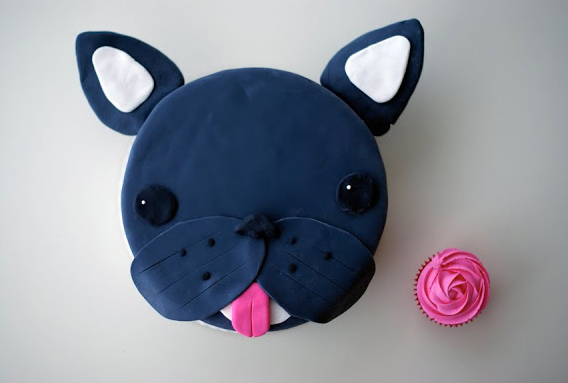 Photo via Coco Cake Land
But wait — before we even get to the basic elements of a cake Web site, take some time to reflect on what your business is about, what makes you stand out from the crowd.
Perhaps you have a special skill in sugar flowers, or you are a master at children's cakes? Write down your strengths and what you are truly passionate about, and work from there. Assuming you have a great name (if not, check out this post on choosing a name for your cake business) and a logo, you're ready to build! Next you will want to find a good Web designer to help you with your site. They can help you purchase a domain name and hook you up with a Web site hosting service. Of course, there are free Web sites and hosting available, too, or you can start a free blog through one of the many free blog platforms, such as WordPress or Blogger. This article is more about building a classic Web site.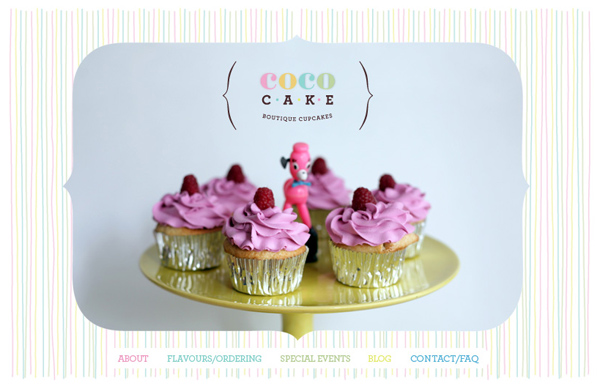 8 essential elements of a good cake Web site:
1. About page
Your community wants to know who you are, what your cake skills are, and what you have to offer that might be special and unique. What differentiates you from the rest of the pack? This is your opportunity to let the world know that you are the county's best marshmallow upside-down cherry cake master, or that you can make the most ornate and gorgeous sugar flowers like nobody's business.
2. Contact page
Let your clientele know exactly how to reach you, and be sure to make your phone number and email address easy to find.
3. Menu page
Delight and tantalize potential clients with photos and descriptions of the cake flavors you offer!
 4. Portfolio page
Here you will want to show off the cake goods. Show a variety of cakes or cupcakes, and use only your best cake photos. If you offer wedding cakes, children's cakes and cupcakes, show a variety from each category.
[box type="shadow"]For tips on getting great pictures, see our tips on styling your cakes and how to photograph cakes  to make then shine![/box]
5. Pricing page
So there are no surprises, have a basic pricing page, with wording such as "Custom designed sculpted cakes start at $200 depending on design" so clients know that there is a base price that can go up depending on how much work you will be putting into the cake.
[box type="shadow"]You might also enjoy our post on how to price your cakes like a pro.[/box]
6. FAQ page
Frequently asked questions! Do you offer delivery? Do you offer gluten-free cakes? Are you a nut-free bakery? Do you have a storefront? How long will your cakes last? Do I need to put them in the fridge? Here you can answer a whole list of questions (if you like!). Be sure to include your email at the end in case clients have additional questions.
7. Social media links
Everyone and their dog's cake designer uses social media these days. If you're going to invest in a Web site and spend some time online, don't forget about the importance (and fun!) of social media — promoting your business on Twitter, Facebook, Pinterest, Instagram — there's lots of fun ways to build a cake community and get your name out there, too.
One tip: If you don't have time or the desire to participate in social media, choose one platform that interests you and put your time into it — it's better to be active on one platform instead of inactive with ancient posts on five different platforms.
[box type="shadow"]See also our post on how to promote your baking business on Twitter.[/box]
8. Blog
To keep your Web site from feeling too static, you could implement a blog as one of the pages, too. That way, you can update your clients and customers on your latest cake designs, seasonal flavors or holiday specials. Fun, right?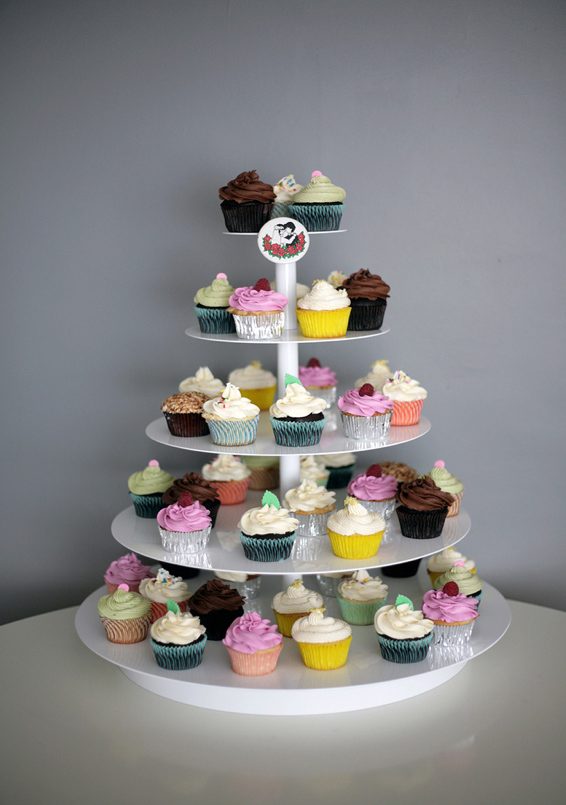 Photo via Amy Pelletier for Coco Cake Land
We've covered the "dos" of a cake Web site. Here are a few "don'ts":
When making your images, save them as the lowest size possible. Save them as "web" sized but at the highest quality you can. That way, your Web site will load faster and you won't scare customers away with a slow-to-load site.
Don't feel the need to jam-pack 1,000 photos of your cakes on your Web site. Choose the very best photos you have that best express who you are as a cake designer.
Keep your Web site as minimal as possible. People don't really want to slam through an essay about how you became a cake designer — keep it short, interesting, a little personal and sweet.
Photo by Amy Pelletier for Coco Cake Land
To sum up: Make your Web site informative and stylish, and fill it with simple, quality content and photography! Don't make your clientele search high and low for information — have your menu and ordering information readily available and accessible.
[box type="shadow"]To brush up your skills to be able to offer even MORE goods to your clients, check out the growing selection of amazing cake decorating classes Bluprint has to offer including How to Start a Cake Business with Lisa Raffael and Small Cakes, Big Business with Chrissie Boon.[/box]
Come back to the Bluprint blog tomorrow for a recap of the best cakes from the 2013 Pillsbury Bake-Off!
Have you built a Web site for your business? Do you have any other tips to share?