Brush embroidery is a exquisite technique that uses royal icing or buttercream. First it is piped onto the surface. Then using a damp paintbrush you gently touch the piping dragging inward. This technique was developed to mimic stitched embroidery. It is gorgeous and fun to create! Let's take a look at cakes, cookies, and sugar flowers that put brush embroidery to use, to learn how you can use it on your next project.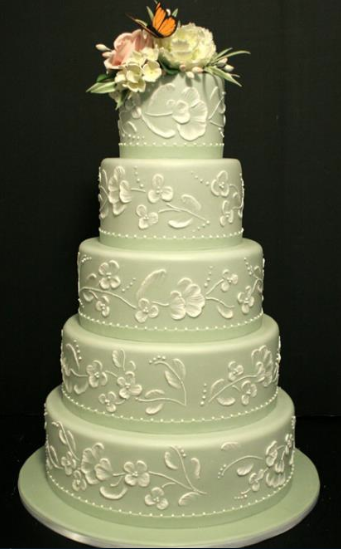 Photo via Mark Joseph Cakes
This stunning work of art by Mark Joseph Cakes shows the simplicity and perfection that can be attained through hard work and practice. I love the use of the pale green fondant with white brush embroidery; I find it calming and soothing and could spend hours enjoying every detail.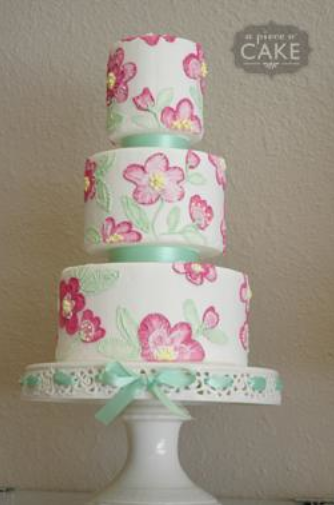 Photo via A Piece O' Cake
This beautiful and fun 3 tier cake by A Piece O' Cake truly shows how the use of color in brush embroidery can enhance and brighten a cake. I love the mint green and the many shades and shapes of the pink petals. Combined, they give dimension and bring a natural, warm feel to the cake.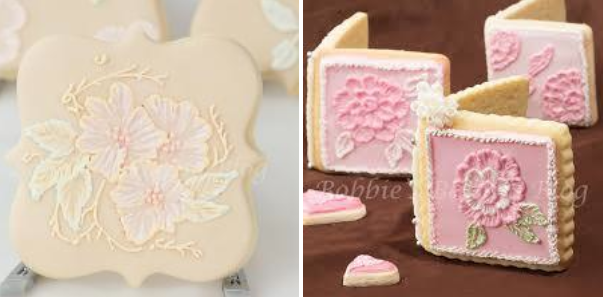 Photo via Craftsy member Bobbiesbaking
Brush embroidery is not just for cakes! Cookies are also a perfect way to make this technique shine. These cookies by Craftsy student Bobbiesbaking are almost too beautiful to eat.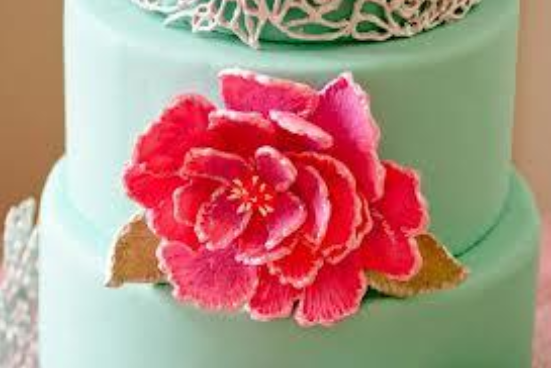 Photo via Craftsy member My3Cakes
Sugar flowers can also be beautifully enhanced with brush embroidery, as it brings texture and depth to each petal. This gorgeous flower created by Craftsy student My3Cakes is a great example of the brush embroidery technique taught by Colette Peters in her Craftsy class Vintage Cakes, Modern Methods. In her class you can learn everything you need to know about brush embroidery on cakes; it is fun to watch and easy to follow as she walks you through every aspect and detail.
Add elegance and style to your next project with brush embroidery!