February 8th, 1910, marks the day papers were submitted to create an organization intended to teach life skills, including self-reliance and values, thus establishing the Boy Scouts of America. Observance of this significant day, along with badge ceremonies and graduation to higher ranks, call for celebrations with what else but cake!
Gather up the pack for this inspiring collection of Boy Scout cakes and cupcakes that will make everyone a happy camper. Scout's honor!
Photo via 4 Kids Cakes
1. Eagle Court of Honor three-tier cake
For an Eagle Court of Honor celebration, 4 Kids Cakes created this absolutely amazing three-tiered cake! Each tier was covered with neutral, khaki-colored fondant and adorned with various Boy Scout emblems. Red, white and blue fondant pieces were twisted together and added as borders, while the Eagle Scout badge topped the cake in coordinating colors. Dimension was added to the cake with the draping of a fondant sash across all three tiers, embellished with incredibly detailed and colorful badges.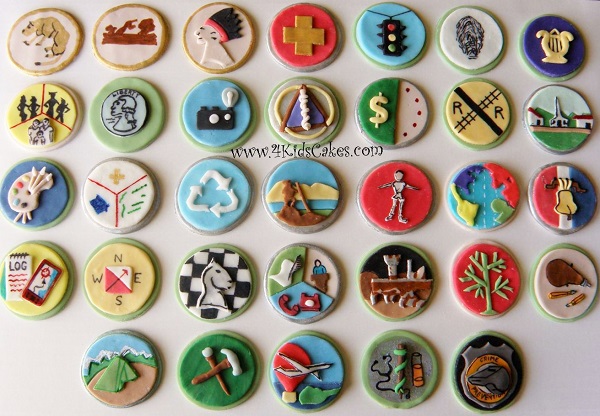 Photo via 4 Kids Cakes
2. Eagle Court of Honor fondant toppers
To coordinate with the Eagle Court of Honor cake, 4 Kids Cakes enhanced the presentation with these intricately designed fondant cupcake toppers. Inspired by Boy Scout merit badges, each topper incorporates a variety of techniques to capture all the unbelievable colorful details, including precise fondant-cutting and hand-painting.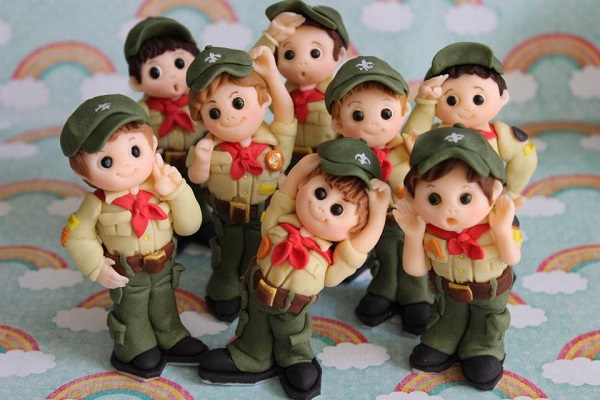 Photo via Mimicafe Union
3. Boy Scout fondant figures
Mimicafe Union does incredible figure work with fondant and these Boy Scouts do not disappoint! As individual scouts, each topper is molded and dressed in a traditional scout's uniform, as every single detail, such as pockets and creases are represented perfectly. Though their attire provides uniformity in the collection, each individual figure is brought to life with a distinct look and personality with a variety of hair styles, positions and facial expressions. [box type="shadow"]Perfect your skills to create similar pieces in Cake Topper Techniques: Figure Modelingwith Anne Heap.[/box]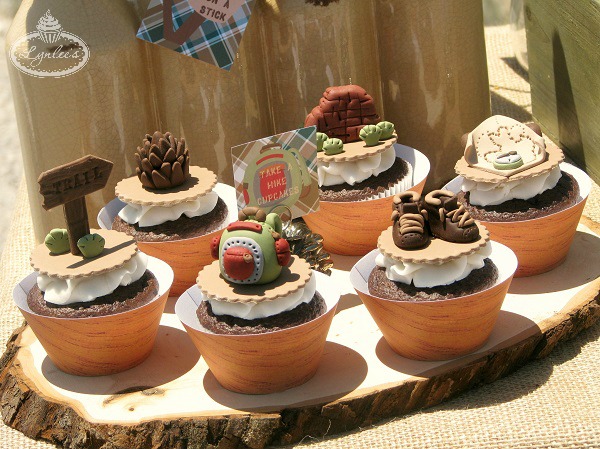 Photo via Lynlee's Petite Cakes
4. Hiking cupcakes
A large part of scouting includes outdoor activities. These fondant cupcake toppers by Lynlee's Petite Cakes would be the perfect addition for a hiking-themed celebration! Each topper is modeled completely from fondant, representing different aspects of hiking, such as the landscape and accessories. The display is further enhanced with faux wood cupcake wrappers by Bird's Party, along with a wooden tree trunk tray. Get additional inspiration for your next scouting event with the rest of this Take a Hikeparty.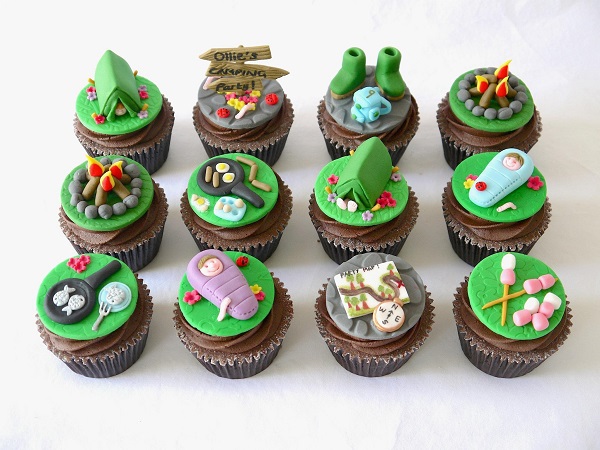 Photo via Hello Babycakes
5. Camping cupcakes
Another very well-known aspect of scouting is camping and Hello Babycakes created this incredibly adorable set of camping-themed cupcake toppers for such an occasion. The bottom disc of each topper has added texture, achieved with the use of patterned impression mats. Super detailed designs, such as three-dimensional tents, campfires and traditional camping food adorn the toppers and bring the campsite to life! Practice your modeling skills to make super small accents such as these in the new course Tiny Cupcake Topperswith Sheryl Bito.
Photo via Sugarpetals
6. Scout camp tent cake
Continuing with the camping theme, Sugarpetals created this marvelous Scout's tent cake. The cake was carved in the shape of a large tent and covered in fondant, while details such as the draping and emblem were added to the front. The incredibly intricate cake board demonstrates the importance of planning and paying attention to every aspect of the presentation.
[box type="shadow]Learn more about shaping and sculpting cakes in the course Advanced Cake Sculptingwith famed expert sculptor Mike McCarey. [/box]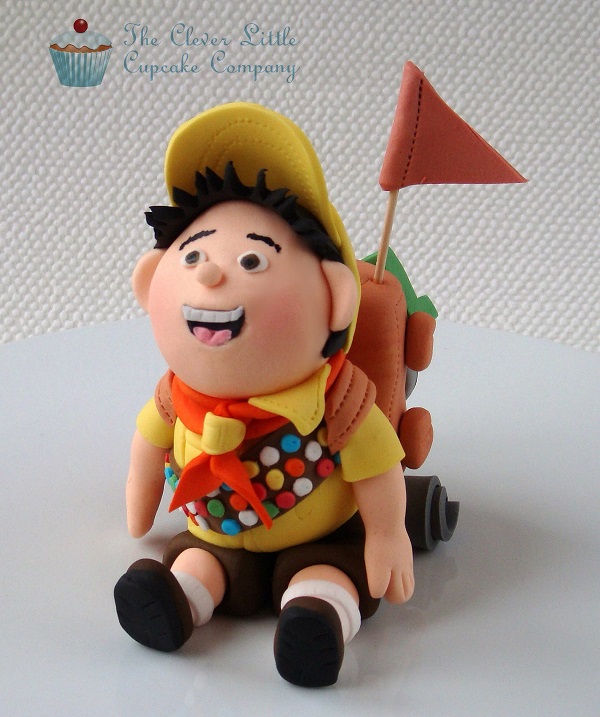 Photo via The Clever Little Cupcake Company
7. Russell scout fondant figure
In the popular animated Disney movie "Up", the character of Russell is a member of the fictitious Wilderness Explorer group, similar to the Boy Scouts. The Clever Little Cupcake Company replicated Russell with this absolutely captivating fondant figure! The explorer's uniform is especially detailed, inclusive of the adorable sash with its many patches and his backpack and supplies. His facial expression completes the entire look and brings the character's personality to life.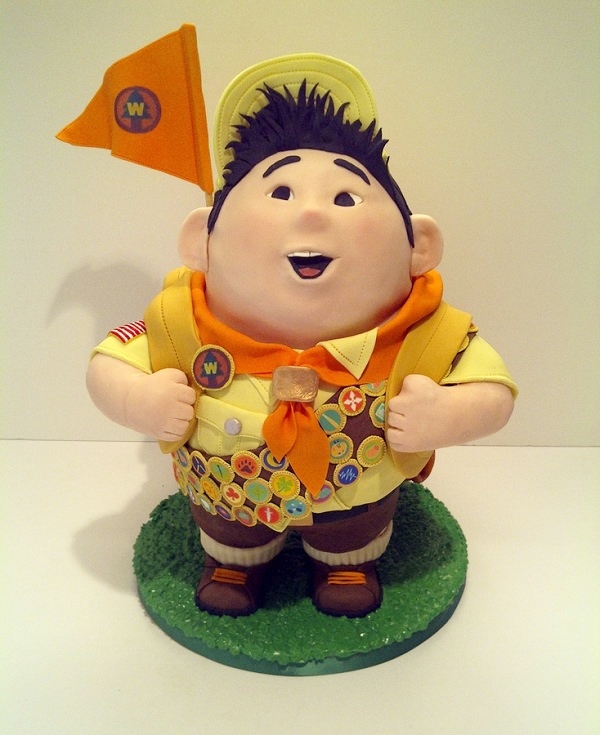 Photo via Karen at KayB4262
8. Russell scout cake
Cake decorator Karen also re-created the character of Russell, but in larger cake form! This jaw-dropping design was built, beginning with a custom stand as the main support, then carving the cake in the correct shape. The arms were sculpted from rice cereal treats and the cake was covered in its entirety in fondant. The remaining fondant details of the uniform were added, along with his backpack, finalizing this unbelievable work of art! See additional detailed photos of the decorator's process. Learn more about cake sculpting in Elisa Strauss' Sculpted Dog Cakeclass.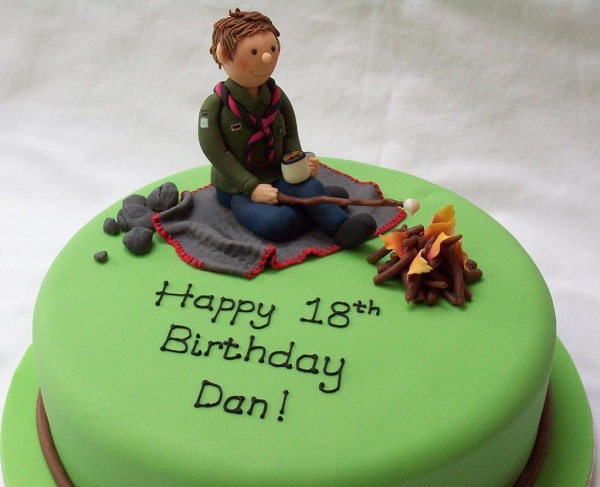 Photo via Bluprint member RachelClare
9. Boy Scout birthday cake
Bluprint member and cake artist RachelClare created this precious Boy Scout birthday cake as part of the course Cake Topper Techniques: Figure Modeling with Anne Heap. With the use of fondant and gum paste, the adorable Boy Scout figure was modeled and added to the top of a clean and beautifully covered cake.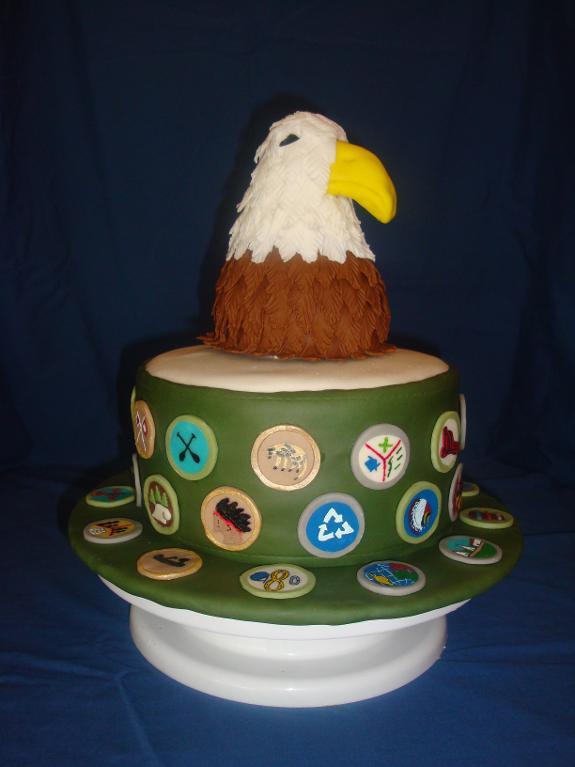 Photo via Bluprint member roarkmd
10. Eagle Scout cake
Bluprint member and cake decorator roarkmd beautifully replicated many Eagle Scout merit badges in fondant to embellish the sides of this cake, as well as the cake board, adding to the entire presentation. The cake was topped with an awesome sculpted eagle head, adorned with fondant feathers, representing the highest rank of the Boy Scouts.
If there were a cake decorating badge, what would you put on it?