In the past few years, brides and grooms have been pushing the boundaries on what is "acceptable" at a wedding. White and pastels are no longer the only colors used to celebrate a new marriage. Bold, bright colors are increasingly being chosen over more traditional color palettes, and the aesthetic is transferring over to bold, colorful wedding cakes. And we love it!
With so many new techniques, mediums and classes, cake decorators are pushing their imaginations further and learning how to successfully execute bold, new wedding cake design ideas.
Here are bold, colorful wedding cakes that are sure to make a statement: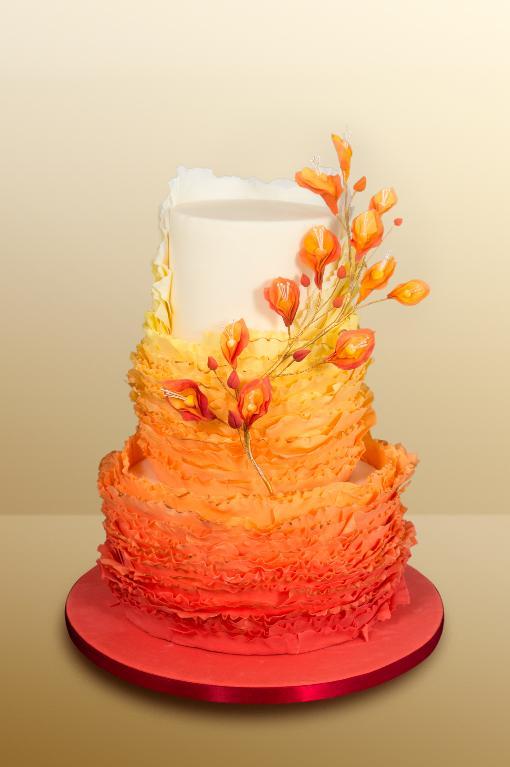 Photo via Bluprint member Karina Golovin
Fire and ice
The stunning ombré design by Bluprint member Karina Golovin incorporates Maggie Austin's Fondant Frills, but pushes it farther as the frills wrap up the back side of the cake and the autumn flowers sparkle up the front, giving the cake a fire-like effect.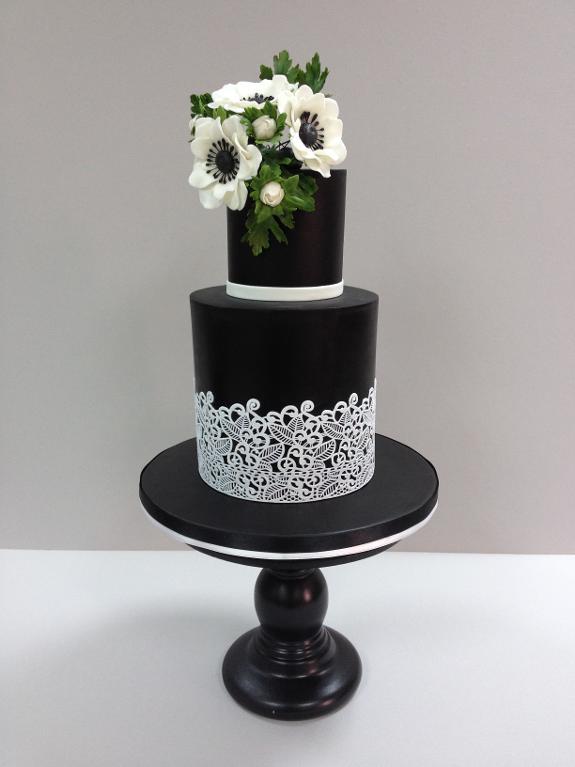 Anemone Flowers Cake via Bluprint member Manal Cakes
Black and white anemones
The sleek black fondant stands out beautifully against the white piped lace and bright white anemones perched atop this cake in a beautiful off-set arrangement. Learn how to beautiful, edible anemones like the ones seen here, along with peonies and tulips, in the Nicholas Lodge's Bluprint class Classic Sugar Flowers.
Photo via Bluprint Instructor Joshua John Russell
Fashion inspired
This is a cake you could stare at for hours with all of the details and textures involved. Joshua John Russell, instructor of the Bluprint class Fashion-Inspired Fondant, is the cake fashion king and holds his title high with this amazing cake.
Photo via Bluprint member summernoelle
Love is in the air
This pink, red and silver sweetheart cake by Bluprint student Summer Noelle blends perfectly the techniques learned in both Jessica Harris's Simply Modern Cake Design and the fondant ruffles taught in Maggie Austin's Fondant Frills. The execution and design speak to the heart and make a beautiful statement of love and modern romance.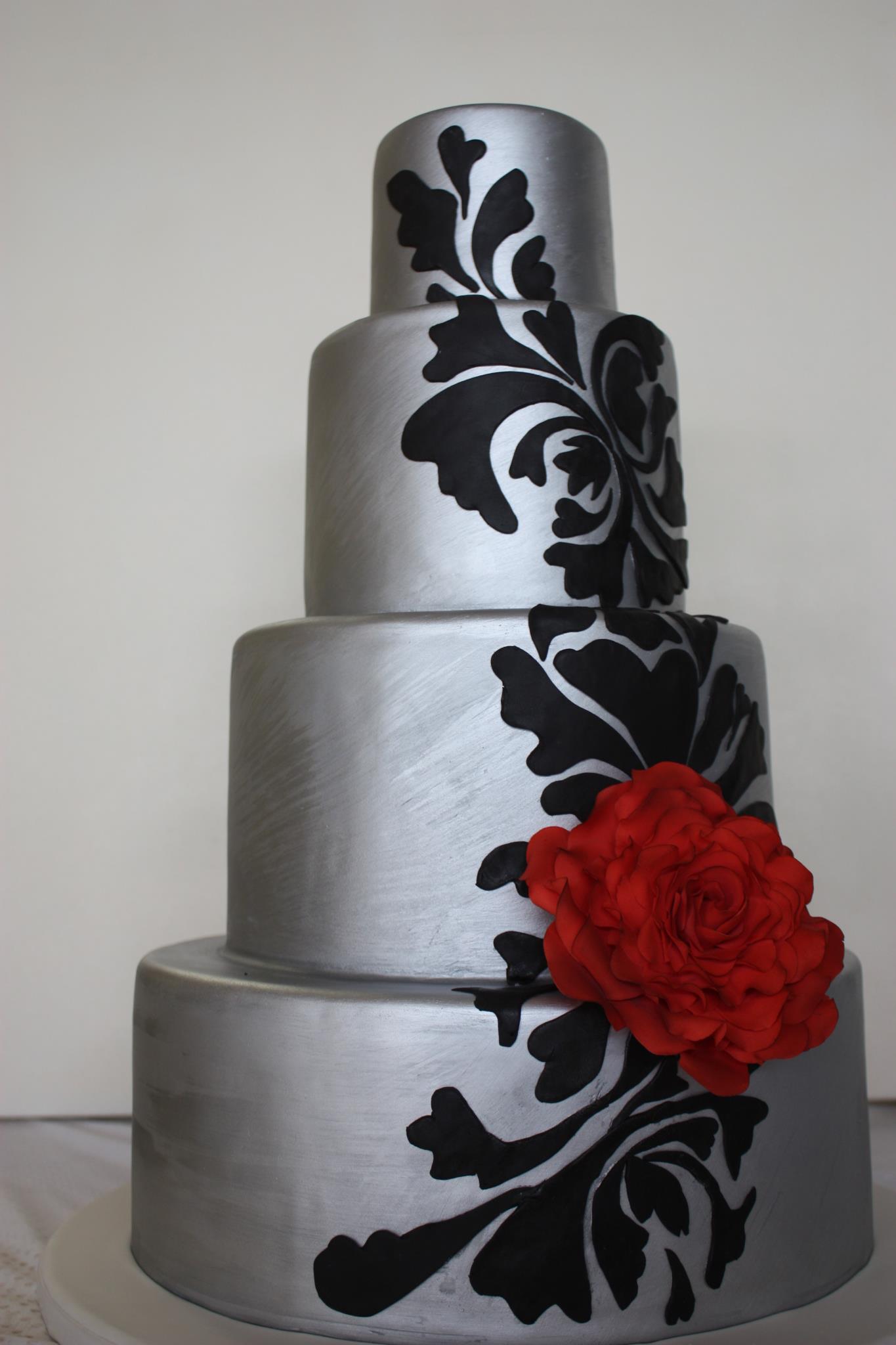 Photo via The Sugar Suite
Platinum rose
This brushed platinum four-tiered cake by The Sugar Sweet elegantly displays modern femininity with its bold black overlay and large highlighted scarlet sugar rose.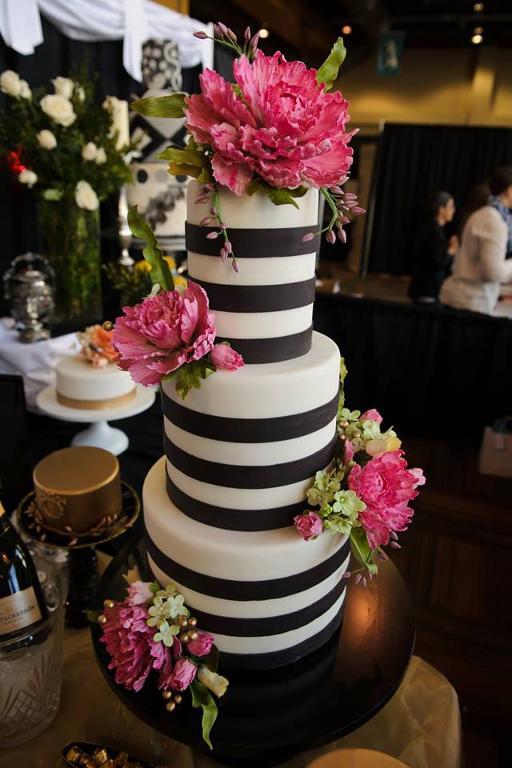 Black and white cake via Bluprint member Alex Narramore
Stripes
Thick black and white stripes on double tiers grab your eye and draw you in, while the beautiful pink sugar peonies balance the design and make a statement of their own.
What's the boldest wedding cake you've ever created?