Blueberry cake? Delicious. Blueberry cake with a little something extra for a major flavor oomph? Yes, please!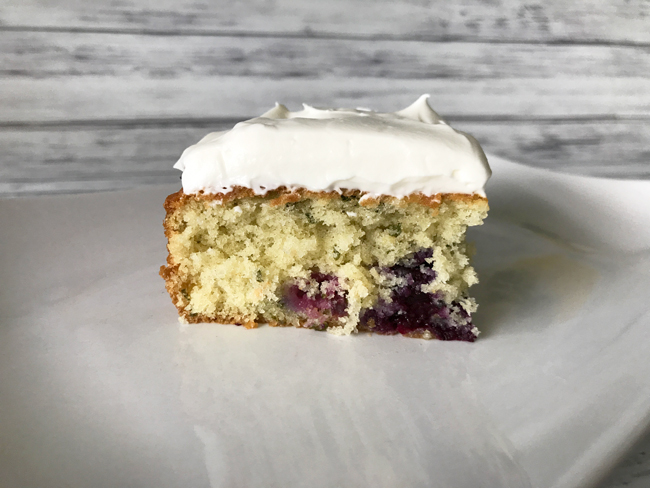 The secret ingredient is… basil!
Blueberry and basil seem like the oddest combination of flavors, but it's certainly very refreshing and pleasing to the palette! I can only describe the flavor of this blueberry basil cake as sophisticated, modern and bright.
Since basil is usually associated only with savory flavors, this cake definitely arouses and excites the senses. The taste is a cross between rustic and vibrant, like a violinist playing along with a drum beat. And as you can imagine, this cake is unbelievably fragrant, which is an irresistible plus to baking this treat!
This cake can be eaten with just a dusting of powdered sugar, but today we'll top it with a lightly sweetened cream cheese whipped topping. No matter what season or occasion, this blueberry basil cake will be hit.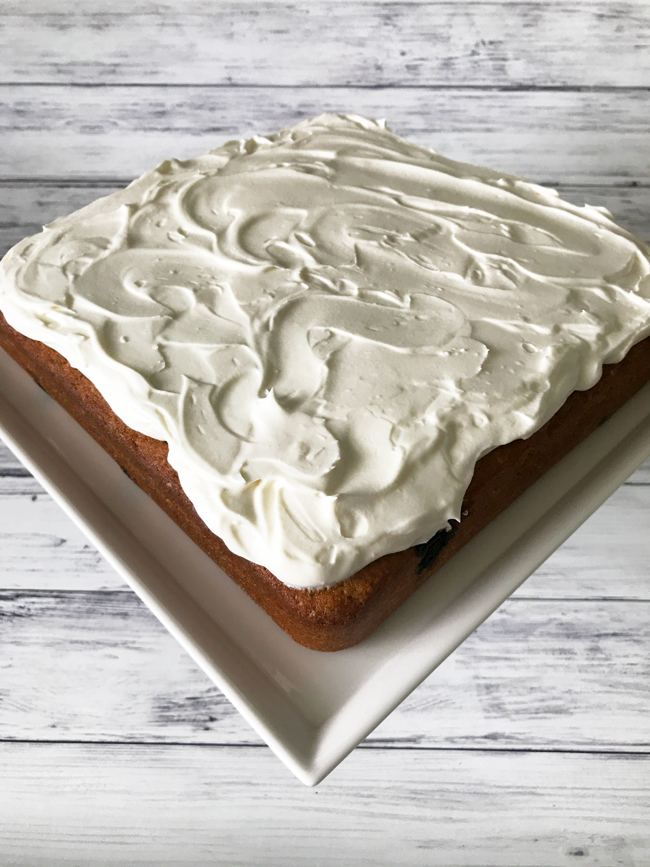 Blueberry basil cake recipe
Makes one 9″ cake
Ingredients for the cake:
½ ounce basil, about 12-14 large leaves
1½ cup flour
2½ teaspoons baking powder
½ teaspoon salt
½ cup unsalted butter, at room temperature
1 cup sugar
2 eggs
1½ teaspoons vanilla extract
Zest of one lemon (scant 1 tablespoon)
½ cup plain Greek yogurt
6 ounces blueberries (1 heaping cup)
Ingredients for the topping:
4 ounces cream cheese, softened
¼ cup sugar
1 teaspoon vanilla
1 cup heavy whipping cream
Making the cake
I like to use a square pan for this cake — a non-traditional flavor deserves a more unique cake shape! You can use any 9″ pan that you have, whether it be round or square.
Step 1:
Preheat the oven to 350 F. Butter and flour one 9″ pan.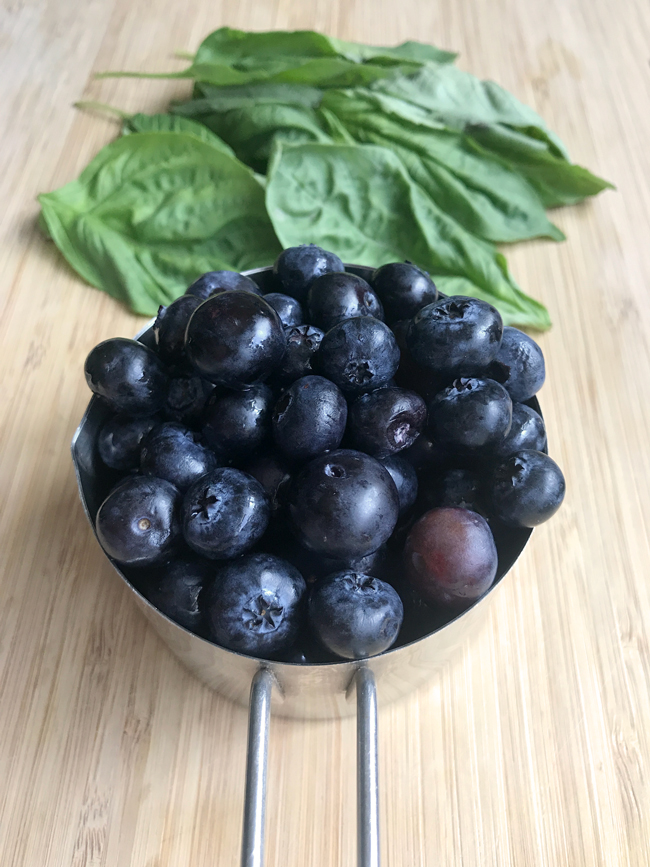 Wash blueberries and pick off any stems. Finely chop basil and set aside for now.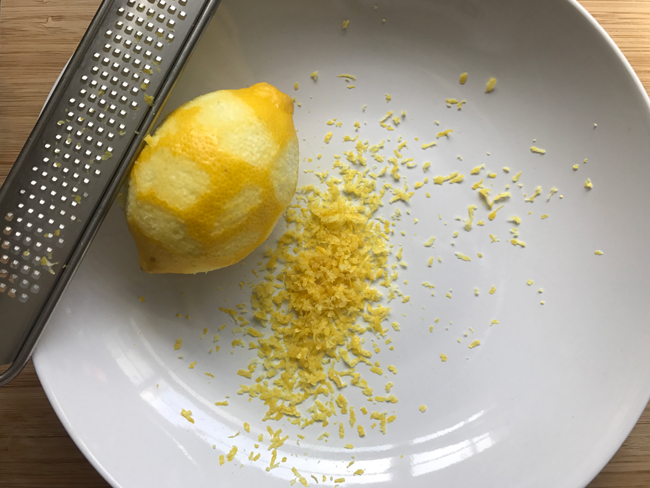 Zest lemon and set aside. 
Step 2:
In a small bowl, whisk together flour, baking powder and salt. Set aside.
Step 3: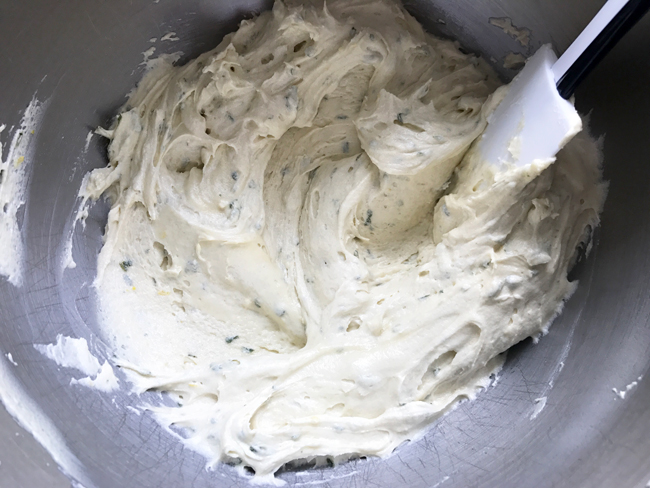 Place butter and sugar in a bowl of a stand mixer. Using the paddle attachment, beat until fluffy, about 3 minutes. Beat in one egg at a time until smooth and creamy. Add vanilla, basil and lemon zest. Beat until incorporated.
Step 4:
Add half of the flour mixture to the wet mixture and beat for 1 minute. Add Greek yogurt, beat for 1 more minute, then add remaining flour mixture and beat until incorporated.
Fold in blueberries using a spatula.
Step 5: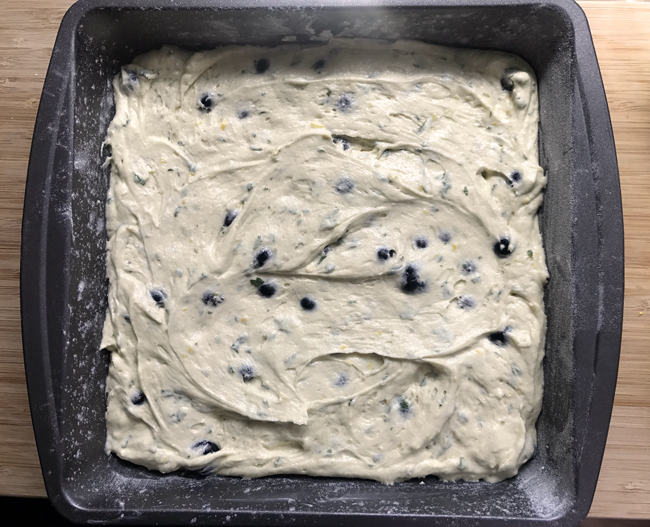 Spread the batter evenly in the prepared pan.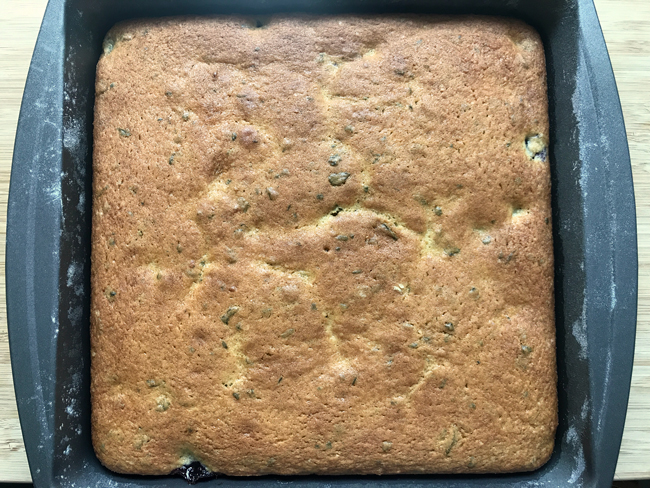 Bake for 40 minutes or until a cake tester from the middle comes out clean. Set on a wire rack to cool completely.
Making the topping
It's important that you use cold heavy whipping cream for the topping. Make sure to stop and scrape the sides to help the cream cheese and heavy cream blend together.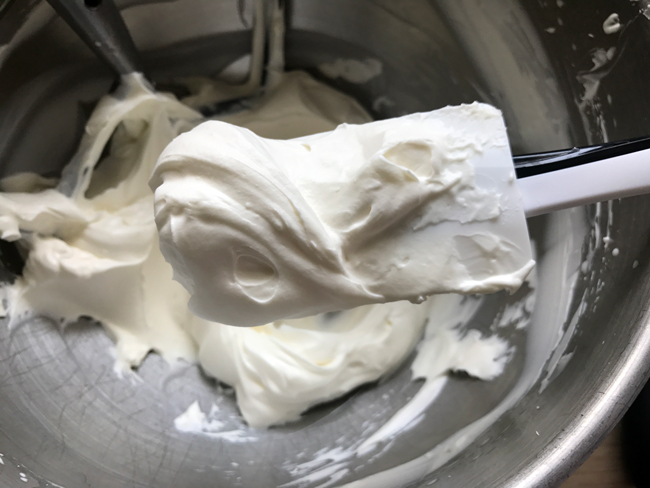 Step 1:
Place cream cheese and sugar in the bowl of a stand mixer. Using the paddle attachment, beat until creamy and smooth (about 2 minutes).
Step 2:
Add vanilla and beat over low speed. As the machine whirls, stream the heavy whipping cream into the bowl. Scrape sides as needed until it starts to come together. Increase speed to medium high and beat until soft peaks form.
Step 3:
Spoon over cooled cake and spread evenly over the top. Refrigerate leftovers for up to one week.