Betty, grunt, slump, buckle and sonker are all used to describe some version of a cobbler so it's no surprise that the actual definition of a cobbler is a bit confusing. But whatever you call it, cobbler comprises the base to one of my favorite fresh blackberry recipes.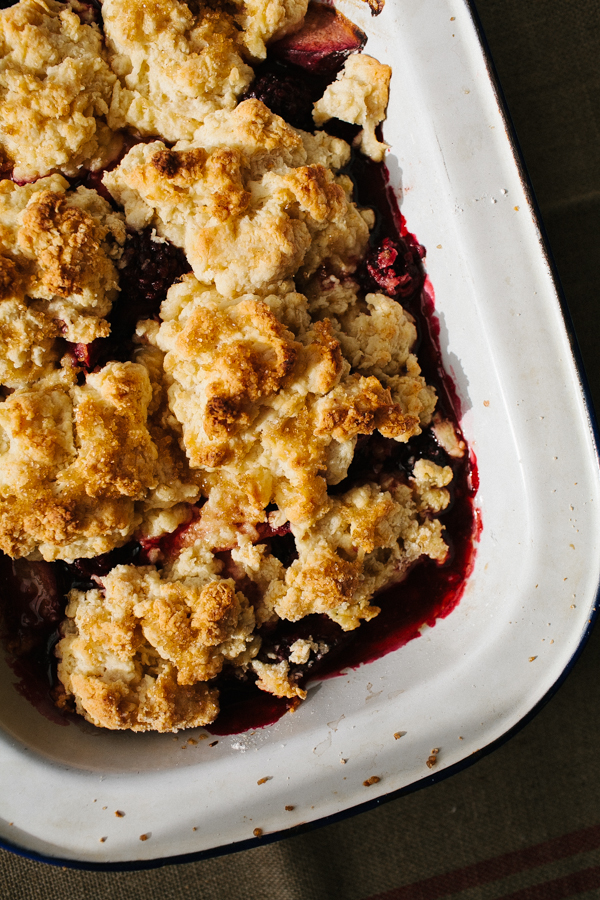 What is a cobbler?
A cobbler covers the category of some sort of baked filling — usually fruit but can also be savory (think tomato cobbler!) — that is topped with a cake or biscuit-like topping. Unlike crisps and crumbles, there are no oats involved. It's just a classic, simple mix of flour, baking powder, a bit of sugar, cream (here I've used sour cream) and butter.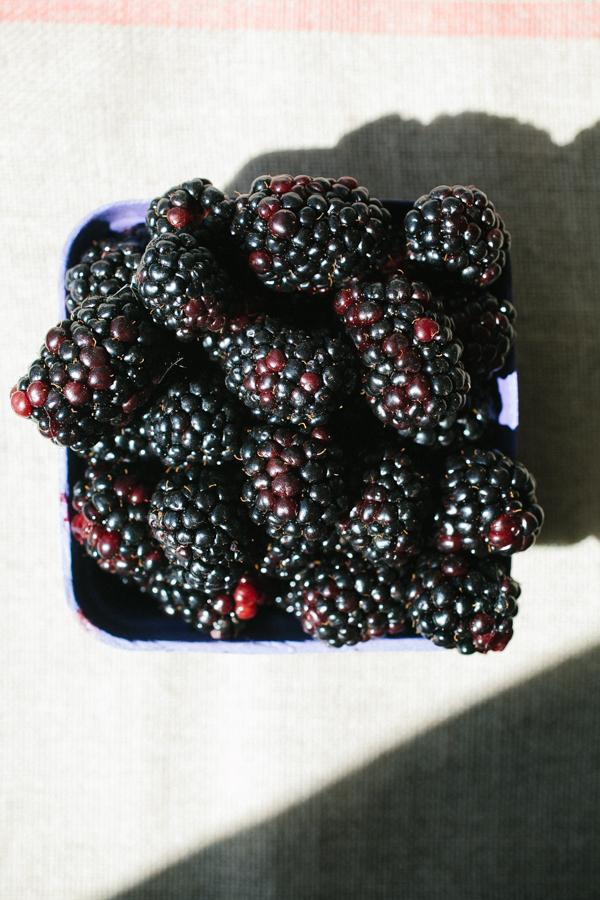 The origins of the cobbler come from early British American colonies. Supplies for traditional suet puddings were limited, so in order to recreate their traditional favorite, English settlers would cover their pots of stewed filling with uncooked biscuits or dumplings. Because really what's better than a lid? A buttery biscuit.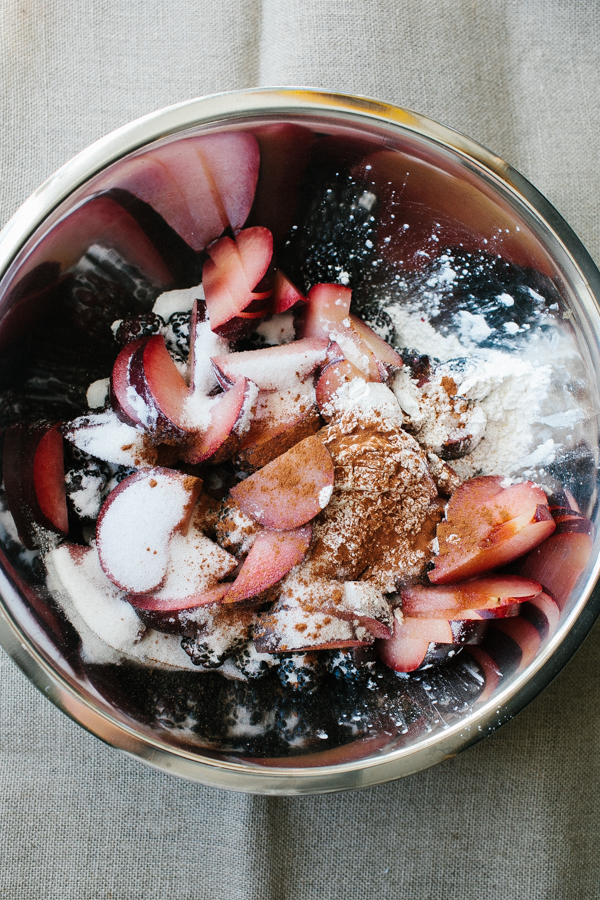 Grunts, pandowdy and slumps are cobblers that are cooked on the stove top or in a cast iron skillet with the topping shaped like dumplings covering up the filling below. Alternately a buckle is made of a yellow cake batter with the fruit mixed into the batter and then baked.
A sonker is only known in North Carolina and is essentially a deep dish cobbler. And a betty is fruit that is topped and baked with bread crumbs on top. Often the crumbs (sometimes graham cracker crumbs) are baked with layers with the fruit so the resulting dish is similar to a bread pudding.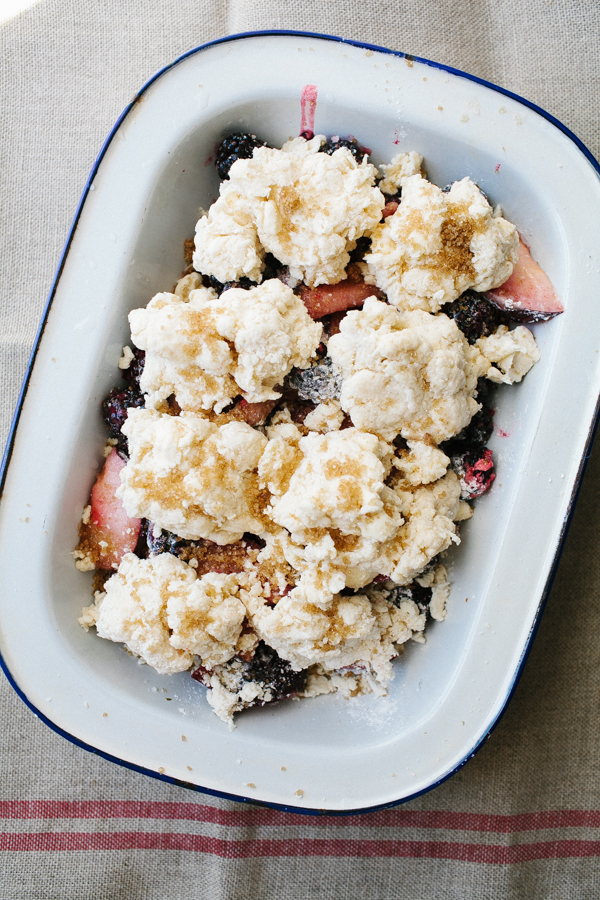 Like most baked fruit desserts I think cobblers, in all their various forms, are perfectly suitable for breakfast. A cobbler in particular seems fitting as it's essentially a biscuit or scone baked on top of fruit. I, unlike my husband, tend to leave off the side of ice cream when enjoying a bit of cobbler for breakfast.
Recipe for easy blackberry plum cobbler
Adapted from epicurious.com
 Ingredients
1 1/2 cups all-purpose flour
3 tablespoons plus 3/4 cup sugar
1 1/2 teaspoons baking powder
1/2 teaspoon kosher salt
6 tablespoons (3/4 stick) chilled unsalted butter, cut into 1/2″ pieces
1/2 cup plus 1 tablespoon sour cream
3 tablespoons cornstarch
2 pints blackberries
3 plums, pitted and sliced into 1/4-inch wedges
1/2 teaspoon ground cinnamon
3 tablespoons raw (Turbinado) sugar
Directions
1. Preheat oven to 375 F.
2. Whisk 1 1/2 cups flour, 3 tablespoons sugar, baking powder, and salt in a large bowl. Add butter; using your fingertips, incorporate until only pea-size lumps remain. Gently mix in sour cream. Knead in bowl until a biscuit-like dough forms. Don't over mix or you will end up with tough biscuits.
3. Combine remaining 3/4 cup sugar, 3 tablespoons cornstarch, blackberries, sliced plums and cinnamon. Toss to coat. Pour into an 8 x 8 x 2″ glass baking dish or divide among six 6-ounce ramekins. Tear biscuit topping into quarter-size crumbles; scatter over the fruit. Top with Turbinado sugar.
4. Bake cobbler until juices are thick and bubbling and topping is cooked through and deep golden brown, 20–25 minutes for ramekins or 45–50 minutes for baking dish. Let cool for at least 1 hour.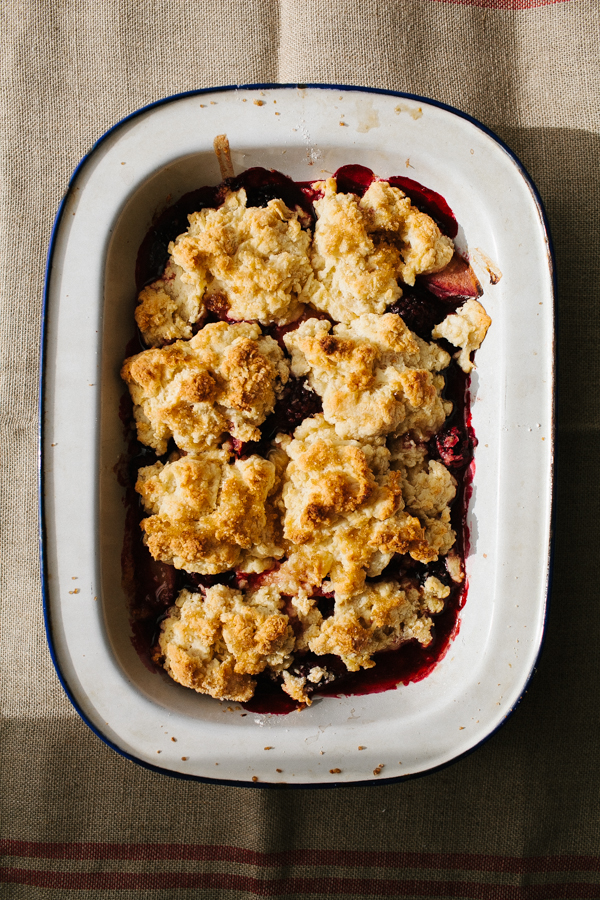 Recipe notes:
You really can use just about anything to simmer under the buttery biscuit dough. Here I've chosen blackberries and plums because it's what's in season. Feel free to add a bit more spice and extras here. I tend to keep mine quite simple adding just a bit of cinnamon to the fruit. Lemon and vanilla do nicely here as well.
I finish the cobbler, just before baking, with a bit of raw sugar. It gives a deep sweetness and adds a nice crunch.
More of a cobbler lover, try out this strawberry-rhubarb crumble recipe. Perhaps pie is more your preference. Why not perfect the crust! Learn how to make the ultimate flakey, butter pie crust in this online cooking class taught by Evan Kleiman, Perfecting the Pie Crust.
What are your favorite cobbler combinations? And I'm curious if this is your idea of a traditional cobbler or if you tend to like the more cake-like option?