Want to get the most out of your garment sewing patterns this summer? Make them work harder! With a bit of creative pattern hacking, you can end up with fresh new looks for any occasion, whatever your preferred style or sewing ability. So, if you need a boost of confidence or some creative inspiration…
Here are nine of the best summer pattern hacks to help you create a wardrobe brimming with cute tops and blouses
Hack your way to the perfect summer crop tops!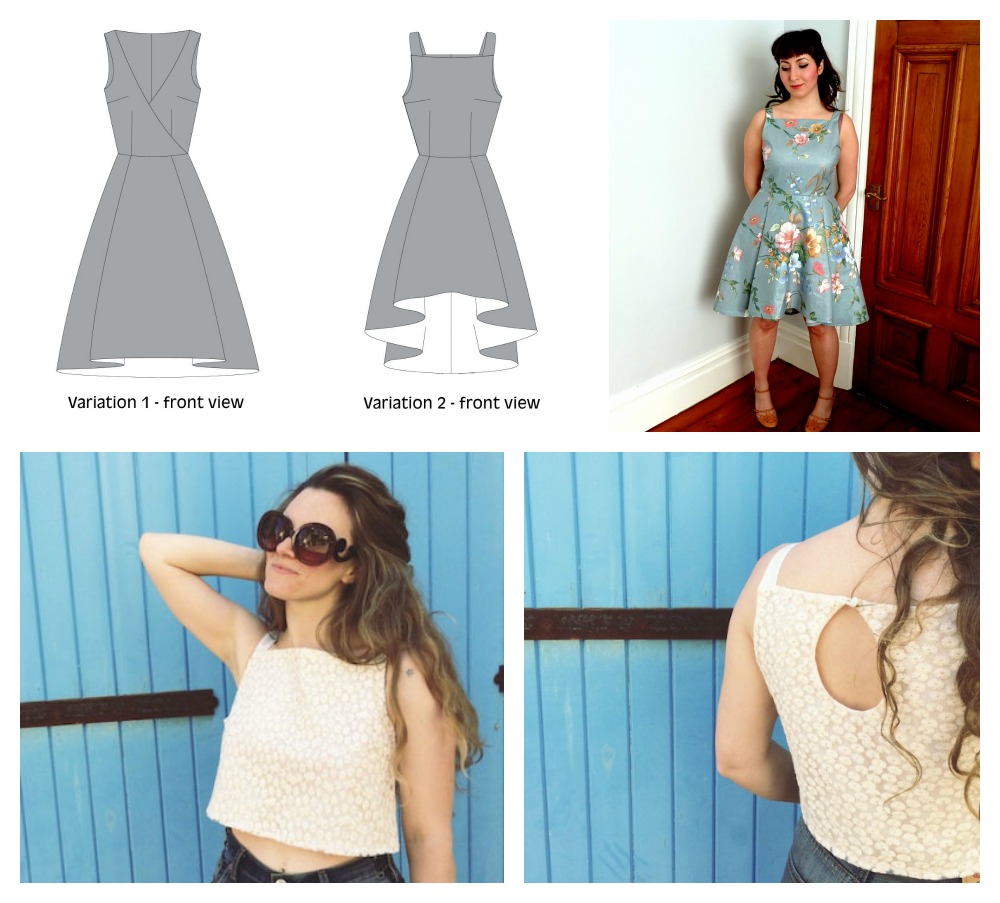 Photos via By Hand London and A Stitching Odyssey
Many of you will be familiar with the gorgeous Flora Dress pattern, with its full pleated straight or dipped hem circle skirt and a choice between a faux-wrap style bodice or tank bodice with a high neckline. Luckily for us, the By Hand London girls have also shared a nifty tutorial on turning the Flora into the perfect summer crop top, including tips on altering the pattern, adding a keyhole opening and making your own button loops!
Get the Flora Dress pattern here.
How to hack the Flora Dress pattern.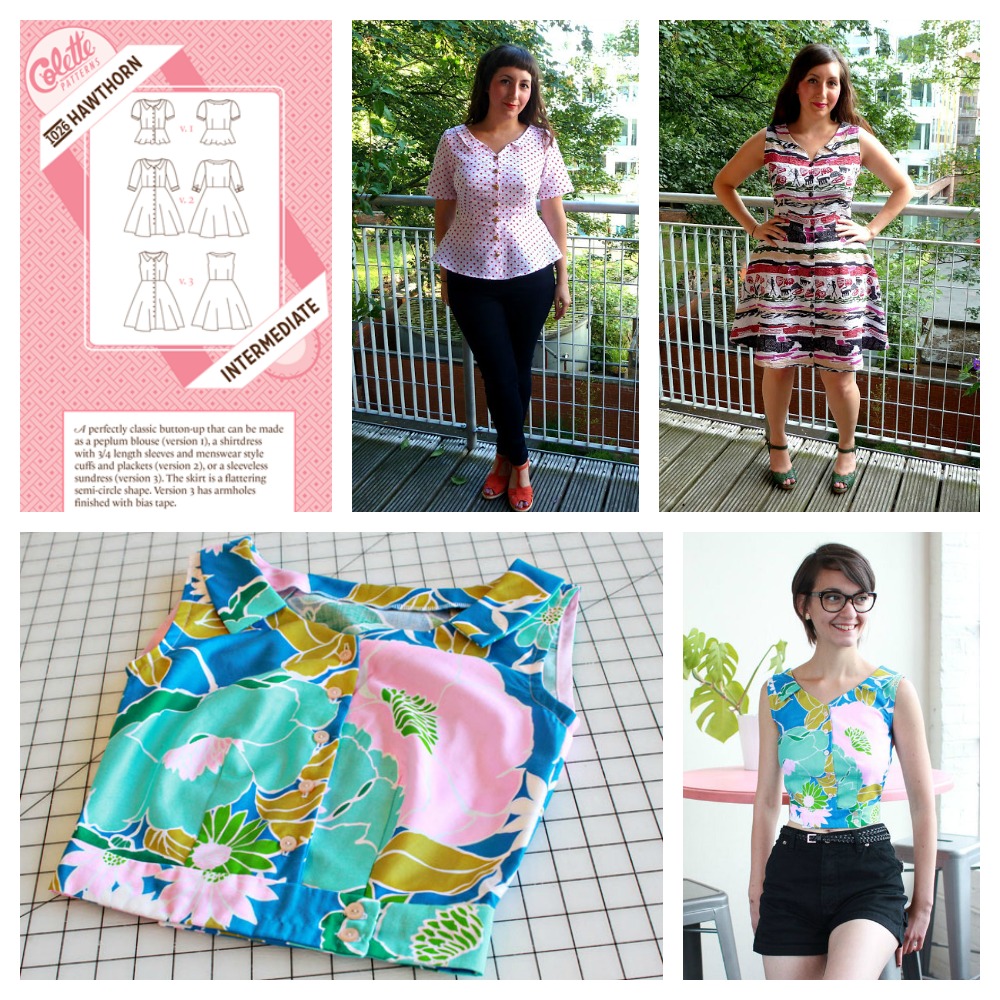 Photos via Colette Patterns and A Stitching Odyssey
Everyone knows how versatile Colette's Hawthorn pattern is, I myself having made it three times already! It's a truly classic design for making the ideal summer dress or blouse. As if that wasn't enough versatility from one pattern, the lovely folk at Coletterie shared a tutorial on adapting the Hawthorn into an adorable crop top, complete with instructions for adding a waistband and sweet button details.
Get the Hawthorn pattern here.
How to hack the Hawthorn pattern.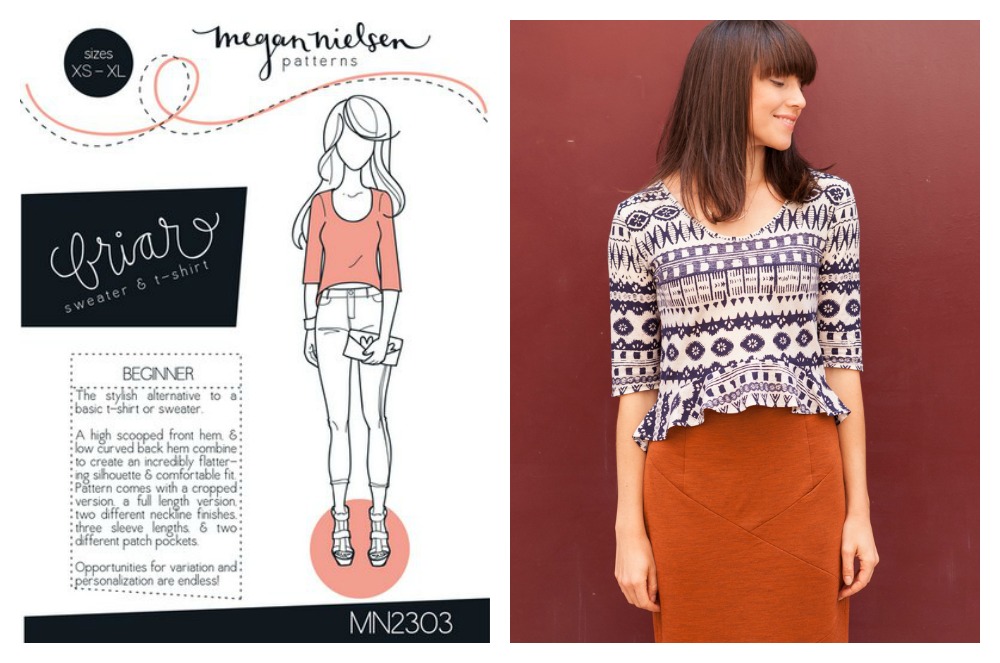 Photos via Megan Nielsen and Ada Spragg
Megan Nielsen's Briar pattern is a great wardrobe staple, easily used to churn out knit sweaters and T-shirts for everyday wear. Sometimes though, it's nice to combine comfort with something a little more smart, and Sophie of Ada Spragg shows us exactly how to do this. By slightly changing the hemline and adding a simple peplum, she's given the Briar a very chic twist.
How to hack the Briar pattern.
Transform your humble blouses or T-shirts for warmer weather!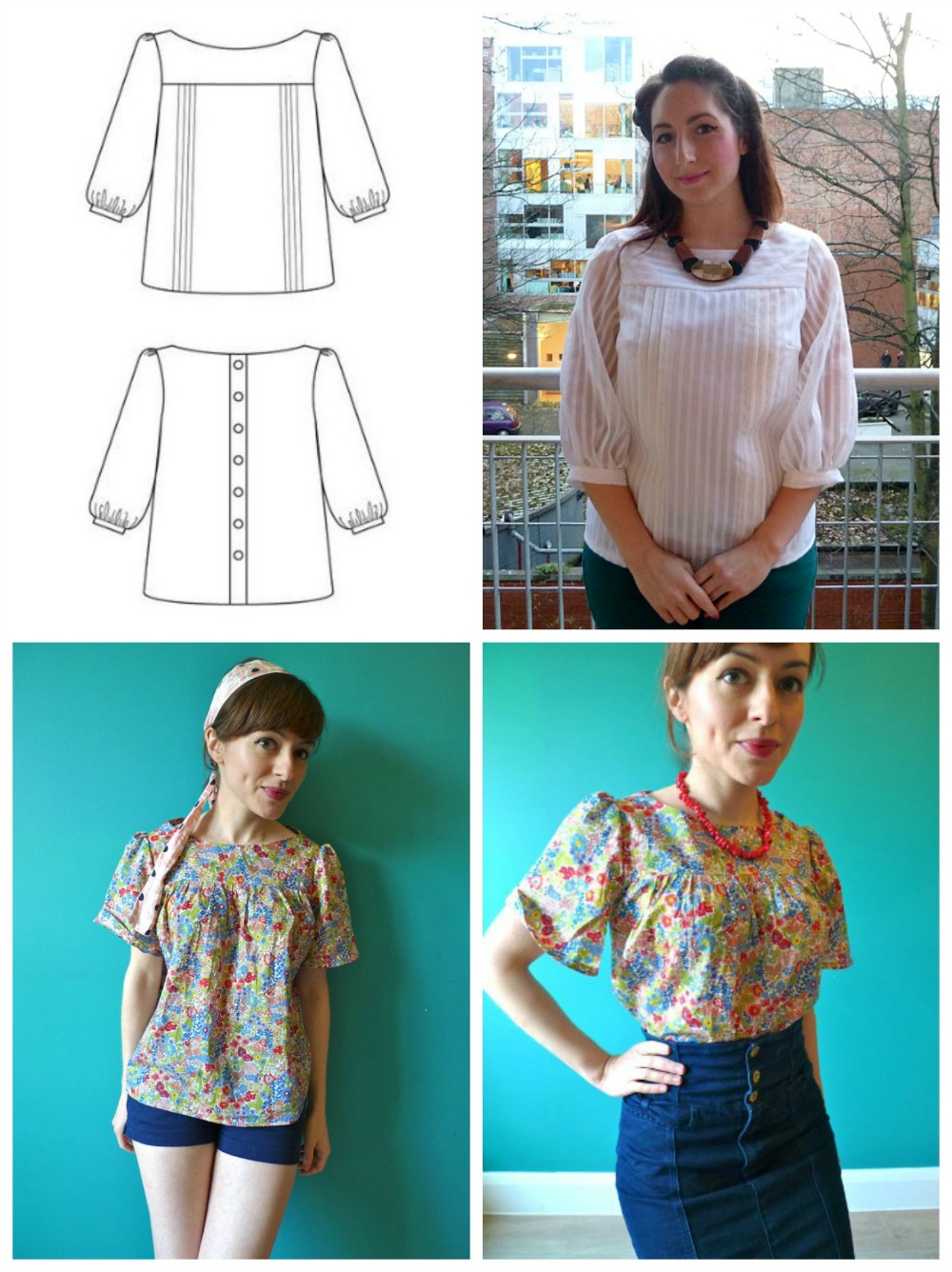 Photos via Tilly and the Buttons and A Stitching Odyssey
Looking at the elegant Mathilde blouse pattern, with its front tucks and billowing sleeves, it's hard to imagine how it could be worn in a more casual way. But you don't have to imagine, because Tilly and the Buttons has done all the hard work, by showing us how to transform this blouse with short sleeves and by replacing the front tucks with gathers!
How to hack the Mathilde blouse pattern.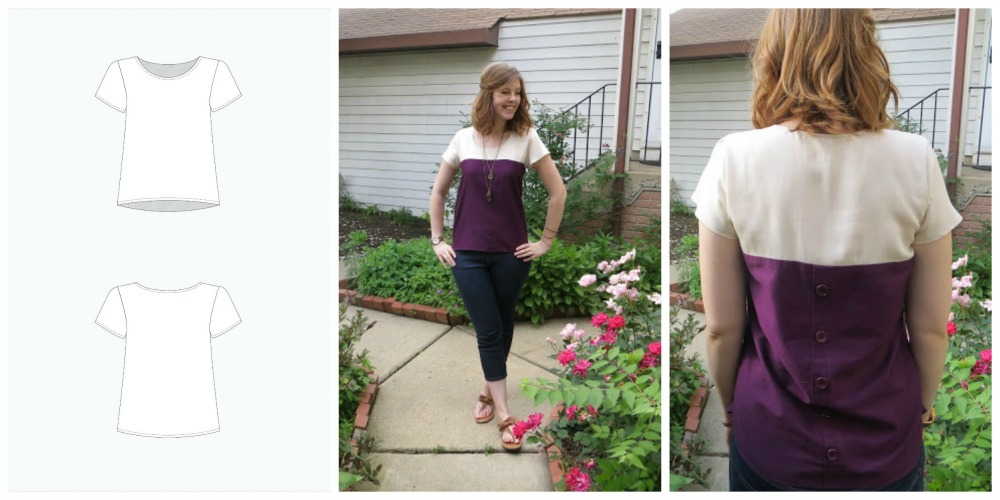 Photos via Grainline Studio and The Quirky Peach
Undoubtedly, one of the most versatile patterns out there is Grainline Studio's Scout Tee, with seemingly endless hacking possibilities. And one of my favorite summer looks is from Sally at The Quirky Peach, who shows us how to color block the Scout Tee with a yoke, add a faux button placket on the back and curve the hem.
How to hack the Scout Tee pattern.
Photos via Closet Case Files and Tilly and the Buttons
Bodysuits tend to divide opinion, but I know that Closet Case's new Nettie Dress and Bodysuit pattern has proven very popular already. If bodycon isn't really your style though, Tilly and the Buttons made a T-shirt version and has shared a tutorial for adding a super cute bow at the back.
How to hack the Nettie Dress and Bodysuit pattern.
Give your tank tops a special twist this summer!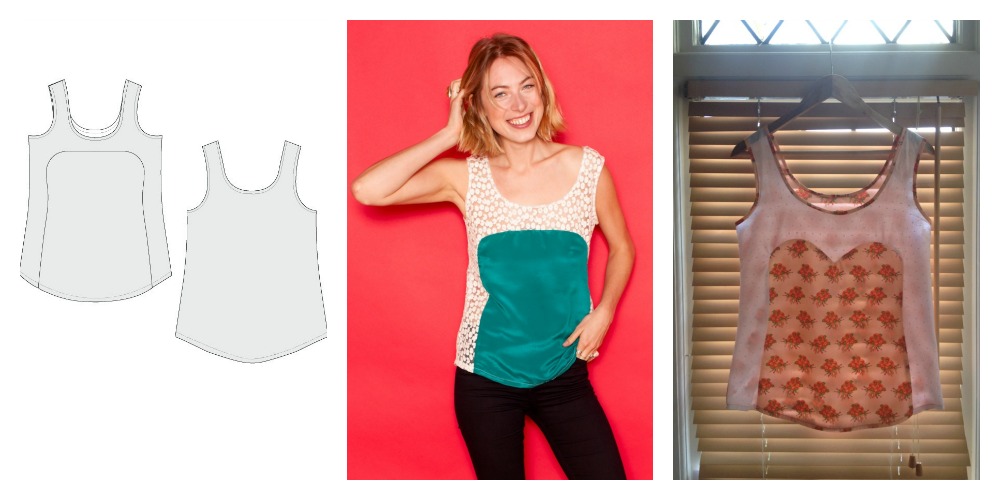 Photos via By Hand London
Sometimes it's the simplest pattern hacks that are the most fun! The (free!) Polly top is already a really cute pattern, perfect for hot summer days, and By Hand London has taken it to the next level of cuteness by sharing some sweet tips for a sweetheart front panel.
Get the FREE Polly Top pattern here.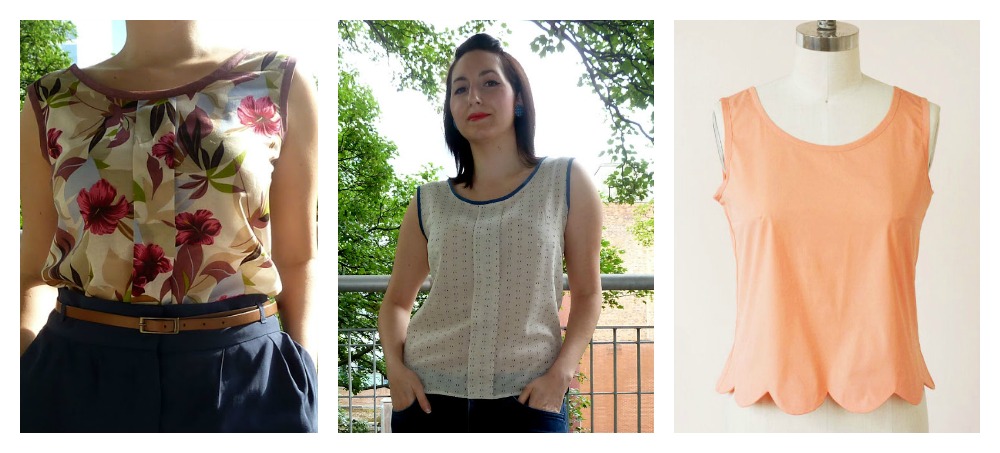 Photos via Colette Patterns and A Stitching Odyssey
When the free Sorbetto pattern was released by Colette Patterns three years ago, it literally took the sewing world by storm. It proved to be a quick and highly-customisable make, set apart by its front box pleat. It's still as popular as ever, but if you're after a smarter tank for your summer wardrobe, why not try the stylish version sans box pleat and with a pretty scalloped hem?
Get the FREE Sorbetto pattern here.
How to hack the Sorbetto pattern.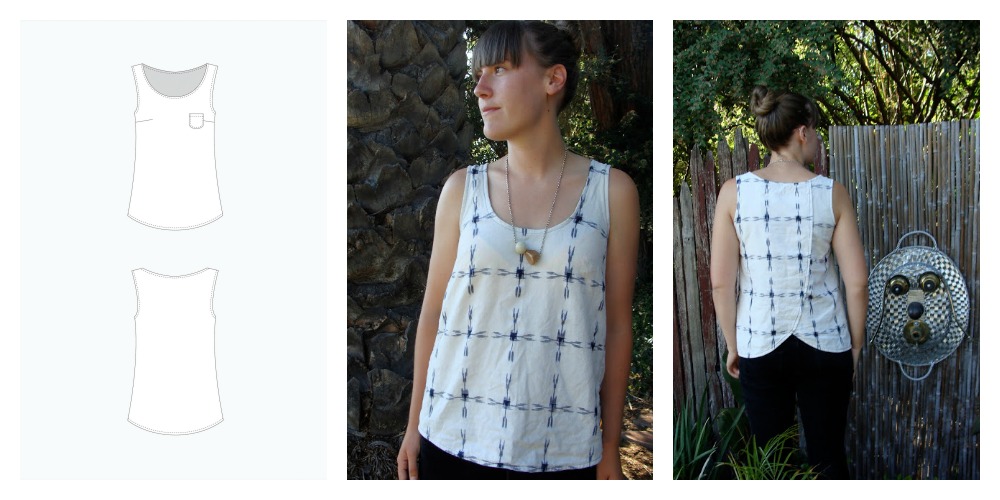 Photos via Grainline Studio and All dressed up and nowhere to go
As showcased time and time again, Jen at Grainline Studio has a knack for designing versatile patterns open to countless creative interpretations, and the Tiny Pocket Tank is no exception. If like me you enjoy a split back detail during the summer months, there's a great tutorial from All dressed and nowhere to go, outlining how to adapt the Tiny Pocket Tank accordingly.
Get the Tiny Pocket Tank here. They sold out, sorry!
How to hack the Tiny Pocket Tank.
Which pattern hack are you excited to try this summer?