It's probably a long time since you broke out The Game of Life, or that old battered box of Trivial Pursuit, but what could be better than an evening of fun and games with friends and cake to go along with the theme to keep things sweet?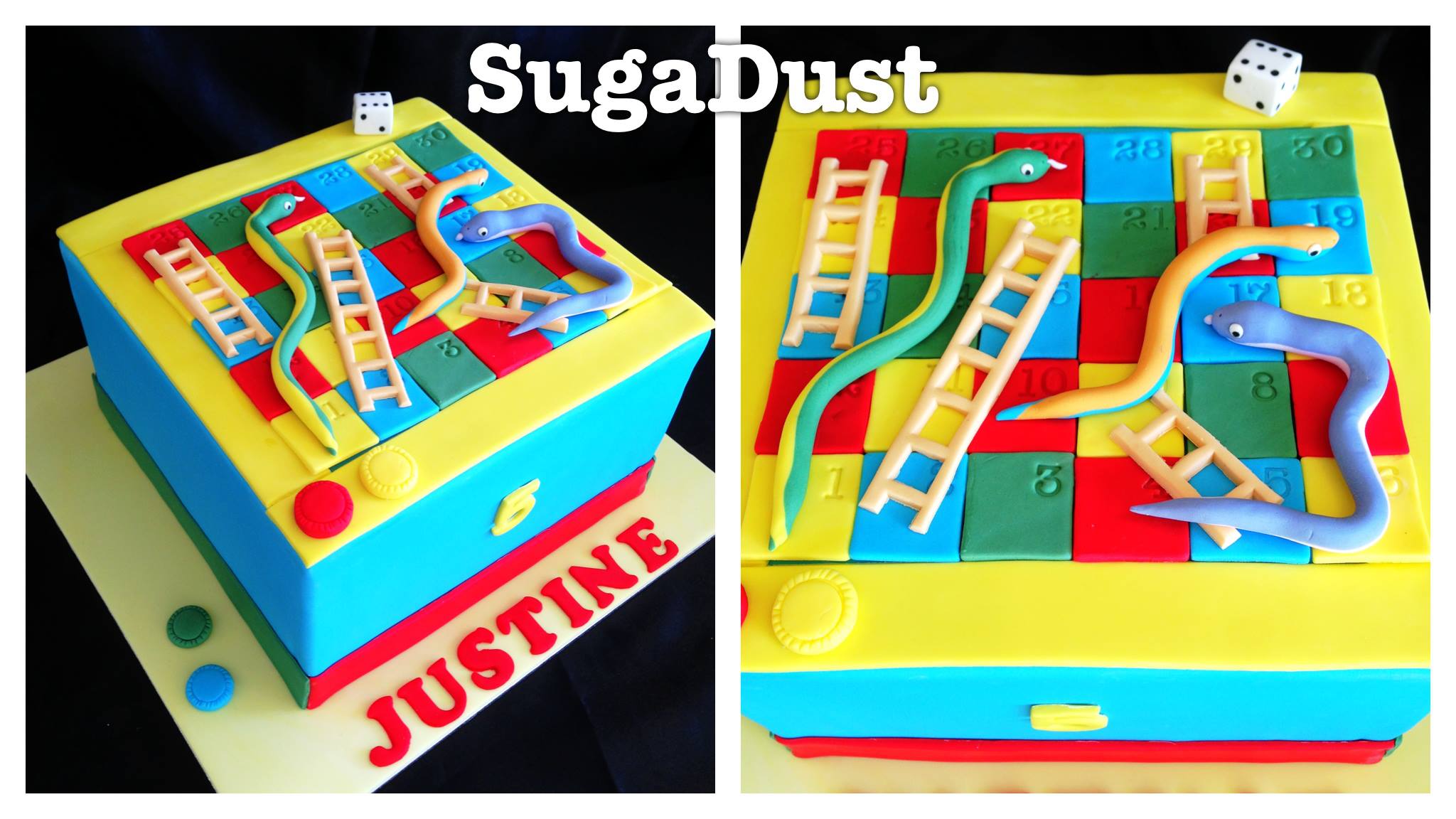 Photo via SugaDust
Snakes and Ladders cake:
Let's start things off nice and easy with a game of Snakes and Ladders. The game's been around in the U.S. since the 1940s, although it originated in India in the 19th century. This cake version, with it's appealing primary colors and harmless-looking snakes, was probably polished off in less time than it takes to play the game. With colored counters and a die, a game could actually be played on this cake!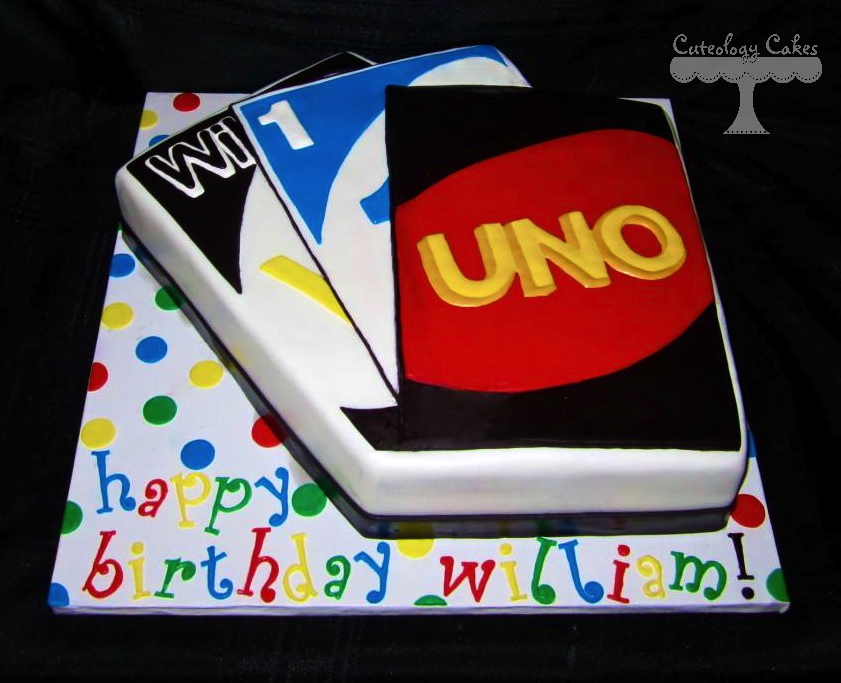 Photo via Cuteology Cakes
Uno cake:
Invented in 1971 by a barber from Ohio, Uno is still one of the world's best loved card games. And it is obviously loved by this birthday boy. The cake has been carved from a sheet cake and placed on a bright polka-dot-decorated board. The Uno logo was piped using SugarVeil, a flexible icing traditionally used for making edible lace.
[box type="shadow"]Perfectly Piped
[/box]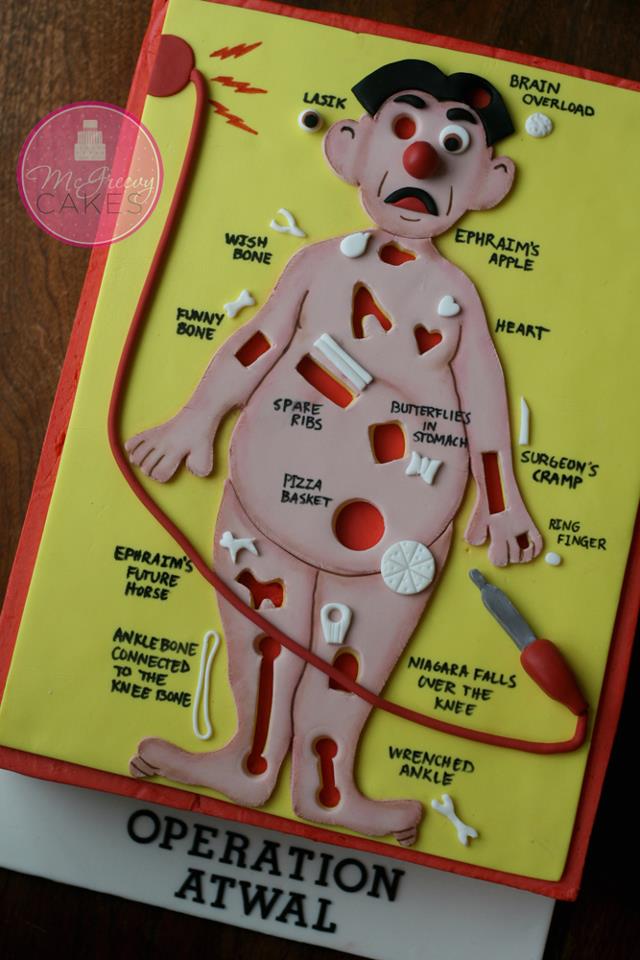 Photo via McGreevy Cakes
Operation cake:
If your hostess put this Operation cake on the table during game night, you'd definitely be forgiven for trying to play it rather than eat it. Each compartment with its corresponding "bone" has been painstakingly cut out from fondant and the names handwritten with an edible pen. Cavity Sam himself has been perfectly shaded with petal dusts to resemble the game character. Do you think it buzzes? Operation is still a family favorite and has been around since 1965.
[box type="shadow"]Do you have a steady hand?
[/box]

Photo via Nikki's Cakes
Chess cake:
I love the idea of a chocolate chess set! What an incentive to win — you take a piece from your opponent, you get to eat it! Of course, that does rather eliminate the possibility of a rematch, but it's a small price to pay. The oldest chess sets are said to date back to the 12th century, but I think a chocolate one might not last longer than a few days.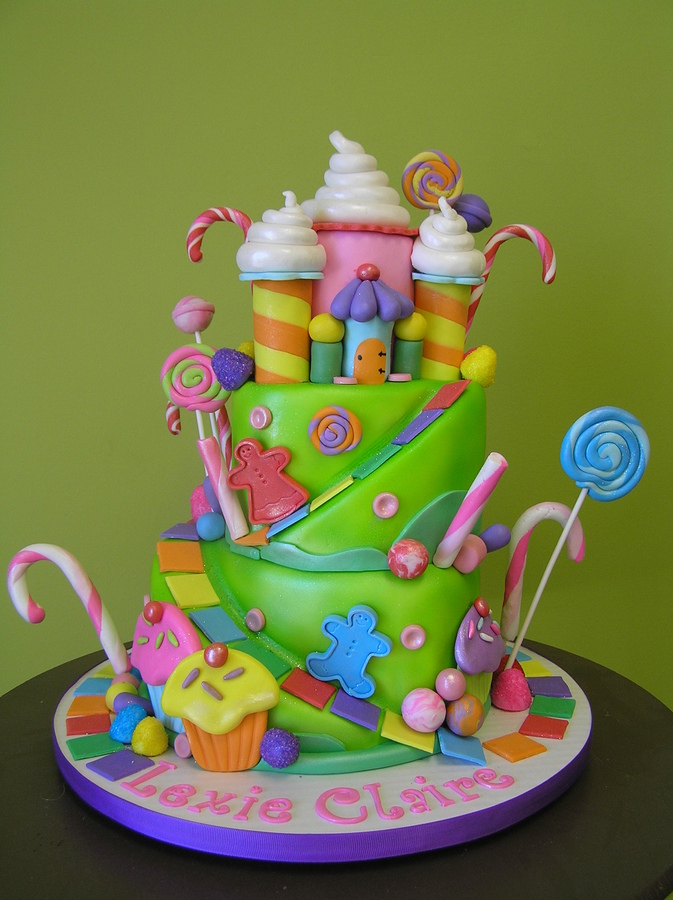 Photo via Somethin' Sweet
Candy Land cake:
This cake perfectly captures the essence of the Candy Land board game, from the brightly colored squares to the game pieces making their way up to the ice ream castle. No amount of extra candy, lollipops, cupcakes, and gumballs would be too much for this cake — a definite example of more being more! The cake has been given a subtle green dusting to add depth along with a hint of shimmer.
[box type="shadow"]Building Castles
[/box]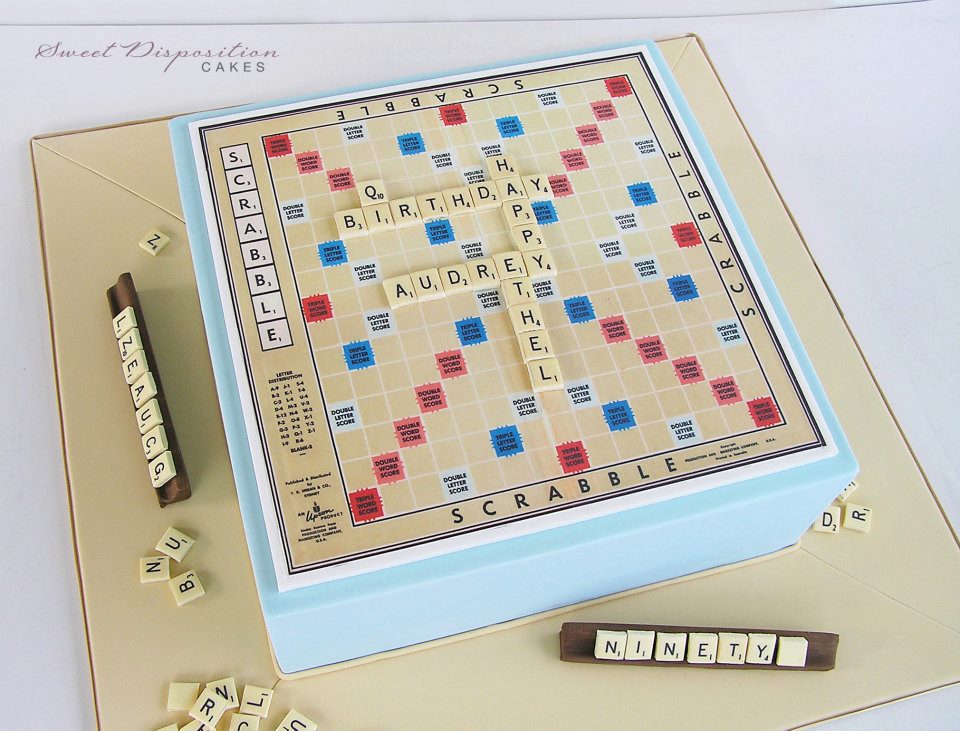 Photo via Sweet Disposition Cakes
Scrabble cake:
An printed edible image keeps this Scrabble cake looking pristine. Even the individual tiles have been given the edible image treatment, and they spell out a sweet birthday message for a Scrabble-loving lady. Razor-sharp edges and corners — usually achieved by a firm coat of ganache under the fondant — and a subtle color scheme of pale blue and ivory give the cake a grownup aesthetic.
[box type="shadow"]Edible Entertainment
[/box]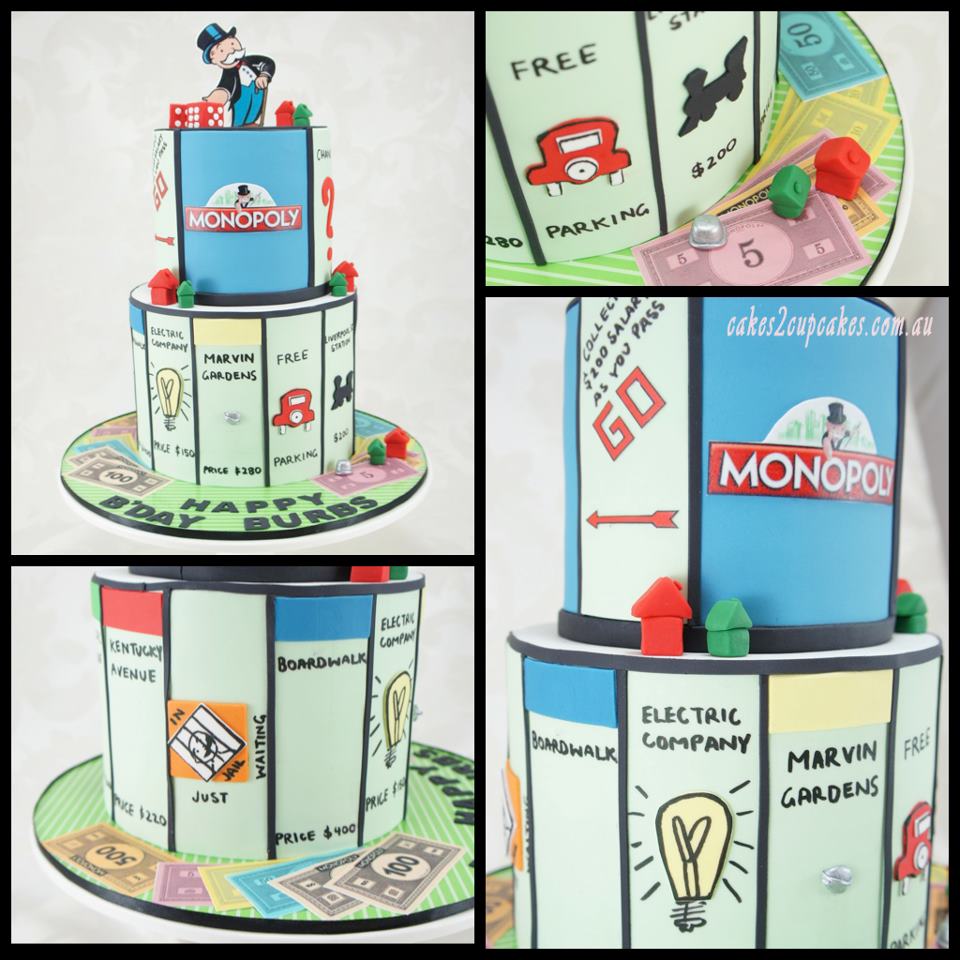 Photo via Cakes 2 Cupcakes
Monopoly cake:
Slapping Dad with a $2000 rent bill might not be the best way to keep a family fun night fun, but Monopoly still has a place in the hearts and game cupboards of most families. It's been around since 1934, and there are versions for most of the world's continents.
The square board, with its familiar landmarks, hotels and houses, has been cleverly translated into a two-tier cake. Mr. Monopoly (otherwise knows as Rich Uncle Pennybags) forms the cake topper, while money decorates the board at the bottom. The silver pieces can be seen on the sides of the cake. Let's hope anyone in jail didn't miss a slice of the cake.
[box type="shadow"]Topping Off
[/box]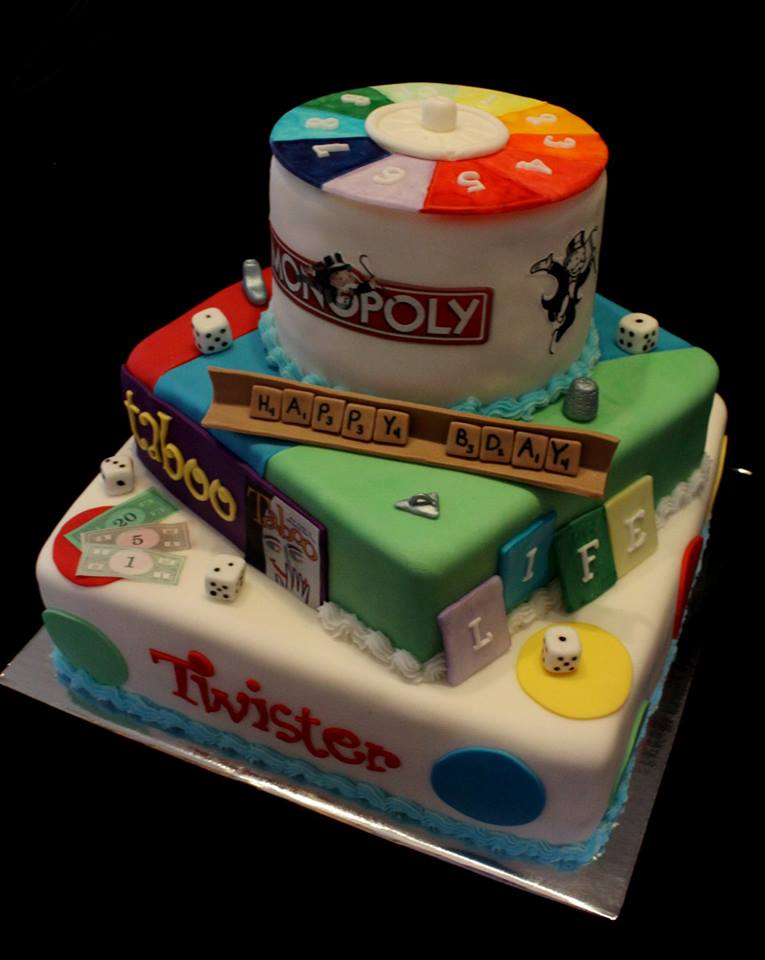 Photo via Jewell'd Cakes
Stack of board games cake:
Can't decide which game to play? Maybe this stack will inspire you! Twister, Taboo, The Game of Life, plus more Scrabble and Monopoly — there's something for even the grumpiest family member to enjoy here. A clever combination of edible images, handwriting and letter cutters are used to bring this cake to life. Piped buttercream borders neaten everything up, and The Game of Life spinner makes a colorful topper!
[box type="shadow"]Get Your Game On
[/box]
Do you have a favorite game and a favorite game-night snack to go along with it?