Cakes piped blue! Cakes these days are going through a blue period — depressed cakes? No way! We're talking about cakes featuring beautiful shades of cobalt blue, muted grey blue, robin's egg blue, pale sky blue and more, all done up with buttercream, fondant, sugar flowers and piping.
Dive right into this delicious roundup of brilliant blue cakes.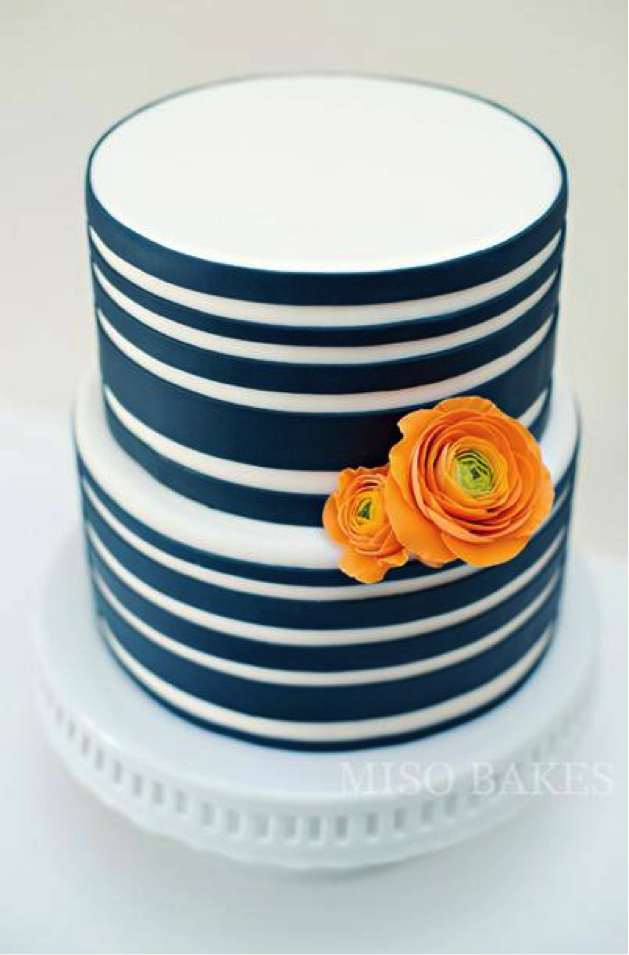 Photo via Miso Bakes
Modern navy striped fondant cake:
I love the work of Miso Bakes! She has a modern and chic style that's clean and bright with beautiful pops of color. This clean and simple fondant navy horizontal striped cake is a perfect example. I love the contrast of the masculine dark navy and the feminine ruffled bright orange ranunculus gum paste flowers.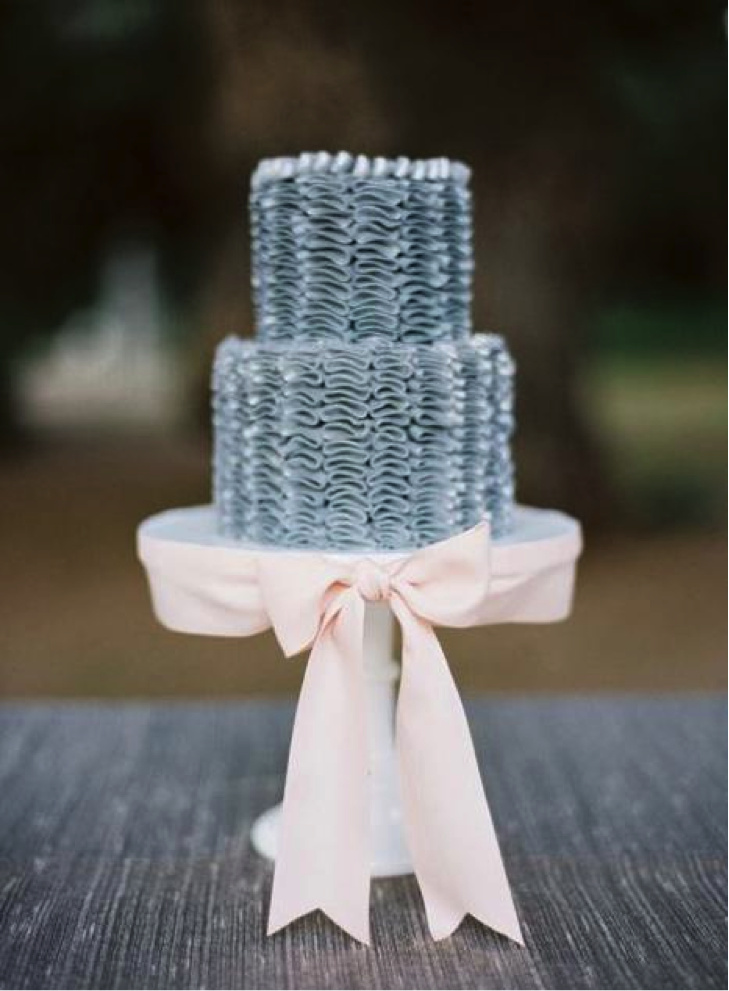 Photo via Sweet & Saucy Shop
Romantic cornflower blue ruffle cake:
The dusky gray blue cascading buttercream ruffles take the "masculine" out of the color blue, leaning it more toward the romantic! Sweet & Saucy Shop created this two-tiered, piped buttercream cake and tied it all up with a pretty pale pink bow for a dash of daintiness.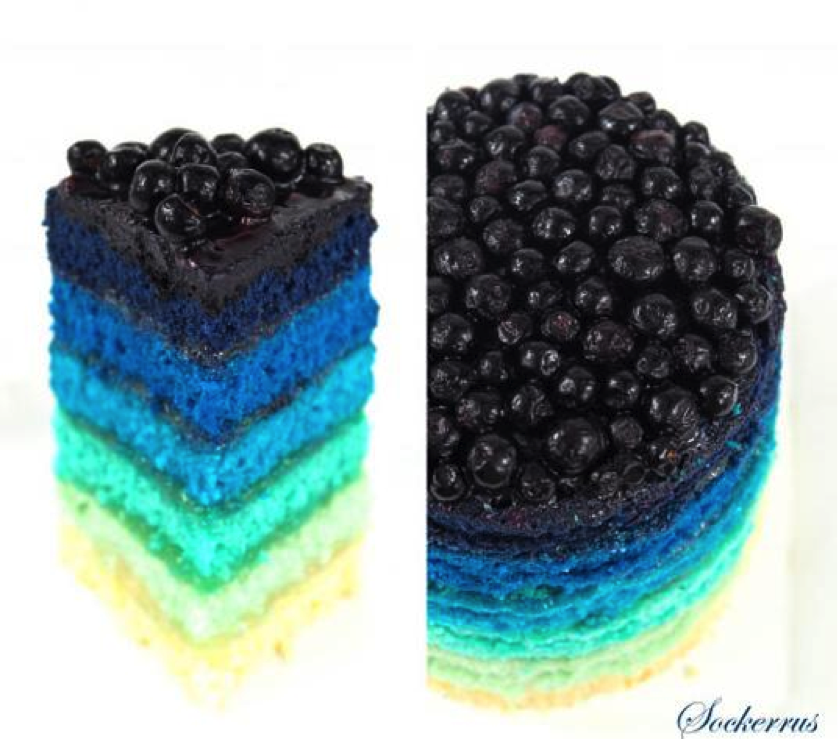 Photo via Sockerrus
How stunning is this exceptional blue ombré cake topped with fresh blueberries by Sweden's Sockerrus? (Psst… The name means Sugar Rush.) I love the vibrant blue cake layers — aren't the colors spectacular? I am liking the "naked look" trend of cakes, too – no icing on the sides – why hide those gorgeously colored layers when they play such a huge role in the design and look of the cake? The cake itself is a "white velvet" cake with lemon curd filling, and of course a big old batch of blueberries to top it all off. Visit here to view the full recipe!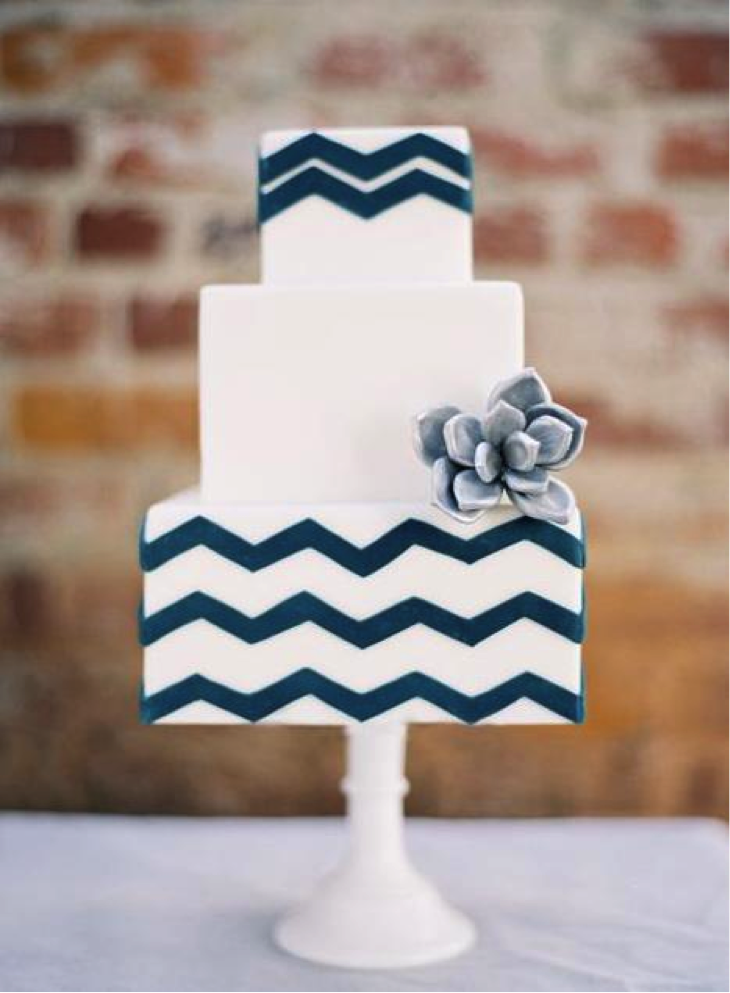 Photo via Sweet & Saucy Shop
Modern chevron cake with succulent detail:
Sweet & Saucy Shop has such a signature look: clean and beautiful, not overly designed, and encompassing today's most modern cake styles. This modern chevron cake is no exception. Three square tiers featuring two favorite cake looks of the moment: chevron pattern and succulent cactus. The middle tier is pure white, giving the chevron pattern room to breathe.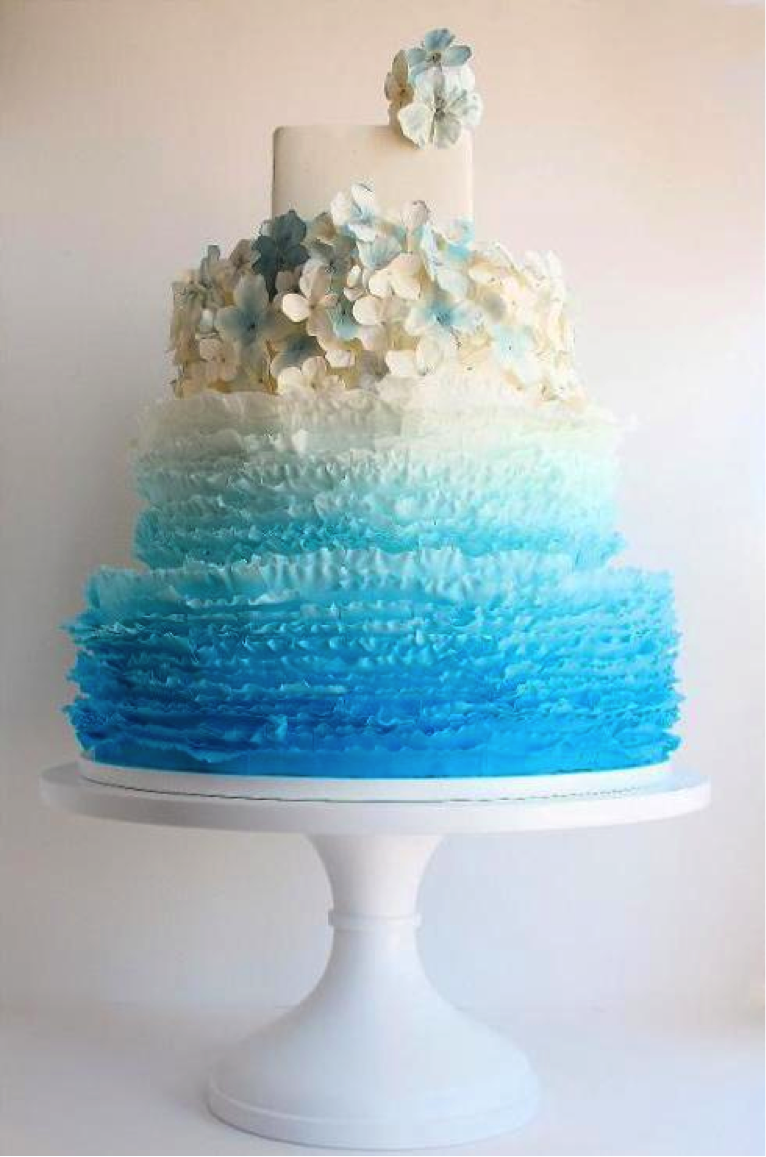 Photo via Maggie Austin Cake
Perfect frill blue ombré cake:
The purveyor of beautiful fondant frills, Maggie Austin, nails it with this impossibly delicate ombré frilled and tiered cake. I love the sugar blossoms lightly shaded with pale petal dust. You can learn this highly revered and oft-replicated technique through Bluprint's very own online class, taught by Maggie: Fondant Frills.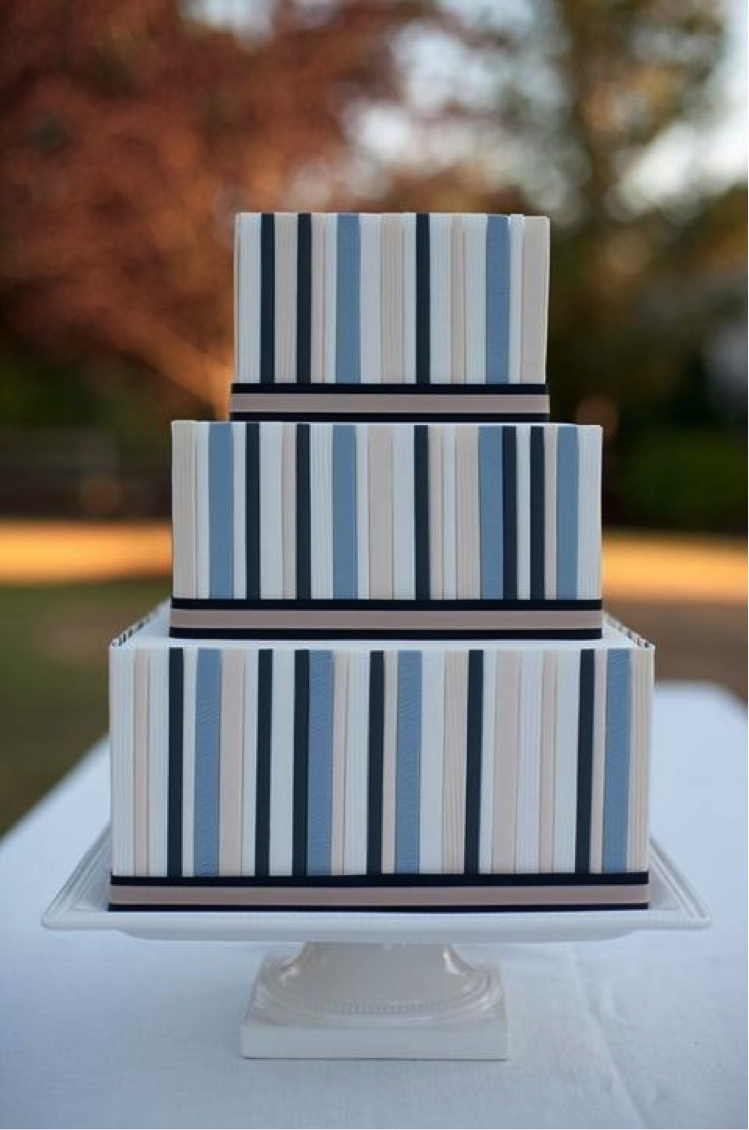 Photo via AK Cake Design
Bold and modern blue vertical striped cake:
This three tiered square cake by AK Cake Design knows a thing or two about being eye-catching! I love the bold vertical striped blue, white and pale pink patterned fondant tiers, making it a modern masculine cake with just a touch of pink. The finishing ribbon provides a nice contrast, too, breaking up the vertical lines of the fondant stripes.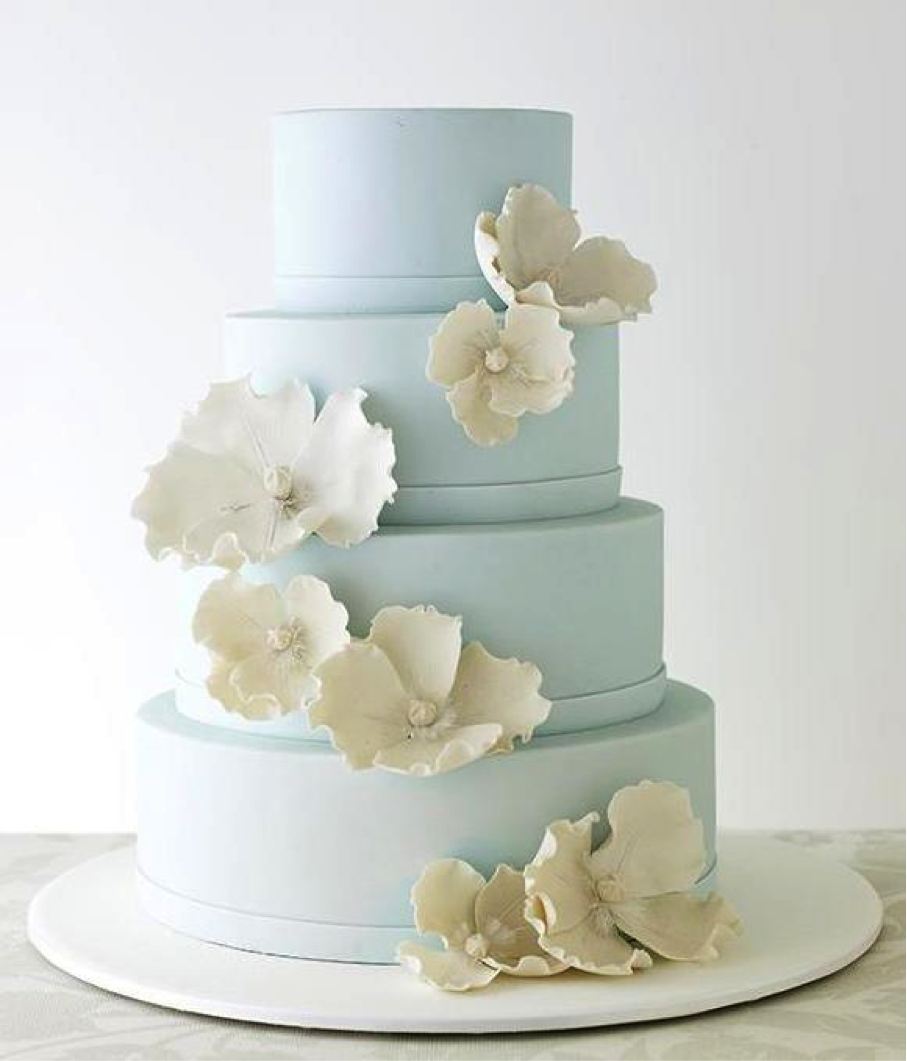 Photo via Sweet Art Cakes
Pale robin's egg blue with white sugar poppies cake:
This cake color would look beautiful at any baby shower. The loveliest shade of robin's egg blue, adorned with an array of curled white gum paste poppies in balance as they climb up this simple and modern yet classic-looking wedding cake.
Do these beautiful blue confections have you tickled pink? You'll also love our roundup of perfectly pink themed cakes!
Feeling blue, and wishing you could create gorgeous treats similar to this collection? Begin with the FREE mini-class Basic Fondant Techniques.