From cartoon cuties to realistic and sharp-toothed, there are beautiful bear cakes everywhere! Here there's one to cuddle and one to fear, but we cake eaters will have the last laugh with our forks and plates in hand. Off to the forest we go…
Photo via Simply Perfection Cakes
Hairy Scary Bear Cake:
I am hairy bear, hear me roar! This awesome bear head "trophy" cake was created by Simply Perfection Cakes using oodles of chocolate buttercream and fondant for the mouth, ears, nose and eyes. They did a terrific job in piping matted and thick fur, using various directions to create a 3D quality to the eyes and muzzle. Pretty sure I wouldn't want to run into this bear on a walk in the woods.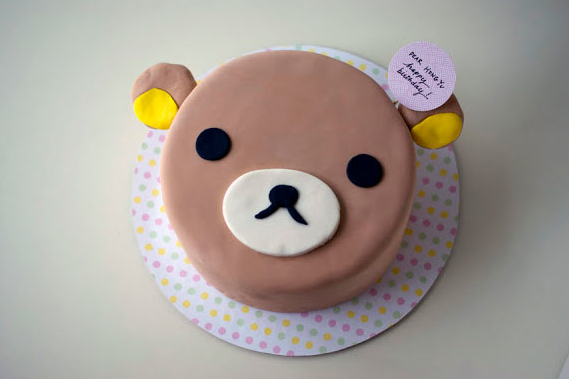 Photo via Coco Cake Land
Cute and Simple Brown Bear Face Cake:
On the opposite end of the bear cake spectrum, we have the simple and cartoon-like bear face cake, made for a birthday party! The cake is covered in fondant with fondant eyes, nose and mouth. The ears are held in using food safe wooden BBQ skewers. This cake gets a jazzed up treatment with its cake board too, created by tracing a polka dot piece of heavy weight craft paper and gluing to a regular white cake board.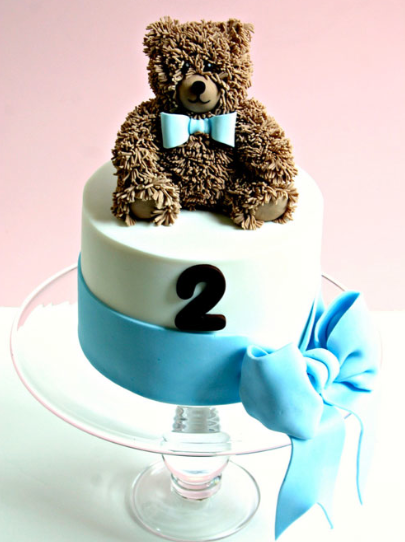 Photo via Leslea Matsis Cakes
Teddy Bear Topper Birthday Cake:
I love how positively soft and furry this teddy bear cake topper looks, piped perfectly in buttercream with a baby blue fondant bow. The big numeral two and creased matching bow border adds a simple and finishing touch to this adorable 2nd birthday cake.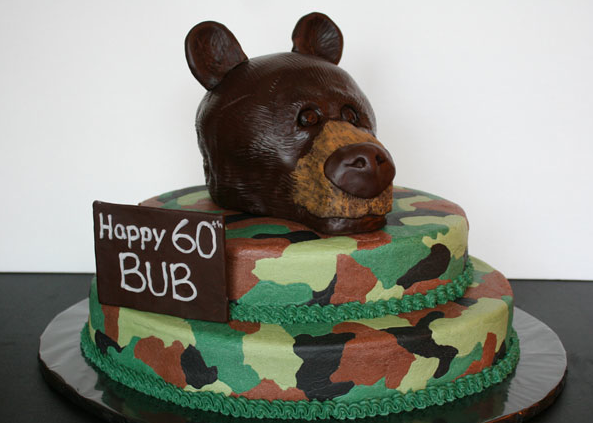 Photo via Kira
Hunting Enthusiast's Bear Head Cake:
This is a nice way for a hunter to have his/her bear head souvenir without actually killing a bear. Have to love the cake form! No animals killed, and yummy cake for everyone. This hunting themed cake cleverly uses camouflage fondant to cover the two cake tiers.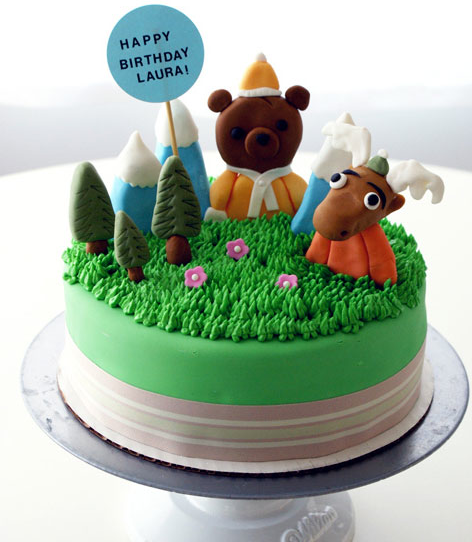 Photo via Coco Cake Land
Forest Friends Cake:
See? No one wants to kill a bear, they are just friendly cartoon faced guys wearing a knit hat and matching sweater, cruising the forest with their moose pal! Okay, so that's not entirely true. But with cake you can surely make anything you like. This forest fun cake features vanilla buttercream piped "grass" and fondant mountains and evergreen trees. All of the fondant details on top are secured into the cake using food safe wooden skewers.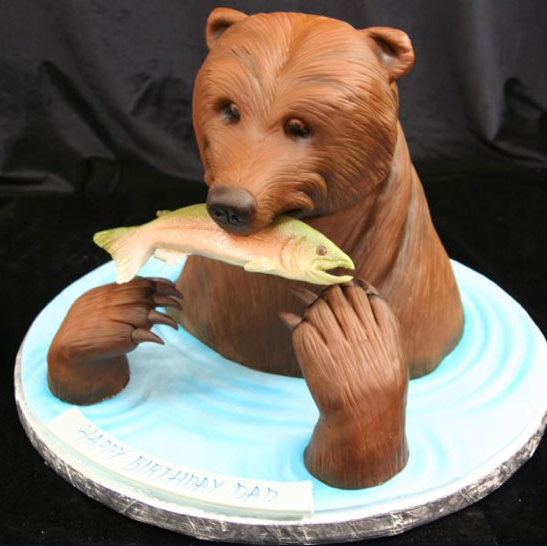 Photo via Mike's Amazing Cakes
Shocked He Caught A Salmon Cake:
The looks on both the bear's face and the poor salmon's face are rather priceless; one guy seems surprised this fish magically popped into his mouth and the other… well, it's a look of "Oh nooooo!" This amazing cake was created by the master cake artist Mike. Love the playfulness of this cake, and the use of the viewer's imagination. The fondant cake board is made to look like pooling water with the bear's claws and head popping out. Beyond the incredible cake sculpting is the textured fur and shades of brown.
Dare to bear your best cake making skills – the creator of the above bear cake, Mike, is one of our very own mega talented online cake class instructors! Learn to make an awesome bobblehead bear in Mike's class Advanced Cake Sculpting with Mike McCarey.