Did you know the Discovery Channel's Shark Week kicks off today?! Let's celebrate one of everyone's favorite weeks of summer with a slightly menacing cake pop — it's the perfect (human) bite-sized treat!
If you're a beach bum, don't fear, you won't be in any kind of danger making these shark beach cake pops. When you learn how to make these unique self standing beach-themed cake pops, the only jaws you'll be fighting are those belonging to your guests!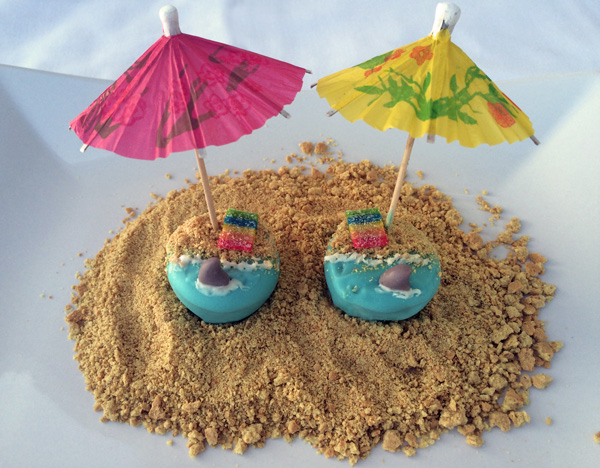 Start a feeding frenzy with these dangerously delightful shark on the shore cake pops!
The only thing you'll find lurking in the blue is some delicious cake! Grab your courage, flip-flops, beach towel and meet me in the kitchen!
You'll need:
Cake pop dough
Paper umbrella toothpicks
Light blue candy wafers
White candy wafers
Black candy wafers
Crushed graham crackers
Starburst candy
Flat sour candy belts
Toothpicks
Wax paper
Ziplock baggies
Paper towels
Styrofoam block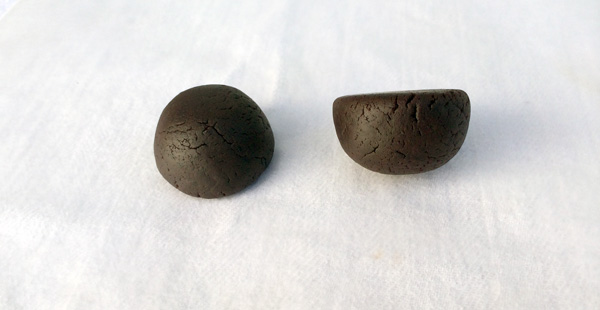 Step 1
Line your work surface with wax paper.
Roll cake pop dough portions into a ball and carefully press it down onto your work space and shape to create a half sphere. Refrigerate.
If you're not familiar with shaping cake pops, or need a refresher, here's my guide to shaping perfect cake pops.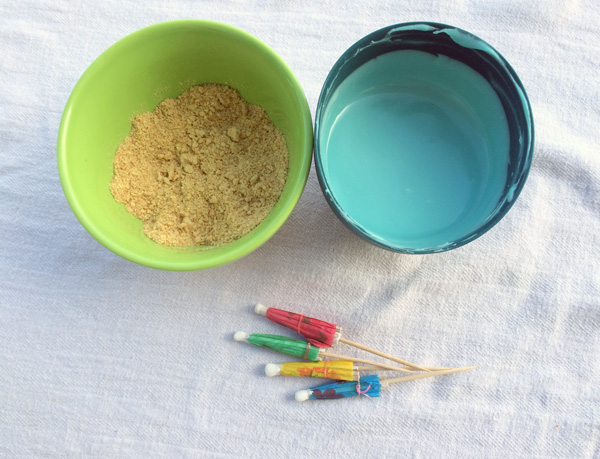 Step 2
Gather and prep your materials. Today we're making these cake pops as freestanding pieces. We will be using the umbrella-picks as the only stick used to dip these cake pops. Feel free to modify and use regular sticks to the bottom of the half sphere, like you would in the regular cake pop making process, if you wish.
Melt the light blue candy wafers. Refer to this tutorial on melting candy coating and dipping cake pops if you need help with this process.
We'll be using crushed graham crackers for the "sand." Ground almonds work great for this too! Get the sand ready and place it in a bowl near by.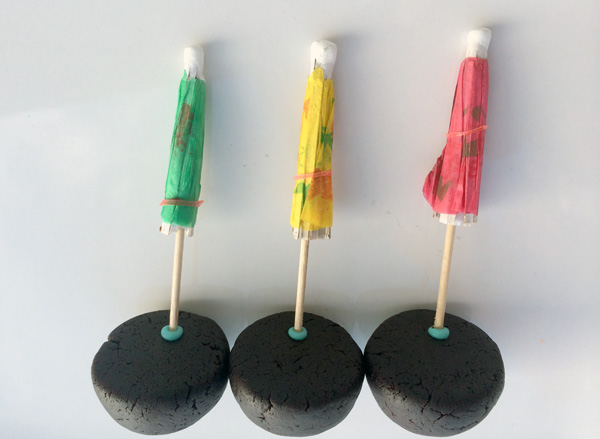 Step 3
Remove cake from the fridge and line a space with wax paper. Dip ⅓-inch of the umbrella picks into the blue candy coating and insert into the half sphere at an angle and off center, about ½-inch deep. Repeat with the remaining pieces. Let sit at room temperature for 5 minutes to take the chill off and set the umbrella-picks in place.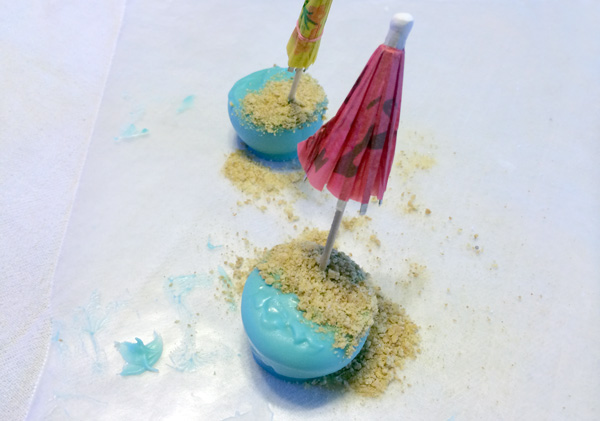 Step 4
Next, carefully dip the cake pops in the light blue coating. Hold at an angle to let the excess drip off making sure not to wiggle it much. Carefully sprinkle crushed graham crackers over the top, about 1/2 of the cake pop, making sure to sprinkle sand on the same side where the umbrella is located.
Carefully place it onto the wax paper to dry and set completely. Use a toothpick to give some texture to the water. What's great about this is you don't have to worry about dipping them perfectly. The more texture you have on the water, the better!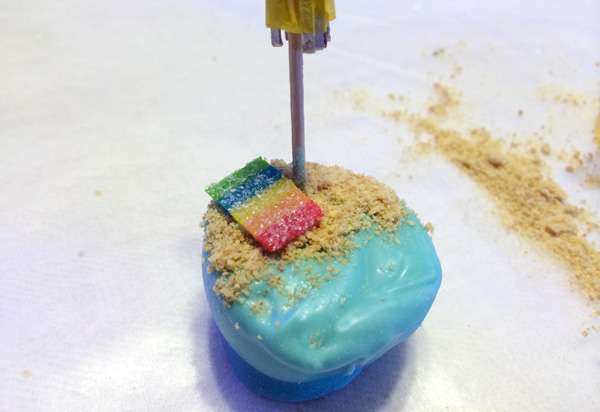 Step 5
Use scissors to cut pieces of a sour belt to place on the sand. Adhere this onto the cake pop by dabbing light blue candy coating on the sand and carefully pressing the sour belt "towel" onto that spot.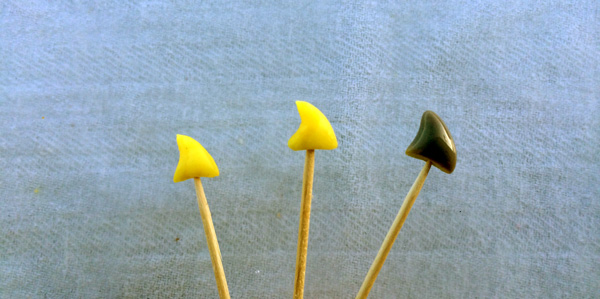 Step 6
Next, we'll be shaping shark fins out of Starburst candies. Cut each square into 12 pieces. Warm each piece with your hands. Press and mold them with your fingers.
Melt a small handful of white coating. Set a couple of tablespoons aside into a ziplock baggie — will use this for adding detail at the very end. To start, add 1 or 2 black wafers into the bowl of melted white coating, stir. Reheat for a few seconds if needed to melt completely. Mix to achieve a gray color. Add only one black wafer at a time until you've achieved the gray color you like.
Attach toothpick into the base of each shark fin. Dip into the gray coating, but don't dip the base area, and stick the toothpick into the styrofoam block to dry.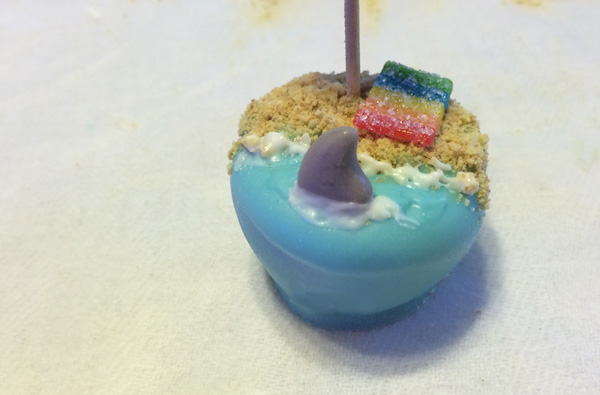 Step 7
Carefully remove the shark fins from the toothpicks. Dip only the base in the gray coating and adhere it onto the blue area of the cake pop.
Using the ziplock baggie as a piping bag, dab white coating where the sand meets the water to mimic whitewash along the shore. Dab white coating around the shark fin and a little trail behind the fin to look like it's moving. You can use a toothpick to create additional texture if desired.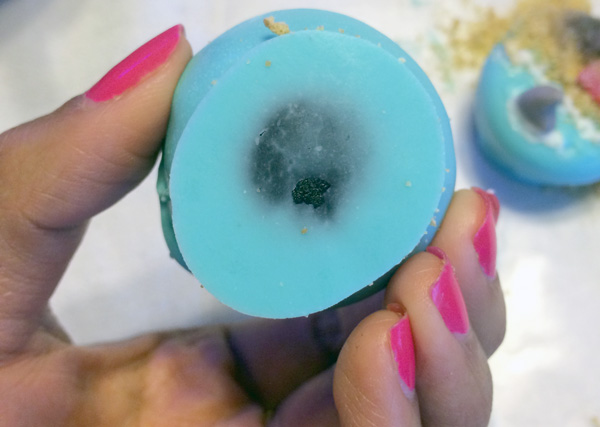 Step 8
You may have noticed that some of your cake pops have cracks on the bottom where it was placed on the wax paper to dry. If you do have cracks and oil is oozing from them, just sit them on paper towels for a few minutes. It will stop oozing and the paper towel will absorb it all. If you so desire, dab light blue candy coating on the cracked area to fix and place on the wax paper to dry.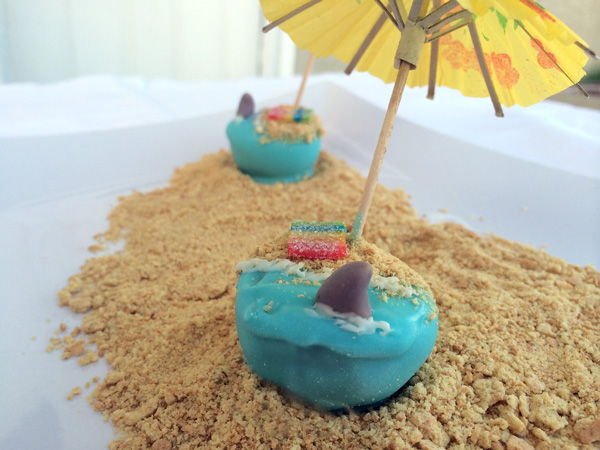 Finally, enjoy! Display your shark beach cake pops over some extra crushed graham crackers and cue the Jaws theme song!