Jumping into the world of cake decorating can be exciting and overwhelming. There are so many fun ideas, tools, cutters and classes to choose from, which can make getting started more than a little daunting.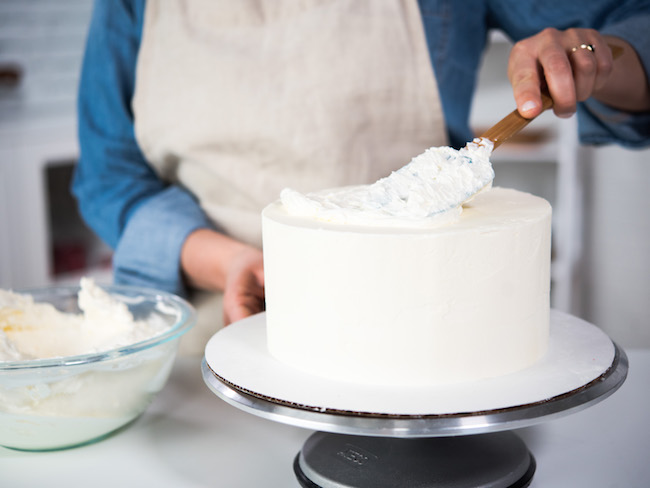 To help, we've put together a list of 11 essential pieces of basic cake decorating equipment.
If you're just starting out, these are the first tools you should invest in — you might even already have some of them at home!
1. Cake pans
True professional cake pans are key to making beautiful cakes. Professional cake pans have straight sides instead of slanted. This helps to keep the sides of your cake straight after it is stacked, reducing or eliminating the need to carve down the edges to get perfectly even sides.
2. Parchment paper
Meet your new best friend! Parchment paper can be used for many things, including cutting circles and placing them in the bottom or cake pans for a perfect release every time. When you flip over your cake to release it from the pan, have a piece of parchment to set it on while you cut off the top and torte your cake. The parchment paper will catch the mess, making a super easy cleanup for you!
It is also very useful to place your cakes on large pieces of parchment paper when covering them in fondant so the fondant does not stick to your surface and cause tearing. Once your cake is covered in fondant, place it on a new piece of parchment to make it easier to move around the table.
Note: Parchment paper is not the same as wax paper and they are not interchangeable in baking. Do not put wax paper in the oven or it will smoke up your house.
3. Sharp knife/X-Acto blade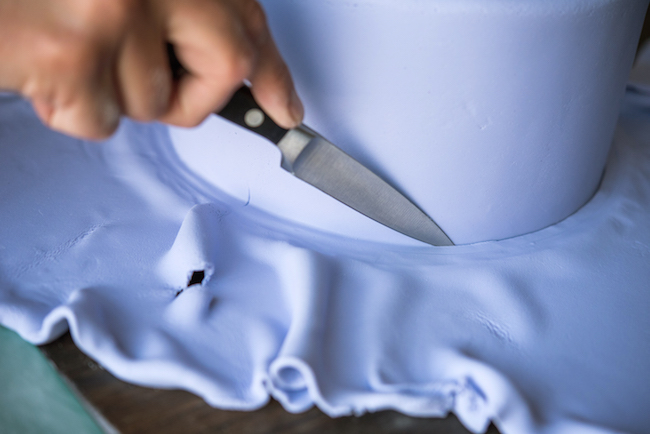 Use a knife to help release your cakes from pans by running the blade around the edge, with parchment paper in the bottom, it should fall right out when you flip it over.
Clean, sharp knives are also very useful when working with fondant. Use them to cut shapes, stripes and to add detail. X-Acto knives are perfect when you need precise or smooth lines.
Note: Knives, especially X-Acto knives, will cut right through silicone mats, so be careful where you use them.
4. Cake boards/drums
Every cake needs its own cake board. These give stability and strength to cakes and holds them together. For large cakes, it's best to use a cake drum, which is three cake boards that have been glued and pressed together, then covered in foil. 
5. Off-set spatula and/or bench scraper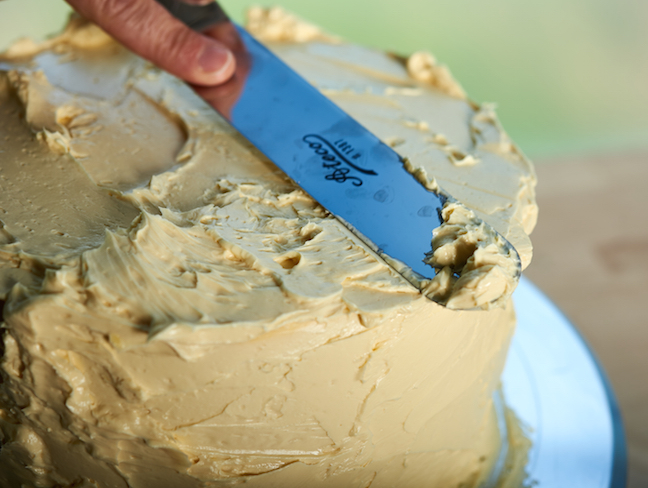 To achieve a beautiful, clean crumb coat and final coat, these two tools will make your work much easier. Spread your buttercream icing using the offset spatula. Once you have a thick coat of icing, smooth it out using a bench scraper.
6. Turntable or lazy Susan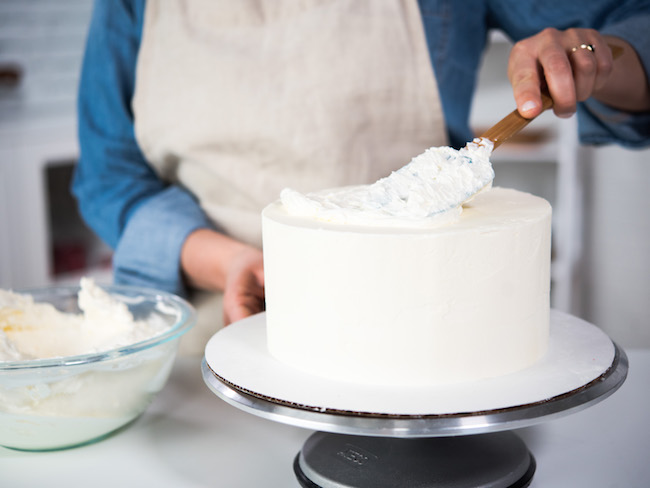 Cakes and turntables are inseparable. To decorate a cake without a turntable is frustrating and almost impossible. You will use a turntable to torte, fill, crumb coat and decorate your cake.
7. Shortening
Air is the enemy of fondant, so you want to keep it covered at all times. Even leaving fondant out for a few minutes can cause it to dry out and crust, making it form elephant skin and tear easily. Shortening is fondant's best friend. When fondant starts to become dry, add a small amount of shortening to the fondant to condition it and make it workable again.
Note: Do not use water — it will melt fondant, making it sticky and unusable.
8. Powdered sugar or cornstarch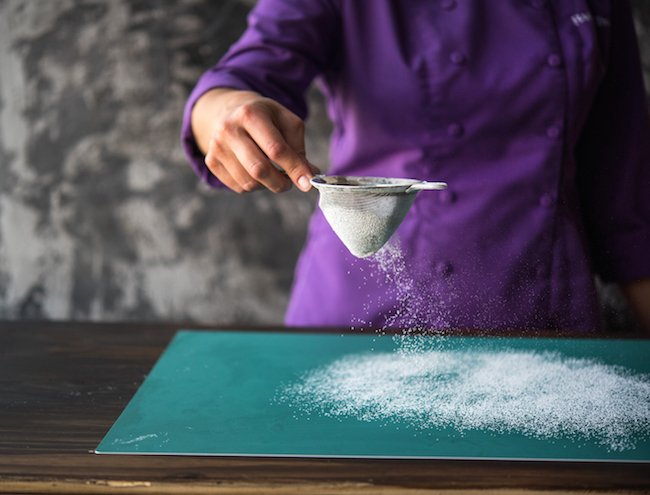 Fondant is very sticky, especially when you are rolling it out to cover a cake. It is best to use powdered sugar or cornstarch on the surface to keep the fondant from sticking. The choice is yours, but whichever you choose, it's best to keep it in a shaker to disperse it evenly while rolling out fondant.
9. Large and small fondant rollers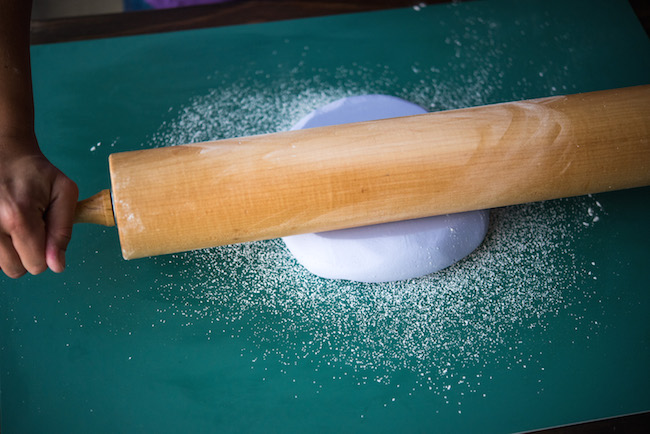 If you have a really good rolling pin at home, you can absolutely use that to roll out fondant. Just keep in mind that if it has handles, it may not be quite strong enough to roll the fondant thin enough. You also want a fairly long rolling pin if you plan to cover cakes in fondant.
At some point, you may want to upgrade to plastic or silicone fondant rollers, which usually come in two sizes. Small rollers are used for rolling out just enough fondant for decorations, and large rollers are for rolling out enough fondant to cover an entire cake.
10. Fondant smoothers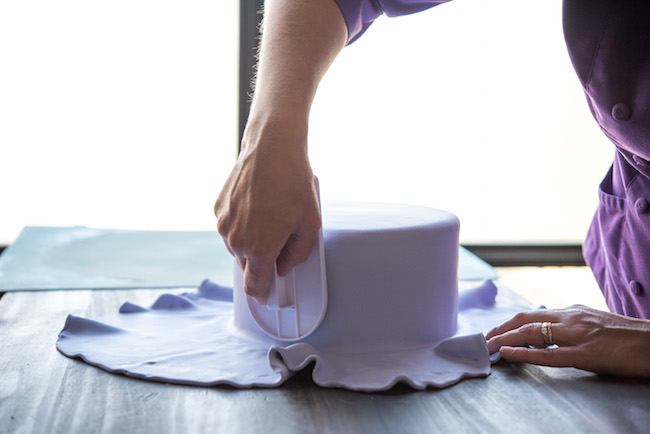 Fondant smoothers are incredibly useful when covering a cake in fondant. They help smooth the fondant onto the cake and help to release air bubbles from under the fondant. If you can only buy a few new tools, these are the ones to buy, and having two is very useful.
11. Paintbrushes
These are perfect for adding a tiny amount of water or sugar glue to adhere fondant decorations.
To make sugar glue, simply place a small piece of fondant into a bowl and add a few drops of water, let it sit for about 10 minutes, stir and you have sugar glue.
A little goes a long way, so use sparingly.
What is your No. 1 go-to cake decorating tool?
Get more tips and see classes for cake decorating beginners here!
Get Quality Cake Tools and Equipment, Fast!
Find the best baking and cake decorating equipment for your next project, at the right price, right here on Bluprint.Shop cake essentials now »