Are you a seasoned bag maker looking for your next tote project or a novice sewer toying with the idea of making your own purse? In either case, one of these four bag sewing kits from Green Bee Patterns is your perfect next project — you will have a stylish new bag in no time!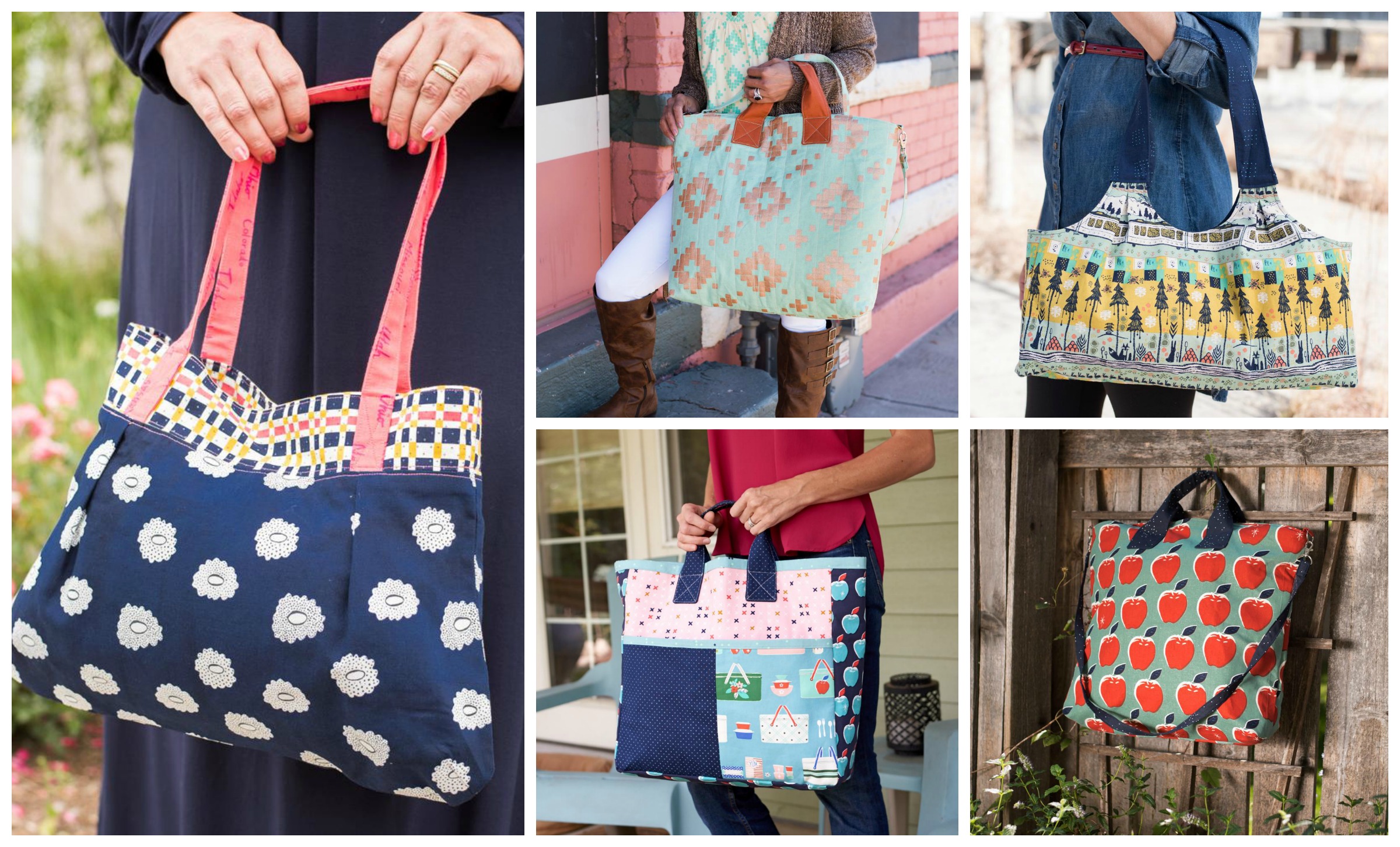 Green Bee Patterns

is an indie pattern company comprised of the talented mother-daughter team of Michelle and Alexia Marcelle Abegg (who is also one of the designers of the outrageously popular Cotton + Steel fabric line). These bag patterns offer classic yet fashionable pieces ideal for everyday use. Each bag kit shown below conveniently comes with a pattern as well as enough fabric in a variety of prints to sew one bag.
Which Green Bee Pattern bag design is your favorite?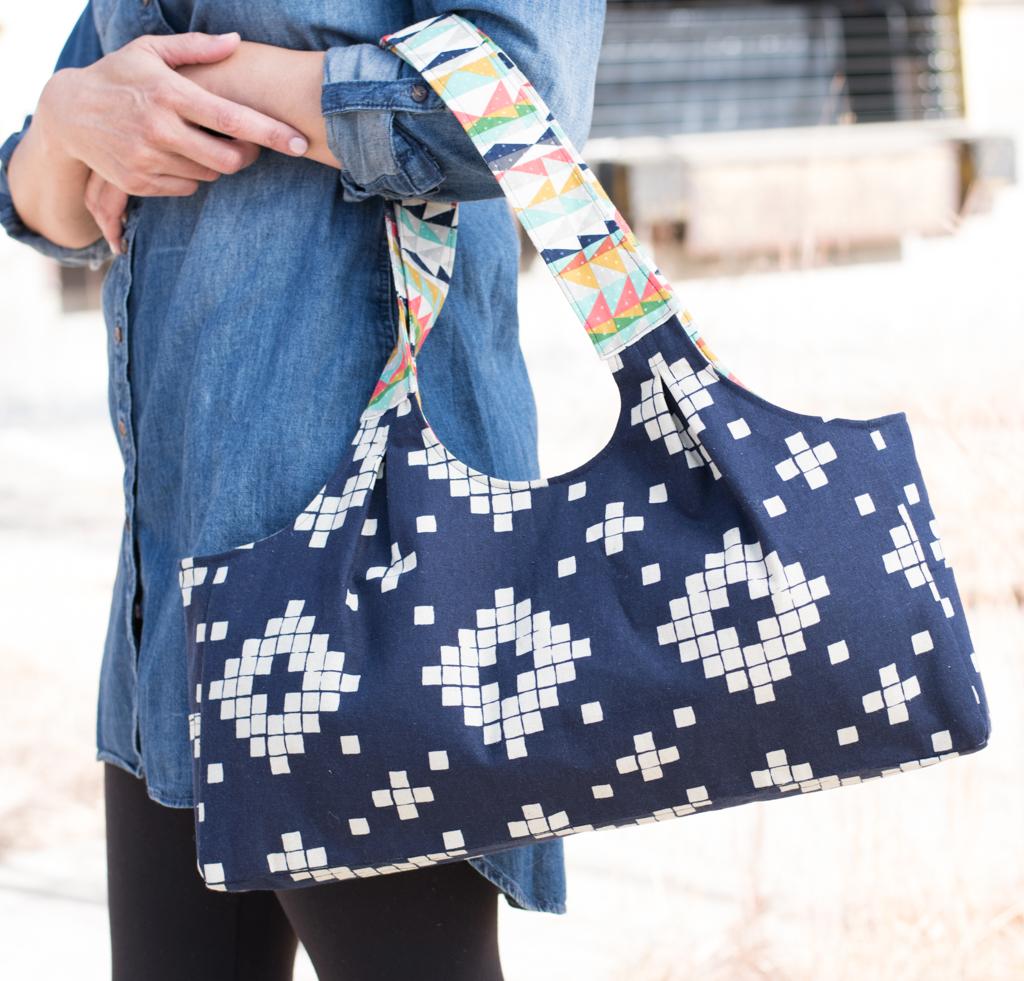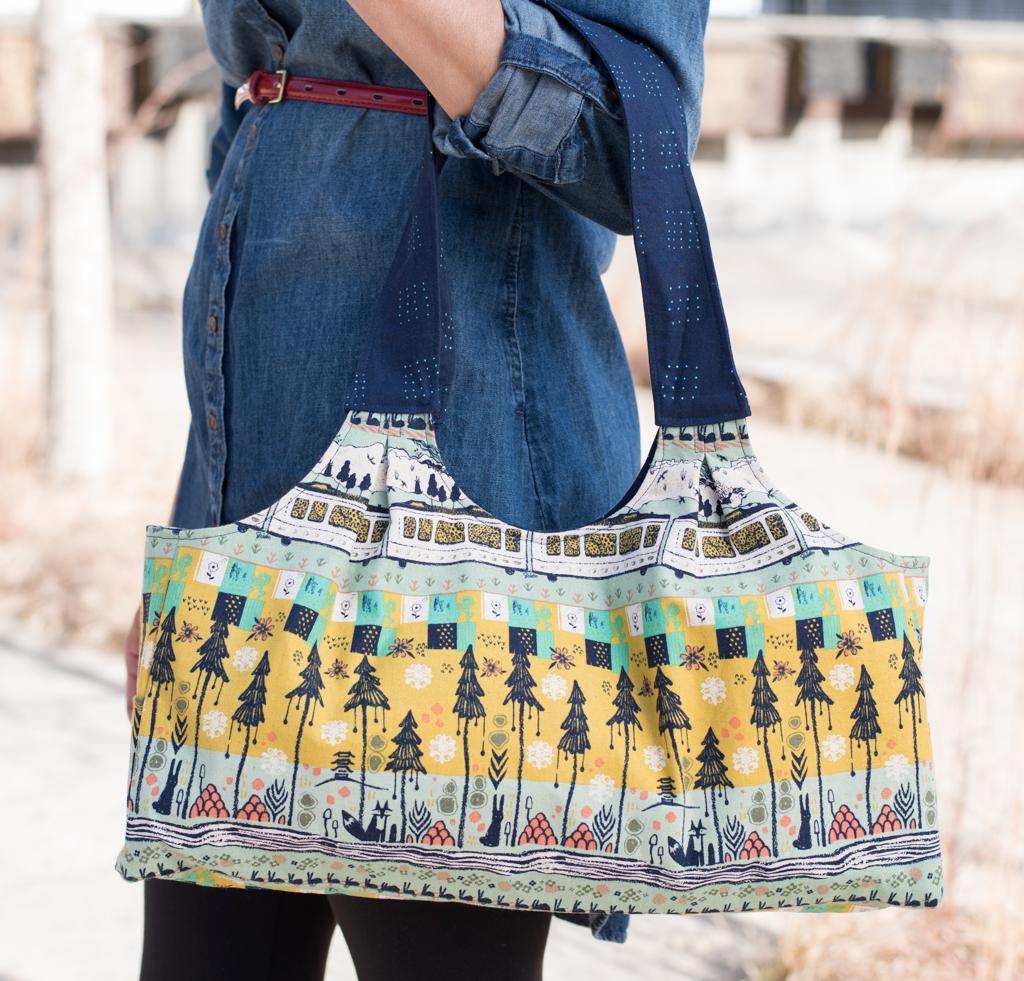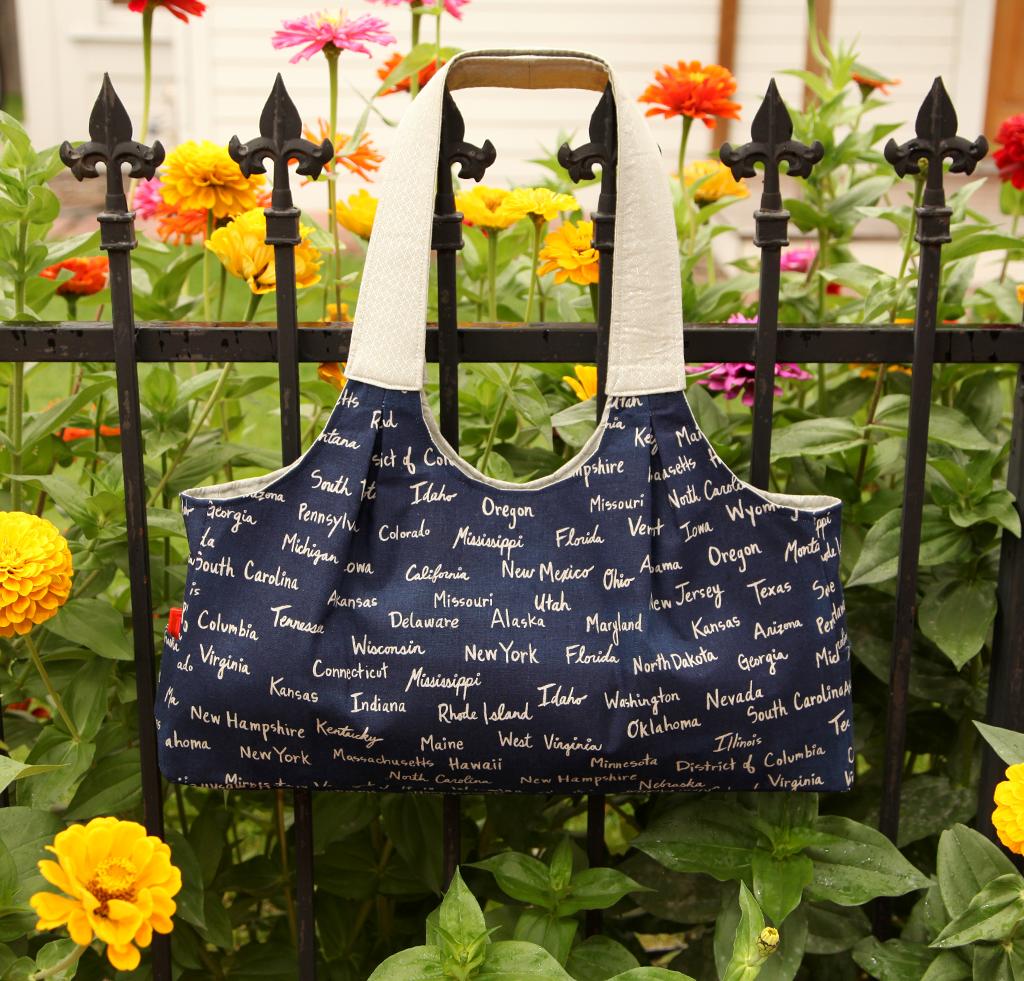 1. Scoop Tote Kit
For the perfect everyday bag, the Scoop Tote is the way to go! This beginner-friendly design provides tons of storage with a finished size of 13″ tall (excluding handles) x 18″ wide x 3″ thick. The scalloped "scoop" details along the top edges of the bag and the box pleats just beneath the handles add a professional touch to the overall look. Plus, the Scoop Tote pattern offers two handle lengths (18″ or 22″ long), making it a comfortable shoulder bag for anyone.
Two very useful features of the Scoop Tote bag include the narrow side pockets (ideal for a cell phone or glasses) and the spacious interior slip pocket. The bottom of the bag can be reinforced with additional interfacing or template plastic to create a more structured bag. To see more pictures of my finished Scoop Tote bag, visit my blog, sewVery.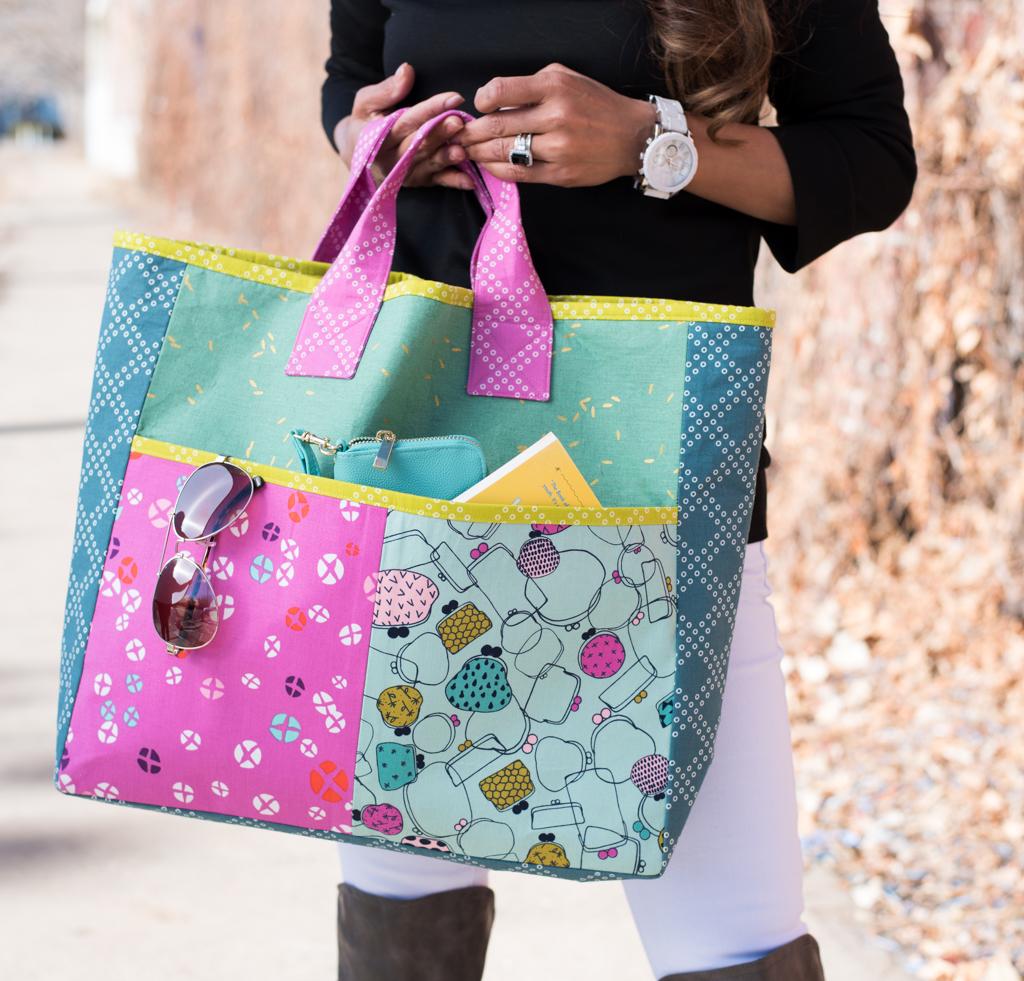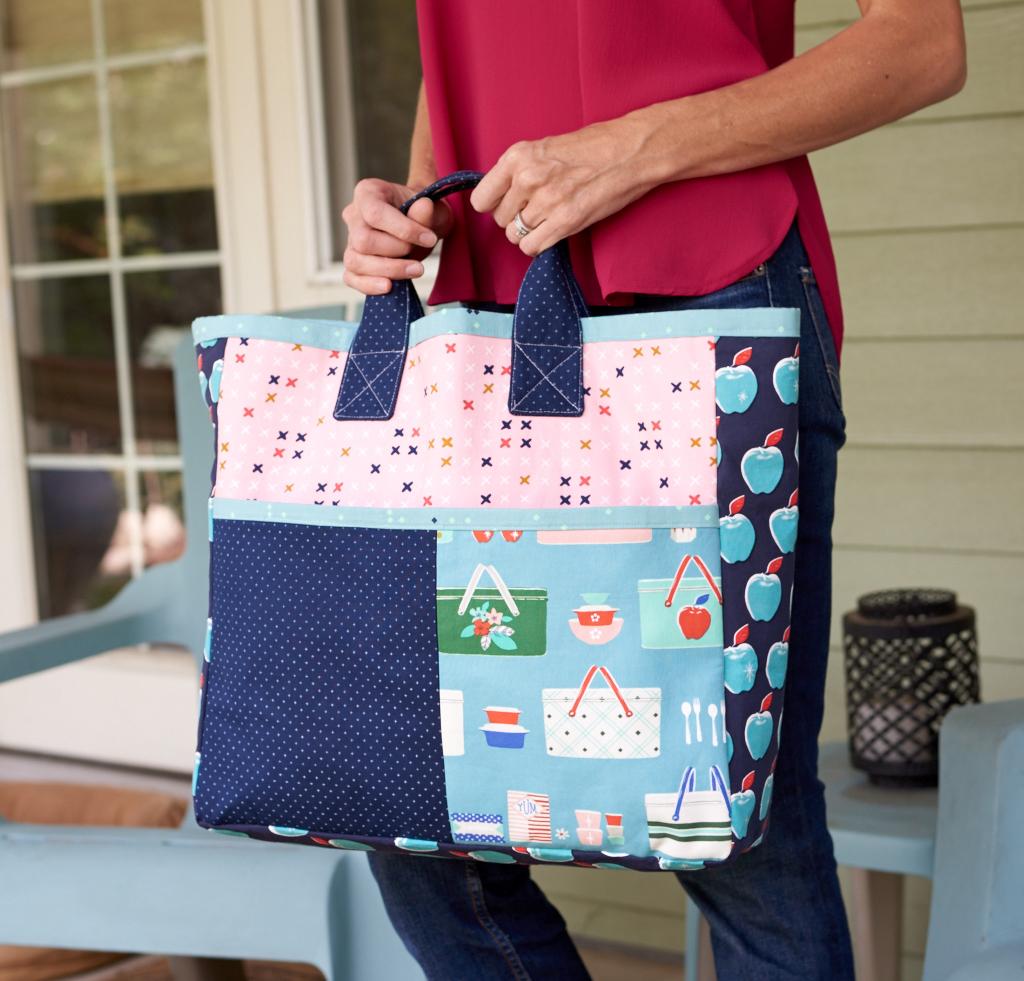 Get the kit »
2. The Boxcar Tote
Looking for that perfect carry-all tote? The Boxcar Tote can handle it all! This 16.5″ tall x 15″ wide x 5″ thick tote has storage galore with the generous exterior slip pocket as well as the large interior slip pocket. This particular kit uses a simple patchwork design to showcase a mix of C+S canvas and cotton fabrics. The folded fabric handles make this bag comfortable to carry no matter how full it may be. 
This Boxcar Tote kit comes in two colorways: One includes the fun, whimsical Picnic collection prints from the C+S line by Melody Miller and the second features a mix of bold, bright C+S fabrics. Either option is perfect for a picnic in the park, as a sewing or knitting bag or as a casual, everyday purse!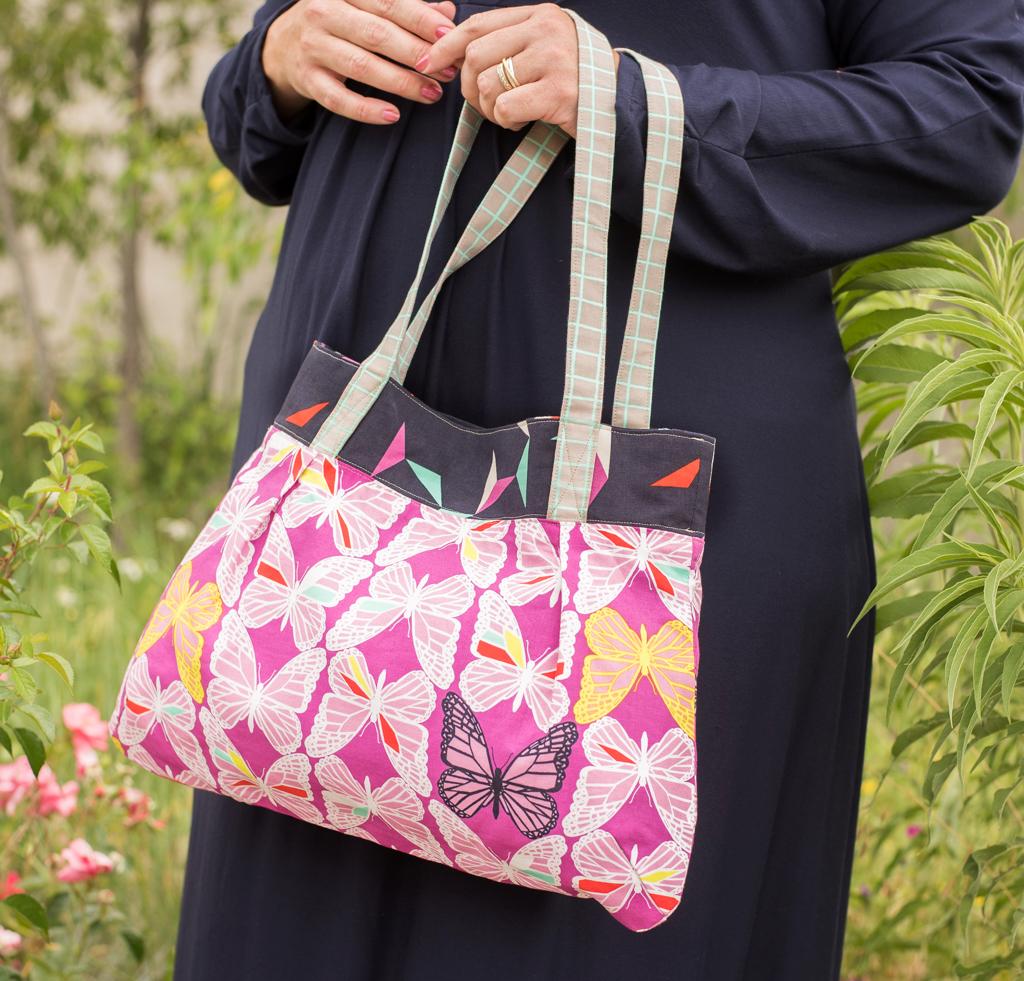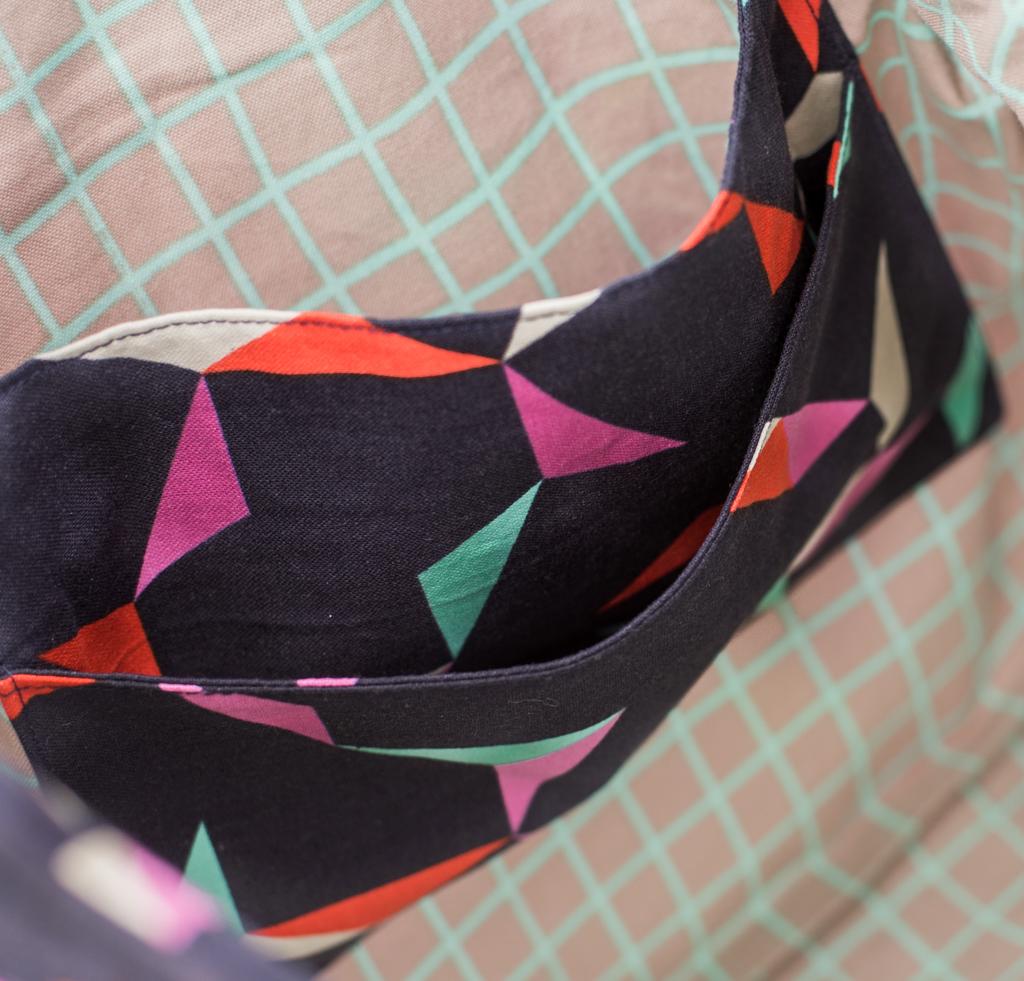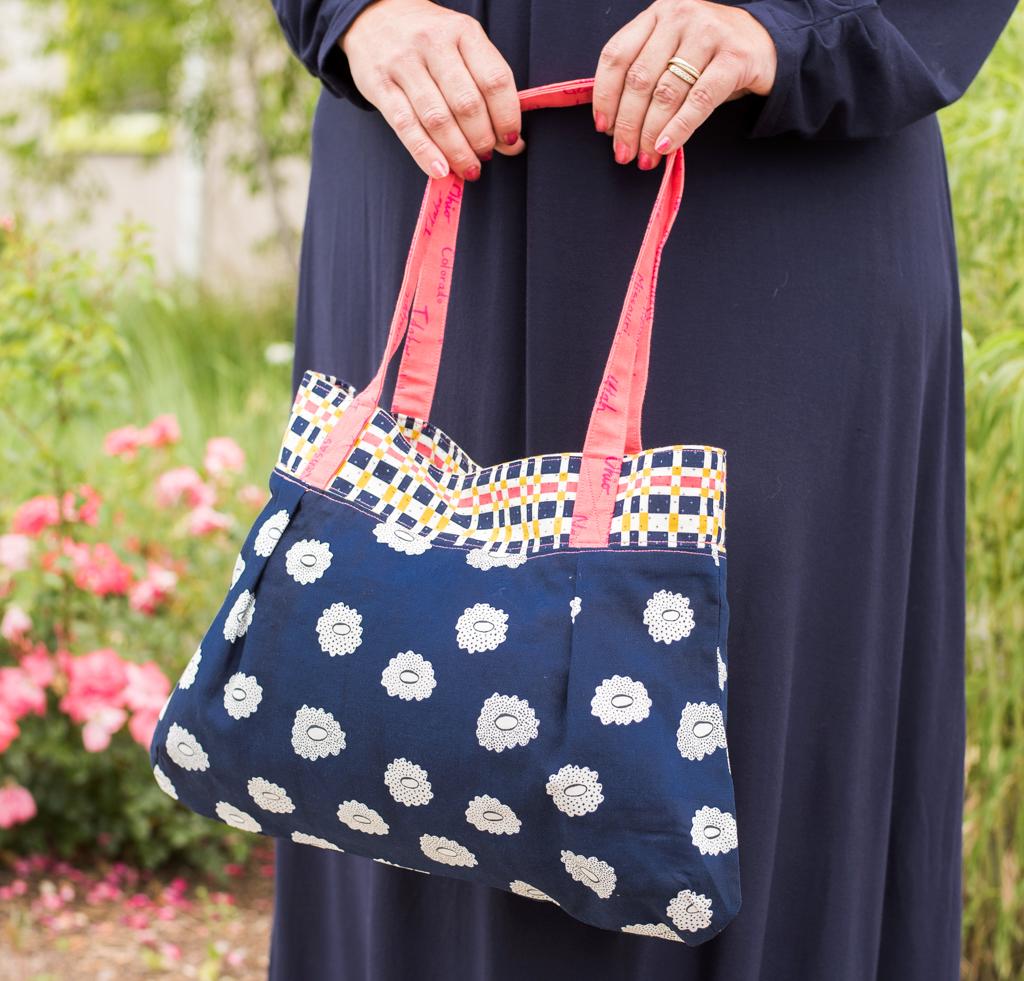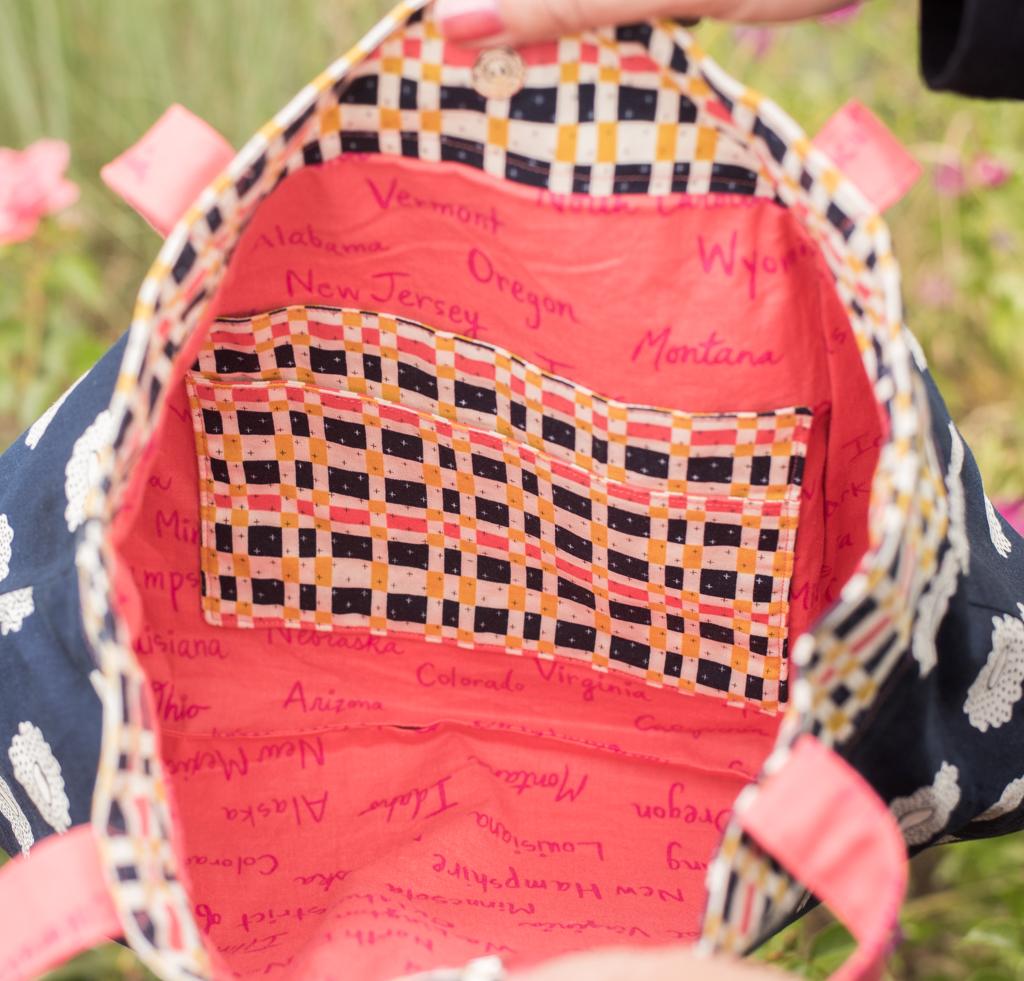 3. Vera Bag
The Vera Bag is a traditional handbag or purse that is stylishly designed and perfect for everyday use. With a finished size of 13″ tall x 18″ wide and a 24½" long strap length, you'll have ample space for carrying a wallet, phone and all the essentials you normally find in a purse.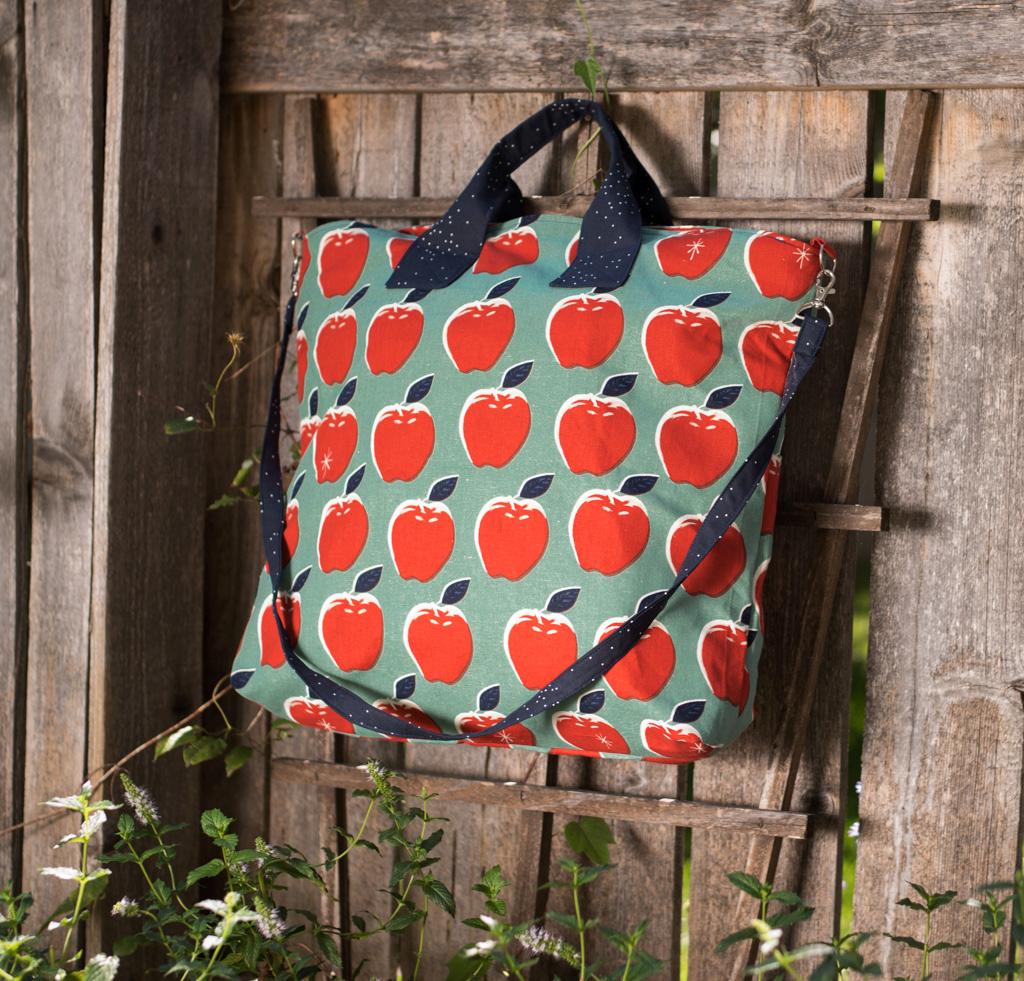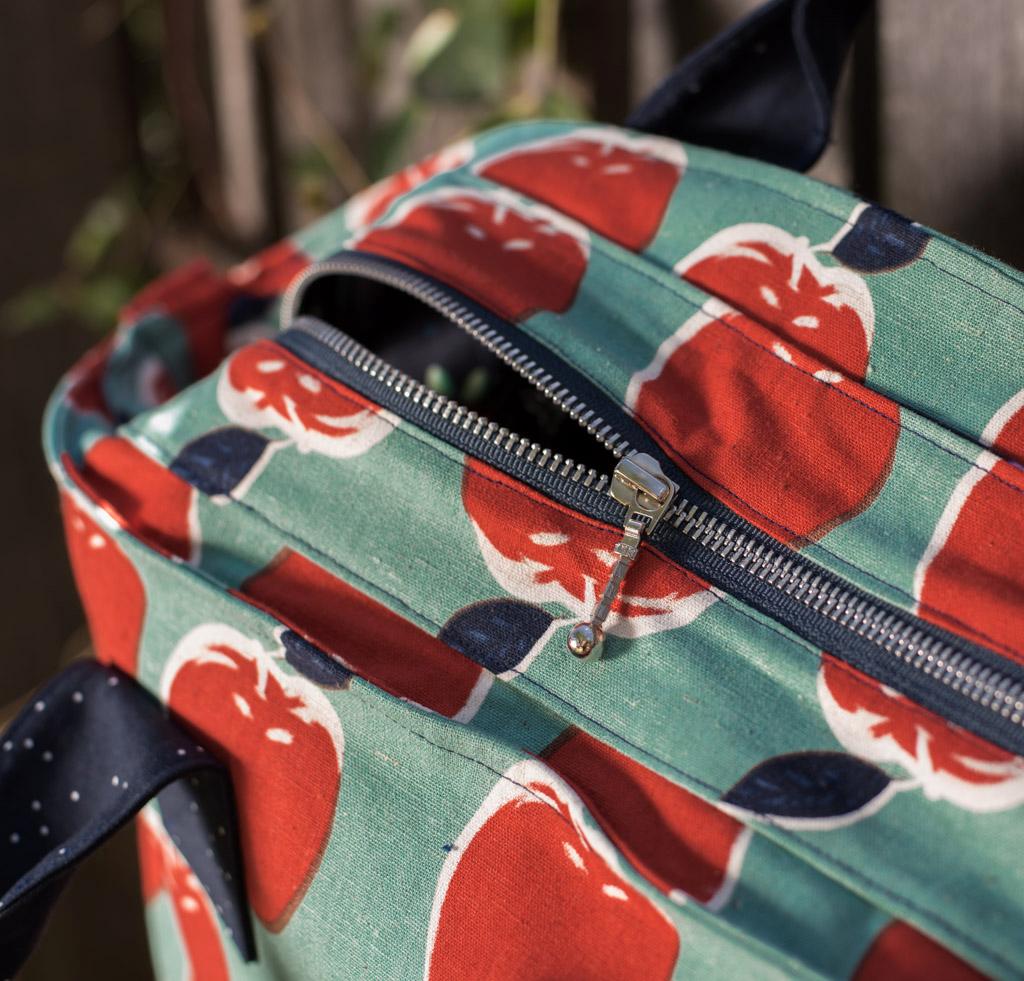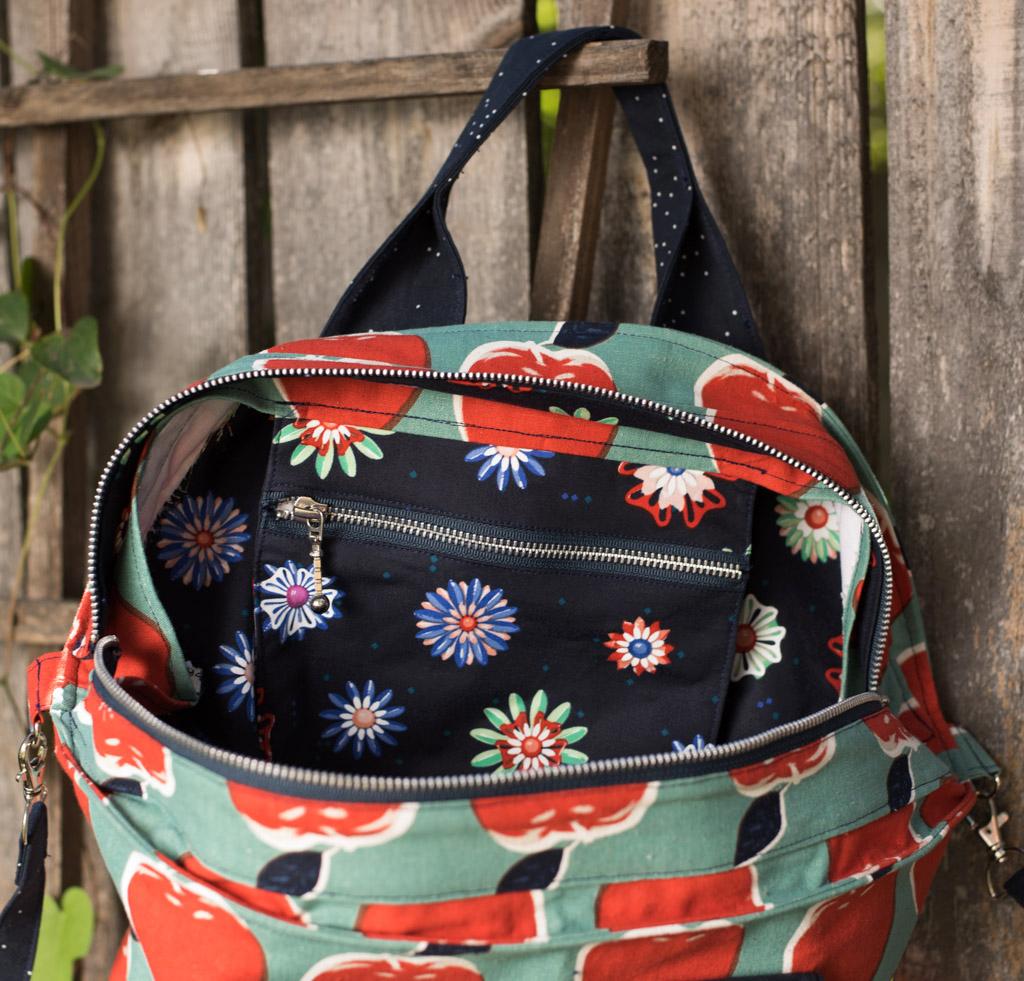 4. On Holiday Bag
While the On Holiday Bag pattern includes additional design features, an advanced beginner sewer should have no problem sewing any version of this bag. Learn to sew a recessed zipper closure to secure the contents of your bag while shopping or traveling. Other fun features of the On Holiday Bag pattern include step-by-step instructions for sewing an attached interior zippered pouch to secure small items as well as how to construct a detachable cross-body strap ideal for hands-free carrying.
The best thing about the On Holiday bag is that it comes in three versions, so you can pick the best size and shape for your style.
First, we have the C+S apple print version (shown above), which makes a great teacher gift and an idea carry-on bag for traveling by plane.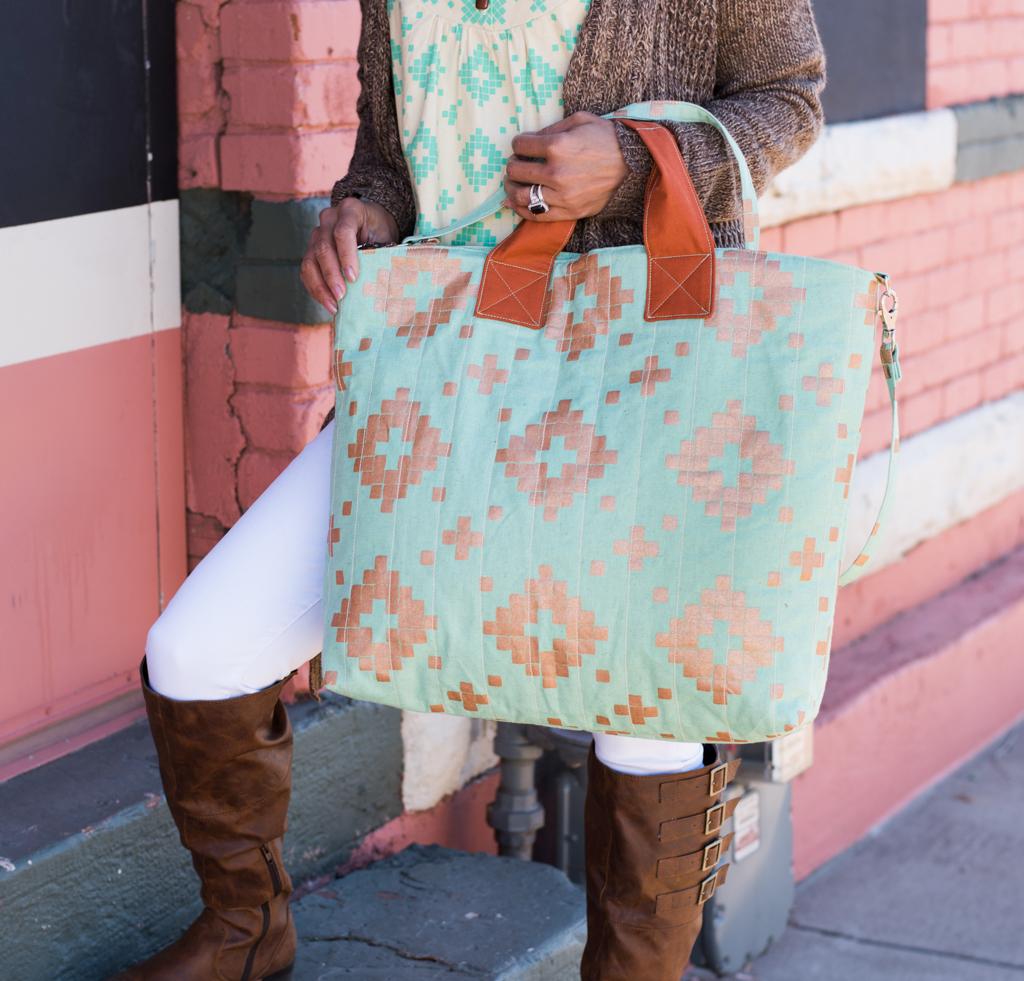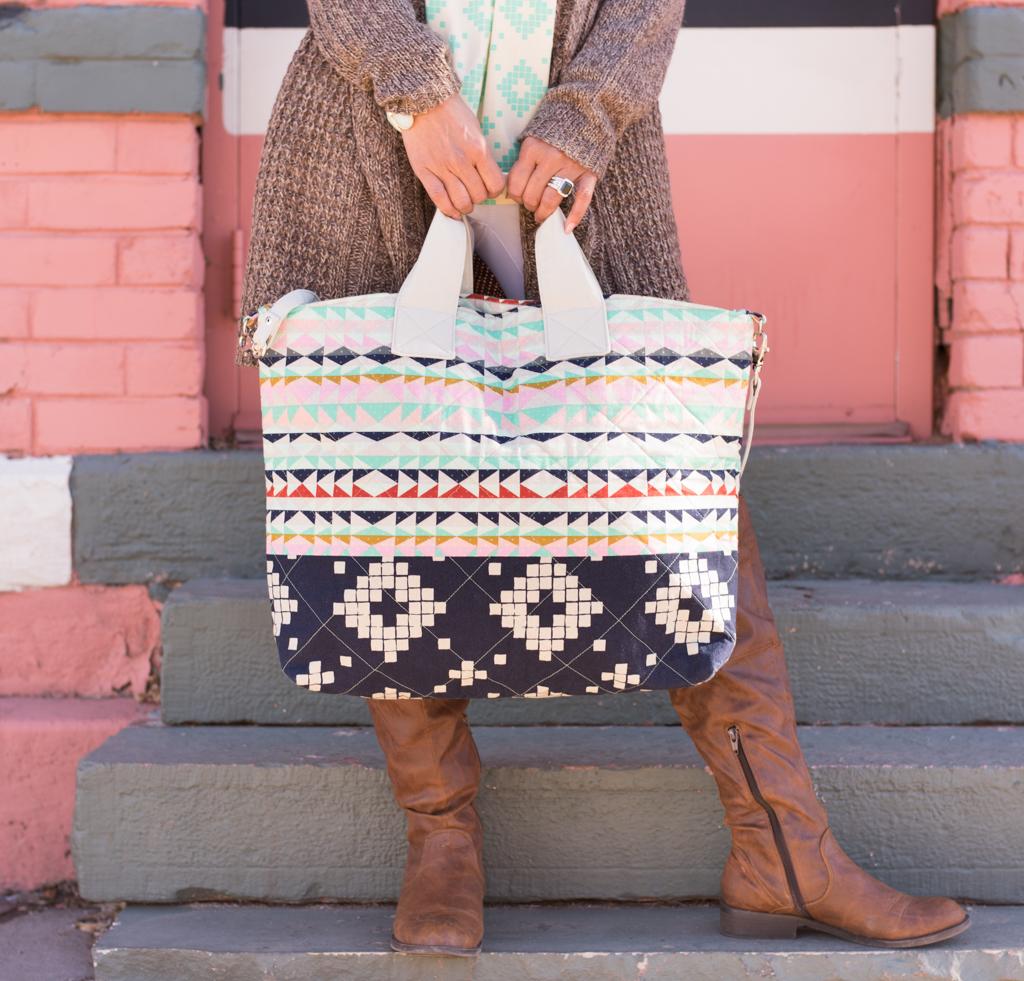 In this version of the On Holiday Bag, optional batting was quilted to the fabric to add support and texture. Wide, sturdy fabric or leather handles make this bag comfy to carry to the market while shopping or through the airport terminal on a trip.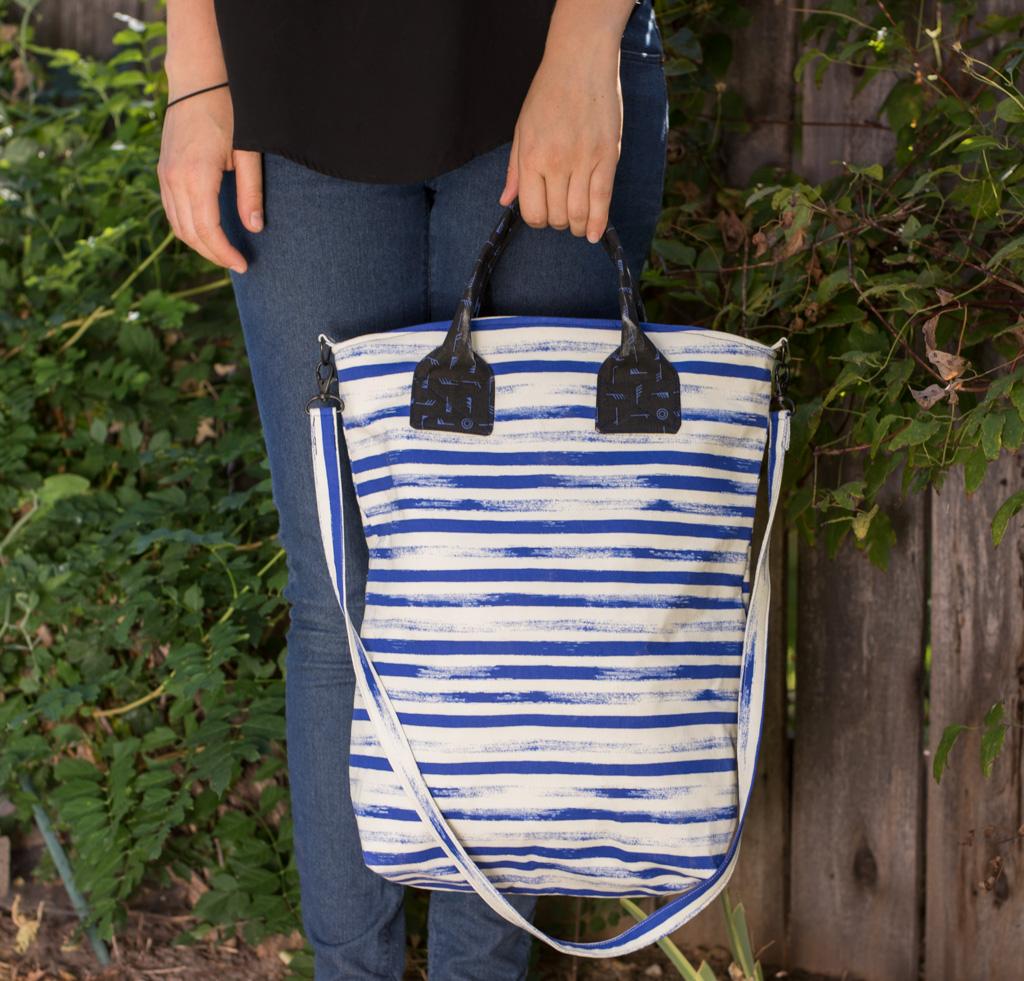 Love the design but need a smaller bag? Then this 16″ tall x 14½" wide version of the On Holiday Bag kit would fit the bill! Included with this kit is C+S cotton poplin fabric designed by Rashida Coleman-Hale. 
You can also find more versions of this bag on Green Bee's site here.
More Bag Sewing Kits You'll Love!
Your next bag, made easy: Get a designer pattern & perfectly paired fabric for your new favorite tote.Shop Kits Now »
*Due to popular demand these items will sell out quickly! We're so sorry for any inconvenience that may cause you. You can always find even more great sewing kits here. If you'd like to be the first to find out about new featured products, become a Bluprint Blog Buddy by subscribing to our blog for free today.