As they say, it's double the giggles, double the grins, and double the trouble with twins. Making baby cakes for twins is a delicious cake decorating challenge, and an opportunity to let your fondant, buttercream, and gum paste prowess shine.
Clever bakers have come up with a number of inventive cakes to celebrate baby twins, with visuals ranging from pea pods and baby booties to shooting stars and rainbows.
Here are some inspiring examples of baby cakes for twins: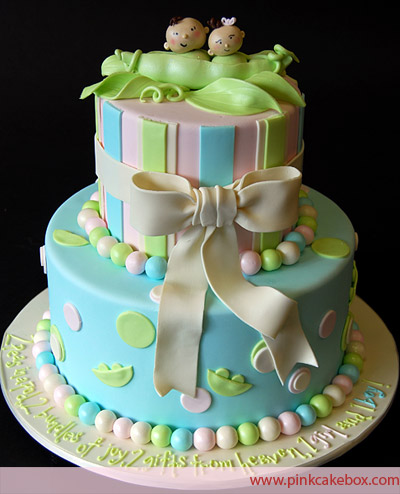 Photo via Pink Cake Box
Peas in a pod cake:
These twins are like peas in a pod — literally! In this clever and cute cake, a baby boy and girl set of twins are nestled in a pea pod. It tops a two-tiered fondant cake, which features both blue and pink coloring, as well as green to round out the "two peas in a pod" theme. The cake artist made excellent use of advanced fondant techniques, creating a very pretty, and very life-like bow.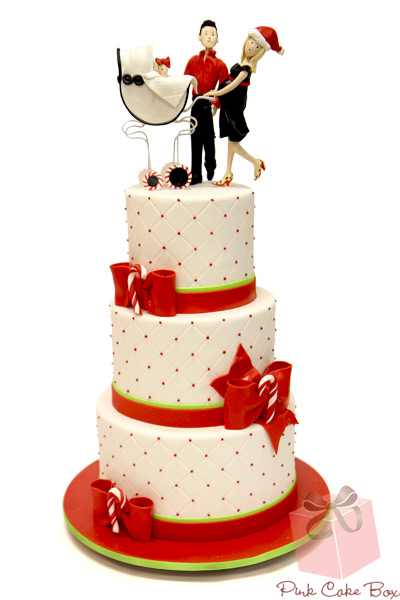 Photos via Pink Cake Box
Holiday themed twins cake:
For a holiday baby shower, this cake is second to none. Covered in quilted white fondant with piped red dots, the cake is adorned with red and green fondant bands wrapped around each tier and candy cane decorations at the center.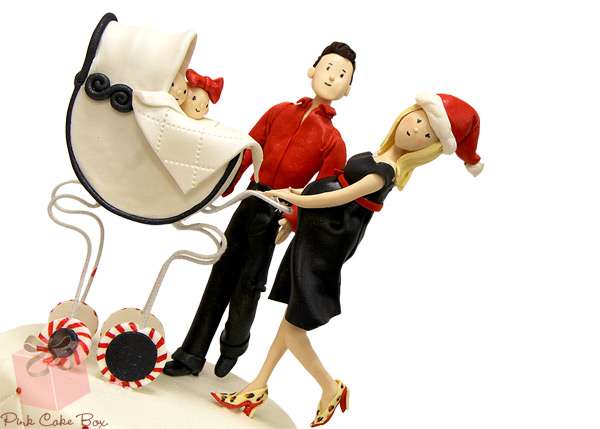 The real pièce de résistance, though, is the hand-sculpted figurines, which top the cake: a mother and father with a baby stroller — with twins inside!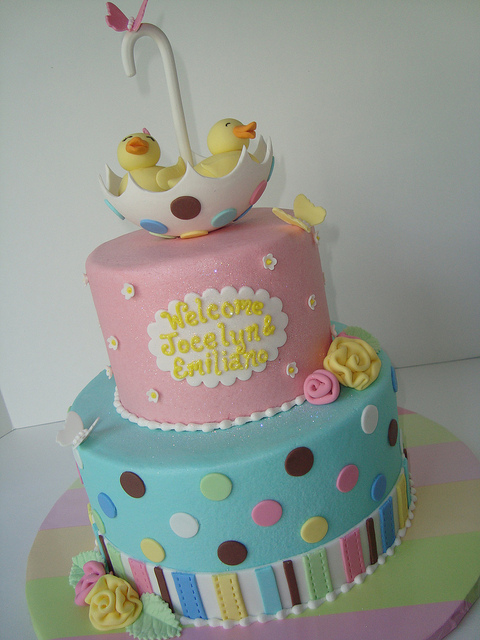 Photo via Flickr member Let There Be Cake
Duck twin cake:
Having twins is just ducky with a beautifully decorated baby shower cake. In this case, it's a boy and a girl, and they're represented as two ducklings in an overturned umbrella, topping tiers of blue and pink fondant-topped cake decorated with stripes, polka dots and flowers in a pleasing pastel palette.
See our simple fondant rose tutorial to learn how to make sugar flowers like the ones seen here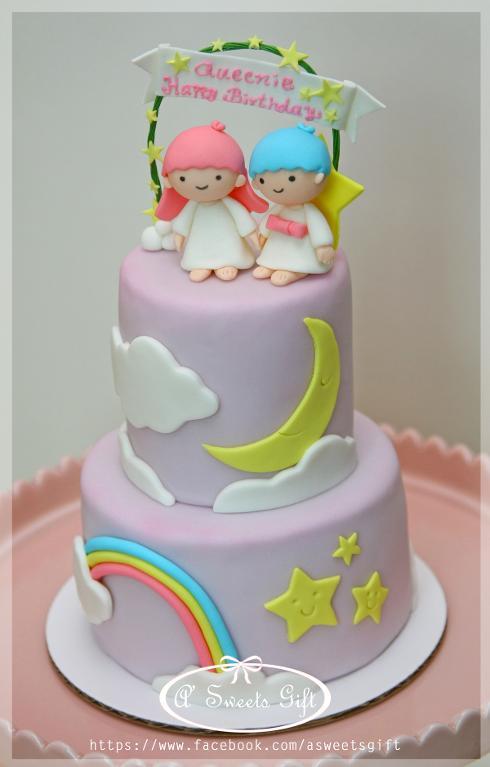 Photo via Bluprint Member AgnesTang
Star twins:
Whimsical hand-sculpted figurines sitting atop a sweet sky scene give this Little Twins Star cake a distinct Le Petit Prince feel. The layers are topped with a lavender fondant, and happy star and moon cutouts are adhered to the sides, flanked by a rainbow and clouds, giving the twins on top a magical and sweet little place to sit.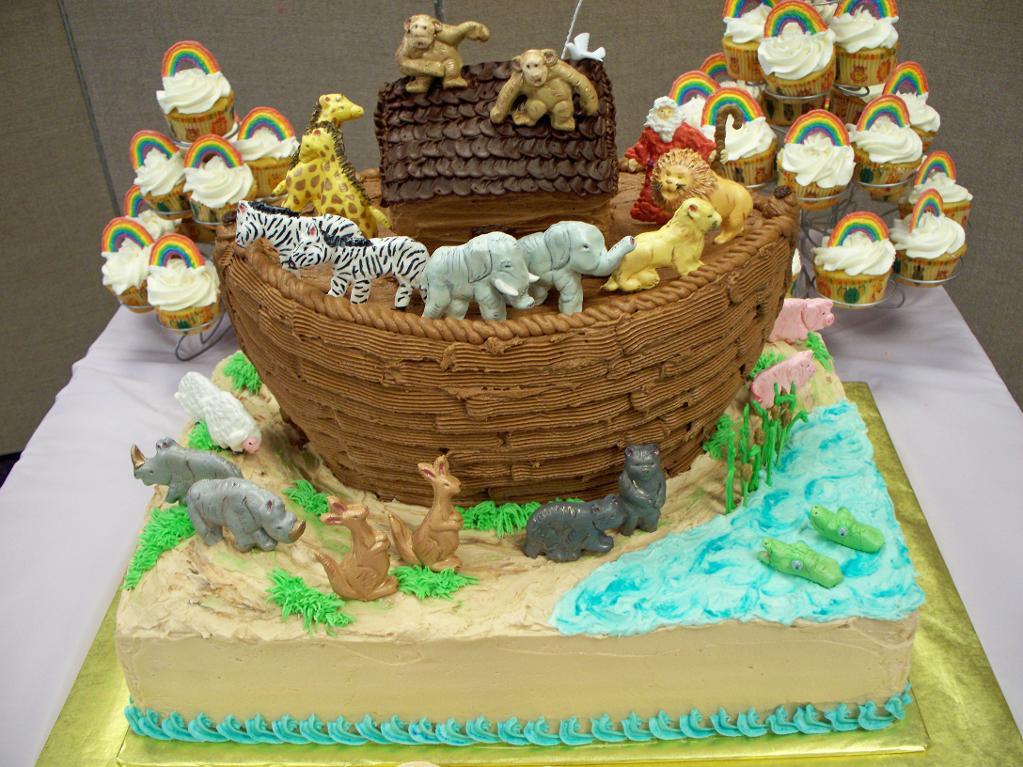 Photo via Bluprint member C-MAC
Noah's Ark cake:
The "twosome" theme of Noah's Ark is cleverly configured for the occasion of welcoming twins on this Noah's Ark Baby Shower cake. The animals were created from gum paste a few weeks before the cake was assembled, and they were painted once they fully dried. The cake was then baked closer to the date of an event. Later, it was shaped like an ark and then piped to give it distinct textures. Once assembled with cupcakes on the sides, it mades for a stunning centerpiece.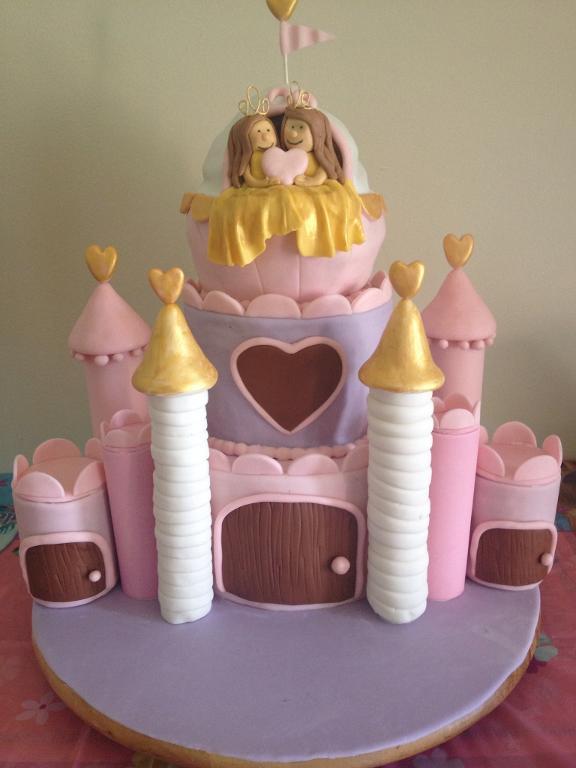 Photo via Bluprint member agr8lawoman
Castle cake:
Twin princesses are sitting pretty in the tower on this Castle Cake. Although it was created for little girls, not babies, the style of this fondant work of cake art, inspired by Bluprint course Design Your Own Castle Cake, could certainly work for a baby shower, too.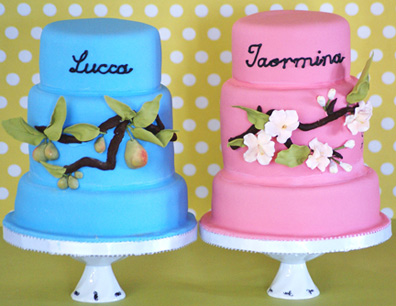 Photo via Brooklyn Cake
Twin cakes:
Sometimes, two are better than one. Certainly, nobody's going to complain if you bake two cakes to celebrate twins. These twin cakes were created for a baby boy and baby girl, in blue and pink. The blue boy cake has a beautifully formed fruit branch featured on the second tier, where the girl cake has a lovely flower branch. Both are piped with the respective names of the babies. A very sweet way to celebrate twins, indeed.
For more great baby cake inspiration, see our roundups of baby shower cakes and 1st birthday cakes. You might also enjoy our fondant number topper tutorial.
Come back to the Bluprint blog tomorrow for a special guest post by Bluprint instructor Erin Gardner!
Have you ever made a cake for twins?