The superhero craze is simply unstoppable, and we can't get enough of all the incredible cake designs and confections inspiration the trend is bringing.
Find the strength to assemble your own confectionary creations with these marvelous Avengers cakes, cupcakes and cookies!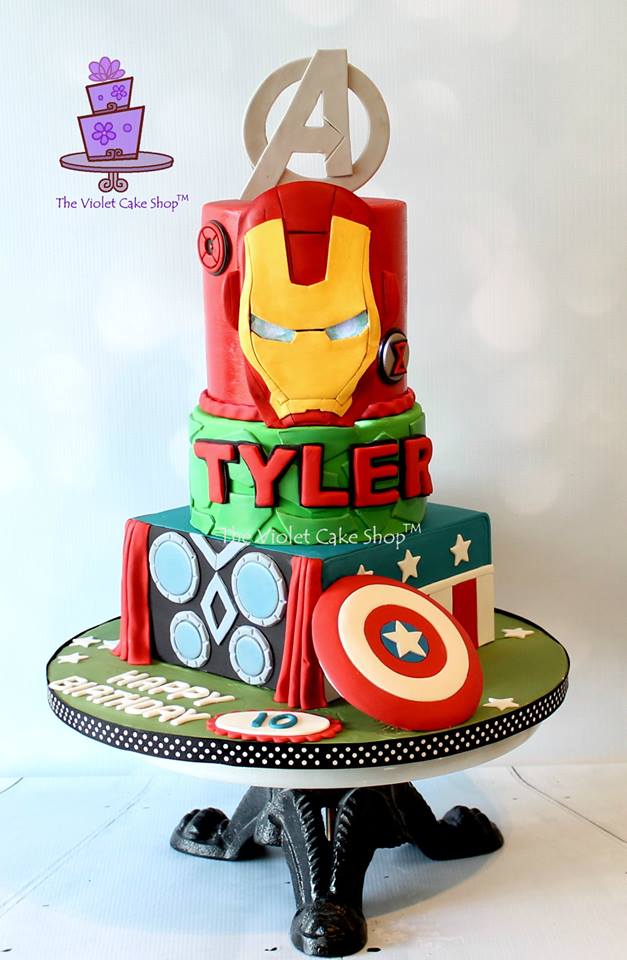 Photo via The Violet Cake Shop
Avengers tiered cake
The Violet Cake Shop created this extraordinary Avengers three-tiered cake for a heroic 10 year old birthday celebration! Each tier reflects characters who make up the Avengers team, starting with the bottom square layer where discernible details and elements of Thor's and Captain America's suits are transferred to the cake in fondant form.
The second layer is transformed into the Hulk's textured appearance with added personalization. Finally, the top tier is accentuated with Iron Man's molded mask, which the cake artist made to light up behind the wafer paper eyes, and the piece is topped off with the flawless hand-cut Avengers' emblem.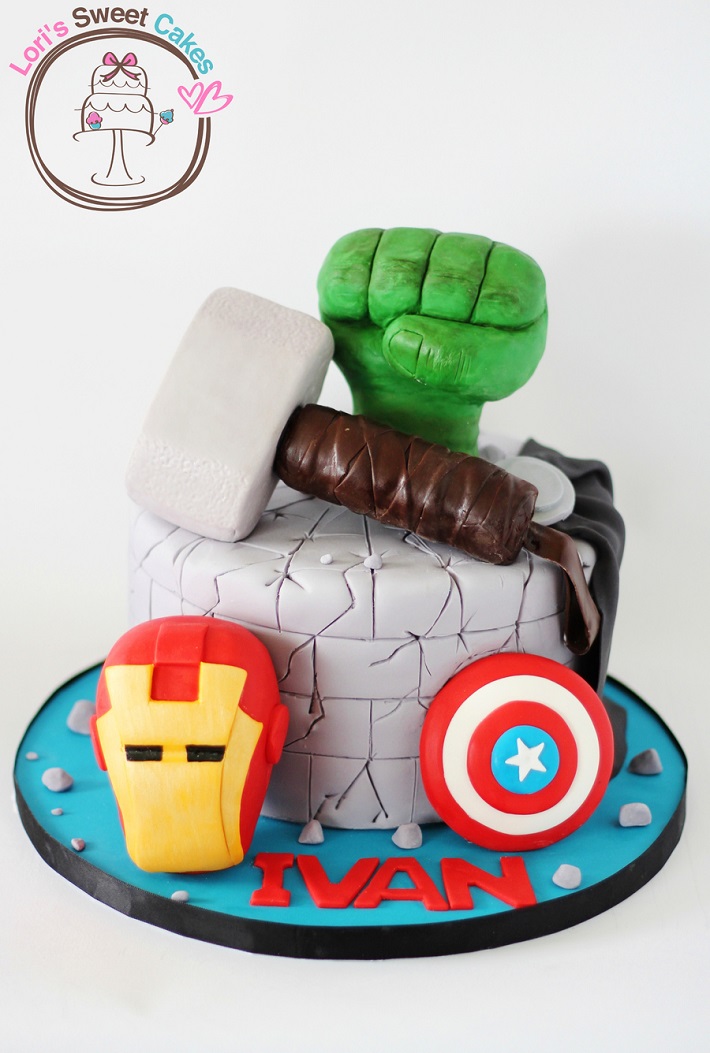 Photo via Lori's Sweet Cakes
Avengers cake
Similar to the above design, this fantastic Avengers cake by Lori's Sweet Cakes also exhibits different elements of the characters, but offers alternative components that can be incorporated to reflect the various superheroes on a smaller scale. The single tier cake is covered in fondant, textured, then further decorated to resemble a cracked surface as the Hulk's fist busts through! Additional items, such as Iron Man's mask, Captain America's shield and Thor's hammer are perfectly molded and placed around the cake. Incorporating the cake board is key, as it brings the entire presentation together.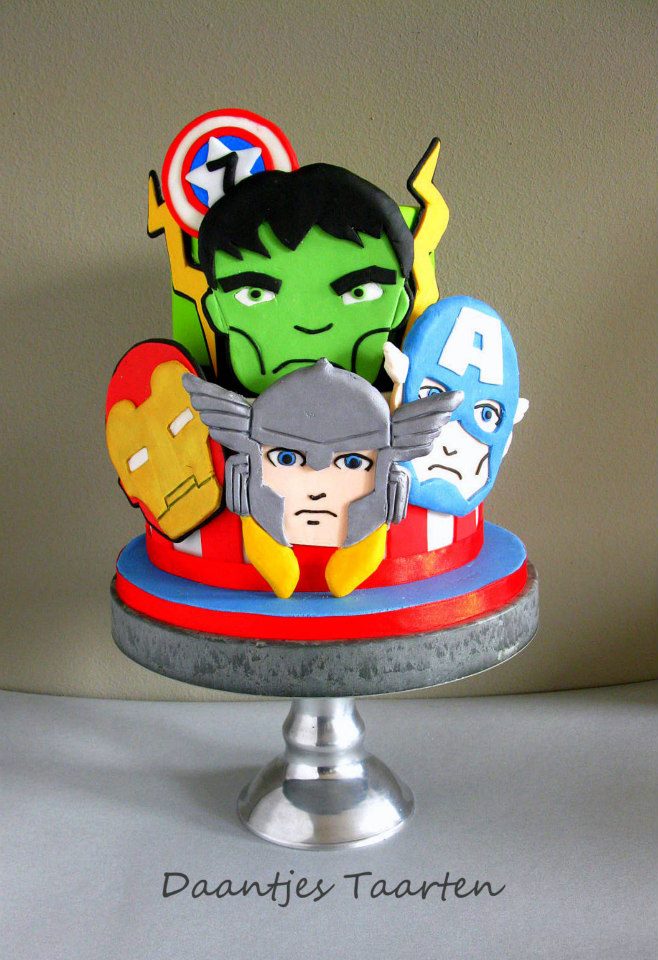 Photo via Daantjes Taarten
Avengers character cake
This incredibly fun and lively Avengers cake by Daantjes Taarten showcases a super creative way to reflect each superhero character! The faces were carved and layered with fondant embellishments, then further decorated with hand-drawn elements.
The figures were then adhered to color-coordinated fondant-covered cakes and enhanced with additional adornments, including the lightning bolts and shield, personalized with the guest of honor's age.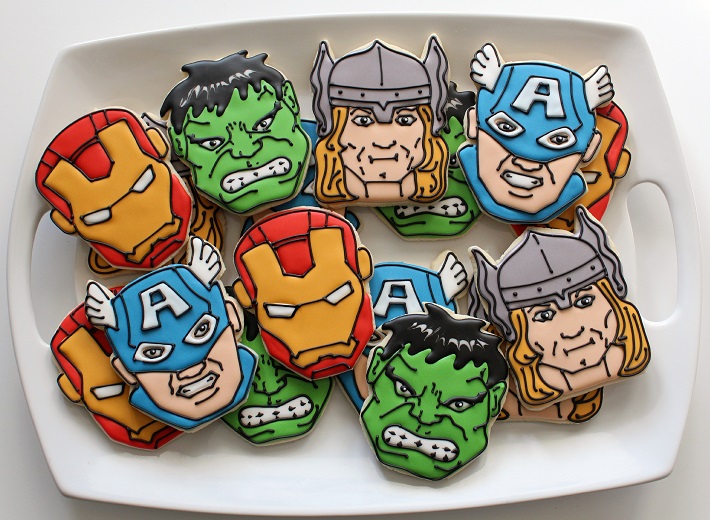 Photo via Sweet Sugarbelle
Avengers cookies
Bluprint writer and cookie-decorating pro Callye Alvarado is the creator of this spectacular set of Avengers cookies! Each character and their intricate details are hand-piped with royal icing with the assistance of a Kopykake projector, which Callye demonstrates in this simple tutorial. No child (or adult!) could resist this sugary assembly of superheroes!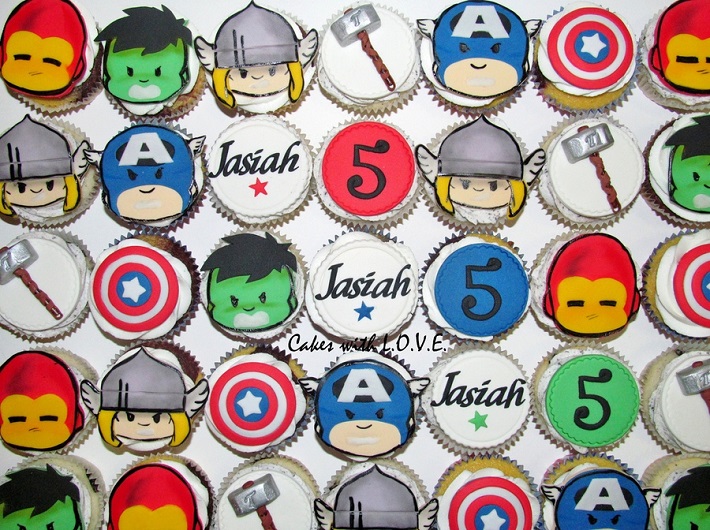 Photo via Cakes with L.O.V.E
Avengers cupcakes
If you're looking for personal pastries to appease a large crowd, take a look at all the beautiful details of these adorable Avengers cupcakes by Cakes with L.O.V.E.! The different characters are re-created in fondant form with a playful, cartoon-like style, while the set is accentuated with additional three-dimensional elements (hammers and shields) and designs personalized to the guest of honor.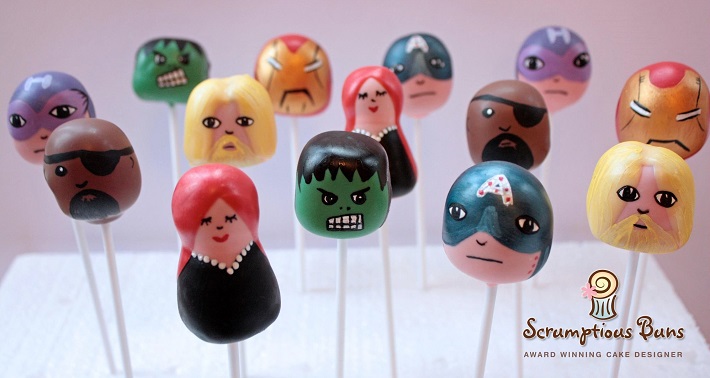 Photo via Scrumptious Buns
Avengers cake pops
If superheroes could ever be described as precious, it would be with this sweet set of Avengers superhero cake pops by Scrumptious Buns! Once the cakes are molded in fairly simple shapes, they are then dipped in chocolate, then transformed into a variety of characters, created with the use hand-painting and drawing techniques.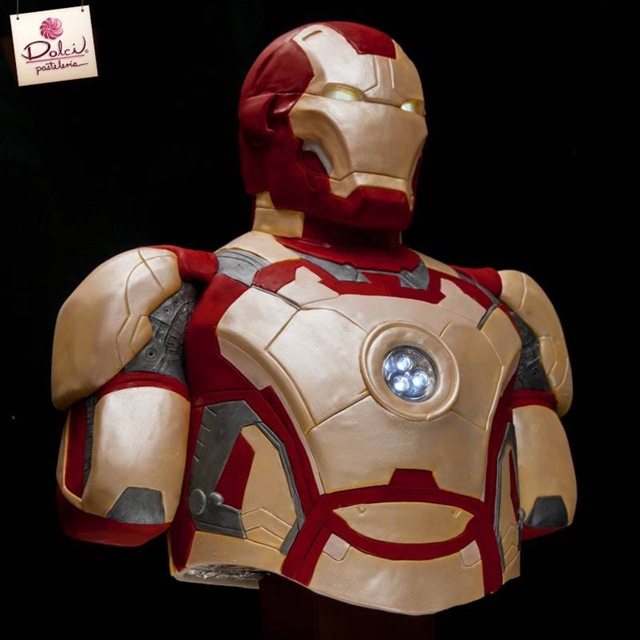 Photo via Bluprint member Dolci Pasteleria
Iron Man bust cake
Bluprint member Dolci Pasteleria created this unbelievable, jaw-dropping Iron Man bust cake in the course Advanced Cake Sculpting: Bobbleheads with Mike McCarey! The support structure was constructed, then covered with cake and adorned with the use of fondant, gum paste and modeling chocolate, creating an incredibly lifelike bust of the confident member of the Avengers.
Who is your favorite superhero?!
Free Online Cake Decorating Class