A beautifully decorated cake can be a piece of art. But cakes decorated to resemble famous pieces of art raise the bar to cake masterpiece! This collection of master-morsels are evidence that what is great on the palette can also prove delightful to the palate.
Mondrian Cake: Hanging on a museum wall, these bold, geometric shapes might not be everyone's cup of tea, but this cake created to form Mondrian-esque shapes would go great with a cup of tea. Designed by Blue Bottle Coffee to be sold at SFMoMa's cafe, this cake is baked in separate color pieces and then assembled similarly to a checkerboard cake, but using different shapes.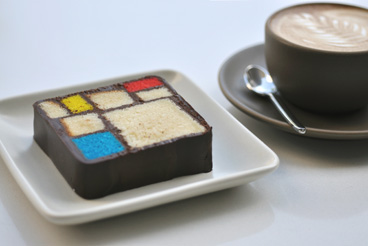 Photo via Charlie Villyard
Klimt Cake: This cake is more than "kissed" with art–it's completely covered in the delicate swirls, geometric shapes, and expression that make Gustav Klimt's painting "The Kiss" so compelling and memorable. Of course, this eye candy was designed for enjoyment of the mouth: it was hand-painted by Sweet Ladies Bakery for a wedding.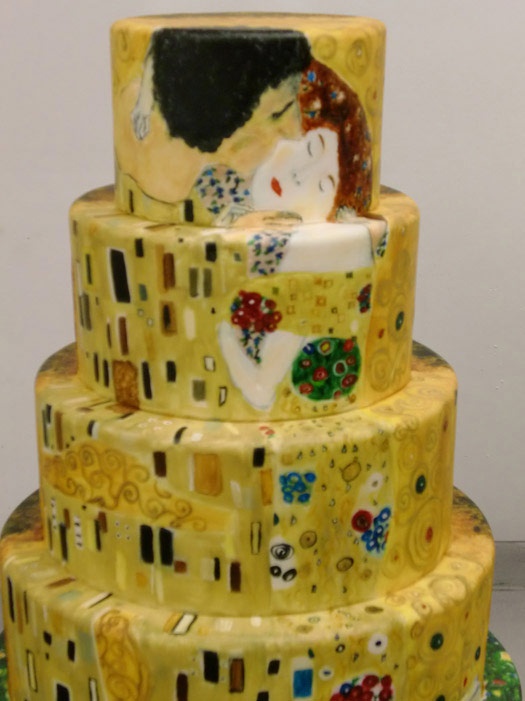 Photo via Sweet Ladies Bakery
Monet Cake: Water Lilies is one of Monet's most famous paintings. But did you know it's also one of his most delicious? Well, at least when it's served up in cake form, as in this stellar example by AJ's Moonlight Cakes, with those lively impressionist dashes of paint re-created in artfully applied icing.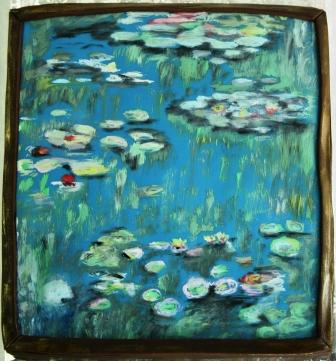 Photo via AJ's Moonlight Cakes
Keith Haring Cake: This cake really pops, in more ways than one! Inspired by the prolific pop graffiti artist, this cake is a beautiful tribute to Keith Haring's bold, clean lines and highly recognizable cartoon-like characters. Designed by an Italian baking outfit known as VampiAmiche Cakedesigners, this cake is covered with fondant, with outlined cut out characters which are adhered for a pop-out effect.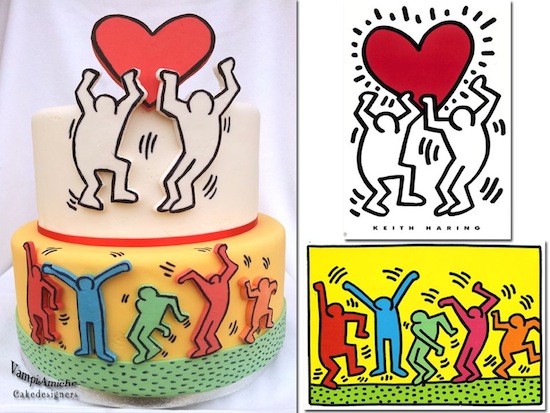 Photo via VampiAmiche Cakedesigners
Lichtenstein Cake: Comic book styling was a big part of Roy Lichtenstein's artwork, and it's a big part of this cake which is inspired by his work. Using dots and stripes to create areas of color within bold black outlines, this cake, created and hand-painted by Alliance Bakery, is a piece of art in itself.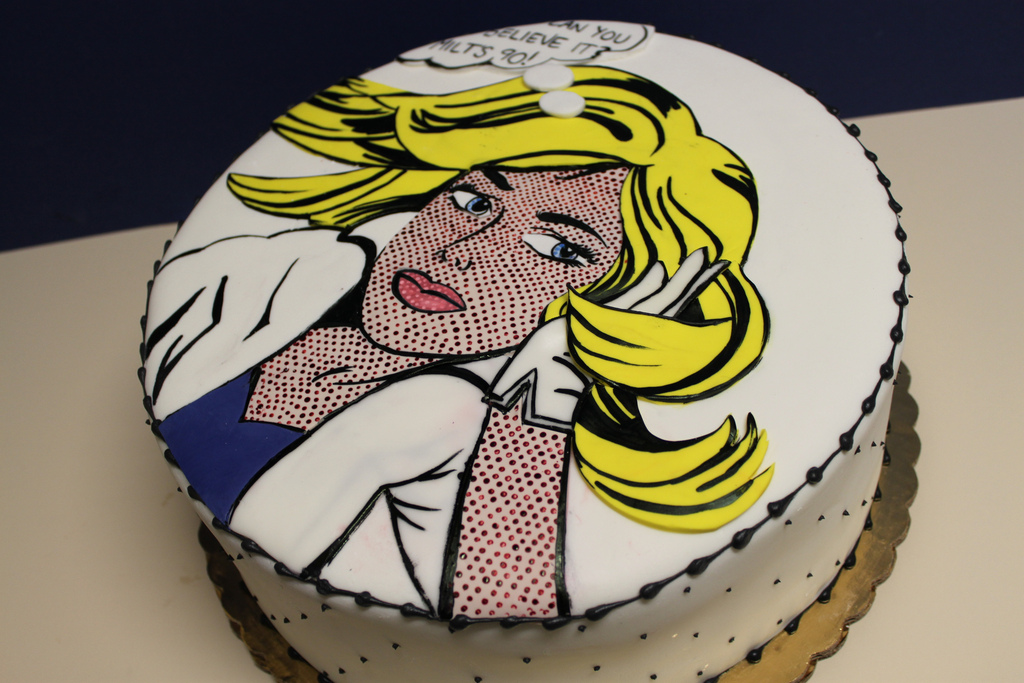 Photo via Alliance Bakery
Picasso Cake: Picasso's figures may be abstract, but his signature painting style makes for a striking centerpiece, as beautifully illustrated by this three layer cake inspired by his piece entitled "Woman with Wristwatch". Created by Chocolaz Artisan Cakes, this cake is gorgeously hand painted.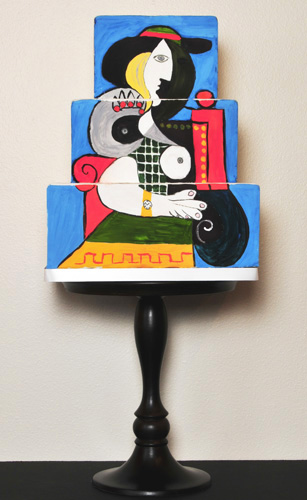 Photo via Chocolaz Artisan Cakes
Van Gogh Cake: Anyone who has seen a Van Gogh painting up close knows that the thickly applied, dimensional paint already resembles icing. This cake deliciously imitates that art, using icing as "paint" which is applied just as liberally as on the original "Starry Night" painting. This cake was made by an at-home amateur baker who used an image of the painting as reference, but largely worked free-hand to create this amazing treat.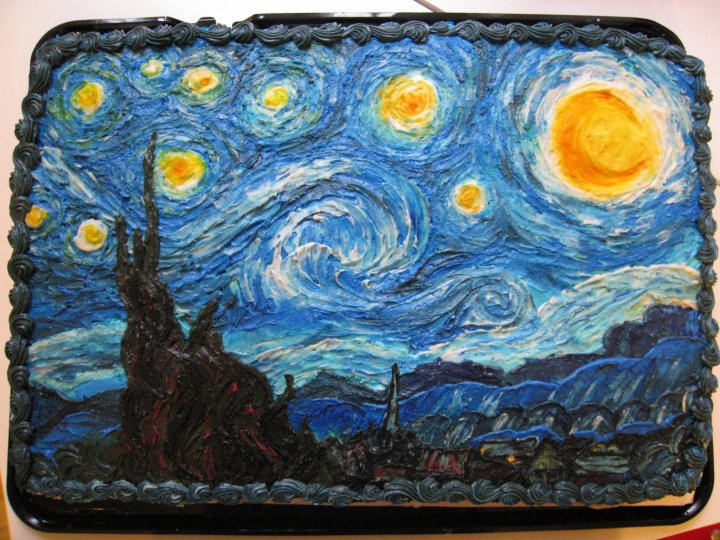 Photo via CakeSpy.com
Thiebaud Cake: Wayne Thiebaud painted cakes. They were put on display in museums. And then, in a spurt of complete confectionery cleverness, one museum decided to sell real cakes in their cafe made to resemble the cakes in the paintings! These cakes, available at SFMoMa, are as pretty as a picture, and the taste is even better.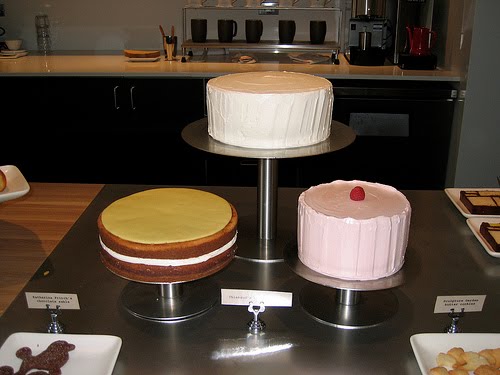 Photo via Bricolage & Butter
Tiffany Cake: This luminous cake takes its inspiration from beautiful Tiffany glass! Created by Maggie Austin Cake for a wedding, this cake may seem as if it is lit from within, but really it's actually hand-painted, rather impressively, atop a fondant covering. The result is a glowing centerpiece which most likely made this event an affair to remember!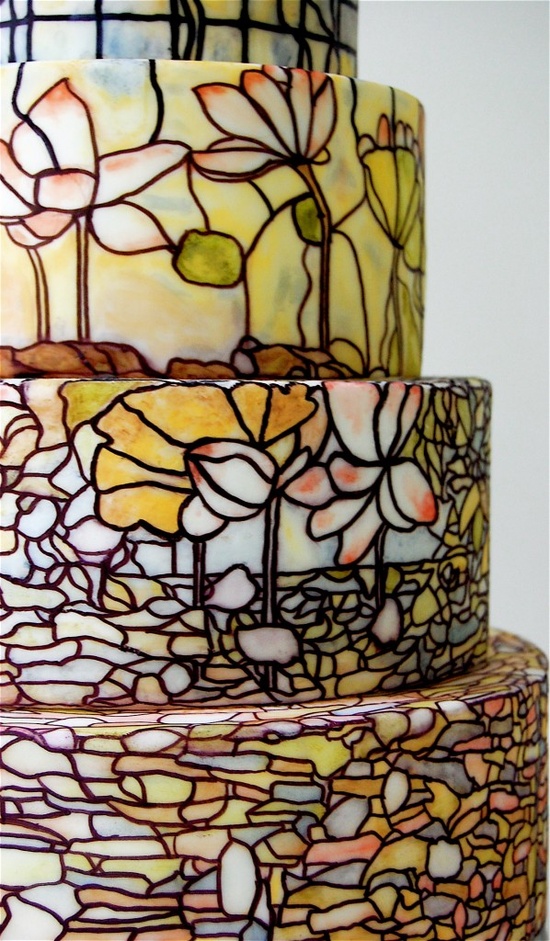 Photo via Maggie Austin Cake
Have you seen any art-inspired cakes recently?