Autumn has arrived, and with it comes a myriad of pleasures, including the leaves changing color, cooling weather, and the beginning of apple season.
We've already covered how to make a classic apple pie and other delicious apple recipes. Another fine way to make use of the season's apple bounty is to make apple cider…and a divine use for apple cider is to make apple cider doughnuts.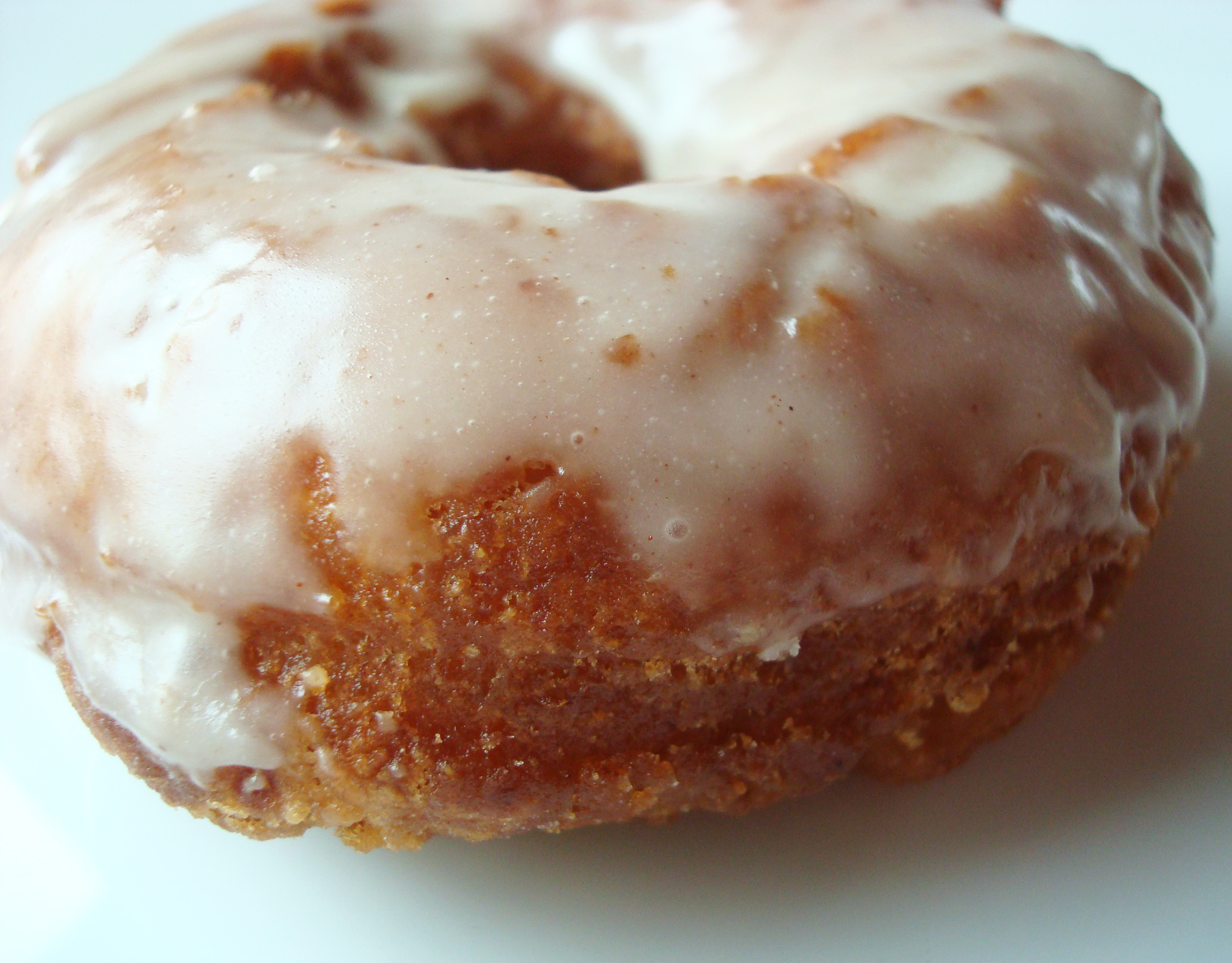 On crisp fall mornings (or any time of day, really), there are few things that can warm the body and soul like a freshly fried apple cider doughnut.
These apple cider-infused doughnuts are inspired by the ones frequently sold at U-pick apple farms during the autumn months, ostensibly as a more substantial accompaniment to the delicious but not-so-filling apples and cider.
If you've made doughnuts at home before, then you know how easy and fun they are to make. These doughnuts follow many of the same methods, but are artfully scented with spice and brimming with apple cider flavor both in the dough and in the glaze. Oh, are they ever good.
An apple cider doughnut a day will take autumn chills away!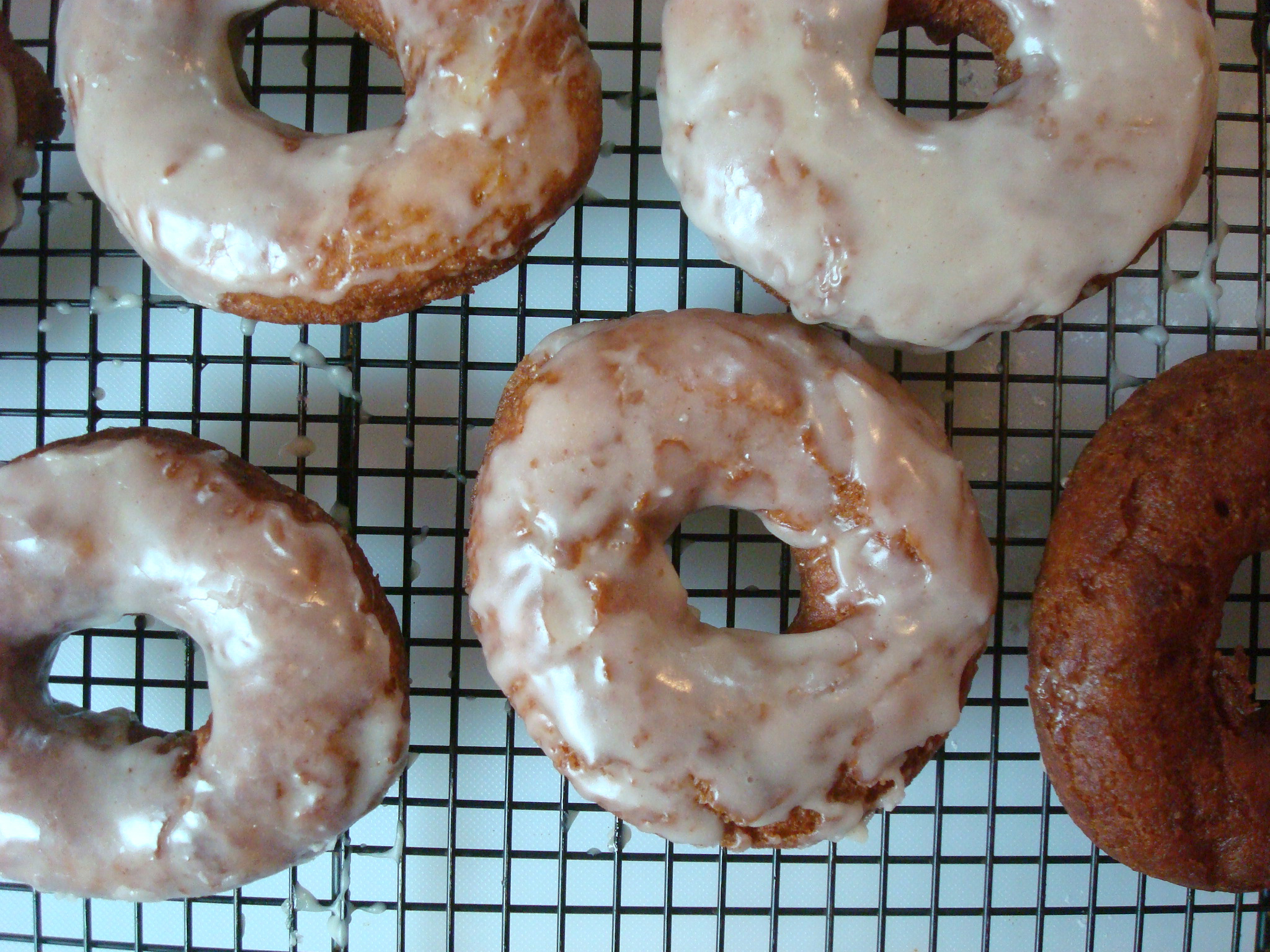 Some FAQs
Can I substitute apple juice for the apple cider?
Yes, but the taste will be sweeter and less spicy, so the cider is strongly suggested.
Do I really need to monitor the temperature of the oil while frying?
Yes and no. Truthfully, it is possible to fry the doughnuts without the help of a thermometer. However, this is an imperfect art, and may yield inconsistent results. If the oil is too hot, the outside of the doughnuts will fry too quickly, making for gooey interiors; if the oil is not hot enough, the doughnuts will need more time to fry and may become leaden and soggy. Monitoring the temperature of the oil will ensure that you get consistent results: fully cooked, golden, crispy-on-the-outside and soft-on-the-inside doughnuts.
Can I freeze them?
While doughnuts are best the same day they are fried, these doughnuts can be frozen. Simply pop them in the microwave for 10-15 seconds or until warm, and serve.
Must I fry them?
Actually, you can bake them, too. The taste will be different, and they will be starchier since the oil won't be able to penetrate and moisten the cake, but they will bake up as a somewhat quick bread-meets-scone type texture. To bake, preheat oven to 350 degrees F. Place the doughnut rounds on a parchment-lined baking sheet and bake for 20 minutes, or until golden on top.
Do I have to share with my friends?
What they doughnut know cannot hurt them.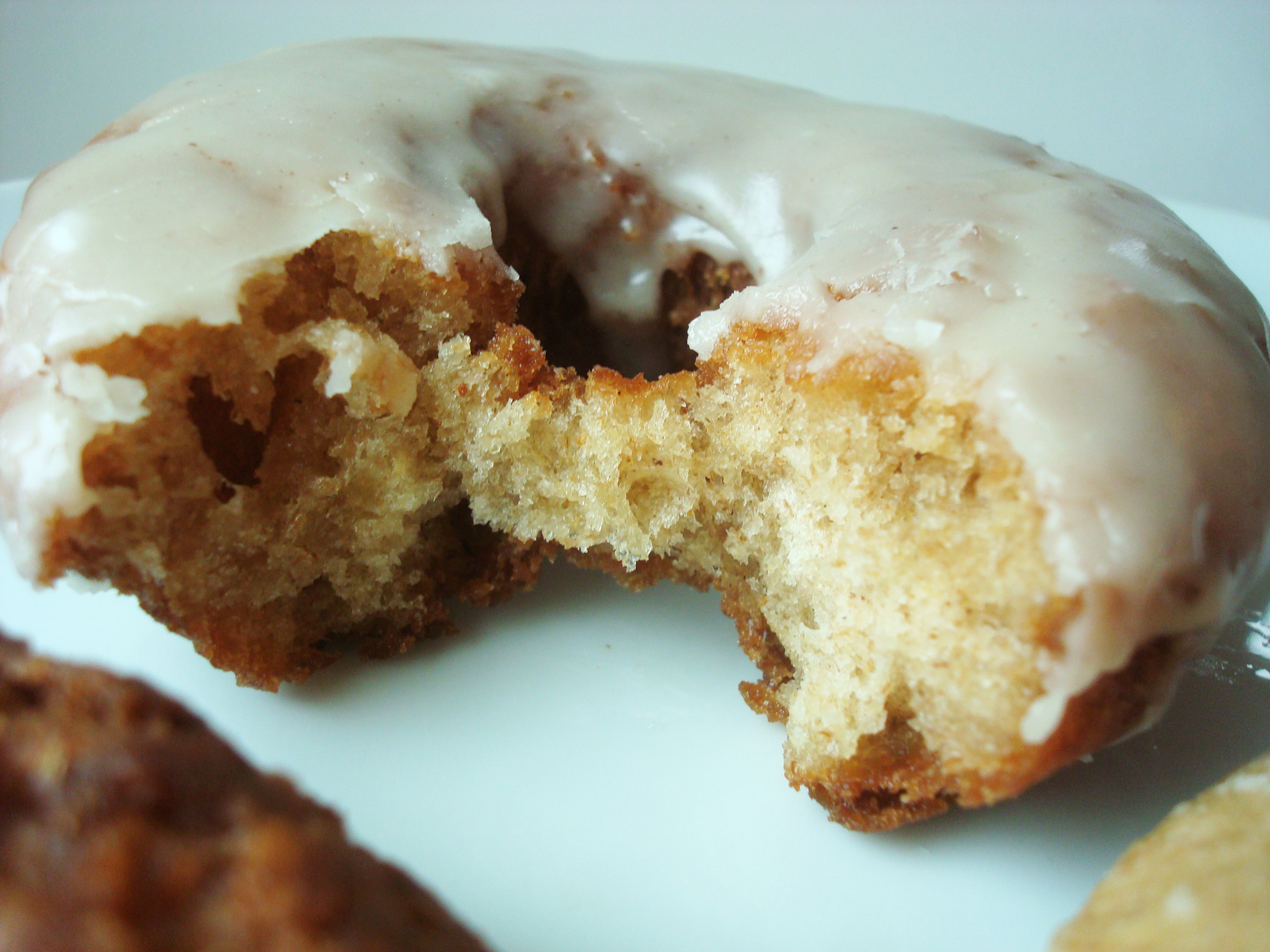 Apple cider doughnuts recipe
Makes about 18 doughnuts, plus doughnut holes
Ingredients for the doughnuts:
2 1/2 cups all-purpose flour
1 cup whole wheat flour
2 teaspoons baking powder
1/2 teaspoon baking soda
3/4 teaspoon salt
1 teaspoon ground nutmeg
1/4 teaspoon ground cinnamon
1/4 teaspoon ground allspice
1/4 teaspoon ground cardamom
6 tablespoons butter, melted and cooled
2/3 cup packed light brown sugar
2 eggs
1 cup apple cider
Oil for deep-fat frying
Ingredients for the apple cider glaze:
1/4 cup apple cider
2 tablespoons butter
2 cups confectioners' sugar
1/4 teaspoon cinnamon
1/4 teaspoon nutmeg
Directions:
Step 1:
In a very large bowl, sift together the two types of flour, the baking powder, baking soda, salt, nutmeg, cinnamon, allspice and cardamom. Set aside.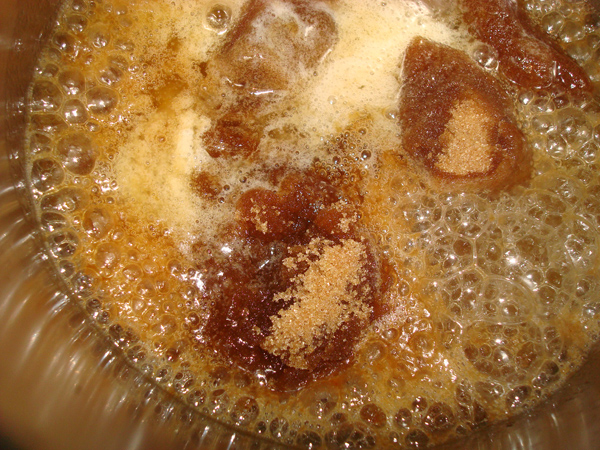 Step 2:
In a large saucepan, melt the butter together with the brown sugar over low heat. Once melted and combined, remove from heat. Let cool for about 5 minutes before proceeding.
Step 3:
Stir the beaten eggs and the cider into the melted butter and brown sugar mixture, mixing until combined.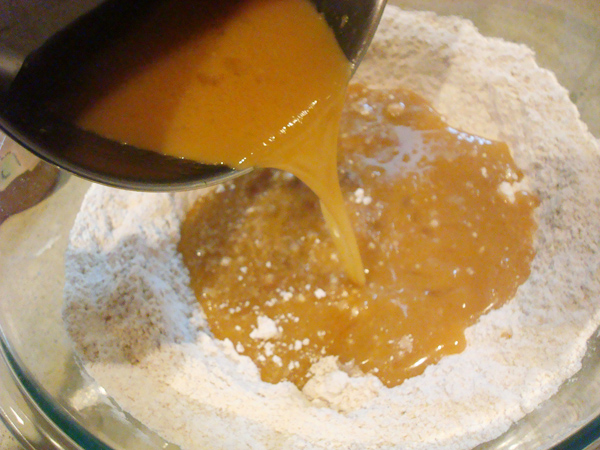 Step 4:
Pour the wet mixture into the bowl with the dry ingredients. Stir until moistened. (You don't want to overwork the dough or the doughnuts won't be tender.) Cover and refrigerate for at least 1 hour.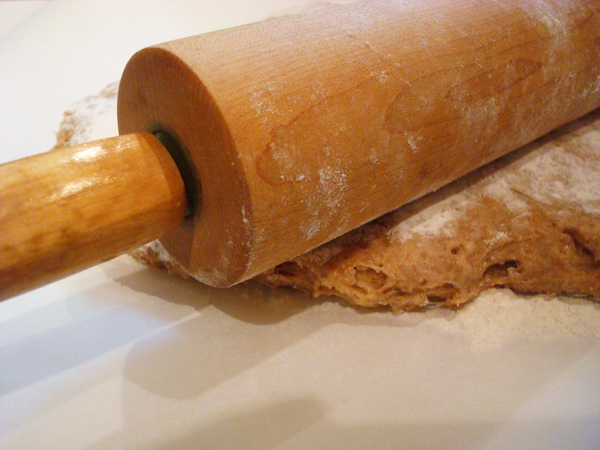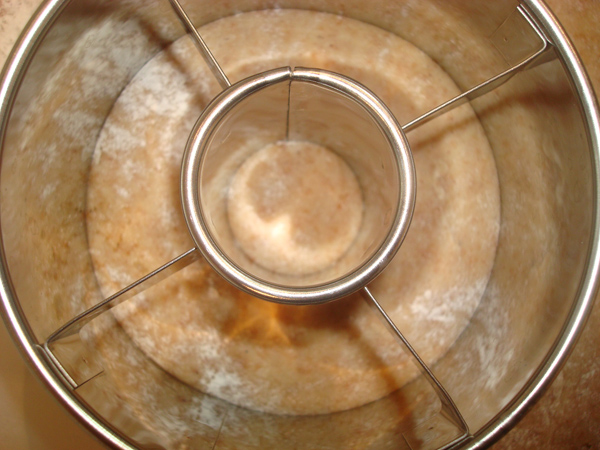 Step 5:
Turn the dough out on to a generously floured work surface. Roll the dough to about a 1/2″ thickness. Using a floured cutter, cut as many doughnut shapes as you can from the rolled dough. When cutting, try not to twist the cutter too much, as a clean cut will ensure a better rise. Set the "holes" to the side — you'll want to fry those, too.
Step 6:
Put the cut out rounds in the refrigerator while you heat the oil.
Step 7:
In a heavy medium-sized pot or a deep-fat fryer, put enough oil to achieve a depth of about 4″ and heat it to 375 degrees F.
Step 8:
Gently transfer 2-3 doughnuts into the pot (however many will comfortably fit without bumping against one another). You don't want to just plop them in the oil because if the oil spatters, it could hurt someone badly. But it shouldn't be a problem as long as you do the transfer gently.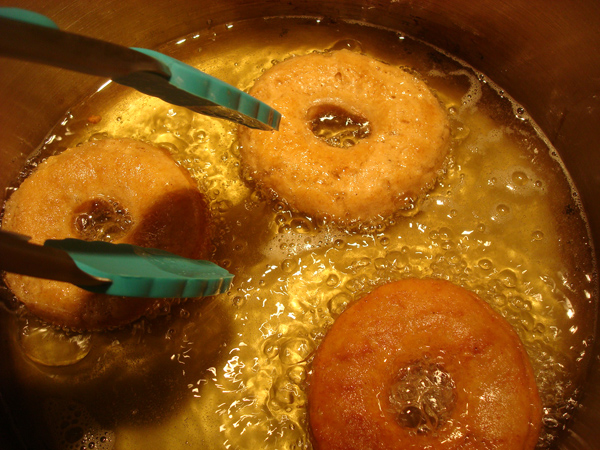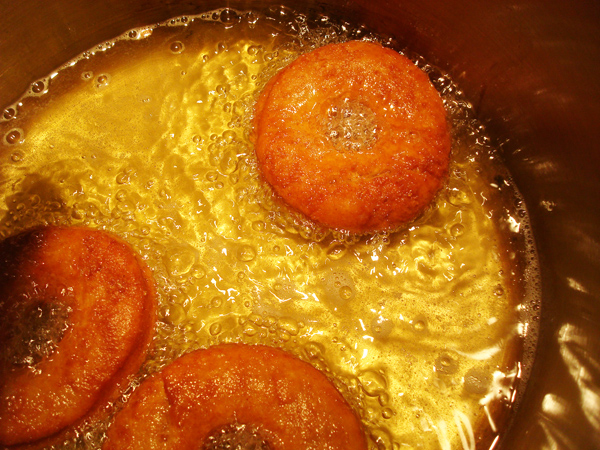 Step 9:
Fry until golden brown on each side. Turn with a slotted spoon once the first side is golden, and let the second side fry — this side will take less time. From being placed in the oil to finish will take less than 3 minutes per doughnut.
Step 10:
Remove with a slotted spoon and place on paper towels to blot excess oil. Repeat with remaining doughnuts, and doughnut holes (they take much less time to fry).
Step 11:
Prepare the glaze. In a medium saucepan, heat the butter and cider over low heat until the butter has melted. Whisk in the spices, then the sugar, just a little at a time until you have a thick glaze.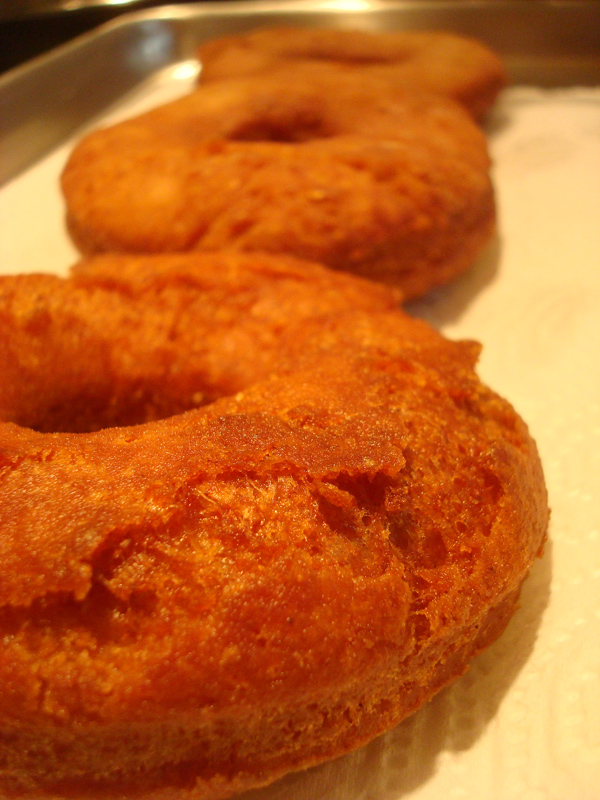 Step 12:
Brush the glaze over the still-warm doughnuts. Do this directly after preparing the glaze, as it will begin to set as it cools. It's a good idea to place the doughnuts on a rack with paper towels beneath it, so that you can catch any drips.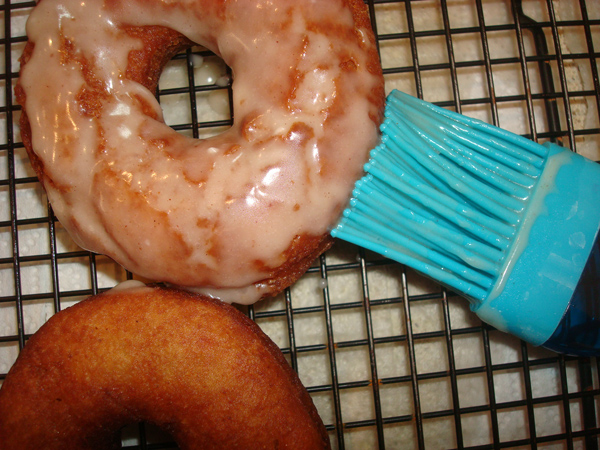 These doughnuts taste best the same day they are made; if you have leftovers, consider using them for overnight French toast or even bread pudding!