Animal prints never go out of style. They are fun on jungle-themed baby shower or birthday cakes, and stylish on designer-style birthday and wedding cakes. Animal prints can be depicted in natural tones or fun colorful designs. In this tutorial on how to make an animal print cake, we'll cover how to paint zebra and leopard prints, as well as how to make giraffe prints from fondant.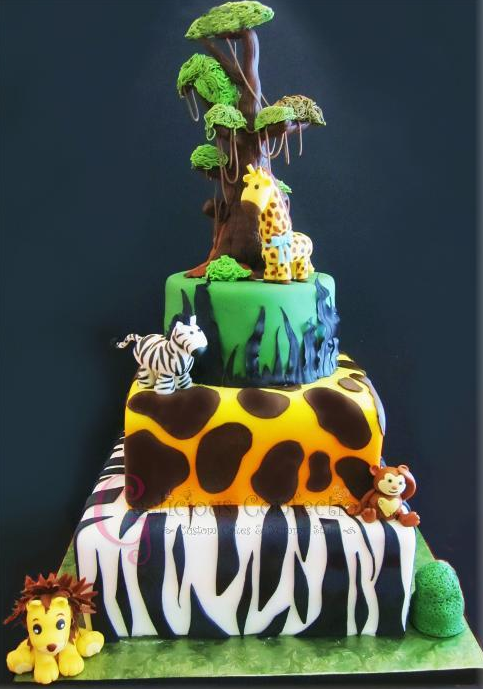 Jungle themed baby shower cake by Gloria F.
Zebra print
Zebra prints are the most popular with its stark contrast between black and white, but can also be cute in purple, pink or blue patterns.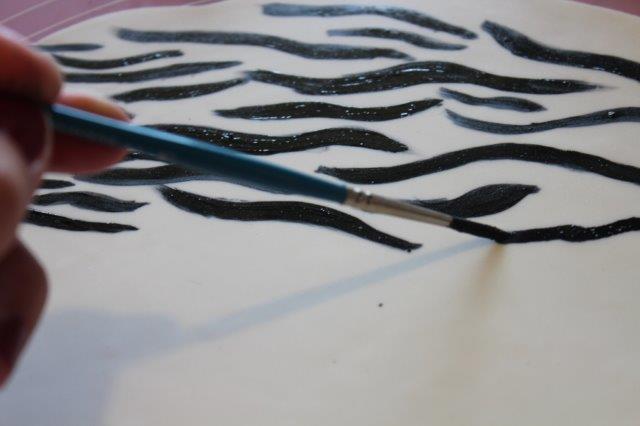 To paint zebra print, cover your cake in fondant, you can choose which direction you want your stripes to go, there is no standard, so choose your favorite direction and go for it. No two lines are the same, so vary the length and thickness. Some lines branch off from one another, so get creative and have fun with it.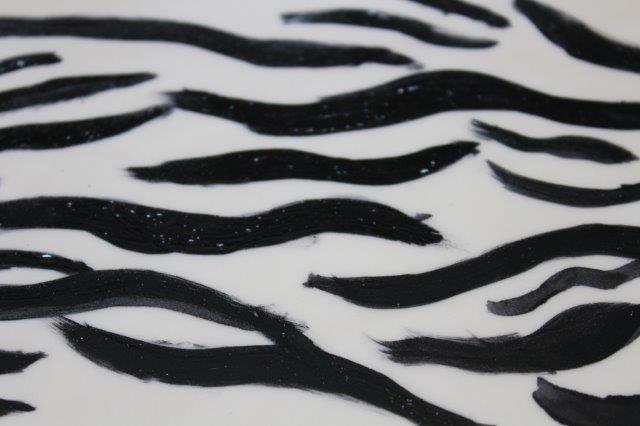 Zebra print can also be decorated easily with fondant. Simply roll out black fondant or modeling chocolate very thin, cut into varying lengths and widths. then apply to a fondant or buttercream cake. Fondant dries very quickly, so it is best to keep it covered while applying the strips to avoid cracking. If it starts to dry out too much, you may need to gather it up, add a small amount of shortening and roll it out again.
Giraffe print
Giraffes are yellowish-brown with larger brown spots on top. To get this look, start with a light yellow fondant background. You may want to paint or airbrush the fondant with a light orange-brown to give it depth.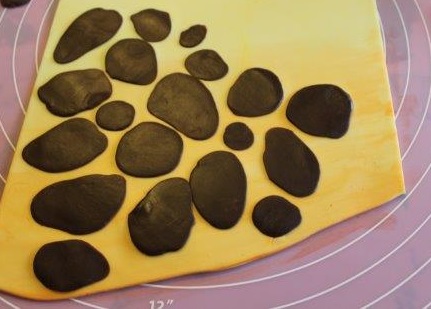 I painted only half of the fondant to show the difference in color with the painted background.
To make spots, cut out random shapes out of brown fondant, or even better — chocolate modeling chocolate, and apply to the painted cake. Another way to make the spots is to make small round balls out of modeling chocolate, then roll them out separately and apply.
Top your giraffe print cake with an adorable modeling chocolate giraffe!
Leopard print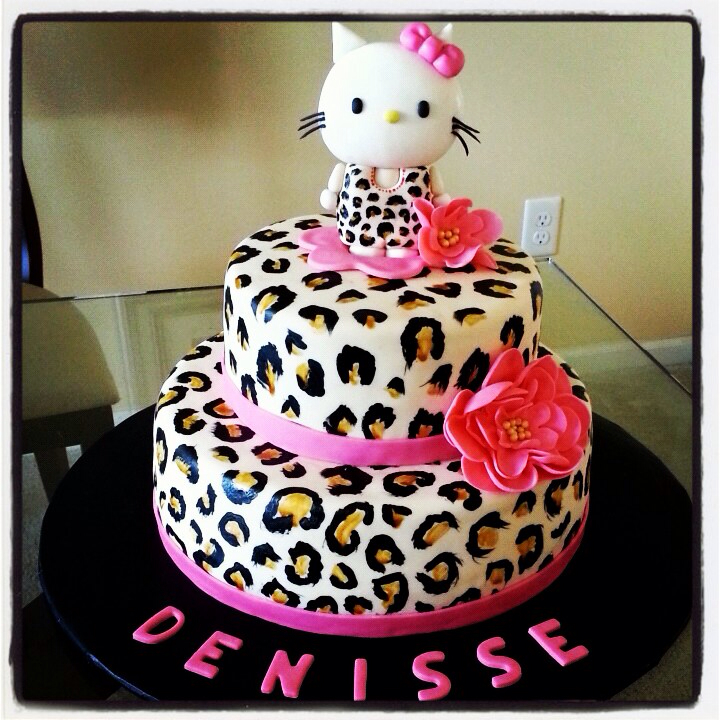 Hello Kitty Cheetah Print cake via arlyanrey2305082
The easiest and most natural looking way to add leopard print to a fondant covered cake is by painting it.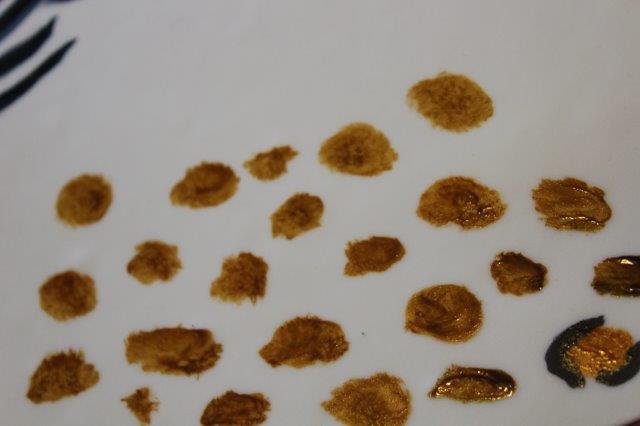 Start by applying the brown inner dots. I used ivory AmeriColor gel to get this shade of brown. All leopard spots are different in size and shape, so don't worry about getting perfect circles, just make random dots all over the cake.
Then use black food coloring mixed with a very small amount of vodka or lemon extract (1 drop). Use a thin tipped paint brush to paint the black lines around the light brown circles.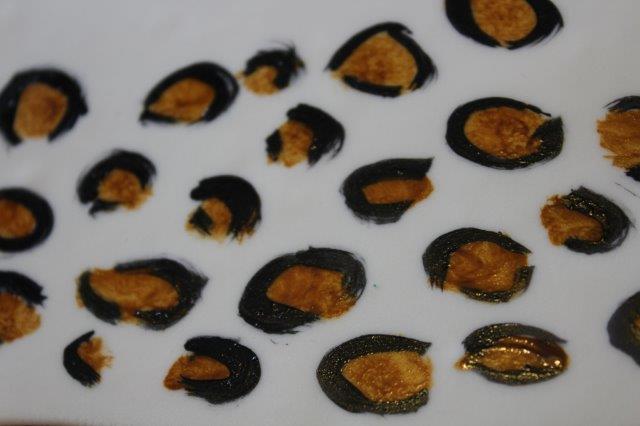 If you look at a leopard, almost all of the black lines on their spots do not circle the entire spot, but instead the lines are broken up or only circle part of the spot. This is your time to get creative and see your own spots.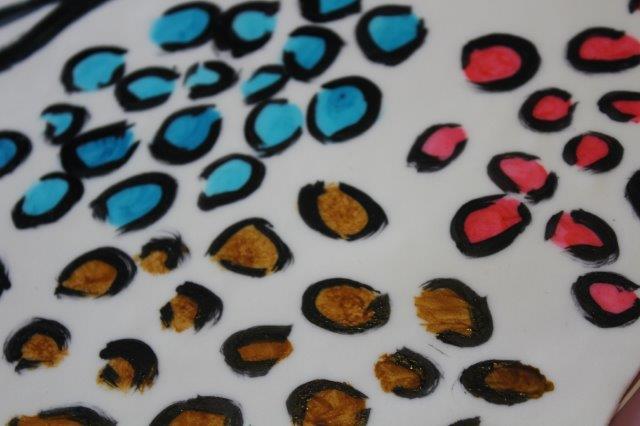 Leopard print cakes come in a rainbow of colors, but no matter the color of your spots, the technique is the same.
Whether you are making a jungle-themed cake or a fashionista wedding cake, you are ready to work your magic and make a beautiful animal print cake.
Which of these animal prints will you try on your cakes?