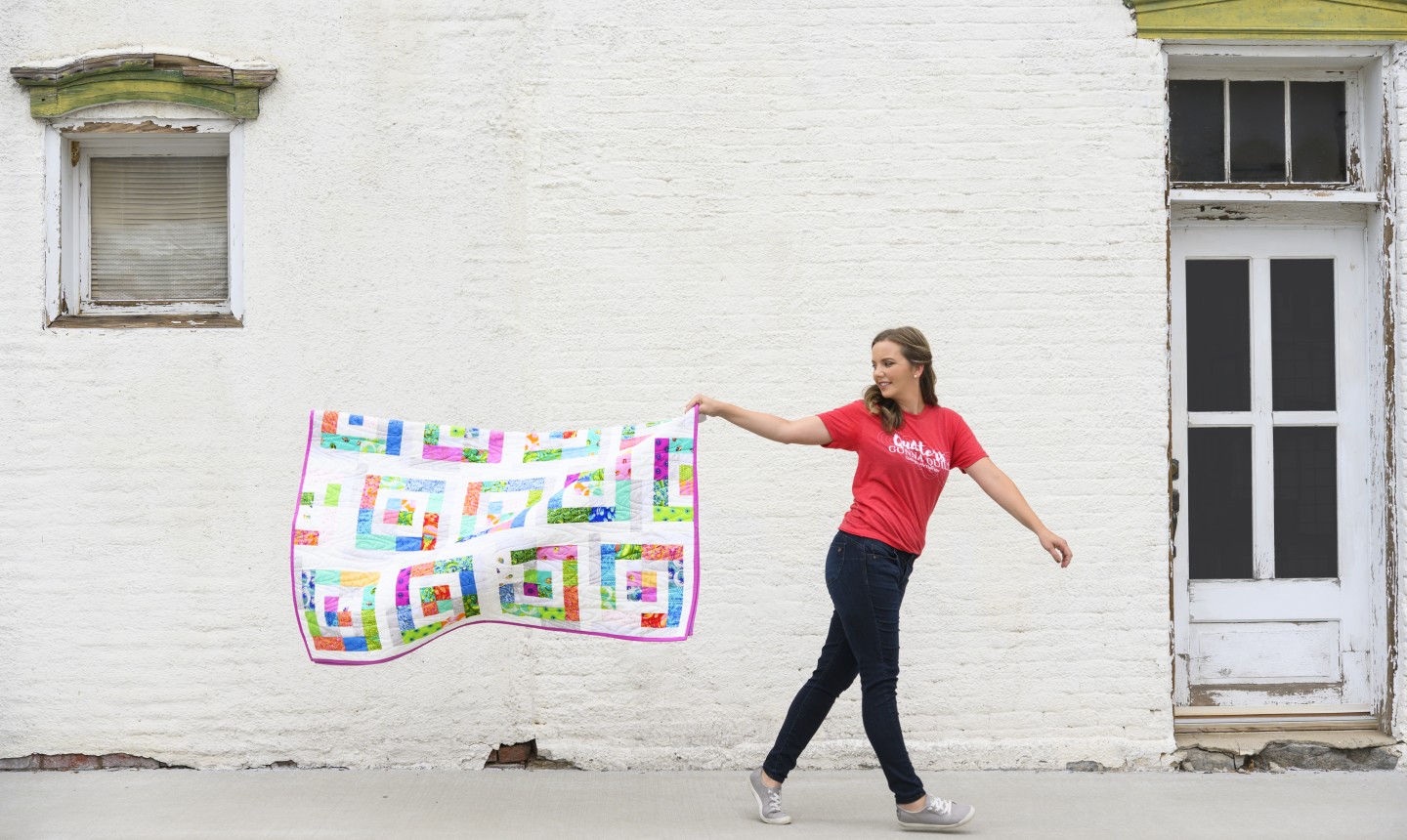 When your craft of choice is quilting, Angela Walters needs no introduction. As the host of the ever-popular Midnight Quilt Show and creator of Quilting Is My Therapy, she's traveled the country teaching fellow makers everything from designing with rulers to machine quilting borders, and she inspires thousands with her gorgeous designs.
But if there's one thing Angela truly loves about quilting, it's free-motion quilting (FMQ). We sat down with her to talk all things FMQ, and to get a sneak peek of what to expect from her latest season of True Up: Behind the Seams with Angela Walters.
Your husband's grandfather taught you how to quilt. What made you fall in love with the craft, and machine quilting in particular?
I think it was partly the idea of creating something that I fell in love with, to see something come together and know I had a part in making it. But it was also just as much about the relationship that Grandpa and I had. I loved spending time with him as much as I loved quilting.
When it's time to quilt, how do you choose a design?
That's a tricky one! Every quilt is different, so how I choose my design differs. For the most part, I try to identify the most important part of the quilt, then pick designs that will highlight that. If it's the fabric, I would pick designs that helped highlight it (such as quilting around the main elements). If it's about perfect piecing, I would use echo lines around the blocks to add emphasis to that area. And if it's about the recipient, picking the quilting design is easy. For instance, if I made a quilt for my nephew all I would do is quilt, "Aunt Angela is your favorite aunt" over and over!
That said, when in doubt I usually quilt a feather design of some kind. It was the hardest for me to learn when I started machine quilting; I just couldn't get the hang of it. But I can be pretty tenacious, and kept at it until it finally clicked. So, of course, it quickly became my favorite design. I love how it's quick to quilt and can add an elegant touch.
Is there a free-motion design you recommend all beginners start with?
Either something they love to doodle with pen and paper, or something they can visualize, such as "l" and "e" shapes. Most of quilting is just knowing where you are going, so if you know how a design goes together, machine quilting it will be a lot easier.
If you could give one piece of advice to someone who's new to free-motion quilting, what would it be?
To not be so hard on themselves as they learn. Every master was once a disaster. The more they practice, the better they will get!
What are some of your must-have tools for free-motion quilting? (Aside from the machine, of course!)
My go-to tools are machine quilting gloves, a supreme slider and quality thread. If quilting is my therapy, then threads are my meds!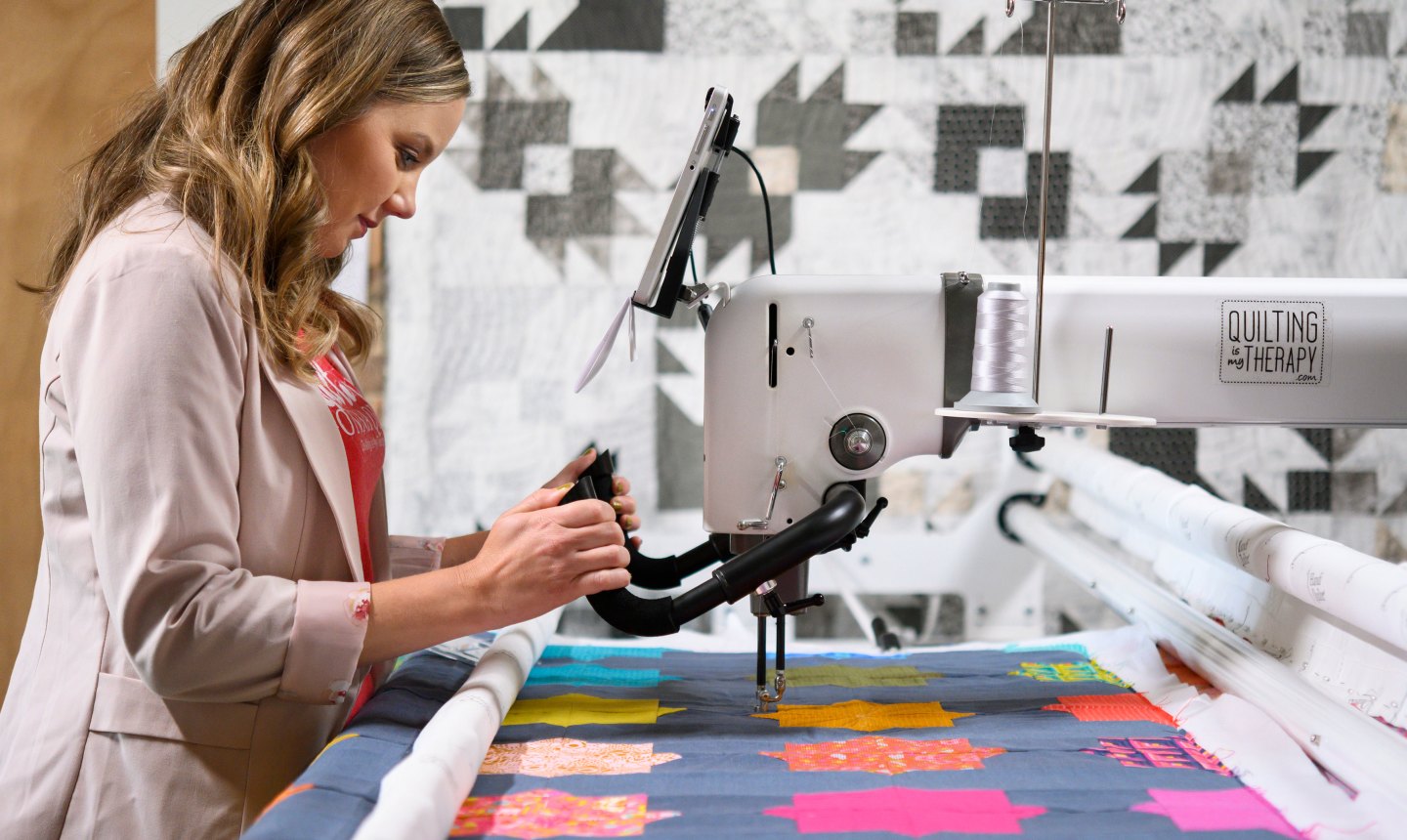 You've come a long way since your first quilt — what have you found the most rewarding in your quilting, business and teaching?
That's tricky; it's all so rewarding. I can't believe I get to do this for a living! But if I were forced to choose just one, it would be teaching. When I'm teaching a class and a student has a light bulb moment, it's just the best!
In the first season of True Up, we saw your busy life at home and on the road, and got a behind-the-scenes look at filming a Craftsy class. What can we expect from season two?
Through my quilting, I get to meet a lot of amazing people. In season two, viewers will get to meet the people in my quilting world who allow me to do what I do. From my employees who keep my shop running while I'm gone, to other shop owners (in Australia!), and even the other quilters who encourage me every step of the way — you'll get to see it all.
This interview has been edited and condensed for clarity.