If Prince could have a cake everyday, he'd certainly rock out to these purple cakes, no? I love the idea of having an absolute favorite color with everything, including your house, being that color.
This gorgeous collection of pretty and perfectly purple cakes, from lavender to grape to violet, just might make you want to join Team Purple!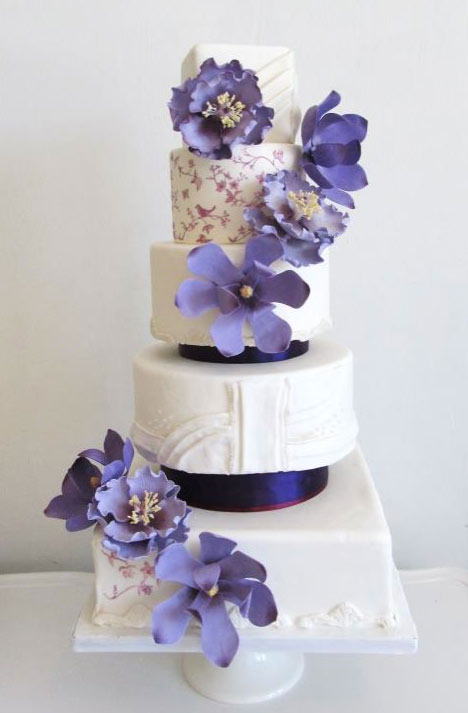 Photo via Anna Elizabeth Cakes
Purple orchids wedding cake:
The wonderfully talented Anna Elizabeth Cakes created this five-tiered confection of a wedding cake with white fondant-covered tiers, shabby-chic hand-painted birds, and foliage with cascading large-and-in-charge lavender ruffled sugar peonies and orchids.
Learn how to handcraft lovely orchids like these in the Bluprint class Exotic Sugar Orchids with James Rosselle.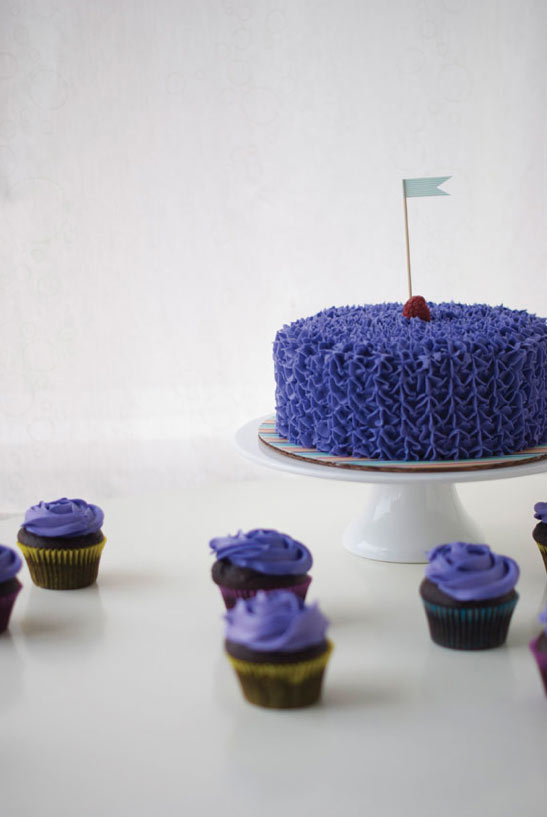 Photo via Coco Cake Land
Buttercream ruffled violet hued cake:
Vibrant, violet purple makes a striking appearance when piped in buttercream using an open star tip. Matching rosette cupcakes and a bright red raspberry topper helped make this baby shower cake a hit. A sweet and simple color blast.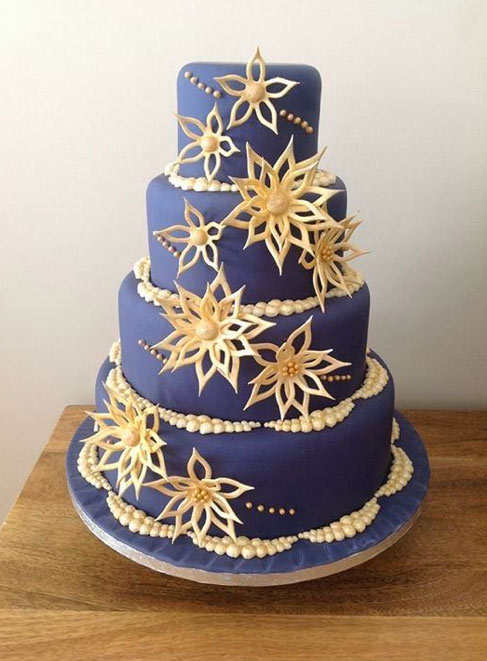 Photo via Bluprint member Kims Cakes
Striking purple and gold star flower wedding cake:
Nothing says royal and regal like the color combination of purple and gold. Perfect for an opulent wedding — and how about a starry one? Four purple fondant tiers are adorned with these beautiful gold sugar star flowers as well as gold beading bordering each tier. This purple gold star flower cake would be so fun for a New Year's Eve wedding!
If you love opulent wedding cakes, check out the Bluprint class Jeweled Wedding Cake with Marina Sousa.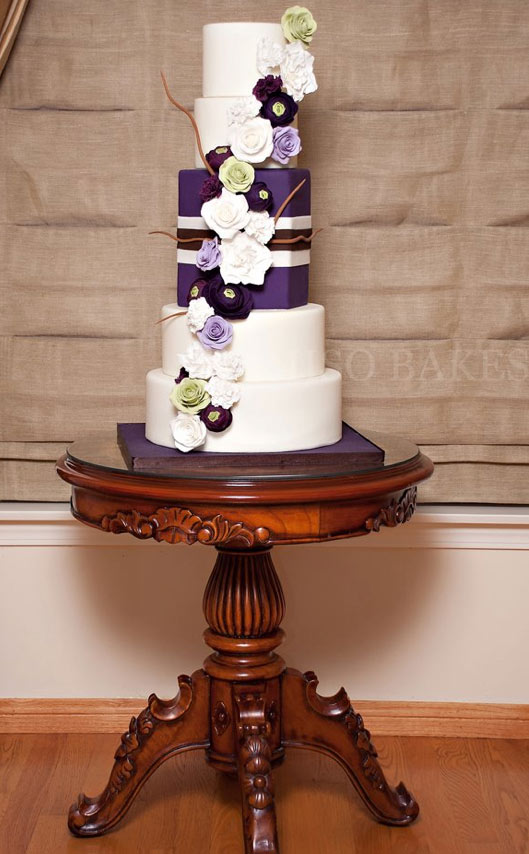 Photo via Miso Bakes
Purple present tiered wedding cake:
How fantastic is this multi-tiered, modern marvel of a wedding cake? Miso Bakes did a beautiful job in creating this "purple present" cake. Doesn't that center square dark purple tier look like it's a wedding gift waiting to be daintily opened? Not sure how daintily I could open a cake present, though! I adore the cascade of pale pistachio-green sugar roses, lavender, and white sugar roses, mixed with the dark lush purple ranunculus sugar flowers. Miso has a great sense of restraint with her sugar flowers.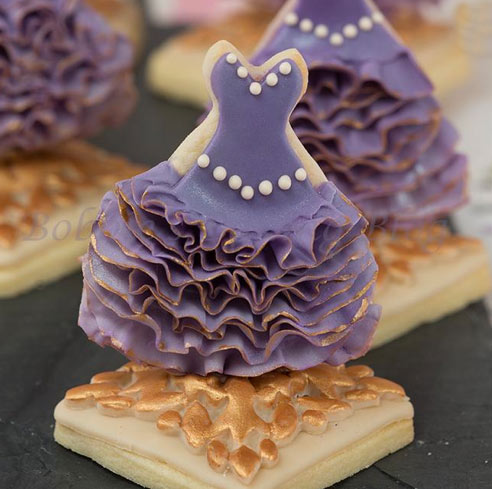 Photo via Bluprint member Bobbiesbaking
3-D ruffle purple party dress sugar cookie:
I thought this 3-D ruffle purple party dress cookie was too cool not to share. Love that gold dusted purple ruffle adhered to a fondant purple dress bodice. Wouldn't that be an awesome cake topper for a little girl's ballet-themed birthday? Or a cake topper for a debutante's coming out party. Such a fun idea by Bluprint member Bobbiesbaking.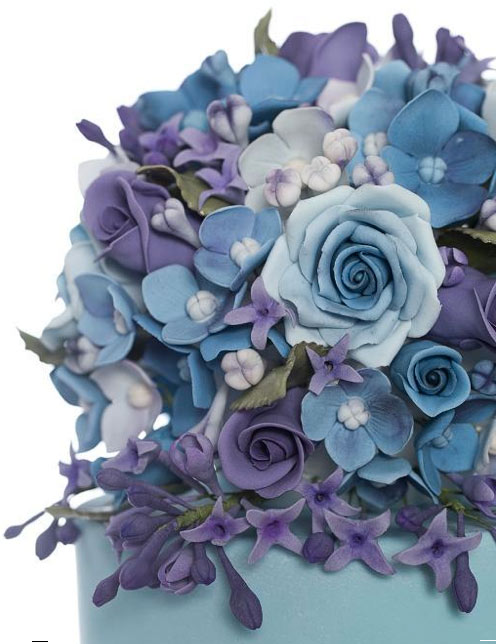 Photos via Bluprint member sweettandcake
Purple and blue floral masterpiece wedding cake:
I came across this purple and blue floral masterpiece made by one of Bluprint's very own students. Although, I would be hard-pressed to call this student's work! But we are all students of life, aren't we?
I thought this cake was so gorgeous, from the robin's egg blue and lavender purple color palette to the incredibly detailed sugar floral "headpiece" — so much work went into this cake, and the end result shows. Again, I like the use of restraint here. It would be incredibly tempting to cover each tier with hordes of flowers, but instead sweettandcake, who took Jacqueline Butler's Handcrafted Sugar Flowers class, chose to do little mini bouquets of sugar flowers on each tier, and the simple "string" bow effect keeps the cake from feeling pretentious. Love it.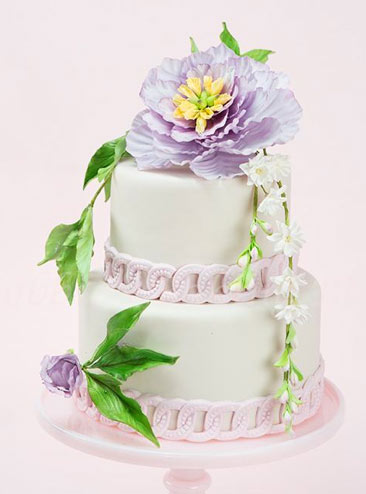 Photo via Bluprint member Bobbiesbaking
Paper-thin purple peony topped cake:
This paper-thin Purple Perfection Peony cake has a tropical, 1980s feel to me. I think it's the pale pastel color palette and the green leaf work — I really like it! The sugar peony looks like crepe paper, it's petals are so thin. I also love the soft pink lock-chain border around each tier.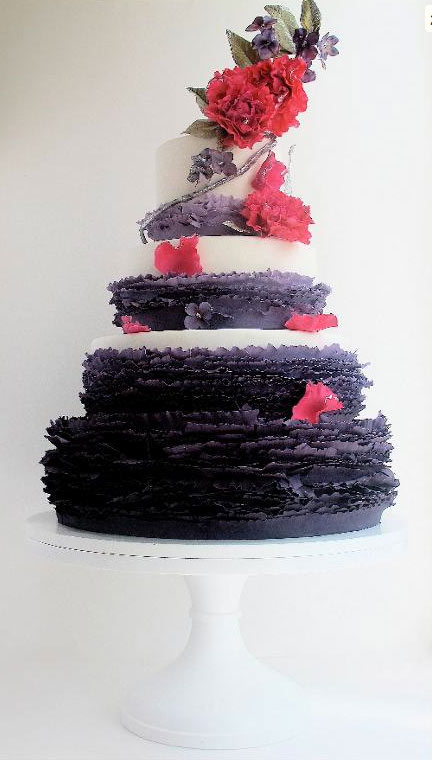 Photo via Maggie Austin Cake
Each of Maggie Austin's gorgeous cakes feels so precious and delicate, and the ruffle frills always look like they will just melt away with the slightest touch. This dramatic version is no different. I love the darkest of the dark bottom tier, like a bruised plum or deep-hued eggplant, rising up to a feather-soft light mauve. I really like how Maggie used red to offset the purple, and the simple off-sized petals that sit tucked between ruffles in a seemingly random order, yet are perfectly balanced. Luckily we have an amazing online class taught by Maggie right here on Bluprint: Fondant Frills with Maggie Austin!
You may also enjoy our posts on pink cakes, green cakes and blue cakes. And come back to the Bluprint blog tomorrow for a roundup of gorgeous pastel floral cakes!
Do you love these purple cakes? Which one is your favorite?