Let's go green! No, we're not speaking about environmentally friendly cakes, per say, except for the delightful fact that if you eat up every last crumb of cake, there will be no garbage to speak of! Hooray! Who could dare to throw out cake?
Here's a bright and fresh collection of cakes gone gorgeously green.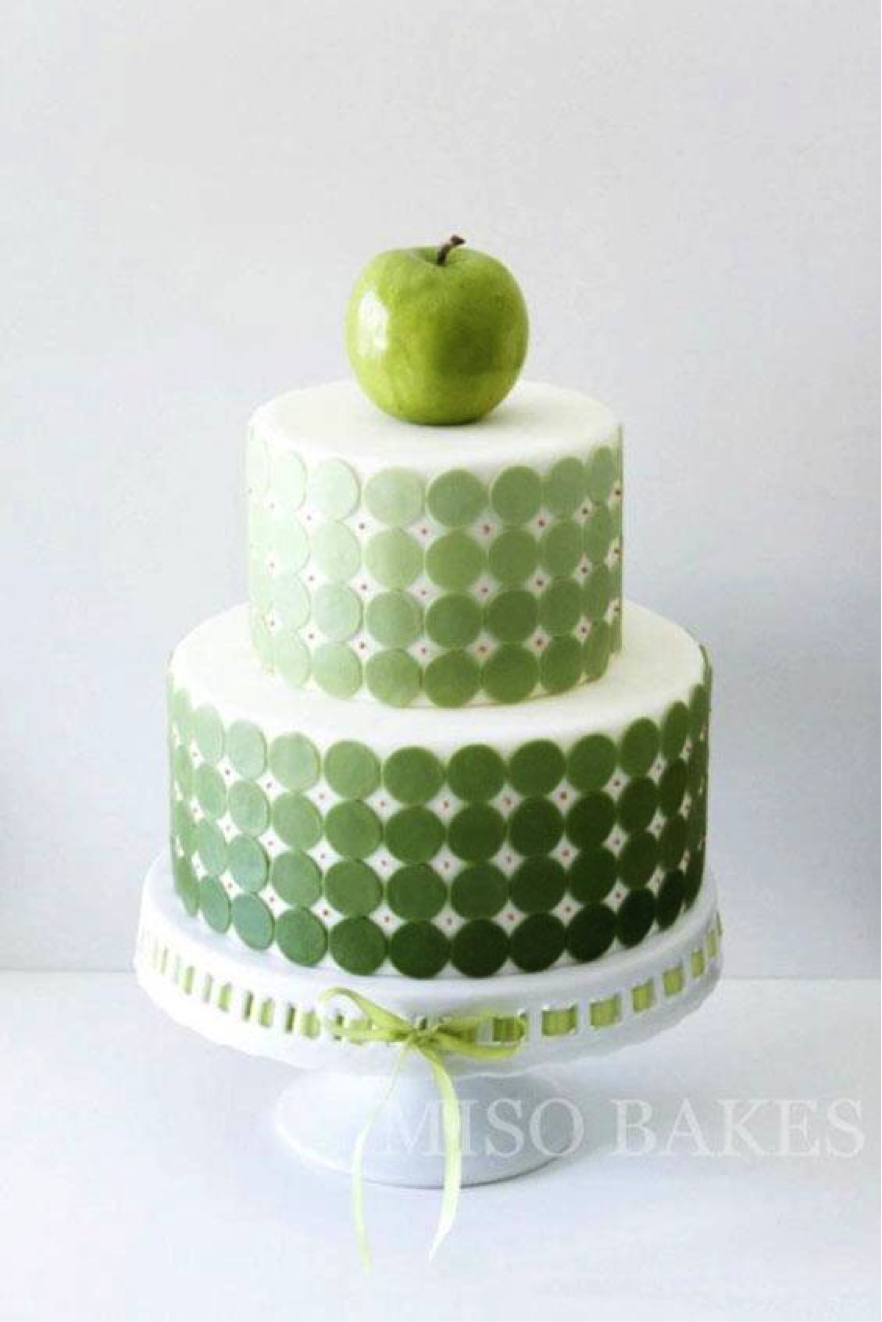 Photo via Miso Bakes
Apple green ombré modern dot cake:
This clean and modern beauty is simply dotty: covered in awesome green fondant circles, that is! I love the perfect gradient of color from bottom to top. Simplicity but strikingly graphic, too. There were certainly a lot of fondant circles to punch out and carefully place on this cool as a cucumber green cake.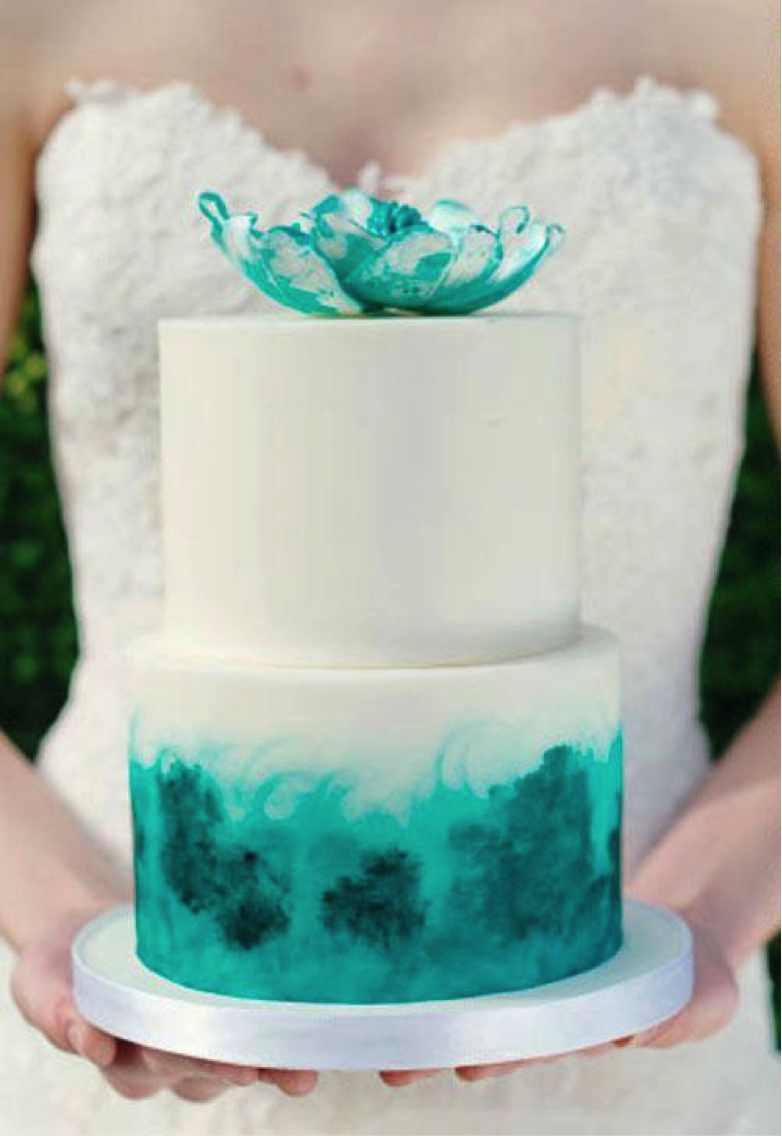 Photo via Berliosca Cake Boutique
Painterly ocean watercolor cake:
This beautiful design was created by the talented Berlisoca Cake Boutique. That deeply hued teal green painted fondant bottom tier reminds me of being on a tropical vacation and going for a much-needed dip in the ocean waves on a gloriously sunny day. I love the "paint-dipped" look of the sugar flower topper, too. Combined together these elements make for an elegant and unique cake with some seriously artful touches.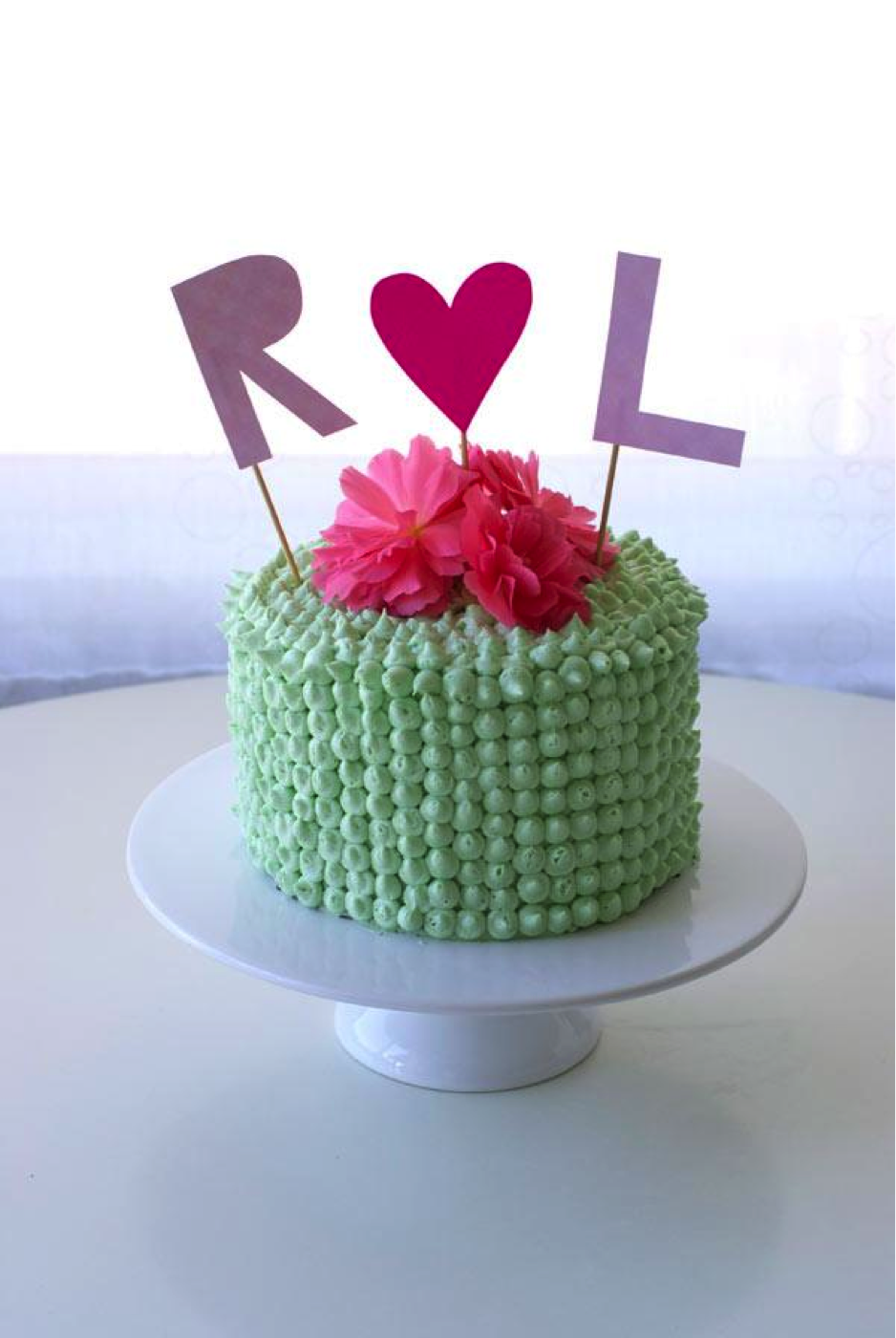 Photo via Coco Cake Land
Mint green buttercream iced cake with crafty toppers:
This buttercream iced mint green cake was piped using a small open circle tip, giving it a retro feel. Fresh pink begonia flowers create a nice color contrast, and the handmade monogram initial cake toppers give this cake an overall "For the love of craft!" vibe. This would be a perfect cake as the centerpiece amongst a dessert table full of color-coordinated goodies!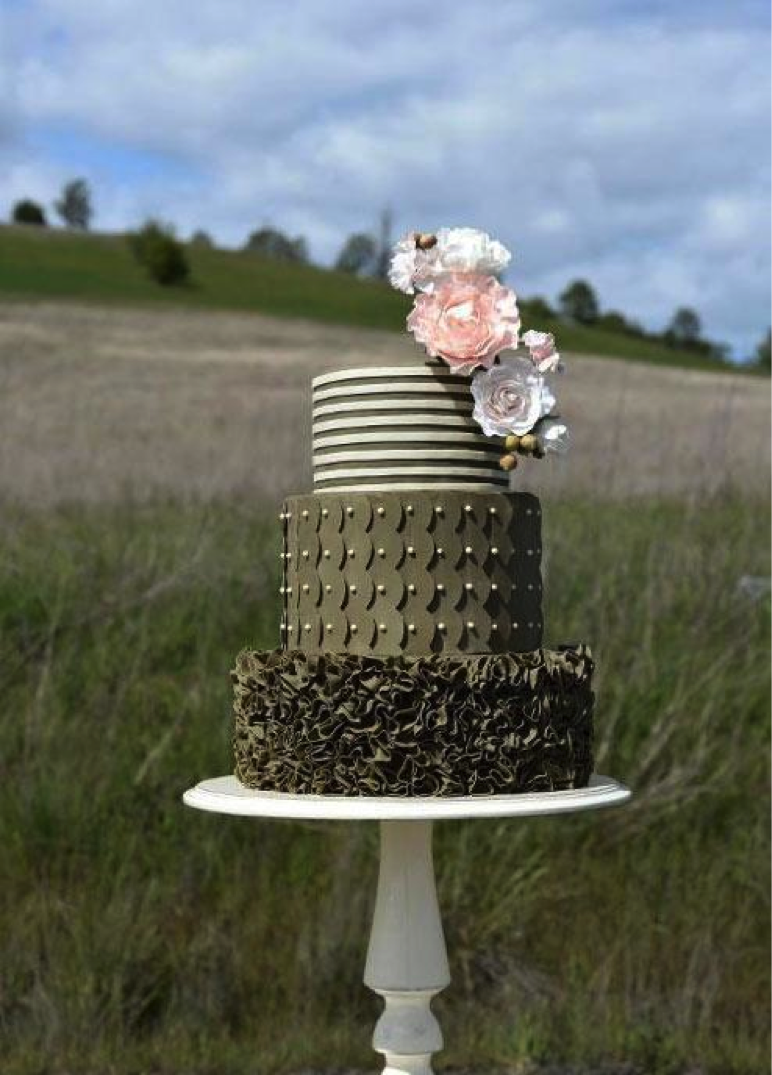 Photo via Bluprint member SaraJean
Stripes, scallops and ruffles cake:
This cake boasts so many awesome cake techniques learned in Bluprint's online class Clean and Simple Cake Design with Jessica Harris. Even with so many techniques, I think it manages to be focused and not too fussy. Because each layer stays true to the chic pistachio green color palette, and it's so clean in its creation, this cake stays cohesive. I absolutely adore the ruffled bottom tier, the scalloped second tier and the cream and green striped top tier. The collection of pink and white sugar flowers helps anchor the cake, and add an extra feminine feel. Great cake, SaraJean!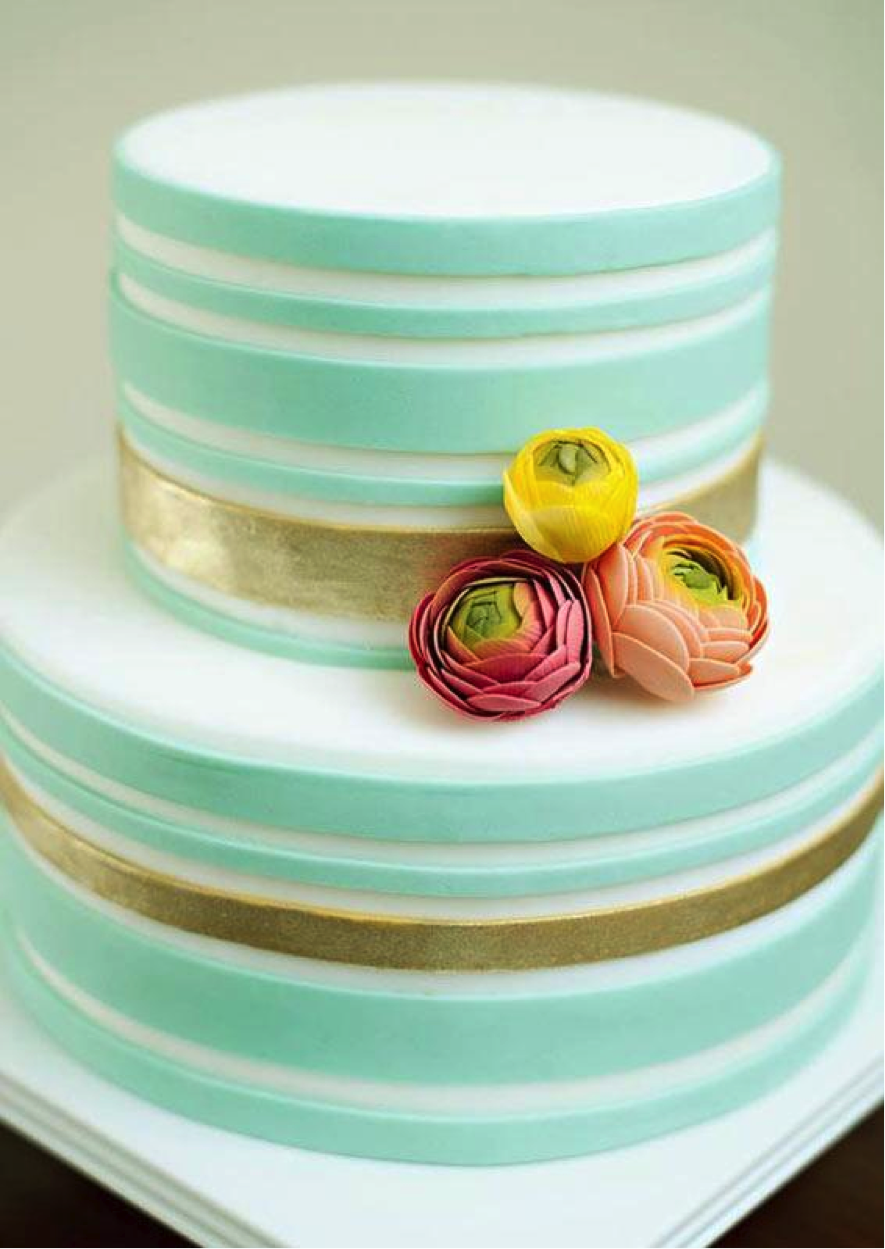 Photo via Miso Bakes
Mint green and gold striped modern cake:
Yet another beautiful cake by Miso Bakes. The mint green and gold on this cake make for a lovely combination, offset by the gorgeous cluster of ranunculus sugar flowers. I love how a small cluster of beautifully made flowers can instantly add femininity and color to a cake… all the more reason to perfect your flower making skills.

Photo via Bluprint member Cheryl Br
Green frills and dogwood sugar flower cake:
Bluprint member Cheryl Br rocked out creating this beautiful green-themed number! I love her green color palette; it feels so fresh and lively, like a summer morning. This cake reminds me of hints of summer grass, softly scented flowers and dew drops!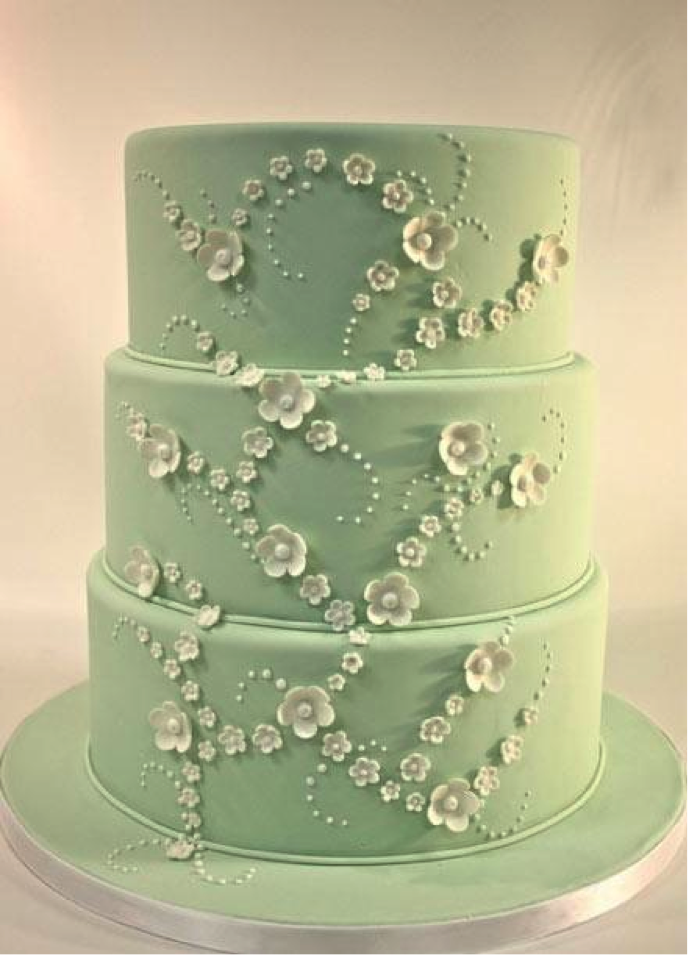 Photo via Berliosca Cake Boutique
Swirling blossoms green tiered cake:
I really like the "fullness" of these mint green cake tiers. They're almost the same size in diameter which makes the cake look plump and plentiful! I love the pattern of the mini swiss dots and varying sizes of white sugar flowers – doesn't it look like it's moving? A simple yet unique cake with gorgeous sugar flowers!
I hope you enjoyed this range of green cakes. If hitting the greens is more your thing, come back to the Bluprint Blog tomorrow. We'll be celebrating the start of National Golf Month with a roundup of fun golf-themed cakes.
You may also enjoy our posts on pink cakes and blue cakes.
Like the techniques you've seen here? Check out Classic Sugar Flowers with Nicholas Lodge to make your cakes petal-perfect.